September 20 – October 4, 2018
Arrive in Casablanca on September 20; depart for home from Tangiers on October 5.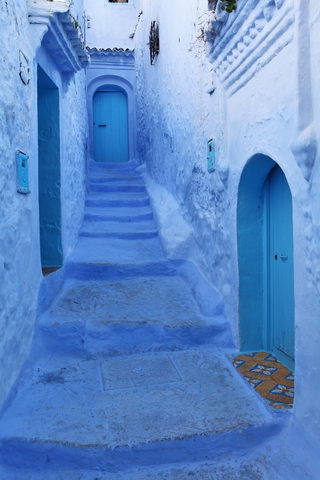 Highlights: This custom-designed textile tour to amazing and exotic Morocco emphasizes art, architecture, and cuisine in addition to the textiles. Travelers are very welcome here; no visa is necessary for most visitors! We'll meet you at the Mohammed V International Airport in Casablanca (CMN) on September 20, and we'll drive to the hotel for a good night's rest.
This trip takes you behind-the-scenes to experience traditional Moroccan hospitality! We'll meet Berber women who are excellent rug weavers and button-makers, and men who are leather dyers, metal workers and ceramic artists. We'll drive north to the mellow town of Chafchaouen, famous for its stunning old city area being all painted watery shades of blues. Another must-see destination is Tetouan, made famous recently by the Spanish television series Entre Costuras, or Time Between, as it is translated. Most of the series takes place in Morocco, and most of that is in Tetouan with its narrow, labyrinthine lanes of the old town. This northern area of Morocco is not often visited by tourists so we will discover the rug weavers and search out the mysterious and famous 'laine de Habba" or the cream-colored sheep's wool yarn somehow spun with tiny pill balls added in. It is used for high quality djellabas for men, and we simply must discover HOW it is made because it defies the usual spinning methods!
Exotic Tangiers awaits our discovery too, and we will wend our way through the souks in the medinas to find the most interesting textiles, jewelry and artwork. Charming little hotels called riads will be our home bases. We'll learn how to knot the complex silk buttons in a workshop with delightful ladies who will also serve us an amazing lunch! As we travel, we'll explore the historic walled medinas, watch craftsmen at work, and poke around in the traditional little souks for spices and other treasures to take home. In cooking classes we'll put our spice knowledge to work and create a delicious lunch that will include tajine, a typical, succulent vegetable stew, with or without meat. Everywhere we go, our guide will show us the hidden corners to visit and the most interesting people to meet!
Trip Details:
We'll start by flying in to legendary Casablanca, check into our hotel in the morning then after lunch, visit the fabulous Hasan II mosque at seaside Casablanca. Today the popular city has modern businesses on the outskirts, but still manages to feel exotic and other-worldly, especially in the old fortified city area, called the medina.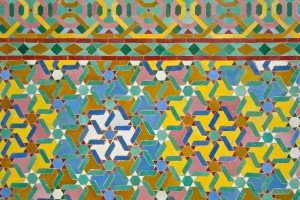 Next we'll head north to our charming riad in the city of Fes, another UNESCO World Heritage site for its perfectly preserved walled medieval city. Wander here to find the perfect carpet or a pair of stunning earrings or an intricately painted plate. Often referred to as the country's cultural capital, Fes has over a million inhabitants, but it's primarily known for its sprawling, medina or ancient walled city, the best-preserved in the Arab world, and another UNESCO World Heritage site. Craftsmen still work and sell their products here, and the medina's souks or market sections are divided into areas by trade—the leather crafters, dyers, ceramicists and so forth.
Over the next few days we will see master artisans at work and wander through the medina's souks. We will also have the special treat of a cooking class! We'll visit the food and spice market to find specific ingredients and flavors necessary for the unusual flavor combinations that typify Moroccan cuisine. And we'll learn how to make local dishes redolent with harissa or ras el hanout (multi-ingredient spice mixtures that can contain dozens of spices). You can pick up some spices in a souk for foodie friends too!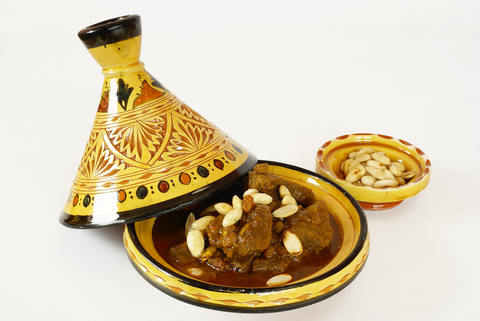 Another UNESCO World Heritage site! Next stop is to marvel at the detailed stone mosaics of Volubilis, and the resident storks that make their nests on the columns of the Basilica. Founded in the 3rd century B.C., Volubilis became an important outpost of the Roman Empire and had many fine buildings; extensive remains of some survive at the archaeological site. UNESCO: "Covering an area of 42 hectares, it is of outstanding importance demonstrating urban development and Romanization at the frontiers of the Roman Empire, and the graphic illustration of the interface between the Roman and indigenous cultures."
After seeing the detailed floor mosaics and buildings at Volubilis, we'll drive to Rabat, the capital city of Morocco, for the night. Next morn, we'll tour Rabat which is located on the Atlantic Ocean at the mouth of the river Bou Regreg. We will marvel over treasures at the splendid Jewelry Museum of Rabat, called the Oudayas Museum.
On our last night (October 4) at the Farewell Dinner when we'll take leave of new and old friends, and pack our suitcases, ready for flights home from Tangiers the next morning/day of October 5. After the trip, you'll receive a photo journal book to remember your trip!
Tour Price:  $4850
Single Supplement:  $985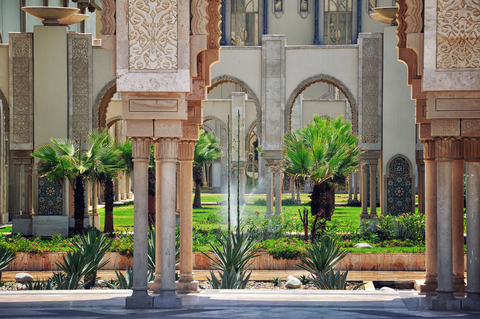 Includes the following:
15 nights accommodations, (double occupancy), in charmingly decorated riads (small private villas with central courtyards), and an excellent modern hotel in Casablanca)
All meals and non-alcoholic beverages–except 1-2 lunches* and 2-3* dinners.
All ground transportation by private van with excellent, professional driver
Bottled water in the van for road trips
English-speaking, licensed, professional guide to accompany whole itinerary.
Transportation to/from airport on set arrival and departure dates.
French- and English-speaking textile expert Cynthia Samake also to accompany whole itinerary.
A cooking class with gourmet cuisine for your lunch or dinner!
Entrance to all historical sights, museums, etc., on the itinerary
Beautiful custom photo book, created and sent once you get home, with group pictures, sites and recipes from our classes!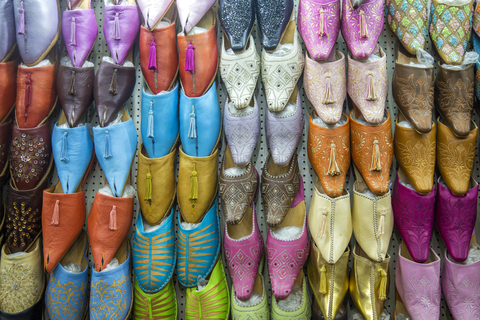 Not included: Personal items such as phone calls, internet fees [some of our hotels have free wi-fi]; laundry; overweight luggage; sites or activities not on the itinerary, between-meal snacks and bottled water when not in the van.
*If you don't want to do the cooking classes, the meal included during class time is on your own those two days, since class participants will eat what they create. Cooking classes are lots of fun, but optional; we hope everyone will join in!
Please note that citizens of the USA, Australia, New Zealand, Great Britain, Canada, and many others do not need a visa to enter the Kingdom of Morocco and may stay up to 90 days.

Email * info@btsadventures.com if you have any questions.

All photos  © Cynthia LeCount Samake except Dreamstime.com:
© Vladislav Jirousek: ceramic shop photo
© Boggy: Shoes in souk; © Madrugadaverde: Hasan mosque foto