WOO-HOO! PRAISE AND APPRECIATION FOR BTSA TRIPS AND LEADERS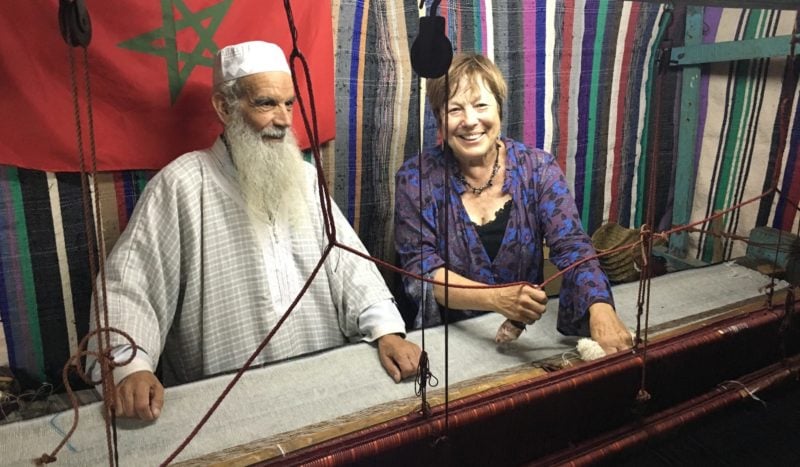 For photos of 75 past groups, see https://btsadventures.com/groups-past/
Dear Cynthia and Barou,
The 2018 Ghana trip was truly excellent and if I could, I would repeat it in exactly the same way. Very good selection of places to visit, excellent local guides, and it was great to have the opportunity to meet local artists and craftsmen plus a couple of 'hands-on' workshops. I enjoyed it very much and I learned a lot of new things! Barou as a guide was excellent, and it was certainly a bonus to have an African man to negotiate local matters. I give the tour 10/10, and I really cannot think of any criticism or suggestions for improvement.
Long wait for food was not an issue – restaurants in Ghana are not 'fast-food' places and one has to remember that each time the food was prepared especially for us, cooked from the beginning. And it was delicious!
Maria F. – Australia

Hi Cynthia,
It was the trip of a lifetime, and I thank you from the bottom of my heart for all the effort and energy you put into each and every day we were in Peru. My expectations for the tour were sky-high, and they were exceeded by at least 100%. I'm planning to do it again, and am working on getting some other people to come with me.
My llama baby is growing like a weed…
THANKS again for the most wonderful time of my life!    Susan W. – Ontario, Canada
Cynthia, on a very personal note, I love traveling with you. I think I have taken at least four trips with you: Thailand for Phi ta Khon festival; Peru (Andes and Northern Coast); Sri Lanka; and Bolivia for Carnival in Oruro. You have such a welcoming personality, it adds immeasurably to the enjoyment of a trip.
Other trips do not include "behind the scenes" visits to textile workshops, craft studios, village shops and activities. You have such a natural, warm way about you and find your way so comfortably into the hearts of people you meet that we get such heartfelt receptions from them (do I sound like a big fan?).
I also have experienced that you tend to have easy-going, friendly people in your groups. Shelby, Sally, Katie and I met on your trip to Thailand long ago, and we have been traveling together on a road-trip each year to this day. I hope to be traveling with you again soon.  Kemi O. – Los Angeles, CA

I went to Peru with Cynthia's company, Behind the Scenes Adventures. We visited museums in Lima, then flew over the Andes to Cusco. I swear that Cynthia knows everybody in Cusco – from fabulous hoteliers, to wonderful restaurateurs, to doctors and taxi drivers–not forgetting jewelry and yarn shops (a kilo and half of alpaca for $30, anybody?). From Cusco, we not only visited Machu Picchu, but met up with Nilda Callañaupa, the founder of Centro de Textiles Tradicionales de Cusco, who is a major force in resurrecting traditional Andean weaving. With Nilda and Cynthia, our group visited four villages, each of which does a unique variation of traditional weaving and knitting. And yeah, Machu Picchu was wonderful, but it's the villages and the people that I'll never forget, and that I never would have experienced with your everyday, garden-variety tour.  Roxanne M.

You may have heard us praise the tours we've taken with Cynthia. We have been with her to Oaxaca, Mali, and Bolivia. Cynthia is an exceptional group leader, loads of fun, charming, and knowledgeable. There are several differences with Cynthia's tours from traveling with a large tour organization. Lodging is normally in locally owned/operated places, often modest, even small B&Bs.  Cynthia chooses the restaurant, and you may order whatever you like from the menu – unless you're at a friend's home or enjoying a picnic lunch in the countryside. Travel takes many forms – taxi, public bus, rented van, etc.
She has a planned itinerary, but she is quite flexible and very willing to take advantage of spur of the moment opportunities. If you are flexible, and you can laugh at inconveniences and enjoy indulgences, you'll love her trips. You will meet, visit, and often dine with prominent artisans. Her friends and contacts in the places we visited were extensive and exceptional. We have developed an interest in textiles (even Dave!) and we love the festivals. Check out her website!  Joyce and Dave C. – Southern CA
Cynthia, I want to thank you for a fabulous trip!  Turkey has got under my skin; I fell in love with the country and can't stop thinking about it. It really was a tour of a lifetime. I loved the whole thing, especially the kindness and generosity of the Turkish people and hotels we stayed in, which were truly special.
I am organizing my photos – a big job – and savoring the memories. I found a Middle Eastern market and am cooking some Turkish food but can't find enough variety of olives. I was very inspired by the wonderful people everywhere we went. Thanks for putting together a fabulous trip!  – Celeste N. – New Mexico
Hi Fellow Travelers,
My trip to Mali has taken some time to process; I know this because a day hasn't passed when my thoughts haven't turned to some aspect of the trip or sensation of the experience. From the complex and fascinating music, to the elegance of the women and men in their traditional clothing (while most of the village children were unkempt little waifs), to the stunning and sculpturally pleasing adobe architecture, to the wonderful variety of bazin, indigo, bogolan and celebration cloth, and to the many other crafts created with such skill and passion, the country is obviously a hothouse for creative energies.  Thanks to all of you for making this adventure such a pleasant experience and companionable trip. Diane G. – Ontario, Canada
Thank you so much for such a wonderful trip. It was fantastic. I just got home from Peru last night and I'm just brimming with happiness over the whole thing. My mom and I had a wonderful time. You do an amazing job, and you make it seem like you're just traveling along with us, though I clearly see how much planning is involved on your part. Thank you! – MJ.Mucklestone – Maine
Thanks to you, Cynthia! I want to tell you how very much I enjoyed our great trip to Bolivia and Peru, and it is all thanks to your superb contacts and organization. The trip met my wildest expectations – beyond how positive I thought it would be. I cherish my memories and know they will grow as time goes on. It was a joy traveling with you. Your great positive attitude and laid-back but still alert manner kept the trip relaxed and at the same time, moving right along. Nilda is a gem, as is Señor Benito and the others we met along the way. I would highly recommend this trip and others you lead to anyone.- J.H., Pennsylvania
And then there was the adventure of my lifetime – the textile tour to Peru and Bolivia with Cynthia and Nancy Thomas, from Behind the Scenes Adventures! Because of Cynthia's personal knowledge of Peru and Bolivia and their people, everywhere we went she was greeted as an old and best friend and consequently, so were we.
Every day was chock full of unexpected tidbits like stopping at a bakery still using a charcoal-fired oven, to pick up fresh bread as a gift to the villagers. If there was something we wanted to see Cynthia did her best to accommodate us, often providing us with on-the-spot experiences – and her fluent Spanish didn't hurt either. Cynthia's warm personality, friendliness, and most of all, her sense of humor, made us all feel welcome and an important part of the group. There wasn't a meal without laughter! As a member of our small, intimate group I felt as if I had rubbed elbows with the "real" people of Peru and Bolivia and to me, that's what adventure is all about. Many thanks, dear Cynthia, for a true adventure." – Myra F. – Washington
My wife and I recently completed a 1-month private tour of North and West Africa with Cynthia Le Count Samake and her Malian husband, Barou. We had previously spent a very successful month with Cynthia on a similar culture and textile tour in Peru and Bolivia.
We spent approximately equal time in Morocco, Mali and Ghana. Cynthia is a recognized expert in hand weaving, knitting and dyeing of fabrics, a focus shared with my wife. I am an accomplished photographer and also have an interest in fabrics and their makers. I am trying to document third world societies before they are over run by the West. The Samakes' "behind-the-scenes" adventures are perfect for meeting the people and for experiencing the realities of another country first-hand.
Cynthia is a joy to travel with. She plans well in advance to see/visit points of your interest but remains flexible enough to change en route should some unexpected "must-see" event arise. She is fun to be with and skilled enough to make all things work out well. Barou is an invaluable source of knowledge, customs and language in these "near home" countries. Additionally, Barou's family and friend connections, insight and general sense of adventure make touring with them a pleasure.
These two trips are among the most memorable we have undertaken.   J. & B. Roth – No. California
Since I hadn't traveled to any of the countries 'south of the border," the thought of a visit to South America filled me with many nights of 'what-ifs'…but I needn't have worried!  Cynthia and Claudia of Behind the Scenes Adventures were leading the tour, and couldn't have been more helpful. The whole experience has left me wanting more!
The trip started in Lima, Peru, and the museums we visited whetted my appetite for the entire trip. Then we flew over the Andes to Cuzco, for breathtaking adventures, with trips to highland villages where the amazing handicraft of the indigenous people—spinning alpaca and llama hair into yarn, and dyeing the wool before knitting and weaving—was an experience that thrilled me. These co-operative, community ventures are a hopeful sign of the hardworking indigenous people earning a fair living.
Our day-trip by coach and train to Machu Picchu was awesome, as much for the countryside we traversed, as for the actual place itself.  I was awestruck by its beauty and remoteness.  Then Lake Titikaka and its floating islands can only be described as amazing, and its people resilient.
By the time we reached La Paz, I was so impressed by the beauty, starkness, aaahhness at every turn on the mountainous roads, much of it above 12,000 feet, that I could barely keep my excitement under control.
We spent four days in Oruro to experience the annual Carnival celebration.  It was fascinating – the daily parades by the populous in amazing costumes with superb colours, dancing and singing, and the pride in their art was contagious. We left Oruro, happy, contented, and delighted that it all went so well.
Throughout our trip we were housed well, dined well, and informed well of the history and the many places and their cultures.  I had a wonderful time and learnt so much about the cultures! Thank you, Cynthia and Claudia.  Zoreh W. – California