October 23 – November 4, 2018  (Fly home on November 5)

Textiles, Tikal National Park (UNESCO site), All Saints' Day festivities, and amazing Giant Kite Festival!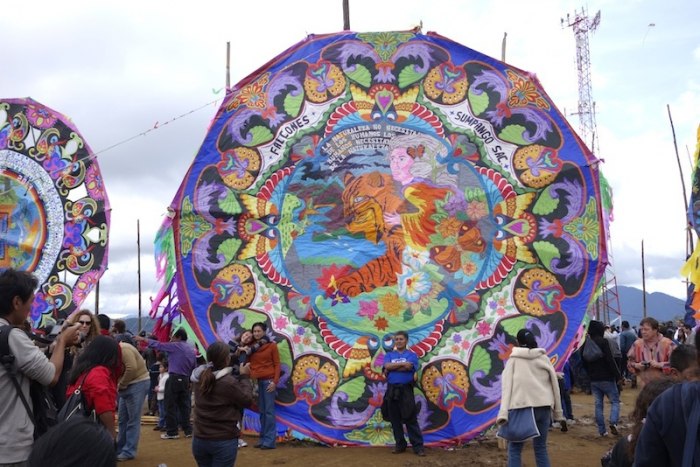 Trip Highlights: This glorious trip includes colorful textiles, ancient Maya archaeology, village visits to meet the people and watch them making textiles, an exciting annual festival and cemetery remembrances for All Saints' Day or Day of the Dead, gourmet cuisine and beautiful hotels!
We'll meet you upon arrival, with the hotel van driver, at La Aurora International Airport (GUA), in Guatemala City and spend the first night in a restful and beautiful modern hotel. Next day we visit the exquisite collection of traditional handmade dress in the Ixchel Museum, and the nearby Popol Vuh Museum with collections of Maya ceramics and stonework. Then we head for the peaceful and charming town of Antigua, and our pretty garden courtyard hotel. Next we'll join local friends for day trips to the exciting All Saints' Day (Day of the Dead) festivities, and the Giant Kite Festival activities in a nearby town.
From the central and convenient town of Antigua, we'll visit local rural villages, and meet weavers and embroiderers. Antigua boasts gourmet restaurants, interesting architecture, a Handicrafts Market, and a small Textile Museum. One day we will have a delicious traditional lunch prepared by a local family, who will also demonstrate their weaving techniques for us.
Friends in the ikat or Jaspé weaving center of Xela will show us the techniques of dyeing and weaving the stunning and colorful cloth famous there.
Finally we fly north to the town of Flores, jumping off point for our visit to the superb Tikal National Park. The Park contains some of the most fascinating archaeological remains of the ancient Maya civilization.
Tikal was the capital of a conquest state that became one of the most powerful kingdoms of the ancient Maya. Though monumental architecture at the site dates back as far as the 4th century BC, Tikal reached its apogee around 200 to 900 AD. During this time, the city dominated much of the enormous Maya region politically, economically, and militarily.
With a professional English-speaking guide, we first visit the ruins, then we'll have free time to explore the area on our own the next day; the trip includes two nights at Tikal in a comfortable hotel right in the park, so no time is spent driving back and forth. Tikal is a UNESCO World Heritage site. We'll fly from Tikal directly to the International airport to connect with our flights home. Carefully plan your return flight schedule on the 12th and check with us before buying your return ticket. Flights back to Guatemala City (GUA) from Flores-Tikal arrive around 9am, so plan a homeward-bound connecting flight that leaves around noon or later on November 5. Contact us if you need ticket help from the BTSA travel agent, Nancy Smart.

Transportation is by private van with professional, local driver. Plenty of free time allows you to explore and shop on your own, or relax and enjoy the Guatemalan pace of life.
(Arrive on October 23 and fly home on November 4.)
COST:  $ 3650 Minimum 6 people, maximum 12
Includes 13 nights hotel accommodation in small, charming boutique hotels with private bath; round-trip flights for Tikal, all interior transportation, expert local English-speaking guide at Tikal, local textile expert on village visits, airport arrival transportation, porter tips for luggage, all meals except the few as noted on itinerary.
SINGLE SUPPLEMENT:  $440
Arrive on October 23 and fly home on November 5.
To sign up for this tour, email first to

[email protected]


to be sure there is space on the trip.
Then download the two documents below, print and fill out, then send with your $500 deposit as a personal check to:
Behind the Scenes Adventures
900 Roanoke Drive, #111
Martinez, CA 94553
(All the sign-up info is also on the page called Sign me Up! linked at top right of Home page.)