Our popular India Textile Tour is back for 2018!   (The 2017 textile tour was a huge success!)
September 1 – 17, 2018  •  Depart for home from Mumbai on September 18.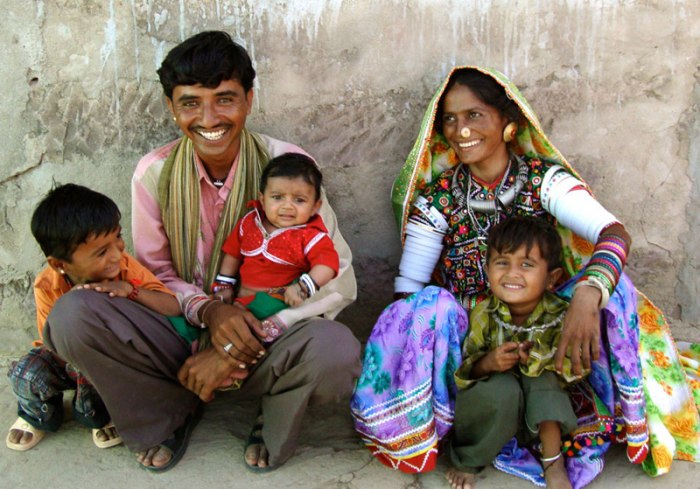 HIGHLIGHTS: We'll welcome you to India at New Delhi's Indira Gandhi International Airport. After a good night's sleep, we'll head west to the famous textile and art producing states of Gujarat and Rajasthan. There we will visit many textile artists in their work places and homes and will stamp or dye our own creations in three workshops. We'll travel to the Little Rann of Kutch, a very interesting area, and stay in traditional round bungalows. Then finally we head south to visit coastal Cochin and spend twenty-four hours on a beautiful houseboat in the tropical lagoons of Kerala. Cynthia LeCount Samake and specialized local guides will accompany the itinerary. In order to make the most of our time in the country, we will fly to several destinations.
DETAILS: Master textile artists will hold private textile workshops, just for our groups: block-printing, tie-dye on silk, and  indigo-dyeing! We will learn several dyeing and printing processes, beginning with a visit to the place where slabs of wood are carved into intricate designs for the printing blocks. At the block-print studio, we will be welcomed to watch the artists stamping designs with precision onto the cotton fabric. In our dye workshop, we'll make silk scarves, tying off or stitching the areas to be resisted from the dye. We'll tour the world-famous Calico (textile) Museum in Ahmedabad, with its exceptional cloth and clothing collections, and we'll meet the famous double-ikat weavers of Patan. Seeing their complex dyeing techniques and finished masterpieces is totally fascinating.
During the trip, we'll travel by private van, and stay in fascinating Heritage hotels in towns, [even a Majarajah's palace!] and new, traditional bunghas in the little-visited rural northern Gujarati area of Kutch. The round earthen bunghas with thatched roofs are embellished with floral scrolls of bas-relief mirror and mud decorations around the windows and doors.
We'll also meet local women who do intricate shisha mirror embroidery, in northern Gujarat. We will visit many ancient temples and other architecturally fascinating sites such as the famous Adalaj and Rani Ki Vav stepwells. These ancient and elaborate fresh water wells were built between the 11th and 16th centuries, with carved marble columns, decorated niches, and other details.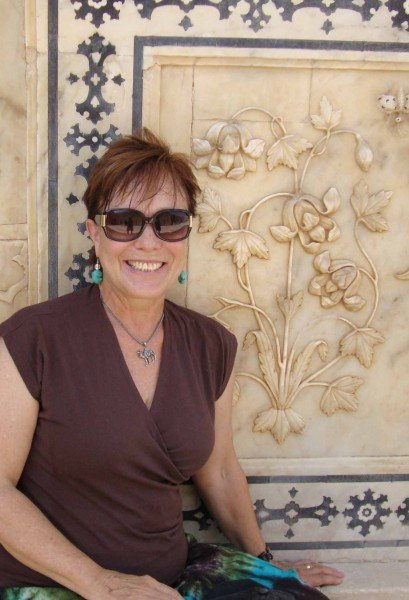 In Jaipur we'll meet the director and the girls at a workshop/home established to help girls stay in school and learn skills – to sew and make crafts, to eventually make a living on their own. If you'd like to bring them some sewing or school supplies they would be thrilled! They need good quality scissors like Fiskar snips, trims, cloth scraps, and so forth, as well as pens and pencils and notebooks. In Jaipur, we will also visit the excellent Anokhi Printing Museum for a great introduction into our next workshops of wooden blockprinting! In a nearby village, we'll visit an expert block print artist for a complete introduction into block-printed or stamped fabric. At his studio, we will have the option to print 2 yards of light cotton cloth suitable for clothing or a tablecloth, or you can print a cotton scarf.
When we have made some wonderful projects in our workshops, and have seen all the art and architecture that we can possibly absorb, we will fly south to the state of Kerala, and the pretty coastal town of Cochin. We land in Cochin, see the Chinese fishing nets at the beach, India's oldest synagogue, and Mattancherry Palace. The palace was a generous gift presented to the Raja of Kochi, Veera Kerala Varma (1537–61), as a gesture of goodwill by the Portuguese in 1555. There is also an excellent privately-owned folk art museum that we will visit, and we'll see traditional Kathakali dances. Then we'll head to the gorgeous backwater lagoons and spend twenty-four hours floating on luxurious, private wood and wicker houseboats with our own chefs!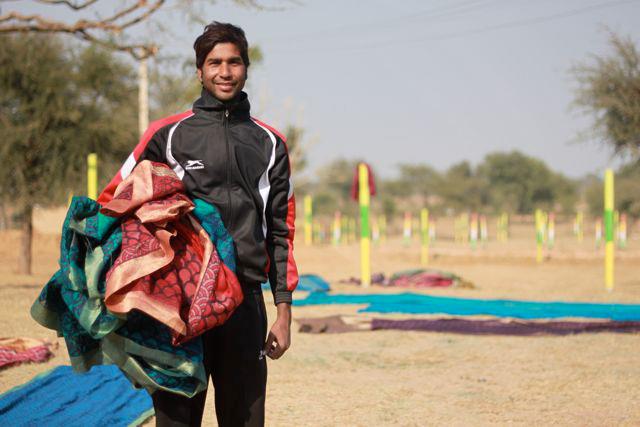 Bird life is abundant on the water; we will float by trees full of weaver bird nests, as we enjoy the peaceful ambiance. Bring a 'real' book or a book on your iPad or Kindle, your knitting, or your yoga moves! Thoroughly relaxed from our houseboat cruise, at the end of our great tour, we return to our modern hotel on the water,  for the Farewell Dinner. Next day, we fly home from Mumbai -on September 18th. Plan your flights to depart BOM anytime after 9:30 pm.

TRIP PRICE:  $4960    (Single Supplement: $875)    Maximum 12 travelers.
Includes: 17 nights accommodation (double rooms with private bath) in charming heritage hotels, modern hotels in cities, and clean local hotels in remote areas. On the houseboat, the comfortable, A/C cabins are double share (singles subject to availability).
The itinerary has been carefully planned to cover a lot of ground, but also not to move around every night. We spend 2 or 3 nights in each destination; for example, 3 nights in both Jaipur and Bhuj.
There will be a post-tour of the Taj Mahal and SOS Bear  Rescue Center in Agra for those interested, at a modest extra cost. Info to come after you've signed up.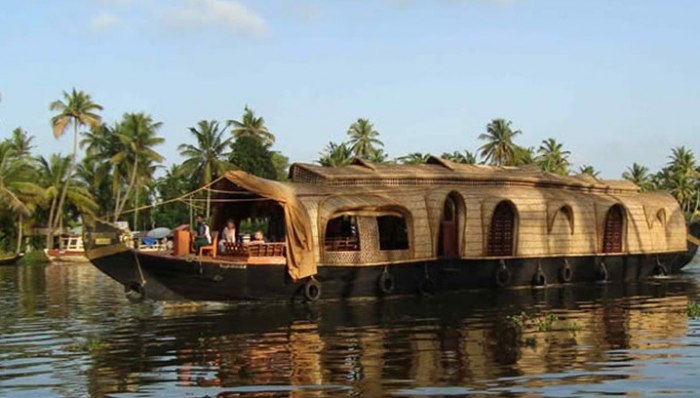 Also included are all meals and tea breaks, water/tea/coffee and soft drinks with meals; all local transportation in good vans with professional, good-natured drivers. Also all interior flights, bottled water on road trips and houseboat; all village visits and museum entrances as on itinerary; all temple and cultural site visits as on itinerary; airport arrival and departure transport (on group arrival and departure days), luggage porter tips, professional English-speaking guides, with an Indian textile expert in the Gujarat region; and American Cynthia Samaké to accompany entire itinerary– plus WOW! a custom travelogue photo book sent to you after the trip. Lunch only included on September 18, departure day.
Not included: International airfare, visa for India, required travel insurance (recommend Travel Guard); alcoholic beverages, tips for guide and driver, laundry, between-meal snacks and water (although we will have bottled water in the van for all the day trips); internet charges if any, and camera/video fees if required. You will need a visa for India; information will be forthcoming for online application.
Tipping Guidelines will be sent with trip information.