Textile and Crafts Tour to Exotic Morocco (INCLUDE the camel/desert trip–take out M??)

Highlights: This custom-designed textile tour to Morocco emphasizes art, architecture, culture, and cuisine in addition to the textiles. Travelers are very welcome here; the country is peaceful, and no visa is necessary for most visitors! We'll meet you at the Mohamed V International Airport in Casablanca (CMN) on September 8, and you'll fly home from Tangier on September 18.
This trip takes you behind-the-scenes to share an authentic experience of Moroccan hospitality with a small group of friendly people. And we'll take in five UNESCO World Heritage sites.
We'll go south to ESSAOUIRA  —-leave out Marrakesh ?  or find riad closer   —and then north to the ocean at

Tangier

. Along the way, we'll visit Fes and beyond, to meet many artisans: felt makers, metal workers, ceramic artists and more!. We'll see the mellow blue town of Chefchaouen, famous for its stunning old city that is painted in watery blues, left. The far north of Morocco is not so often visited by tourists and with the help of our wonderful guide we will explore the northern regions. Exotic Tangier awaits our discovery too, and we'll wend our way through the medinas to see mosques and madrasas, and find the most interesting textiles, jewelry. pottery and artwork.
Charming little hotels called riads will be our home bases. In a mid-morning workshop, we'll learn how to knot the complex silk buttons, with a group of delightful ladies who will also serve us an amazing lunch! As we travel, we'll explore the historic walled medinas, watch craftsmen at work, and poke around in the traditional little souks for spices and other treasures to take home. In cooking classes we'll put our spice knowledge to work and create a delicious lunch that will include tajine, a typical, succulent vegetable stew, with or without meat. Everywhere we go, our guide will show us the hidden corners to visit and the most interesting people to meet!
Trip Details:
Arrive in Casablanca on September 20; depart for home from Tangiers on October 5. We'll start by flying in to legendary Casablanca, check in to our hotel, and get a good night's rest. Next day we'll see the fabulous Hasan II mosque at seaside Casablanca, then we'll head south to fabled Marrakech.
In Neolithic times, the region was primarily agricultural, and it wasn't until 1062 that the town of Marrakesh was founded. The red walls of the city, built in 1122–1123, and various buildings constructed in reddish sandstone during this period, have given the city the nickname of the "Pink City."
Marrakesh grew rapidly and established itself as a cultural, religious, and trading center. Today the popular city has modern businesses on the outskirts, but still manages to feel exotic and other-worldly, especially in the old fortified city area, called the medina. The Marrakech medina is a densely packed, walled medieval city with labyrinthine alleys where little market shops offer a treasure of traditional textiles, baskets, felted slippers, pottery and jewelry. Here we can meet master artisans at work, and wander the narrow, cobblestone streets of the market.  In Marrakesh we will stay in a beautiful and comfortable riad, as always decorated with traditional Moroccan furniture, rugs, mosaics, and accessories.
One morning we will have a professional cooking class, then eat our delicious creations for lunch! We will also see the stunning Majorelle Gardens begun by French painter Jacques Majorelle, and the excellent Museum of authentic Berber jewelry, clothing and textiles. Lunch that day will be in the  garden patio of the museum.
In the bustling open-air square called Place Djemaa el Fna, snake charmers vie for space between barbeque stands, musicians, and water sellers. Declared a UNESCO World Heritage site in 2001, this central square of Marrakech is chaotic and thrilling at the same time. Shopping nearby is also good.
Next we'll drive north to Fes which has over a million inhabitants, but it's primarily known for its ancient sprawling, medina or walled city, the best-preserved in the Arab world – and another UNESCO World Heritage site. Fez was founded in the 9th century and reached its apogee as the capital of the Marinid Dynasty in the 13th and 14th centuries, from which its urban fabric and major monuments date. It also hosts the world's oldest university, University of Al Quaraouiyine.
We'll spend several days in Fes, sleeping in a charming riad in the old medina area, and we'll explore the mosques, madrasas and souks with their highly decorated mosaic walls. This medina is much calmer  than the one in Marrakech. Craftsmen still work and sell their products here, and like others, this medina is divided into areas by trade—the leather crafters, ceramicists and so forth.Wander in the medina to find the perfect carpet or pair of earrings.
We'll tour a large ceramics factory where the craftspeople still hand-paint plates and vases. Other workers there paint tiles and cut the intricate tile pieces for zellij – complex mosaics composed of tiny geometric shapes – used to decorate walls, fountains and floors of mosques, madrasas (Koranic schools) and villas. (Photo below.)
Just outside of Fes we will meet our button-maker friends, and have a button-knotting lesson with these charming and welcoming women. On the route north, we'll try to search out the mysterious and famous 'laine de Habba' or the natural white sheep's wool yarn somehow hand-spun with tiny pill balls added in. It is used to add interesting texture to high quality djellabas for men, and we simply must discover HOW it is made because it defies the usual spinning methods!
Next stop is to marvel at the detailed stone mosaics of Volubilis, and the resident storks that make their nests on the columns of the Basilica. Founded in the 3rd century B.C., Volubilis became an important outpost of the Roman Empire and had many fine buildings; extensive remains of some survive at the archaeological site.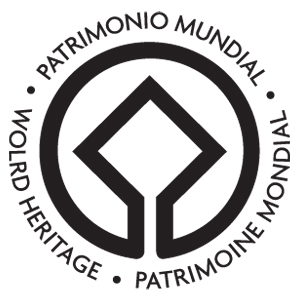 The UNESCO website declares: "Covering an area of 42 hectares, Volubilis is of outstanding importance demonstrating urban development and Romanization at the frontiers of the Roman Empire." After seeing the detailed floor mosaics and buildings at Volubilis, we'll drive north to the famous blue city of Chefchaouen, noted for being one of Morocco's most picturesque towns. This is a holy city with some 20 mosques and sanctuaries, where thousands of the faithful participate in an annual pilgrimage. For other visitors though, Chefchaouen's chief appeal is in its incredibly photogenic streets with the white-and-blue-washed houses. Then just a 40-mile drive brings us to Tetouan????–authentic Andalusian soul, making Tetouan the most Hispano-Moorish-influenced of all Moroccan cities.
Inside the walls of Sultan Moulay Abderrahman' ancient fortress lies a treasure – Tetouan's Ethnography Museum, established here in 1948 to showcase local customs and crafts. The ground floor displays traditional arts originally brought from Andalusia, and the second floor exhibits explore the daily life of women, including a wedding ceremony. Tetouani embroidery, considered one of the most original in Morocco, is a main focus of this section.
The museum is housed inside the gate of the ramparts, and you can climb up to the roof for photos of the town after you've viewed the exhibits. If we have time before continuing north, we'll have a look at the Tetouan Center for Modern Art with its five exhibitions rooms of modern painting and sculpture. The museum building was the old train station of Tetouan, designed by the architect Julio Rodriguez Roda in 1918.
Next we'll drive a short distance to the city of Tangier. After lunch, enjoy an afternoon break of mint tea and a panoramic view at the Cafe Hafa. A Tangier icon, the almost-century-old cafe is made up of tiers of whitewashed balconies that cascade down a steep hillside toward the Mediterranean, opening panoramic views of the sea and, beyond, Spain. One day we'll see the Great Moque and explore the Kasbah, where the sultan once lived. A wooden gate opens onto a large courtyard, which leads to the 17th century Dar el-Makhzem Palace and the modern-day Kasbah Museum. This Museum brings together an amazing number of exhibits from Morocco's history and there is also a large section devoted to Moroccan arts, with silks and illustrated manuscripts as well as centuries-old ceramics decorated from golden yellow to the famous Fes blue.
The Dar el-Makhzem Palace was enlarged by each successive Sultan. The carved wooden ceilings and marble courtyard showcase the intricacies of talented Moroccan craft-work. Also in the Kasbah is the infamous Cafe Detroit, once a haunt for the visiting and expat writers, artists and hangers-on in the 1960s.
On our last included night of hotel (October 4) at the Farewell Dinner, we'll take leave of old friends and new, and pack our bags, ready for flights home from Tangiers the next morning/day of October 5. Arrange your plane tickets to arrive on September 20 and to fly out of Tangiers on October 5, 2018. After the trip, you'll receive a photo journal book to remember your trip!
Tour Price:  $4850   15 nites
Single Supplement:  $985
Includes the following:
15 nights hotel accommodations (Sept. 20 through Oct. 4), (double occupancy), in charmingly decorated riads (small private villas with central courtyards), and excellent modern hotel in Casablanca)
All meals and non-alcoholic beverages–except 1-2 lunches* and 2 dinners.
All ground transportation by private van with excellent, professional driver.
Bottled water in the van for road trips
English-speaking, licensed, professional guide to accompany whole itinerary.
Transportation to/from airport on set arrival and departure dates.
English- and French/Arabic-speaking easy-going but professional guide to accompany the whole tour.
French- and English-speaking textile expert Cynthia Samake also to accompany itinerary.
A cooking class in Marrakesh to learn gourmet cuisine for your lunch.
Entrance to all historical sights, museums, etc., on the itinerary.
Beautiful custom photo book, created and sent once you get home, with group pictures, sites and recipes from our classes!
Not included: Personal items such as internet fees [our hotels have free/not-very-fast wi-fi]; laundry; overweight luggage; sites or activities not on the itinerary, between-meal snacks and bottled water when not in the van.
*If you don't want to do the cooking classes, the meal included during class time is on your own, since class participants will eat what they create. Cooking classes are lots of fun, but optional; we hope everyone will join in!
Please note that citizens of the USA, Australia, New Zealand, Great Britain, Canada, and many others do not need a visa to enter the Kingdom of Morocco and may stay up to 90 days.

Email * [email protected] if you have any questions.

All photos  © Cynthia LeCount Samake except Dreamstime.com: