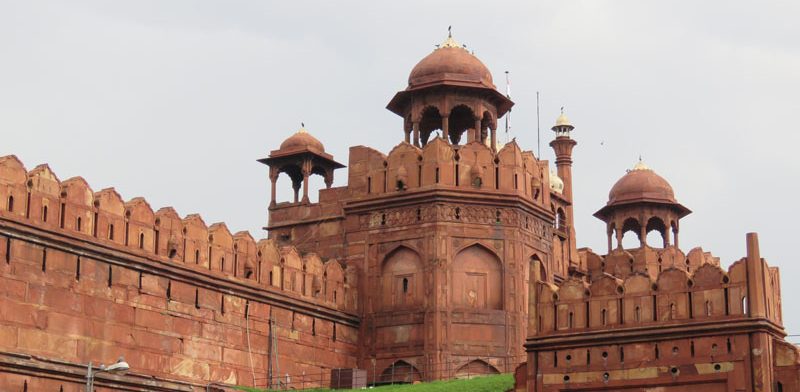 New Delhi, first day on our Textiles of India tour.
This is the impressive Red Fort,  constructed in 1639 under the fifth Mughal Emperor Shah Jahan. This was the palace of his fortified capital Shahjahanabad, and the Red Fort was the main residence of Mughal emperors for nearly 200 years.
The massive red sandstone structures were the ceremonial and political center of the Mughal state and the setting for events critically affecting the region. The Red Fort was also the site where the British put the last Mughal Emperor on trial before exiling him to Burma in 1858.
To Jaipur!
On the way from New Delhi to Jaipur in a little jeep. When we arrived at the outskirts of Shahpura village, we climbed into jeeps to navigate the narrow, congested lanes to the Shahpura Haveli for lunch. It's a beautiful old palace from Maharajah times. It is also the sister property to our elegant heritage palace hotel in Jaipur. See below the elegant Throne Room and my stately room.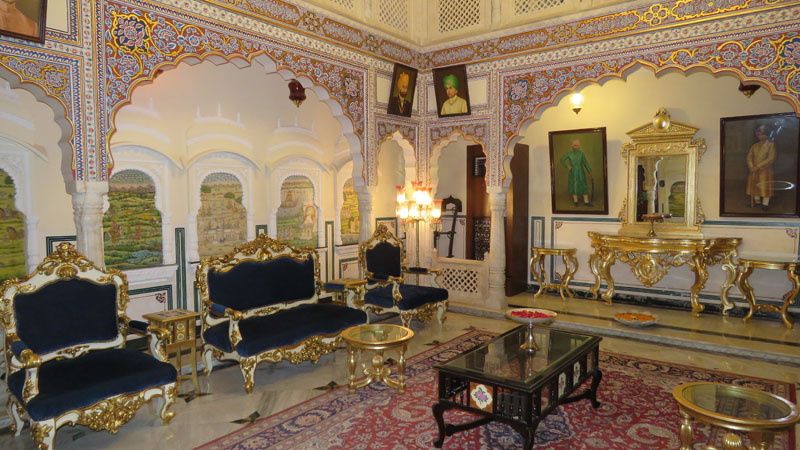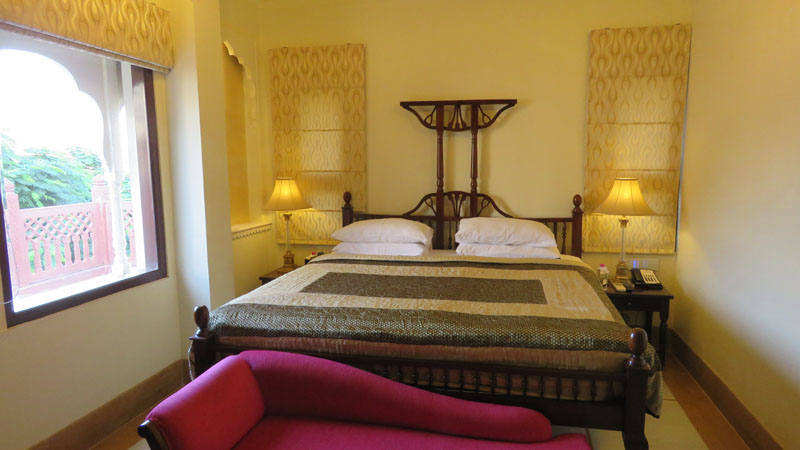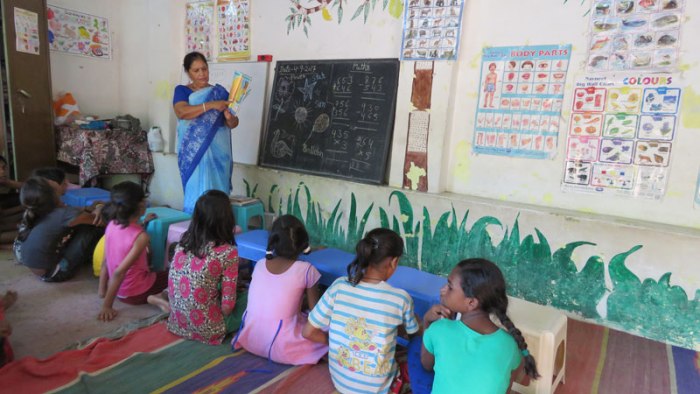 Ladli Girls Program
In Jaipur we stopped by the Ladli Girls Program to  meet the girls and the directors. The name Ladli means Loving Girls, but boys have also been included now. A couple of years back, my guide had suggested visiting the center. But he billed it as a home for destitute and abandoned girls. I demurred for a long time, because frankly it sounded depressing.
But when I finally went in 2015 my whole impression was changed by the bright-eyed enthusiastic girls! They sat on mats in a clean airy room, chatting and working on little zipper pouches. School was out for the day and they had chosen to work on various crafts projects.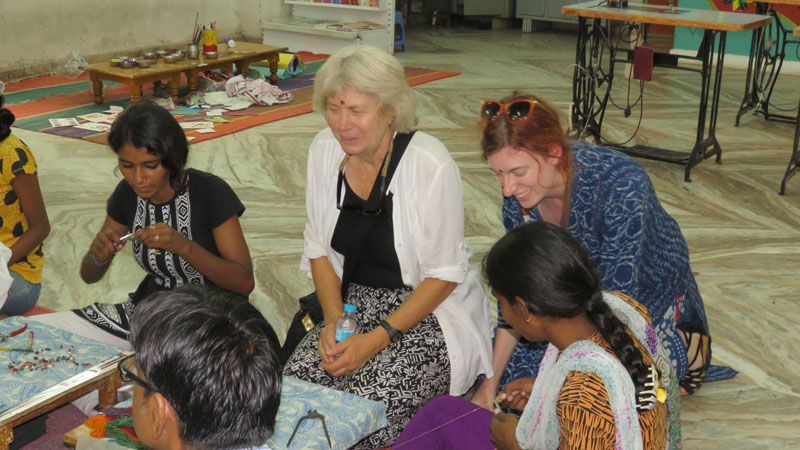 The kind director told us that all the children and teens enrolled at Ladli receive fair wages for their artistic work. The money is saved into bank accounts opened in their names. Obviously this is an unheard-of concept for street children. The directors give them their accumulated funds when they leave the program as young adults. 'The entire concept of the Ladli program is to empower participants through skill enhancement, financial security, and a  taste of independence and ownership.' Many people in the group bought interesting crafts here and several donated to help further the good work.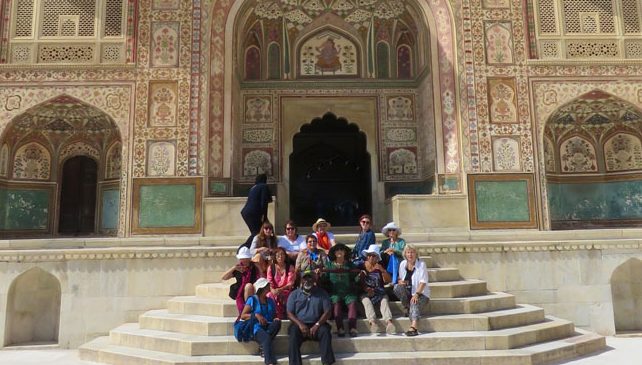 Amber Palace, Jaipur
Behind the Scenes "Textile Heaven" gang on the steps of the Amber Palace in Jaipur.
We arrived at the palace in a caravan of small jeeps because we don't allow Elephant Riding on BTSA trips. Many other travel companies now ban elephant rides too. Trainers use very cruel ways to break the spirit of very young elephants, to be manageable adults. We could not encourage this tragic practice and will continue to speak out against it whenever possible, in any part of the world.  Fortunately, at Amber Fort jeeps now make the uphill drive in the hot weather.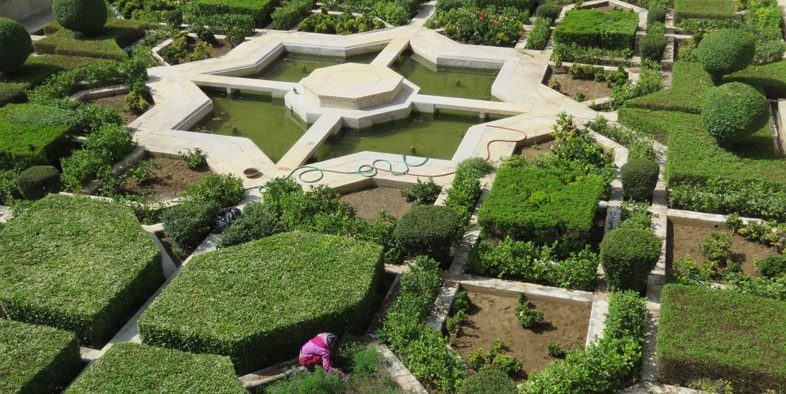 Gardens inside Amber Palace courtyard.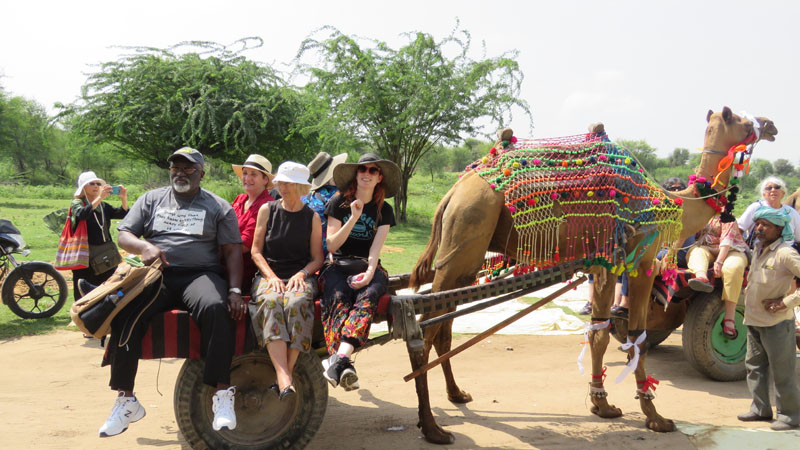 Block-printing with Deepak
Camel cart ride down the rutted lane to the printing studio! In nearby Bagru, we chose wooden blocks carved with designs that we liked, then stamped cloth in a workshop with old friend, Deepak, in white.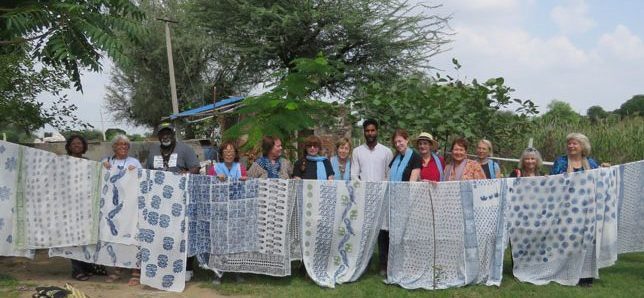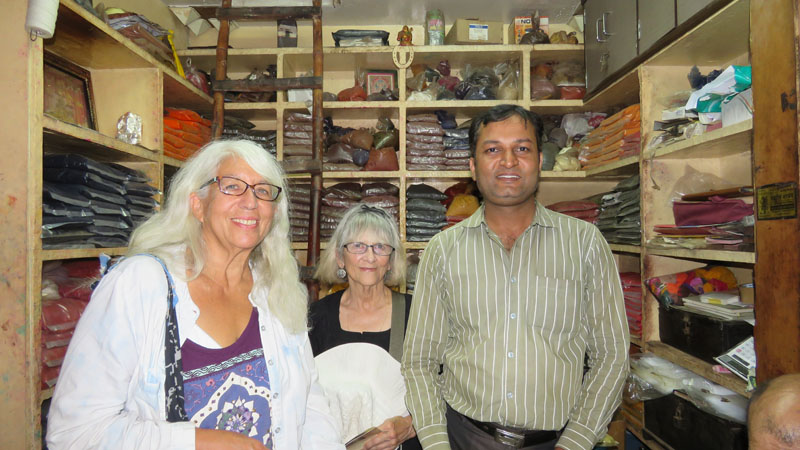 In Jaipur, we were happy to visit Lyz's friend, the natural dye expert Deepak Agrawal in his market shop of organic dyes. He showed us his book of samples, beautiful soft colors from madder, tumeric, and other plants.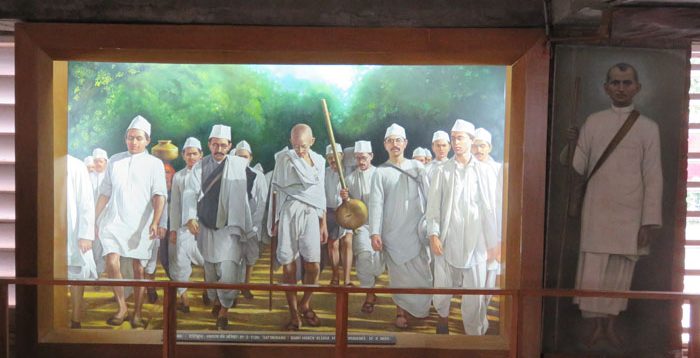 On to Ahmedabad…
Next we flew from Jaipur to Ahmedabad to meet our Favorite guide! He took us to fascinating Ghandi Ashram/museum on the banks of the Sabarmati River. Ghandi lived here 12 years, and it was from this base that Gandhi led the 1930 Salt March. The Indian government has established the ashram as a national monument in recognition of the influence this march had on the Indian independence movement.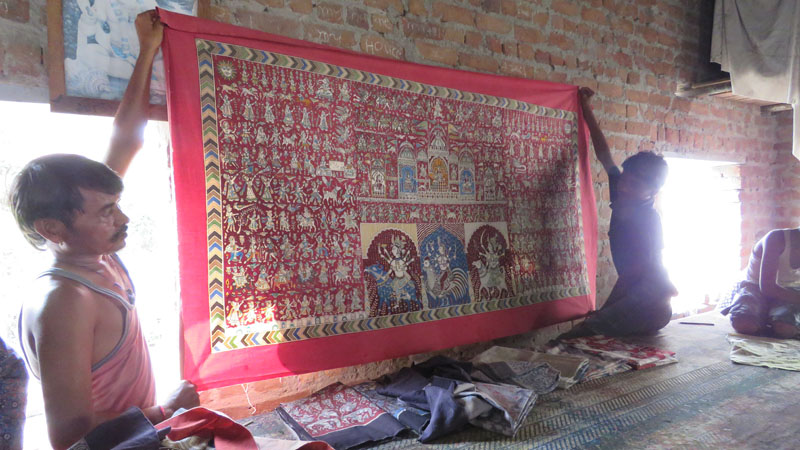 That afternoon we visited a family which is one of the last to paint these intricately detailed cloths which tell tales of gods and goddesses.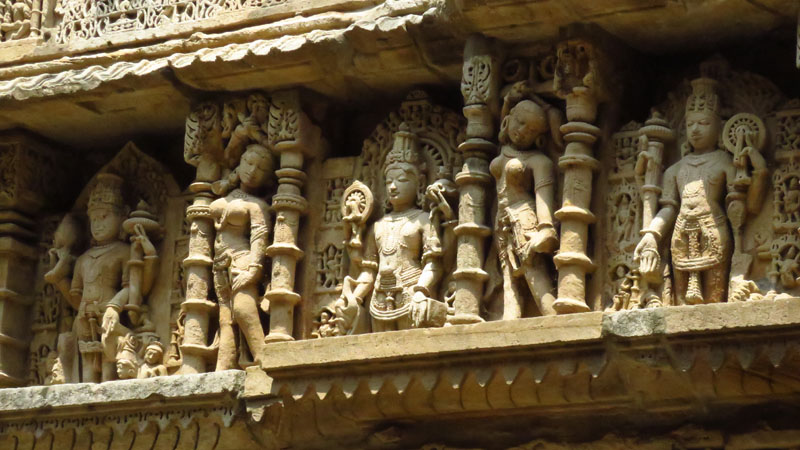 Adalaj Stepwell
Carved sandstone reliefs on the sides of the five-story  Adalaj stepwell in Gujarat state, near Ahmedabad.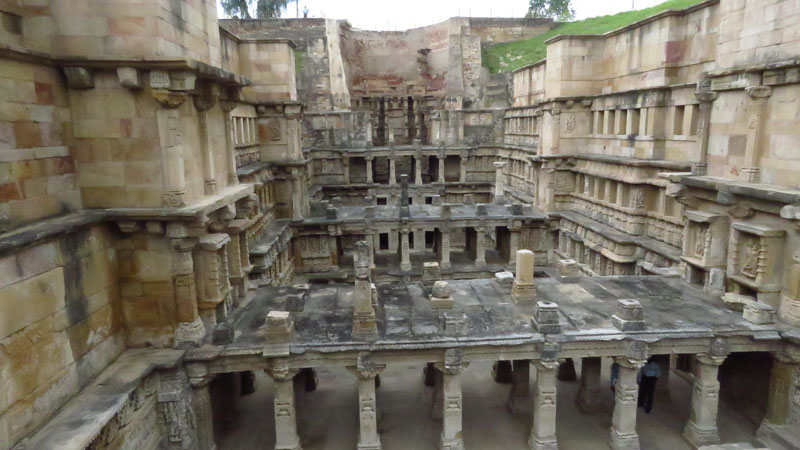 Commissioned in 1498 by Rana Veer Singh, this stepwell is a superb example of Gujarati architecture. Such water sources were once essential in the arid regions western India, providing water for drinking, washing and bathing.
Stepwells were also venues for festivals and sacred rituals. Of course the women had to balance heavy water jugs on their heads, as they climbed the steps UP those five stories!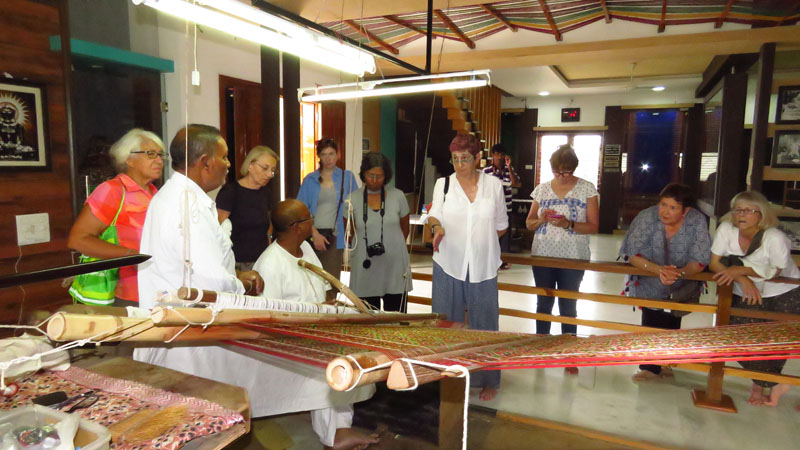 Ikat weavers in Patan
New studio and ikat museum in Patan town by the famous and very nice Salvi brothers – Master Weavers. They create labor-intensive double ikat with resist-dyed silk warp AND weft. An exquisite silken sari (6 yds.) woven by them can cost thousands of dollars and take months to complete.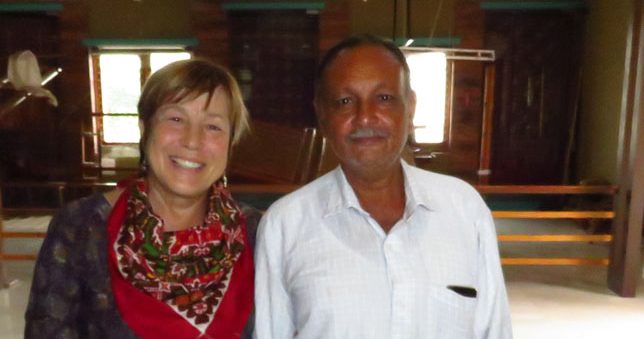 Rohitbhai Salvi, one of the Master Weavers, with Cynthia. We had a delicious lunch, toured the very interesting new museum, then were treated to a demonstration of the weaving and thread-tying techniques. A wonderful experience!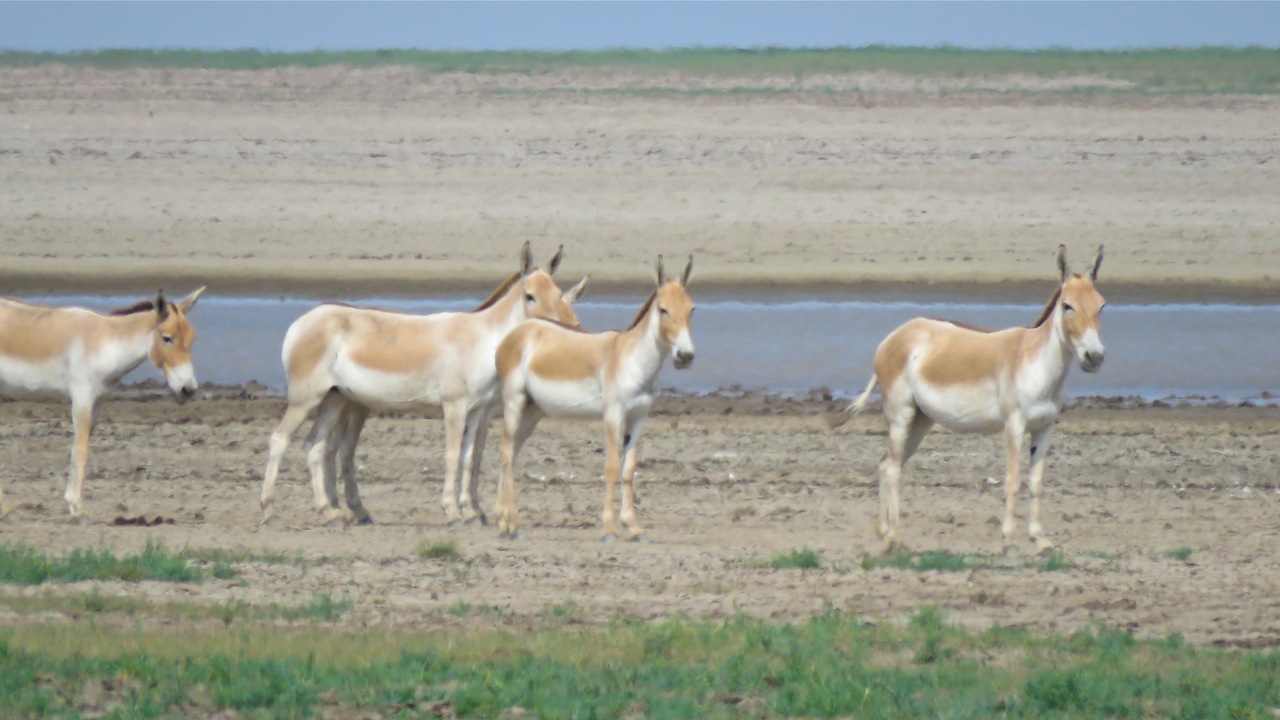 The famous wild asses of the Rann of Kutch. These beautiful and untameable creatures are more like elegant zebras, than scruffy little burros!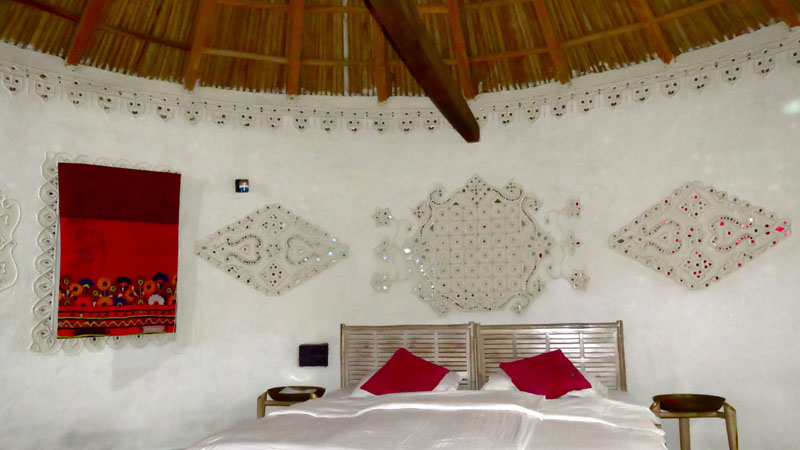 My sweet little mud- and mirror-decorated round bungha or bungalow in Little Rann of Kutch. Later, we drove back to Bhuj, then flew to tropical Cochin in the south. There we boarded a wood and wicker houseboat to float lazily among the backwater channels.
We loved the calm and relaxing time for two days and nights on the houseboat, with great food and comfy A/C cabins!