I have decided to join BTSA on an adventure!
How do I reserve a place on a trip?
First, send us an e-mail (info@btsadventures.com) or call Cynthia at Behind the Scenes (925-957-6690) to make sure there are spaces available. Our trips are small groups of less than 12 people and some fill up fast.
Then, download, print and fill out the participant form and the contract, below. Mail the two pages, along with a $500 personal check as your non-refundable deposit. Let us know if you can't download the forms and we will send them by mail. Note that paying a trip deposit by sending a check, without first finding out if there is room on the trip, does not assure you a spot!
Make checks payable to BTSA and send to Behind the Scenes,  900 Roanoke Drive #111 – Martinez, CA  94553
After receiving your $500 deposit, we will confirm your reservation and send the first of various info documents by e-mail, so that you can print them or download onto an iPad. You will receive full trip itinerary, lists of what to bring, list of hotels, maps, suggested reading, weather conditions, and more details. Be sure to note when the final payment is due for your particular trip; we don't usually send reminders.
Please note that if signups don't equal the the minimum number of travelers, the adventure may be subject to re-pricing or cancellation. Contact us to find out if the minimum has been reached before buying your plane tickets! We rarely cancel a trip, but sometimes it is necessary to re-price for a smaller group.
It is possible to pay final balances securely with PayPal, adding their 2.9% fee. Email us and we will create a PayPal invoice that will be emailed back to you. It's easy to pay PayPal with your credit card, and you don't even need a PayPal account.
Frequently Asked Questions
What is included in the tour price?
Any domestic flights as noted in itinerary
All internal transportation, usually by private van, occasionally first-class bus or train
Internal flight(s)
All lodging (double rooms with private baths)
All meals and tips in restaurants (unless otherwise specified).
Entrance to museums and archeological sites on itinerary.
Guided explanations by expert local English-speaking guides – at places such as Machu Picchu, Blue Mosque, Angkor Wat.
Workshops, lessons and classes (and sometimes materials) as indicated on the itinerary.
Expert in textiles or culture of the area to accompany tour itinerary.
Note that each trip is different and offers different activities and events. See individual itineraries for details.
We'll stay in charming boutique or best available hotels, and eat in a variety of good restaurants serving typical, local or continental cuisine. Usually, you will be able to order your choice of dishes from the menu in restaurants. Occasionally we will order family-style to enable you to try as many traditional dishes as possible. And sometimes we will have a picnic lunch along the route.
Optional single supplement is available for most trips; ask how much it will be if you choose to have a single room. If you are traveling alone, and want to share a room, we will find a friendly trip participant to be your roommate!
If there is no roommate available for you, you will need to pay the single supplement price which varies by trip–and you will then have your own private room and bathroom.
Please note that international airfare, alcoholic beverages, overweight luggage charges, airport departure transportation, departure taxes, and tips for porters are not included, unless noted.
If you have further questions please contact us regarding the details of the adventure you are interested in.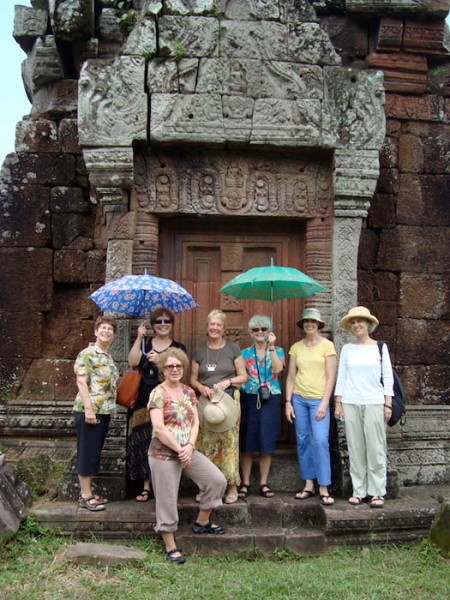 Is it possible to talk with a past Behind the Scenes trip participant about his or her experience?
Of course! We have a list of past travelers who will be glad to answer specific questions about the tours. Just ask, and we will send you the phone number or email of someone in your area.
How much experience do the BTSA trip leaders have?
Cynthia herself  has organized and led group tours around the world for the past 22 years. She began leading field research expeditions (UREP) for the University of California. Many of these research trips were textile and festival trips to Bolivia during the time she was working on her MA in Art History at UC Davis. Cynthia also traveled alone extensively in Bolivia and Peru while she was writing her book Andean Folk Knitting (1990).
She began Behind the Scenes Adventures with the first knitting/weaving tour to South America in 1995! Then she began branching off and organizing trips to Thailand, Laos, Cambodia, Guatemala, and Mexico; Morocco is a favorite destination, added in recent years. Local guides and other trip leaders assist Behind the Scenes in both South America and Southeast Asia; see Trip Leaders. They are all experts in their fields of ethnic art, indigenous textiles, cuisine and culture, and so forth.
Barou Samake, Behind the Scenes' West Africa Specialist, leads the Ghana and Senegal adventures. He speaks Bambara, French and English and knows the West African countries well. His experience leading travel ensures that everyone stays safe and has the absolutely best African adventure!
All BTSA leaders receive rave reviews from past trip participants for their enthusiasm and knowledge. See past travelers' accolades.
I am concerned about my personal safety in an unfamiliar country. What precautions does BTSA take to keep their adventures as safe as possible?
Naturally, we make every possible effort to keep BTSA travelers safe and happy! You will be met upon arrival at the destination airport, by a BTSA representative/driver and will be escorted back to the airport when you depart. We stay in secure and atmospheric hotels whose owners we have known for dozens of years; we usually have assistants or guides to help with your luggage, market purchases, etc.
During the trips, we make a point of using trusted and known van and taxi drivers and bus companies whenever possible; with all our contacts we have many friends who drive the rented mini-vans and other transportation. BTSA's trip leaders are all experienced and savvy travelers; we also give safety rules and pointers along the way to prevent petty thefts and pickpocketing, problems that actually aren't too common in the countries where we travel.
How do I make my plane reservations to arrive and depart at the right times?
BTSA provides you with a complete itinerary well in advance of your trip, so that you can schedule your international flight with the help of a travel agent or a website. We work with a wonderful travel agent named Nancy Smart; email her at nancy@berkeley4travel.com or call her office 510 843-1000  on Tuesday and Wednesdays. Other days, call 510 658-8188.
Nancy knows the dates for our trips and is more than happy to make suggestions, and discuss your flight itinerary should you have any questions. A good travel agent can be a real friend, finding you the best connections, prices, seats, and upgrades.
Specific information about arrival and departure options and arrangements will be sent a month or so before departure, with your emailed material. You will be met at the destination airport on arrival, either by a BTSA tour leader or by a hotel representative/driver with a BTSA sign with your name.
How many people will I be traveling with?
Our maximum group is usually twelve people. This group size allows us to visit remote villages and sites by private van and to interact on a personal level with the artisans of these locales. Occasionally the groups are smaller, and travelers often remark that it's like traveling with a bunch of friends!
What will the weather be like? What clothes should I bring?
Once your deposit is paid, you will receive detailed information about the weather, what to take, background information on the culture of the country or countries to be visited, etc. After reading this material carefully, e-mail or phone us with any additional questions.