TOUR DATES:  April 15 – 30, 2022.
Fly home May 1, 2022. This trip is full!

Scroll down for price.
Highlights of Turkey: Textiles & Tulips Tour

16-night textile and cuisine tour, begins and ends in Istanbul.
See the breathtaking Blue Mosque, and Hagia Sophia, now a mosque again.
Stamp a traditional block-printed scarf in our workshop.
Visit the Byzantine-era cave churches in Cappadocia.
Watch artisans knot carpets, make needlework flowers, and print cloth.
Tour famous museums and archeological sites such as Topkapi Palace.
Shop in bazaars and markets for handmade rugs and textiles.
See authentic Ottoman costumes and clothing at the Ullumay Museum.
Visit UNESCO Greco-Roman site of Ephesus.
Meet a Turkish family for a cooking class of authentic local dishes.
Hike in the Ballica Cave nature park and visit the stunning cave.
Sample all the amazing Turkish foods in each region we visit.
Learn about the complex and fascinating history of Turkey.
Explore the traveler-friendly town of Bursa and the Koza Han Bazaar.
Trip Details
We'll fly from home to Istanbul, one of my favorite cities in the world! Hopefully our visit will coincide with tulip blooming season so we can revel in the million blooms planted around the city, one bulb for each Istanbul city inhabitant.
Our pretty hotel is located in the heart of historical Istanbul, two blocks from world-famous architectural and cultural treasures. We'll have a local Turkish guide (expert in Istanbul) to tell us about treasures such as the exquisite Blue Mosque, the Basilica Cistern, and Topkapi Palace of the Sultans. We'll also visit the nearby Hagia Sophia, and learn its complex story as the superb building was changed from church, to mosque to museum and most recently, back to a mosque.
The Grand Bazaar is within easy walking distance to the hotel so we'll familiarize ourselves with the easy route to that shopping mecca of art, rugs, textiles and jewelry. Vendors are no longer pushy like in the past; bazaar edicts encouraged a more laid-back attitude and vendors are now pleasant. I have several favorite places to look at textiles in the Grand Bazaar, and we will have lunch with old friends in their restaurant in the bazaar.
Block-Printing Center
Next we'll fly east, meet our guide for the whole trip, driver and van, and take off into the Turkish countryside. First stop is a small and charming, traditional riverside town with historic architecture. Our hotel is right at the river in a picturesque location. Next day, in a town known for woodblock-printing,  we'll have a private printing workshop. The master printer will show us how to stamp cotton scarves (above), called yazma–using your choice of the hand-carved wood-blocks traditional to the area. We'll savor the local foods, including a famous and delicious regional dish called manti, teeny filled tortellini-like pasta shapes.
In this area we'll walk through and explore one of Turkey's tentative UNESCO sites: the beautiful Ballica Cave. "…the Ballıca cave provides geological and geomorphologic richness with its unique onion stalactites, well-developed curtain travertines, settling ponds and column structures. It's unlike other caves because of the huge variety of different stalactites, stalagmites and other formations.
Cappadoccia
Continuing south, we head to the Cappadoccia area with its dramatic eroded landscape. There we'll sleep peacefully near Urgup village, in cozy rooms at our unique and delightful cave hotel, right. In our cooking class in a village home, we will learn to make delicious traditional dishes, perhaps bouerek or dolma, with fresh local, organic ingredients.
The geological history of the area is fascinating. After the eruption of Mount Erciyes about 2.6 million years ago, ash and lava formed soft rocks in the Cappadocia Region, covering a region of about 20,000 square kilometres (7,700 sq mi). The softer rock was eroded by wind and water, leaving the hard cap rock on top of pillars, forming the present-day (phallus-shaped) 'fairy chimneys.'
You can have the amazing experience in Cappadoccia of silently gliding over these sensational, eroded tufa stone landscapes in a hot air balloon (optional). Manned by an expert Balloon Pilot, the balloons float safely and quietly over the area, offering the passengers unparalleled views of the "fairy chimney" volcanic formations! Contrary to expectations, the early morning ride is not freezing cold; passengers are kept toasty warm by the balloon heaters. (Anyone not ballooning may sleep in, as the balloon crew leaves at 6am and returns for breakfast around 9am.)
Thousands of years ago, the people realized that these soft rocks could be easily carved out to form houses, churches, and monasteries with cells for monks. One day we'll visit the fascinating rock-cut churches of the Goreme Open Air Museum. These 9th and 10th century Christian sanctuaries are beautifully painted with saints' images, often called frescos.
But instead of the fresco method (painting on wet plaster), cave church artists used the technically more simple secco method. This means the pictures were painted on dry plaster.* These pictures are less durable because the color is only a thin external layer, not part of the wall. The churches contain many examples of Byzantine art from the post-iconoclastic period, depicting scenes from the life of Christ. The icons of Christ Pantocrator in the churches, dating to 850–1100 AD, are among the oldest surviving artistic depictions of Jesus. Dark Church (Göreme) features the finest images of Christ Pantocrator in Cappadocia. Bright and penetrating, they appear in three consecutive domes. All the secco images are a unique artistic achievement from this tumultuous period.

From Cappadoccia, we'll drive west and visit remains of the fascinating ancient city of Çatalhuyuk, believed to be the oldest city in the world, and a UNESCO World Heritage site:  "The taller eastern mound contains eighteen levels of Neolithic occupation between 7400 BC and 6200 BC, including wall paintings, reliefs, sculptures and other symbolic and artistic features. Together they testify to the evolution of social organization and cultural practices as humans adapted to a sedentary life. Çatalhöyük provides important evidence of the transition from settled villages to urban agglomeration, which was maintained in the same location for over 2,000 years. It features a unique street-less settlement of houses clustered back to back with roof access into the buildings."
Textiles of Turkey
Turkey is famous for exquisite carpets and kilims, historical regional dress of infinite variety, and remarkable little flower edgings on the hand block-printed scarves. Everywhere we go, we'll explore museums, studios and workshops to see examples of these brilliant creations.
Besides making our own hand block-printed cotton scarves, we'll see rugs being knotted in Cappadocia. And in Konya, we'll search out the beautiful flat-weave (discontinuous weft, kilim, or tapestry technique) rugs they are famous for.
Konya is also the home of famous Sufi poet Rumi and we will visit his mausoleum. From Konya, we will head for the charming town of Selcuk to see the famous archaeological site of Ephesus. This UNESCO site was an ancient Greek city, built in the 10th century BC. The city flourished after it came under the control of the Roman Republic in 129 BC. Ephesus was famed for the nearby Temple of Artemis (completed around 550 BC), one of the Seven Wonders of the Ancient World. Among many other monumental buildings are the Library of Celsus (below), and a theatre capable of holding 25,000 spectators.
Later, we'll drive north to Bursa, where we stay in a cozy hotel in the old town. There we'll visit the country's best textile museum with its many fully-accessorized mannequins in traditional dress from all over Turkey. We'll also visit the old silk cocoon market in a wonderful building called Koza Han, with its hundreds of scarves and textile shops. There you'll meet some antique textile dealers who will show us the incredible embroidery and needle lace in their collections. Prices here range from moderate to expensive, but there are textiles to buy here that are not found elsewhere.
Back to Istanbul
Then we'll take a modern ferry back to Istanbul to see more of that exciting city. Lunch on the ferry is on your own. Later we'll see the excellent Archeology Museum (near our hotel) and a friend's upscale textile gallery. Our final day in Istanbul is yours to see something new in the city, or return to a favorite place. Perhaps try a hamam for a sudsy scrubdown, or visit the exquisite Chora Church with its stunning frescoes – called the Byzantine marvel of Istanbul. Or you might return to admire the Blue Mosque or see other stunning architectural wonders of the city – your choice. I'm always happy to return to the Grand Bazaar with whoever wants to shop for final souvenirs and also stop by the place that sells needle-worked flowery scarf trims, above.
Lunch on your own this day; there are many restaurants within walking distance from the hotel where we can have lunch. Farewell Dinner with group at our Sultanahmet hotel. Pack up and organize for flights home. (Last included night of hotel is April 30.)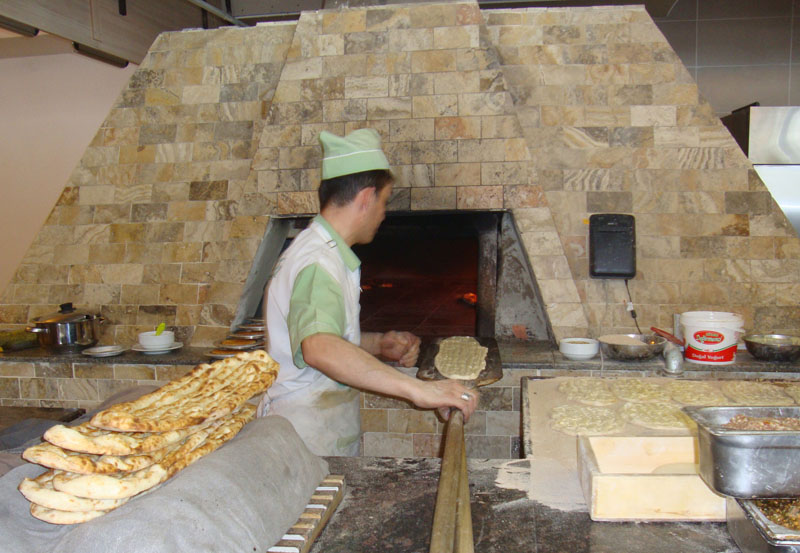 Fly HOME: MAY 1.    Be sure you check out the Photo Gallery of TURKEY here.
Tour Price:  $ 5320
12 people maximum.
Single Supplement: $850

Includes the following:
16 nights accommodations, (double occupancy, in charming boutique hotels, or good modern ones when necessary)
English-speaking, licensed, professional Turkish native guide
All meals –except 2 lunches and 2 dinners.
Unless a meal is family-style, you may order your choice of dishes in restaurants.*
Non-alcoholic beverages with meals (tea, coffee, ayran [yoghurt drink], water, cherry juice, etc.)
Interior flight to Samsun.
All ground transportation by private, high-top Sprinter van with excellent, professional driver
Bottled water always available in the van for road trips.
Transportation from airport to hotel on set arrival date.
Museum visits to see the textiles and archeology of Turkey.
Cooking class and lunch in a private home.
Entrance to all historical sights on the itinerary such as Çatalhuyuk ancient city, Ephesus, etc.
Private Tokat scarf printing workshop with your creation to take home.
SPECIAL! Photo book of your adventure once you return.
Not included: Turkish visa fee [$50 for U.S.]; free-day optional activities, airport transportation for early arrivals, departure transportation, guide and driver tips (we will give you guidelines), and optional hot-air balloon ride [pay around $200 directly to the balloon company]. Most hotels have complementary bottled water and free internet.
FOOD NOTE: Occasionally in a restaurant, the guide will order a generous selection of different dishes so you can taste everything, to familiarize yourself with delicious home-style Turkish cuisine. And sometimes in a family style home-based restaurant, everyone will be served a delicious set meal. At these events, vegetarians who can be a bit flexible will find enough vegetable dishes, fresh breads and pasta to survive quite comfortably! But many typical Turkish dishes do include meat, such as stuffed eggplant or stuffed peppers and zucchini. Kebabs of eggplant, tomatoes and onions are common alongside the chicken and beef kebabs. More on food later.
*Excellent website on the churches and history of Cappadocia with tips for the church visitors. Information on frescos and seccos and websites below by Jason Borges.
https://www.cappadociahistory.com/post/goreme-open-air-museum
https://www.cappadociahistory.com/post/10-pro-tips-for-church-visitors
For more information, E-mail Cynthia: [email protected]
or call 707-939-8874.