Walk, Cruise and Explore: Turkey
(We would love to return to Turkey when the situation is calmer….Check back for future dates.)

NO CURRENT DATES
Behind the Scenes' expert guide Zeynep (Zee) Parlak (below), and Cynthia LeCount Samake, will lead this exciting trip that combines traditional Turkish culture and textile viewing/shopping with hiking and sailing. Zee is a Turkish native, speaks excellent English and is a licensed, experienced, professional guide who consistently receives rave reviews. Combining knowledge of her country's traditions and history with her personal anecdotes, she is a delight to travel with! Zee will be joined by a specialist nature/adventure guide who has been walking the Mediterranean coastal trails for decades; he will explain the historical Roman archeological sites we encounter. He also knows first-aid for hikers.

We start and end in Istanbul, visiting the most renowned monuments and the wonderful bazaar with its array of new and old textiles, ceramics and other crafts. (If you've been here before, you may want to find other things to visit or re-visit.)
Then we fly to Cappadocia with its amazing eroded landscape, a World Heritage designated area. It also features unusual Byzantine-era cave churches with beautiful frescoes, a cooking class/demo of delicious country cuisine with local village friends, our wonderful, atmospheric cave hotel, a visit to a carpet weaving workshop, and an optional hot-air balloon ride—a fabulous experience for the adventurous. We'll have a free day here, so you can begin your hiking trip in Turkey by exploring the village paths near our beautiful hotel—or you can relax, read, or soak in the pool.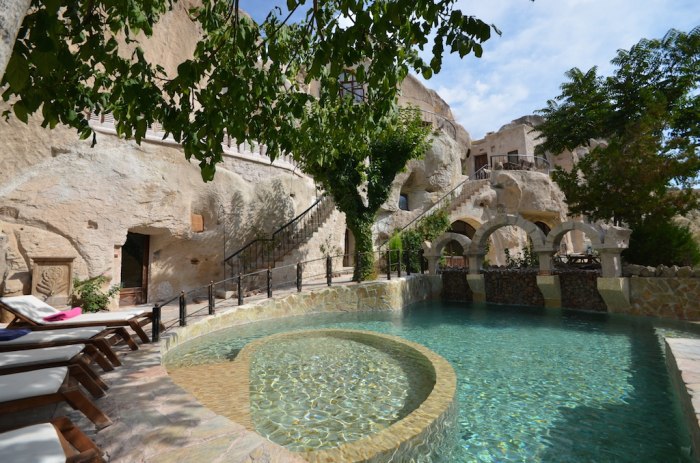 A short flight takes us to Antalya, where we'll have lunch in the historical part of the city with its cobblestone streets. Next, we drive to Cirali and begin walking the Lycian Way, a waymarked foot-path linking ancient pathways, mule and caravan trails, and back country roads.  You'll carry only a day pack with water, sunscreen and camera; the van will meet us each afternoon at the hotel, with our luggage.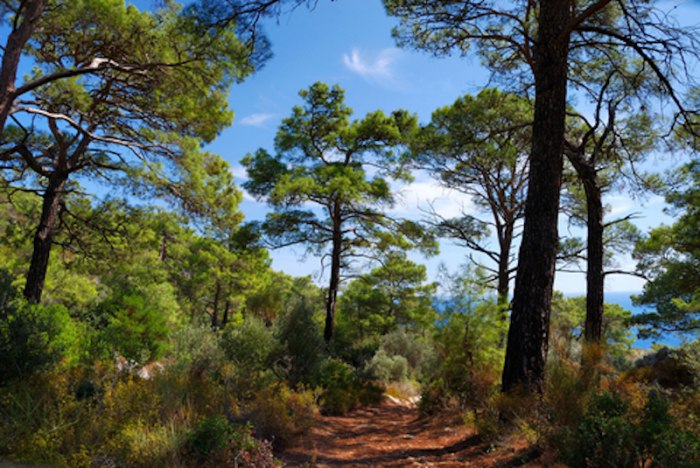 The Lycian Way takes its name from the civilization that once ruled the area from the 15th to 6th centuries BC. The section we will traverse passes through typical villages, mountain hamlets, and ancient Lycian and Roman sites, as we wend through pine, juniper and cedar forests. In many places, the trail offers panoramic views of the bright blue sea and the picturesque harbors and islands.
The trail is well-maintained and the walk is listed as one of the Ten Best Walks in the World. The route is graded "medium;" it is not level walking, but has many ascents and descents as it approaches and veers away from the sea. We'll hike a section that is not too strenuous, and we will take the time to explore some of the numerous archaeological sites along the way—many of which can be accessed only by the footpaths.
Then we'll leave land behind and board the TAYAZA, our pretty wooden yacht or gulet, to cruise the Mediterranean. We'll travel by sail when time and weather permit, stopping in little bays to give you time to swim in the crystal clear water.We will also dock in many places and go onto shore to experience more of Turkish village life. An expert Turkish chef will prepare our meals on board with fresh and healthy ingredients; he might even let you help to layer a bourek or roll a grape-leaf sarma—staples of the delicious Turkish cuisine!
In Byzantine times, the gulet was developed for transport and fishing in Mediterranean waters; it has a sharp bow, a broad beam and a rounded aft. Modern gulets are 2-masted yachts, and still traditionally handcrafted of mahoghany, pine and teak. They are fitted with sails and motor, and modern conveniences, designed for leisurely travel along Turkey's stunning southern coastline.
After our sailing, we'll drive to the Dalaman Airport for the flight back to Istanbul. The rest of that day, and the next are free days in Istanbul. Cynthia will be happy to help you find the sights that you'd like to see: For instance, the Topkapi Palace, the Chora Church, the Museum of Archeology, the Museum of Islamic Arts (just totally renovated), the Spice Bazaar, etc. There are so many things to do that are easy to find, in proximity of our hotel, that you will find that you quickly feel comfortable in Istanbul!
Flights home on October 16; note the arrival and departure dates carefully when buying tickets. If you would like to spend a few more days in Istanbul after the trip, when you know how things work–or even before the tour–let us know and we will give you the hotel contact info and arrange for the hotel's taxi to pick you up at the airport.
TOUR PRICE: $6250 USD in double room or cabin
(SINGLE ROOM or CABIN:  $900 USD)
Includes the following:
18 nights "Boutique" Hotel* or Pension and Gulet (yacht) accommodations–in double rooms/cabins with private bathroom*
4 nights Istanbul; 3 nights Cappadocia; 5 nights along Lycian Route; 6 nights floating peacefully on gulet
Optional day-trips on land, from boat. Swimming while we are anchored is a treat in clear blue sea…
All meals, all soft drinks and water with meals, except 2 lunches and 1 dinner during free days.
(* This will change if the group is fewer than 8.)
International Arrival airport transfers to IST hotel (on group arrival dates)
Local transportation with modern, A/C high-top vehicle and professional driver.
Three Domestic flights (Istanbul to Nevsehir; Nevsehir to Antalya; Dalaman back to Istanbul)
English-speaking, professional, Turkish native Guide
Trip Photo Book – Your fabulous experience in living color; a paper book and link to e-book!
Entrance fees for all natural and historical sites, as on itinerary
Group Transfers for domestic flights from airports of Istanbul, Nevsehir and Antalya
On the Lycian trail, lunches are mostly picnic-style bag lunches.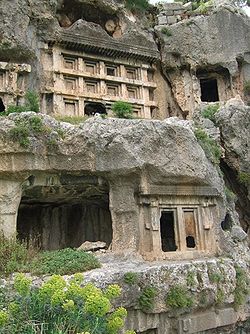 EXCLUDES:
International Flights
Travel insurance –*Required*  (Suggested companies info later.)
Airport Departure transfer from Istanbul. Hotel Kybele desk will arrange transportation for you with the hotel van driver.
Between-meal snacks and drinks, ie. trail snacks and gulet snacks (I will bring some.)
Alcoholic drinks, and 2 lunches and 1 dinner on free days.
Personal expenses such as internet and laundry– and optional activities such as the balloon ride.
Tips for guide and driver. Budget about $100-150 total per person for guide and about $75 total per person for the driver. Naturally tip amounts are up to your discretion – and your appreciation of the services.
NOTE: Behind the Scenes Adventures and Cappadocia Tours reserve the right to change the itinerary or accommodations when necessary or desirable, to ensure the group's comfort or safety.  In case of poor weather and/or sea conditions, the cruise program is subject to change without notice.
 Necessary Equipment for hiking: (More info to come when you sign up.)

Comfortable trekking Shoes– (Vibram soles) and water-repellent (Gore-Tex)
Walking clothes (WindBreaker, water-repellent)
Day Pack with water bottle to re-fill
Walking Sticks/poles if you like to use them.
Sunscreen, Sun Hat
Sun Glasses, flashlight
Swimsuit and water shoes optional