No dates for 2018. May be repeated in 2019

Buddhist Festival, Apatani and Monpa Village Visits, Silk Weaving, Kaziranga National Wildlife Park
Limited to 11 people.
Northeastern India remains the least-visited and least-populated region of the country — and the most traditional. In the seven northeastern states, over 200 ethnic groups speak as many dialects; this diversity is reflected in the clothing, architecture, and traditional arts and crafts.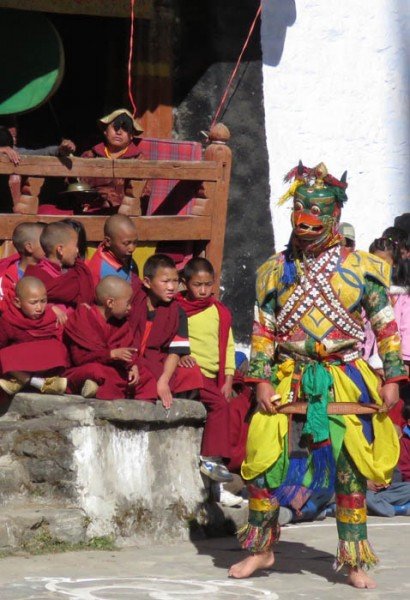 Highlights of this 20-night adventure include an exciting three-day Buddhist festival at the huge Tawang monastery; spectacular mountain and jungle scenery, silk weavers in Dirang and Biswanath Ghat, several superb Hindu temple experiences, and visits to friends' families of Apatani people in Ziro Valley. After being on land for almost two weeks, we'll board a fine new riverboat as transportation for the remaining days: to visit Kaziranga National Park, Majuli Island, and the mask makers there;  tea plantations, and silk weaving villages. We will be traveling in the states of Assam and Arunachal Pradesh, location map below. This area is very different from the rest of India!  Photo gallery with more images here.
Details: We'll start out in Delhi, check into the hotel any time after 12 noon, for the night. Then we'll see a bit of Delhi before we fly to Dibrugarh on the banks of the Brahmaputra River (state of Assam), meet our wonderful guide and the three drivers, and visit the local market. Cross the Brahmaputra River on a ferry, then visit a Nyishi village. Our English-speaking expert guide and one driver are from the Nyishi ethnic group so these village visits are full of fun and photo ops!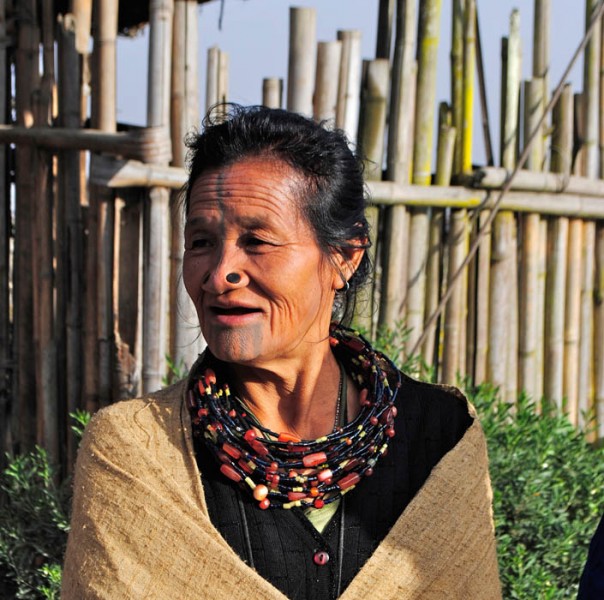 Continuing on, with special 'Inner Line Permits' in hand, we cross into Arunchal Pradesh and drive north to to the beautiful Ziro Valley, home of fascinating indigenous cultures who worship the Sun and the Moon –a religion called Donyi-Polo. We know many families here and we'll be welcomed to village homes, meeting mothers and grandmothers with the nose plugs typical of the Apatani people. Traditional dinner with the guide's family.
Next we drive to Nameri National Park and spend the night in comfortable tents at an Eco-Camp, surrounded by tropical plants and birds. Then we'll continue to Dirang where Monpa silk weavers make red jackets patterned with colorful cotton supplementary weft.
Our wonderful guide is a serious bird-watcher and he loves to photograph them whenever possible. There will be an (optional) early morning bird-watching foray to see Black-Necked Cranes in the valley here. Our route progresses from lowland agricultural valleys to pine forest highlands, then we arrive at starkly beautiful Sela Pass at 13,700 feet. After the pass, we descend on the winding mountain road to Tawang situated at almost 10,000 feet in the Himalayan foothills, site of the huge and impressive monastery — and venue for the festival.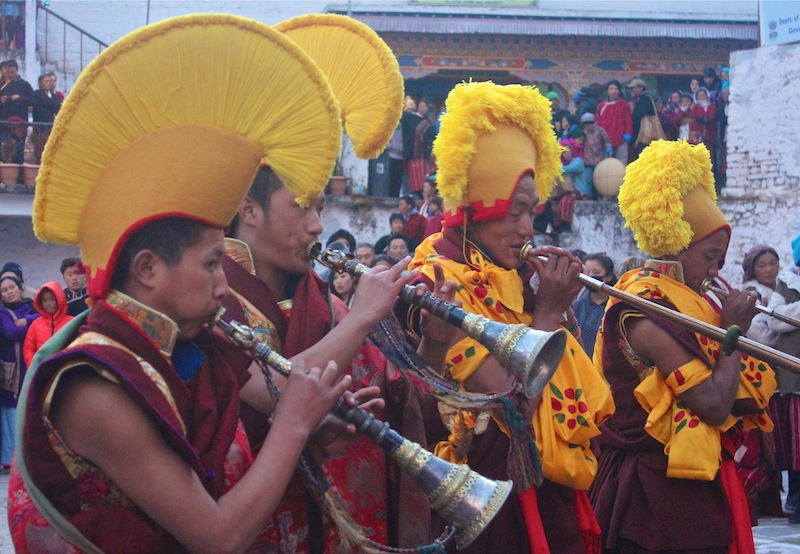 To fully experience the festival and this lively and spiritual town, we will spend several nights in Tawang, taking time also to visit the big monastery with its enormous Buddha, a nearby nunnery which welcomes visitors, another incredible monastery with intricate mural-painted walls, and the Tawang town market. The guide speaks several indigenous languages, and can relay questions to the people we meet. Tawang is about twenty miles from the Tibetan and Bhutanese borders, in forested foothills of the Himalayas.
After the festival, we return to Dirang over winding roads following the tropical hills and valleys. Banana trees, rice fields, and tropical foliage are common along this stunning route. In Dirang, we can visit the National Yak Research Center's fascinating farm/ranch and meet the first test-tube yak, among her friends!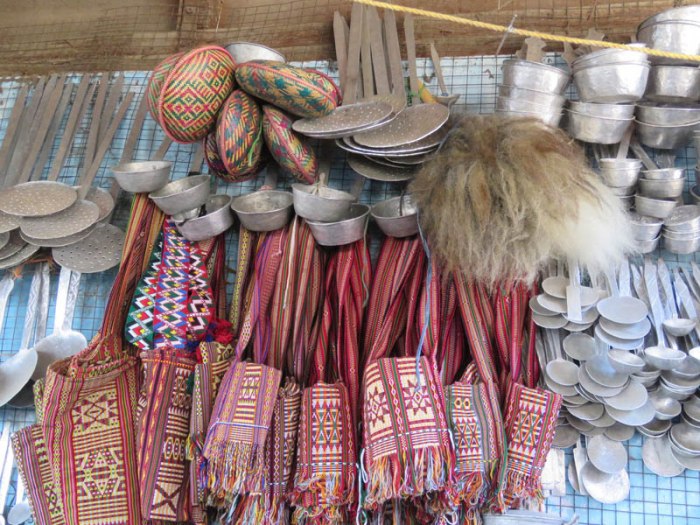 From Dirang, we'll head southwest through Bomdilla (market scene here) then into Assam, admiring dramatic scenery with bright chartreuse vistas of rice fields and darker green tea plantations. We'll board our flat-bottomed riverboat, the MV. Mahabaahu, for a relaxing journey along the mighty Brahmaputra River. An expert naturalist will be on board with us, offering informal Powerpoint presentations about the culture, fauna and the River environment.
The riverboat has an open sundeck, swimming pool (although January may be a bit cold for swimming), excellent cuisine, and pleasant air-conditioned cabins. The staff of chef, cooks, and others is delightful, and the food is delicious. The chef will do a cooking demo if you are interested, and you can visit the engine room of this 4-year old ecologically smart, modern boat.
Internet is almost non-existent while we are on the boat, except when we sail by a town and there is slow connection. Each day we moor the boat and go ashore (if you like) in the shuttleboat, to whatever the area has to offer! In Kaziranga National Park where we will take jeep safaris with the naturalist and our guide to see some of the rare One-horned Rhinos and other creatures in the wild. Birds, deer and perhaps some elephants complete the wildlife safari experience. Otherwise, the boat trip is a time to relax, read a book, participate in the early morning yoga class, sketch a rhino, or just dream the day away.

Finally we arrive in Guwahati, visit Peacock Island with the famous and rare Golden Langur population, perhaps shop a bit at FabIndia, and then in the afternoon of Feb. 5, fly back to New Delhi to depart that night (typical departures are around midnight or very early next am. of Feb. 6.)
SMALL GROUP: LIMITED TO 11 PEOPLE
(Ask about the Extension to the Taj Mahal and Bear Rescue Sanctuary for 2 nights/2 days before the trip. Both places are thrilling, if you haven't been there!!)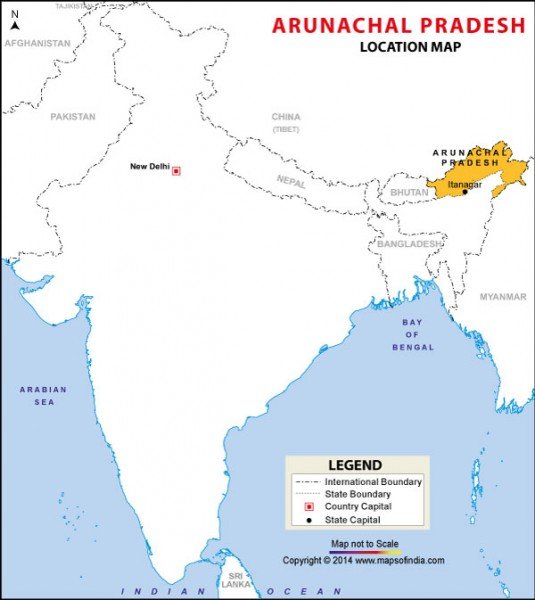 TRIP PRICE:  $6725
Includes 20 nights accommodation (double rooms with private bath) in good modern hotels in cities, and clean local hotels in remote areas. On the riverboat, the luxurious modern cabins are double share (singles subject to availability).
All local transportation by 3 excellent, comfortable SUVs with professional, good-natured drivers; luggage stored on top of vehicles, and protected with plastic tarps.
Also included are TWO interior flights Delhi to Dibrugarh round-trip (return from Guwahati), comfortable, modern riverboat sojourn down the Brahmaputra, all meals and tea breaks, water/tea/coffee and soft drinks with meals; bottled water on road trips and boat; all village visits and museum entrances as on itinerary; all temple/monastery/nunnery site visits, yak farm visit with yak geneticist guide, land excursions, as on itinerary; airport arrival and departure transport (on group arrival and departure days), Inner Line Permit fee for travel in restricted area of Arunachal Pradesh; professional English-speaking guide from Arunachal Pradesh, and American Cynthia Samaké to accompany entire itinerary– and WOW! a custom travelogue photo book of your trip. Lunch and dinner included on February 5, departure night.
Not included: International airfare, visa for India (get by applying online from Travisa.com before departure); travel insurance (required, usually available inexpensively when you buy your airline ticket online); alcoholic beverages, personal expenses such as guide and driver *tips and luggage porter tips, laundry, between-meal snacks; internet charges, and camera/video fees if required.
Tipping guidelines will be sent with trip information.