Textiles, Temples and Festivals

July 1 – 19, 2022
Fly home July 20.

Join us on this exciting SE Asian Textile and Culture Tour! We'll all meet on July 1 at the airport in Luang Prabang (Laos), probably connecting in Bangkok. Scroll down for flight info and trip price.
HIGHLIGHTS
Go Behind-the-Scenes to see fabulous hand-woven silk and cotton ikat textiles and an amazing traditional festival in little-known north-eastern Thailand! You'll see the fabulous wax candle festival called Khao Phansa. We'll also see the carved and painted masks and the costumed dance typical of the Phi Ta Khon festival. The two festivals happen on different dates in two different towns, about a month apart, so we have chosen to attend the most spectacular one. But Neeraha, the friend who owns our hotel, and I are arranging a special mask and dance evening at the hotel, so you can experience the best masks and costumes from Phi Ta Khon, as well as the wax candle procession and candle carving competition. Both these festivals showcase some of the best traditional artists in Thailand. We'll also see the superb UNESCO site of Angkor Wat in Cambodia, and the golden Buddhist temples of Luang Prabang, Laos.
Besides festivals and temples, we'll see plenty of stunning textiles! We'll watch weavers at work, and learn how they create ikat-patterned and supplementary weft (khit) fabric in both silk and cotton. We travel in a big loop, seeing the best of all three countries — the most interesting textiles, architecture, archeology and culture — including three UNESCO World Heritage sites.
TRIP DETAILS:
We first fly into Luang Prabang and check into one of my favorite, comfortable tropical hotels. Next day, with a local licensed guide, we'll explore the ancient royal capital, now designated a UNESCO World Heritage site. We will visit important Buddhist temples and learn about the Lao version of Buddhist practices. You'll also be able to explore this laid-back, safe and friendly town on your own. Time to soak up the tranquil, tropical ambiance!
One day we will spend the afternoon at the textile center of Ock Pop Tok where we'll chop wood and extract seeds from prickly achiote pods to make natural dyes. Then we'll dye our silk scarves. We'll be able to watch talented silk weavers and have a gourmet lunch at the Ock Pop Tok restaurant by the Mekong River. Food is delicious in Laos. At dinners, see if you are brave enough to try the spicy, fermented water buffalo skin condiment! However, the crispy-fried river moss is really delicious.
The local market is interesting, and nearby there is an excellent new textile museum and shop. You can try shopping at the Night Market with all its handicrafts and art. Although it is getting rather commercialized, there are still some interesting things to be found. Along with the magnificently decorated golden temples, a significant part of the old town's appeal is the many French provincial style houses, the riverside location, and the tropical ambiance. Luang Prabang is a delightful place to relax for our introduction into Lao culture.
Then we fly south to the pleasant riverside capital of Laos, the city of Vientiane. There we'll meet the driver and van that will be with us for much of the trip. I love to visit the enormous Salat Tao, the daily market for locals, with many stalls of exquisite examples of silk weaving. A Laotian textile collector friend will take us to meet the weavers in a nearby weaving village. We'll also tour the innovative silk weaving studio called Lao Textiles, started by American fabric designer Carol Cassidy who revived Lao handwoven silk weaving. She has lived in Vientiane for over 30 years, creating an international market and reputation for fine Lao silk fabrics. Vientiane also has fabulous wats (Buddhist temple complexes) that we will visit, such as Wat Si Saket with its 10,000 Buddhas.
INTO THAILAND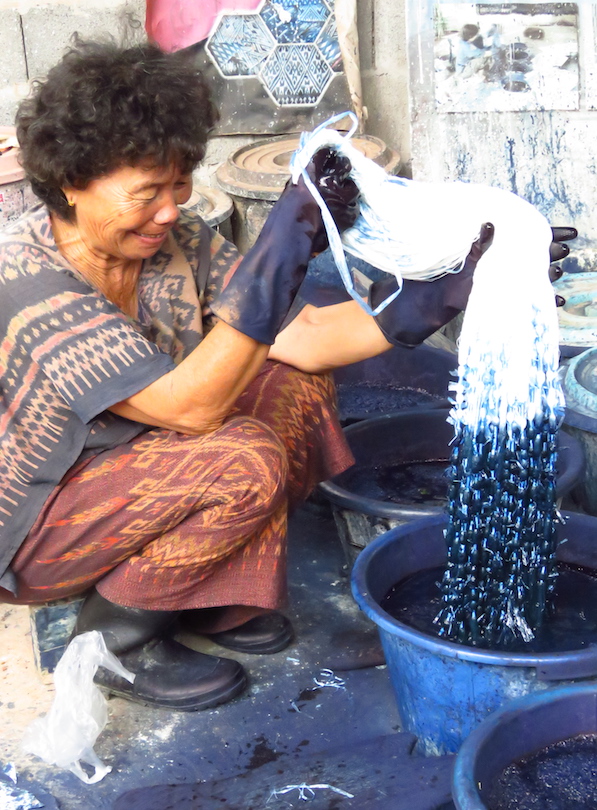 Leaving Laos, we'll drive across the Friendship Bridge, over the Mekong River and get our passports stamped at the Thailand border (no visas required). We'll continue by private van to the village with the important Phi Ta Khon festival traditions.
Working within typical age-old and innovative styles, the mask painters and the wax carvers create stunning festival art. Phi Ta Khon costumes relate to celebrations asking for rain and fertility (thus plenty of phalluses as dance batons!); the name means Ghosts Following People and we'll learn the whole significance.
The participants receive blessings from Buddha and the local abbot. We'll go through the small Phi Ta Khon museum that shows the history of the event and some older masks. Our hotel in the festival town (as mentioned) is owned by a friend Neeracha. The place is especially beautiful, with its water buffalo theme (and real creatures too!) and large infinity pool. (Be sure to bring a bathing suit.) Townspeople that she knows, who participated in the June event, will bring masks and demonstrate the dances and the traditions Phi Ta Khon.
After the "Ghost Festival" demonstration, we'll drive east into the region called Isaan, the local name for the northeast. Lonely Planet describes Isaan: "Here is part of Thailand with all of the acclaimed Thai hospitality, culture, and food but none of the backpackers! Just south of the border with Laos, lies this entire region that has been little-visited  by outsiders. The area is rural Thailand at its best: farmland meets sleepy villages [and lots of textiles!]. It's proof that Thailand isn't completely trodden with tourists."
BAN CHIANG ARCHEOLOGICAL SITE
One day, we will take a day trip out to the UNESCO archeological site at Ban Chiang, to learn about the fascinating culture being excavated here. We'll also go through the museum, full of unique cream-colored  ceramics with rust swirls and spirals. Ban Chiang is considered the most important prehistoric settlement so far discovered in South-East Asia. Metalworking technology here has proven to be among the earliest discovered in Asia. Preliminary excavations began in 1967 but in 2003, Ban Chiang gained international attention when the United States Department of Justice prosecuted smugglers and museums for trafficking in Ban Chiang antiquities.
The Ban Chiang Archaeological Site consists of a large, previously undisturbed earthen mound which, when excavated, was found to cover a prehistoric habitation site of some of Southeast Asia's earliest farmers. The site, which had been abandoned and buried underground for at least two millennia, has now been partially excavated by Thai and international archaeologists. However only a small percentage has been uncovered thus far.
Excavations have revealed an unbroken stratigraphy of human habitation, use, and burial over two thousand years, covering the period when prehistoric humans in this part of the world first settled in villages, took up agriculture and began the production of metal tools. Ban Chiang, along with other surrounding villages in northeast Thailand, contains many bronze artifacts that demonstrate that metallurgy had been practiced in small, village settings nearly four thousand years ago.

Advances in the fields of agriculture, animal domestication, ceramic and metal technology are all evident in the archaeological record of the site. Also evident is an increasing economic prosperity and social complexity of the successive communities at Ban Chiang, made possible by their developing cultural practices, as revealed through the many burials, rich in ceramic and metal grave goods, uncovered at the site.  The Ban Chiang Archaeological Site is also the richest in Southeast Asia in the number and variety of artifacts recovered from the site. [UNESCO]
INDIGO DYEING IN THAILAND
Indigo dyeing villages are our next destination. There we'll visit some friends who dye cotton threads with natural indigo.  These Master dyers of cotton ikat, above, will show us their indigo pots and their tying and dyeing methods, as well as the actual weaving process. The weaver above makes her own indigo by fermenting the leaves and later adding overripe star fruits. She has many pots of dye going at once, in different stages of fermentation and readiness. In our mini-workshop, you can make a cotton indigo-patterned scarf with your choice of design!
The weavers love to show off their skills and these visits are fascinating. The weaver in red displays her stunning fabric that shows her ingenious method of varying the patterns on their yardage. She has bound and dyed the weft threads in changing patterns so that the fabric pattern changes every yard or two. Her continual warp is unbound, plain navy blue cotton threads.
WAX CANDLE FESTIVAL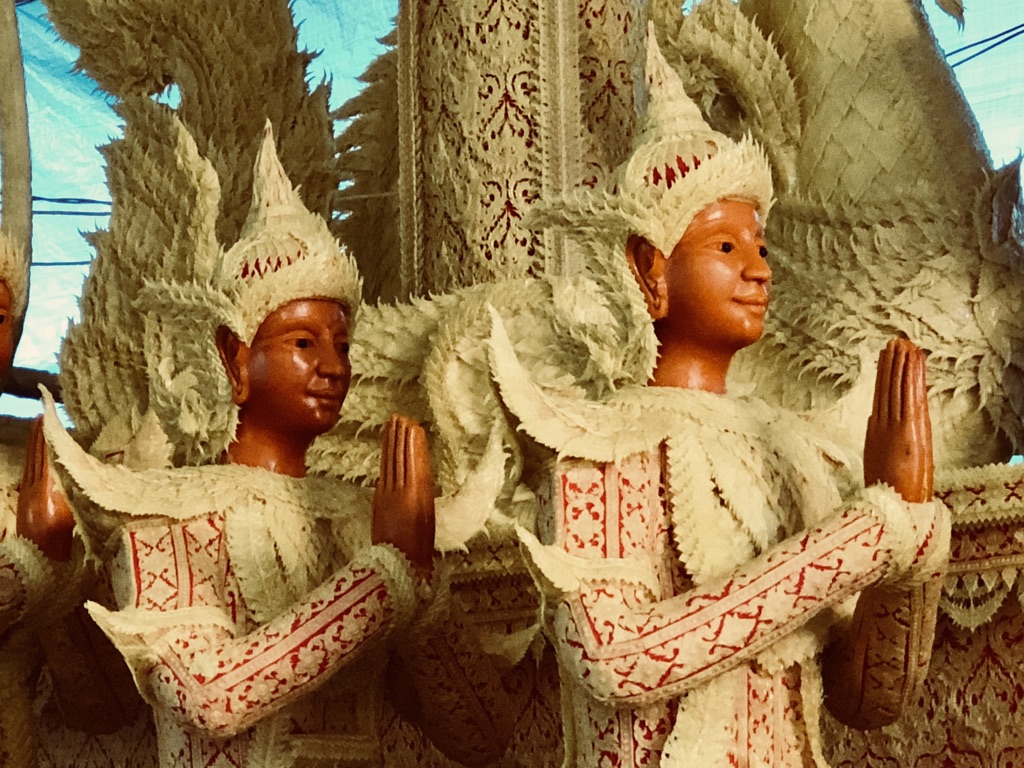 Next stop is the riverside town of Ubon Ratchathani, known for the fabulous Wax Candle Festival. The Thais call it Khao Phansa, the start of the Buddhist Rains Retreat.
Another name for Khao Phansa is "the Rains Retreat" because it occurs at the beginning of Thai rainy season; Buddhist monks take this opportunity to retreat inside their temples for a three-month period of study and meditation. This tradition of a "rainy season retreat" predates Buddhism, but it was followed by Buddha during his lifetime, which encourages many to emulate him today.
Many monks enter monastic life on Khao Phansa Day, staying in monasteries and temples until the rainy season ends on Wan Ok Phansa Day, 79 days later.
We'll arrive a day early to visit friends who will show us the incredible wax floats they are finishing up for the event. Both monks and lay people spend hours working on the wax float decorations. Each intricate wax motif is rolled out then trimmed, as if you were making cookies…see below. You can even make Buddhist merit by cutting around some of the wax shapes to decorate the floats! The embellished life-sized wax figures arranged on the floats represent stories and legends from the life of Buddha.
We'll spend a few days in Ubon, seeing festival preparations and watching the parade. Alternating with the wax floats are groups of elegant and beautiful Thai dancers carrying flowers  Each wat around town enters a float (that they have worked on for many months). There is a contest for the best float creation, and there are beauty queens chosen also.
As with all festivals, there are food booths with traditional dishes, desserts and soft drinks. Bring a small umbrella or a good sun hat; the sun can be very hot during Khao Phansa. But the fabulous festival only takes place in July! We'll also head out of the center of town to see some of Ubon's amazing architectural design in the form of innovative wats and temples that the town is famous for.
AMAZING ANGKOR!
From Ubon Ratchathani, we'll head into Cambodia, to Siem Reap, to see the fabulous carved stone temples of Angkor Wat! A UNESCO Heritage site, Angkor Wat and the surrounding temples form a world-class temple complex, with sophisticated wall carvings. We always hear about just Angkor Wat but there are hundreds of temples to visit. Tuk-tuks will take us through the park to see some of the most stunning sites. A professional guide will explain the history of each temple. Just the renovation processes, or the lack thereof, are fascinating. The temple at right has been designated NOT to be touched, and to let the forest continue its encroachment. Other temples are being re-built, using ancient stone blocks when available.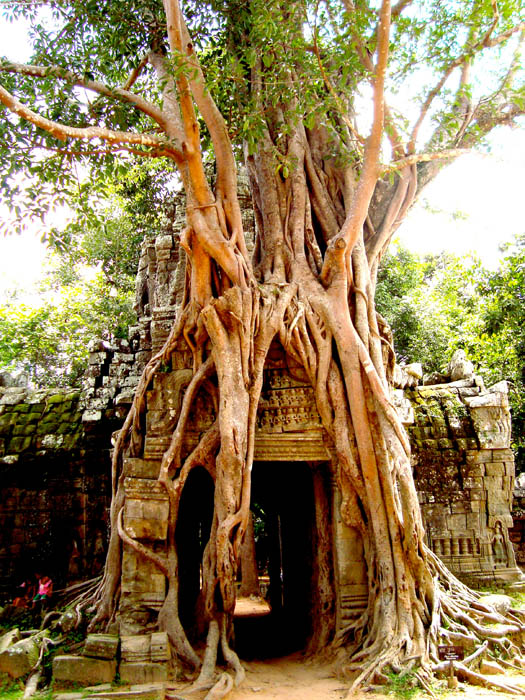 UNESCO site info notes that "Angkor is one of the most important archaeological sites in South-East Asia. Stretching over some 400 km2, including the surrounding forested area, Angkor Archaeological Park contains the magnificent remains of the different capitals of the Khmer Empire, from the 9th to the 15th century. They include the famous Temple of Angkor Wat and, at Angkor Thom, the Bayon Temple with its countless sculptural decorations. UNESCO has set up a wide-ranging program to safeguard this symbolic site and its surroundings."
SIEM REAP TOWN
Siem Reap is a very pleasant place and we can walk almost everywhere. While visiting Angkor Wat temples and the surrounding sights, we'll stay 4-5 nights in this lovely hotel (below) in Siem Reap. It boasts modern rooms, a refreshing pool and a super restaurant. One morning, we'll learn the subtleties of delicious Cambodian cuisine (similar to Thai) in an optional hands-on cooking class in a popular local restaurant. First we'll visit the produce market to learn about some of the more unusual ingredients. Then we each choose a few appealing menu items, and we chop, slice and sauté our way to a delicious lunch! The recipes will be available for us afterwards. And in the market, you can buy some typical spices to make Cambodian dishes at home, or for your foodie friends. We'll also tour the sobering but important Landmine Museum.

Cambodia also has some of the most intricate silk ikat weaving anywhere in the world. We'll go into the countryside near Siem Reap to visit the premier silkworm breeding and silk reeling facility. Here we'll watch the weavers to see how different their ikat techniques are from the Thai and Lao silk 'mat-mi' or ikat artisans. We'll also visit a weaving project near the hotel in town; you'll see that conditions are very different at the two workshops. Our 'Farewell to Cambodia' Dinner will be followed by a performance of Phare, the renowned Cambodian youth circus – no animals – but great acrobatics by young people!
On the day after the Phare Circus performance, July 20, we'll fly back to Bangkok to connect with homeward flights.
******************************************************************************************************************
This is a 19-night trip. July 19 is the last included night of hotel. On July 20 after breakfast, we'll fly from Siem Reap to Bangkok (flight included) and then connect to homeward flights.
If necessary, it's possible to spend the night at a hotel at or near the BKK airport.
MORE about flights later; please don't buy plane tickets until further notice, when we confirm the flight schedules into BKK and LPQ. We'll give suggested flights later. Cathay Pacific and Eva have the best deals sometimes.
TOUR COST: $4995   (19 nights in double/twin accommodations)
Single Supplement: $750
Minimum 8, maximum 12 travelers.
Includes:
Tour begins in Luang Prabang on July 1 and ends in Bangkok on July 20 after breakfast and flight from Siem Reap.
19 nights in comfortable A/C hotels in double/twin rooms (2-3 hotels have pools)
All meals except three lunches and two dinners on days when the group is scattered (we will suggest possible places to eat)
All soft drinks and bottled water with meals
Group Flights: Luang Prabang to Vientiane, Laos – and flight from Siem Reap to Bangkok.
All land travel by private van with professional driver
Three days of entrance tickets at Angkor Wat
Transportation in the Angkor Wat Park and licensed guide for 2 days.
(Another day w/ guide is optional on your own; you'll have tickets to enter for 3 days)
Tips for Luang Prabang and Angkor guides
Entrances to temples, archaeological and museum sites on the itinerary,
Cambodian cooking class at an excellent restaurant in Siem Reap
Phare Acrobatic show and dinner (https://pharecircus.org)
An 8″ x 11″ photo book documenting your trip!

A generous tip per person for the Luang Prabang and Angkor guides for 3 days has already been added to the trip cost, so you don't have to worry about tipping guides.
Not included:
International airfare, driver tip (count on about $35-40 per person), visas upon arrival [Laos USD $35 and Cambodia USD $40] at the airport or at the border when we enter, airport departure transportation, alcoholic beverages, several meals as indicated on itinerary, and between-meal snacks and drinks. We will have bottled water in the van for day trips.
Thailand doesn't require a visa, just a stamp in your passport and a filled-out simple form that they hand us at the border when we drive in from Vientiane, Laos.
Anyone who helps transport your bag should be tipped the local equivalent of about $US 1 per bag.