Textiles, Temples and Festivals

June 27 – July 13, 2020
The best SE Asian Textile Tour! You'll be met on June 27 at the airport in Luang Prabang (Laos). At the end, we'll all fly home from Siem Reap, Cambodia (home of Angkor Wat) on July 14.  More flight info later.
HIGHLIGHTS
Go Behind-the-Scenes to a fabulous wax candle festival in little-known north-eastern Thailand. See the superb UNESCO site of Angkor Wat in Cambodia, and the golden Buddhist temples of Luang Prabang, Laos. This is more than a textile tour, but there will be plenty of textiles. We'll watch weavers at work, and learn how they tie and dye threads to create exquisite ikat patterned fabric in both silk and cotton. We travel in a big loop, seeing the best of all three countries — the most interesting textiles, architecture, archeology and culture — including three UNESCO World Heritage sites.
TRIP DETAILS:
We'll fly into Luang Prabang to see the ancient royal capital, now designated a UNESCO Heritage site. We will visit important Buddhist temples, and you'll be able to explore this laid-back and friendly town on your own. Time to soak up the tranquil, tropical ambiance! We will spend the afternoon at the textile center of Ock Pop Tok where we'll make natural dyes and dye silk scarves. We'll watch talented silk weavers and eat lunch at the Ock Pop Tok restaurant by the Mekong River. Food is delicious in Laos. At dinners, see if you are brave enough to try the spicy, fermented water buffalo skin condiment! The crispy-fried river moss is delicious.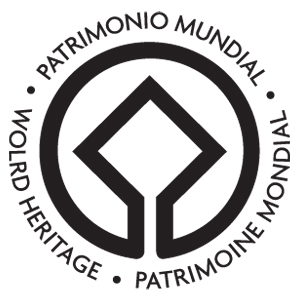 The local market is interesting, and nearby there is an excellent new textile museum and shop. You can try shopping at the Night Market with all its handicrafts and art. Although it is getting rather commercialized, there are still some interesting things to be found. Along with the magnificently decorated temples, a significant part of the old town's appeal is the many French provincial style houses, the riverside location, and the tropical ambiance. Luang Prabang is a delightful place to relax and learn about Lao culture.
Then we fly south to the pleasant riverside capital of Laos, the city of Vientiane. There we'll visit the enormous textile/fabric market, and meet the weavers in a nearby weaving village with a Laotian friend. We'll also tour an innovative silk weaving studio, and see the famous Wat Si Saket with its 10,000 Buddhas.
BACK TO THAILAND
After Laos, we'll drive across the Friendship Bridge over the Mekong River, Next we'll cross the border south into Udon Thani, Thailand. Our next few destinations are in Isaan, the local name for the northeast. One article says, 'Here is part of Thailand with all of the acclaimed Thai hospitality, culture, and food but none of the backpackers! Just south of the border with Laos, lies this entire region that has been little-visited  by outsiders. The area is rural Thailand at its best: farmland meets sleepy villages [and lots of textiles!]. It's proof that Thailand isn't completely trodden with tourists.'
INDIGO DYEING IN THAILAND
In the northeast, we'll visit delightful friends who dye cotton threads with natural indigo. We'll see the entire process from tying and dyeing the weft, to weaving the cloth. Some weavers in this area use an ingenious method to vary the patterns on their yardage. The weaver on the left makes her own indigo by fermenting indigo leaves and later adding overripe star fruits. She has many pots of dye going at once, in different stages of fermentation and readiness. The weavers love to show off their skills and these visits are fascinating. On the right, the weaver displays her stunning yardage. She has bound and dyed the weft threads so that the fabric pattern changes every yard or two. Her warp is unbound, plain navy blue threads.
WAX CANDLE FESTIVAL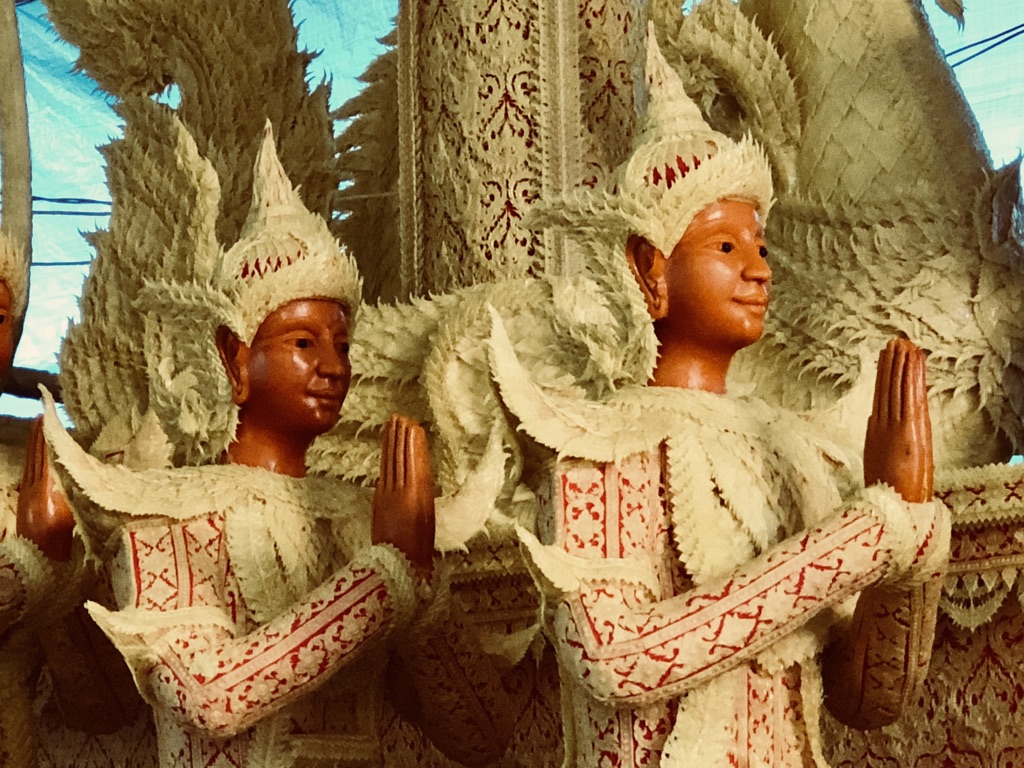 Next stop is the riverside town of Ubon Ratchathani, known for the fabulous Wax Candle Festival. The Thais call it Khao Phansa, the start of the Buddhist Rains Retreat. We'll arrive a day or two early to visit friends who will show us the incredible wax floats they are finishing up for the event. You can even make Buddhist merit by cutting around some of the wax shapes to decorate the floats! We'll spend several days in Ubon, seeing preparations and attending the  festival. In the parade, groups of beautiful Thai dancers carrying flowers alternate with the wax floats. Each wat around town enters a float (that they have worked on for many months). There is a contest for the best float creation, and there are beauty queens chosen also. As with all festivals, there are food booths with traditional dishes, desserts and soft drinks. Bring a small umbrella or good hat; the sun can be very hot during Khao Phansa. However this fabulous festival only takes place in July! We'll also head out of the center of town to see some of Ubon's amazing architectural design in the form of innovative wats and temples that the town is also famous for.
AMAZING ANGKOR!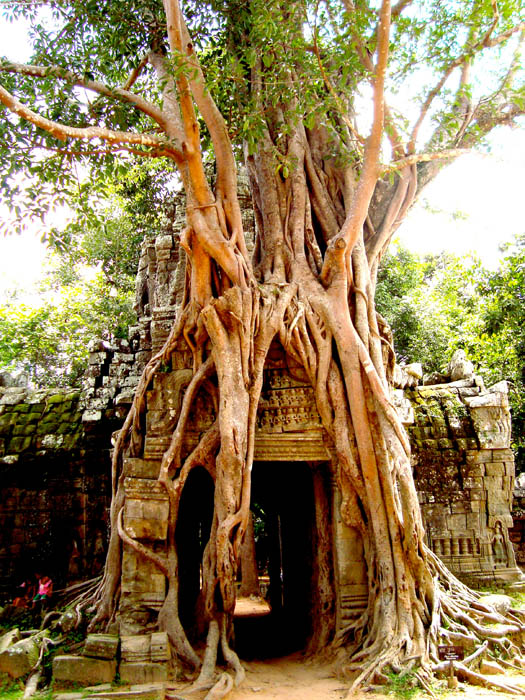 Then we head south over the border by van, into Cambodia, to Seim Reap and the fabulous carved stone temples of Angkor Wat! A UNESCO Heritage site, Angkor Wat and the surrounding temples form a world-class temple complex, with sophisticated wall carvings. We always hear about just Angkor Wat but there are hundreds of temples to visit.
"Angkor is one of the most important archaeological sites in South-East Asia. Stretching over some 400 km2, including the surrounding forested area, Angkor Archaeological Park contains the magnificent remains of the different capitals of the Khmer Empire, from the 9th to the 15th century. They include the famous Temple of Angkor Wat and, at Angkor Thom, the Bayon Temple with its countless sculptural decorations. UNESCO has set up a wide-ranging program to safeguard this symbolic site and its surroundings." (UNESCO site info)
Cambodia also has some of the most intricate silk ikat weaving anywhere in the world. We'll go into the countryside near Siem Reap to visit the premier silkworm breeding and silk reeling facility. Here we'll watch the weavers to see how different their techniques are from the Thai and Lao silk mat-mi artisans. We'll also visit a weaving project near the hotel in town; you'll see that conditions are very different at the two workshops.

While visiting Angkor Wat temples and the surrounding sights, we'll stay 6 nights in this lovely hotel (above) in Siem Reap. It boasts a refreshing pool and good restaurant. During this time, we will learn the subtleties of delicious Cambodian cuisine (similar to Thai) in an optional hands-on cooking class. We'll also see the sobering but important Landmine Museum. Our Farewell Dinner will be followed by a performance of Phare, the renowned Cambodian youth circus – no animals – but great acrobatics!
TOUR COST: $4395   Single Supplement: $775
Minimum 6, maximum 12 travelers.
Includes:
17 nights in comfortable A/C hotels in double/twin rooms (a couple of the hotels have a pool), all meals except three lunches and two dinners in Siem Reap and Luang Prabang on days when the group is scattered (we will suggest possible places to eat), all soft drinks and bottled water with meals, flight from Luang Prabang to Vientiane, all in-country travel by private van with professional driver, three days of entrance fees at Angkor Wat, all transportation in the Park, entrance to the archaeological and museum sites on the itinerary, a Cambodian cooking class at an excellent restaurant in Siem Reap, the Phare Circus show and dinner (https://pharecircus.org) — and an 8″ x 11″ photo book documenting your trip!
A generous tip per person for the Luang Prabang and Angkor guides and the van driver(s) has already been added to the trip cost, so you don't have to worry about tipping.
Fly into Luang Prabang (usually through Bangkok), arriving on June 27, and fly home from Siem Reap on July 14.
Not included:
International airfare, visas upon arrival [Laos USD $35 and Cambodia USD $40] at the airport or at the border when we enter, airport departure transportation, alcoholic beverages, several meals as indicated on itinerary, personal items such as luggage porter tips and between-meal snacks and drinks.
Thailand doesn't require a visa, just a stamp in your passport and a filled-out simple form that they hand us at the border when we drive in.
Anyone who helps transport your bag should be tipped the local equivalent of about $1 per bag.