February 13 – 27, 2016  • Arrive Feb. 13, depart Feb. 28.

GUATEMALA: From Highlands to Jungle!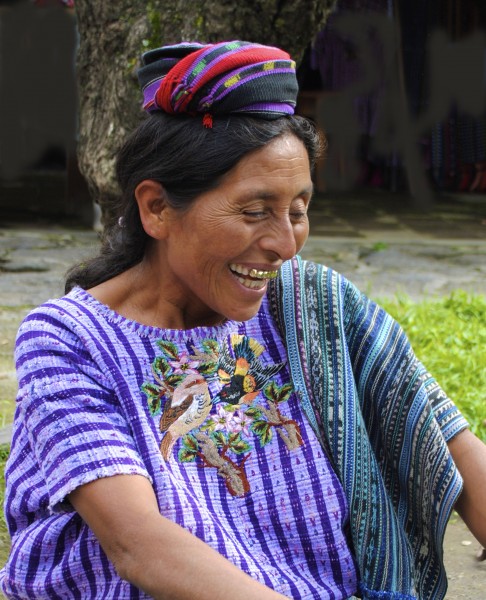 On this trip you'll experience the best of this diverse and complex country: highland communities and markets where you'll meet the people and admire their handmade textiles and distinctive clothing, verdant lowland coffee and macadamia plantations, elegant colonial architecture – and the dense green jungle where ancient Maya temples await discovery and brilliant birds glide overhead.
Trip Details:
We land in Guatemala City, usually in the evening. You'll be met at the airport, and driven to the hotel to check in for a good night's sleep. Next day after breakfast and a brief orientation/greeting/meeting, we'll visit the the Popol Vuh Museum, home to one of the world's major collections of Maya art. The museum is located on the campus of Universidad Francisco Marroquin. After lunch, we'll continue next door to the Ixchel Museum, which houses a superb collection of mostly contemporary, traditional handmade costume, clothing and textiles. We'll return to the same pleasant hotel for the night.
A short drive the next day brings us to the charming city of Antigua; with its cobbled streets, graceful plazas and tranquil ambiance, it's so different from the capital that you'll think you've been dropped in yet another country! Check into our pretty hotel, have lunch and take the rest of the day to stroll around town and get your bearings. Free afternoon to explore our neighborhood.
Antigua was founded in the early 16th century, and is one the earliest and outstanding examples of city planning in Latin America in which the basic grid plan, dating from 1543, has been maintained – so it's hard to get lost!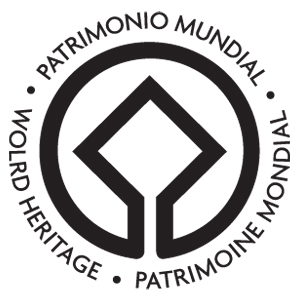 Much of the town was destroyed in the late 1700s by earthquakes. Most of the surviving civil, religious, and civic buildings date from the 17th and 18th centuries and constitute magnificent examples of colonial architecture in the Americas. These buildings reflect a regional stylistic variation known as Barroco antigueño, and re-building has continued the typical building style, so that today the town retains the charm and beauty of its architectural unity. It has been designated a UNESCO World Heritage Site.
During the next few days we'll visit villages near Antigua, including Santiago Atitlan on the shore of Lake Atitlan. Women in Santiago Atitlan have embroidered amazingly intricate birds on their huipiles for many years (purple blouse, above); we will meet some of these talented people, and observe them at work.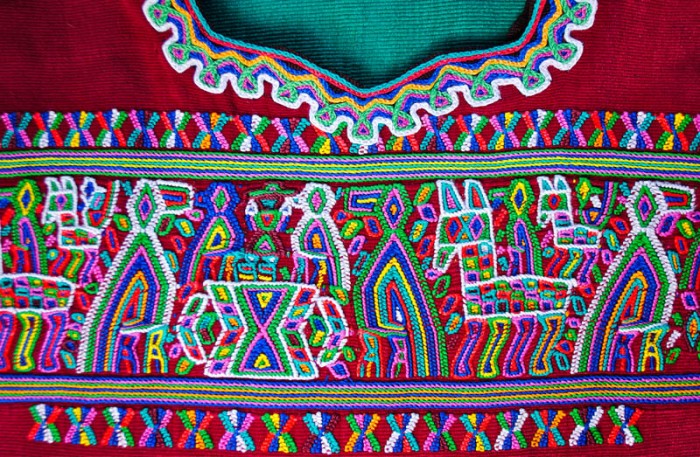 We'll spend one night in Panajachel, and one night near Santiago Atitlan, and then drive to Chichicastenango to see the market with its hundreds of handicraft stalls. To make travel easier, we will take just an overnight bag with us on this foray, and leave the bulk of our luggage at our Antigua hotel.
Then we'll leave the lake area, and return to Antigua for a night, then take an early morning flight (included) from Guatemala City to the town of Peten, jumping off point for our visit to the superb Tikal National Park, another UNESCO World Heritage site.
UNESCO website: "In the heart of the rain forest, surrounded by lush vegetation, lies one of the major sites of Mayan civilization. Tikal was the capital of a conquest state that became one of the most powerful kingdoms of the ancient Maya.There are over 3,000 separate buildings dating from 600 BC to AD 900.
At its height, AD 700-800, the city supported a population of 90,000 Mayan people. During this time, the city dominated much of the Maya region politically, economically, and militarily. The ceremonial center at Tikal contains superb temples and palaces, and public squares which constitute some of the most fascinating archaeological remains of the ancient Maya civilization.
The reserve contains the largest area of tropical rainforest in Guatemala and Central America, with a wide range of unspoilt natural habitats. Tikal protects 54,600 acres of rainforest. Over 2,000 plant species have been identified here, and fifty-four species of mammal occur, including mantled howler monkey, giant anteater, three-toed sloth, nine-banded armadillo, kinkajou, puma, margay, ocelot, jaguarundi, and jaguar. The avifauna comprises 333 species, representing 63 of the 74 families in Guatemala."
With a professional guide, we first visit the Maya temple ruins with one of the many excellent guides in the park.
The second day at Tikal, there will be an optional private, Sunrise guided bird-watching tour, then you'll have free time to explore the area, return to the site, read a book, take a hike, or just relax. Lunch on your own today.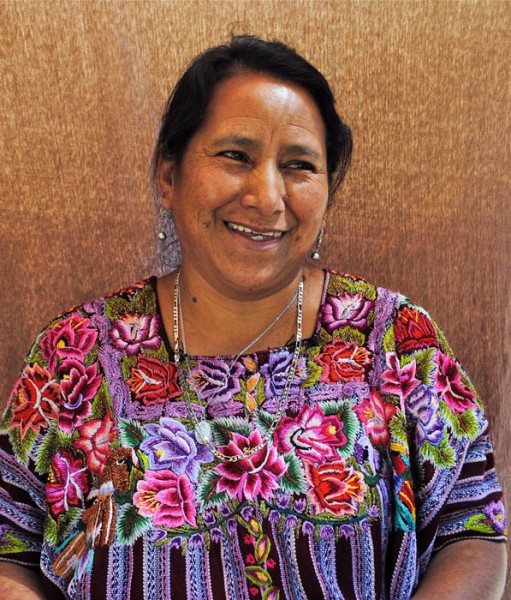 After we return to Antigua, we'll also visit several local markets and a macadamia nut farm near Antigua where we will have breakfast –of macadamia nut pancakes! There will also be free time at the end to shop and/or see anything you missed the first time.
Finally we fly back home on February 28. You might want to bring an empty duffle  in your suitcase, to take home all your gorgeous textiles and other folk art!
COST:  $ 3795  (Minimum 8 people, max 12)
Includes 15 nights hotel accommodation in small, charming hotels with private bath; round-trip flights for Tikal, all interior transportation by private van, a professional, local English-speaking guide at Tikal for one Maya Culture Tour and one Birdwatching Tour; airport transportation, porter tips for luggage (one bag limit), all meals except two dinners and two lunches, Cynthia and bi-lingual assistant to accompany entire itinerary.
SINGLE SUPPLEMENT:  $675
Arrive on February 13 and fly home on February 28.