March 27 – April 13, 2022.


Fly home April 14, 2022.
Scroll down for price. 
This trip has a few spaces left! Hurry!

Off the Beaten Path Tour

Highlights:



18-night textile, archeology and cuisine tour, to some fascinating, less-visited areas.
Begins and ends in Istanbul; see trip map at the bottom of page.

Explore 6 UNESCO World Heritage sites! Ephesus, Çatalhüyük, Hattuşa, Byzantine churches, and more.
Watch artisans as they knot and weave carpets in several workshops.
Shop in the famous Grand Bazaar for crafts and textiles.
See the breathtaking Blue Mosque and Hagia Sophia.
Tour historic Ottoman homes; see vintage textiles & clothing.
Whip up a Turkish meal in a private home cooking class.
Float over Cappadocia in a hot air balloon!
Sample all the authentic Turkish foods in each region we visit.
See unusual archeological sites in remote areas.
Watch the women make tiny needlework flowers for scarves.
Visit active archeological sites and famous museums such as Topkapi Palace.
Learn about the complex and fascinating history of Turkey. (I'll give you a cheat-sheet!)
Trip Details
We'll fly in to Istanbul, one of my favorite cities in the world! Turkish Airlines and others do this efficiently; we'll send flight suggestions later. Hopefully our visit will coincide with the beginning of tulip blooming season so we can revel in the millions of blooms planted around the city. Our pretty hotel is located in the heart of historical Istanbul, two blocks from world-famous architectural and cultural treasures. For our UNESCO site visit of historic Istanbul, we'll have a local specialist guide to tell us about treasures such as the exquisite Blue Mosque.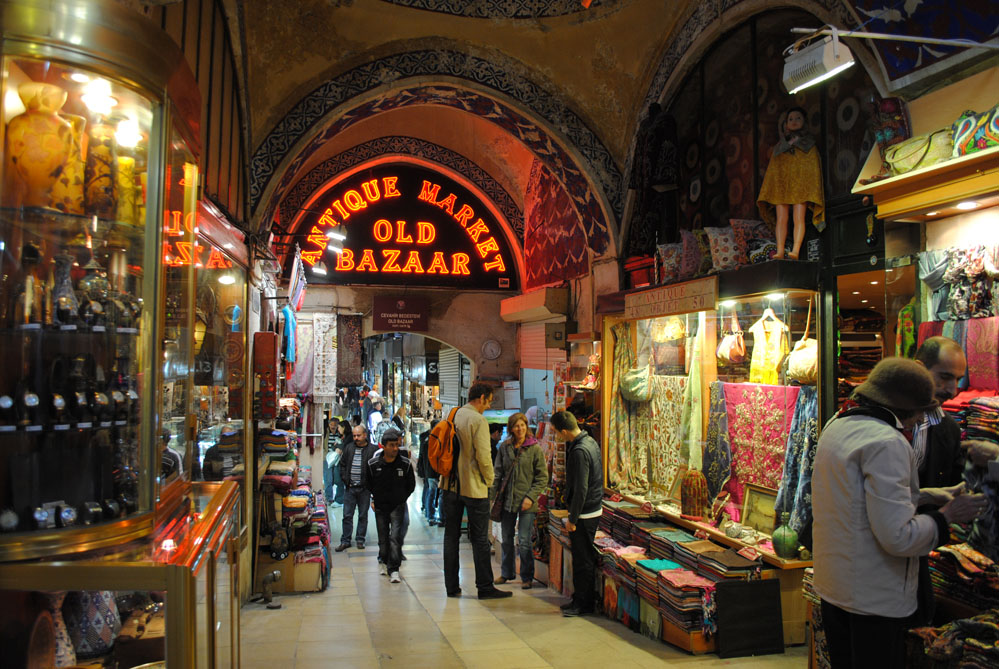 We'll also visit the nearby Hagia Sophia, and learn its complex story as the superb building was changed from church, to mosque to museum and most recently, back to a mosque. The Grand Bazaar is within easy walking distance to the hotel so we'll familiarize ourselves with the easy route to that shopping mecca of art, rugs, textiles and jewelry.
Vendors are no longer pushy like in the past; bazaar edicts encouraged a more laid-back attitude and vendors are now very pleasant. In the bazaar, there is a fabulous restaurant owned by some friends, where we'll have lunch. We may also be able to see a friend's upscale textile gallery near the hotel.
After two nights in Istanbul we'll meet up with our excellent guide and driver and head east into rural Turkey to begin our 'off the beaten path' adventure!
Safranbolu
The UNESCO-designated town of Safranbolu is our first stop. From the 13th century to the advent of the railway in the early 20th century, Safranbolu was an important caravan station on the main East–West trade route. The Old Mosque, Old Bath and Süleyman Pasha Medrese were built in 1322. Safranbolu enjoyed great prosperity as a trading center. As a result, it set a standard in public and domestic architecture, with its apogee in the 17th century. The Safranbolu Ottoman styles exercised great influence on urban development over a large area of the Ottoman Empire.
The old Çarşı district contains hundreds of preserved, red-roofed Ottoman houses on cobblestone streets. Cinci Han is a 17th-century caravansary with rooftop views over town. Nearby, Tarihi Cinci Hamam is a restored 17th-century bathhouse, still in operation. You may decide to experience a traditional Turkish soak and scrub!
Safranbolu is famous for saffron of course, and Turkish jelly candy called lokum. We'll take time to explore the old part of the city with lots of saffron and lokum shops, and we'll sleep in a traditional Ottoman home-turned-hotel.
Hattusha
Continuing eastward, we come to Bogazkale, and our next destination: Hattusha (Hattuşa), the Hittite capital. The Hittites were an ancient group of Indo-Europeans who moved into Asia Minor and formed an empire at Hattusa in Anatolia (modern Turkey) around 1600 BC. The Bronze Age site consists of the Hittite city area  and the rock sanctuary of Yazılıkaya among other sections.
A monumental enclosure wall about 8 km in length surrounds the whole city. Archeologists from Germany and Turkey cooperated to uncover a large variety of buildings such as temples, palaces and dwellings, but also technical and communal installations such as large buried granaries and artificial water ponds. These discoveries have given access to one of the most fascinating ancient cities of the Near and Middle East. The site is impressive and this visit will add another puzzle piece to our view of the complex history of Turkey!
Cappadocia
Continuing south, we head to the Cappadocia area with its dramatic eroded landscape. There we'll sleep peacefully near Urgup village, in cozy rooms at our unique and delightful cave hotel. In our cooking class in a village home, we will learn to make delicious traditional dishes, perhaps bouerek or dolma, with fresh local, organic ingredients.
We'll also visit a carpet gallery in Urgup to learn about local styles and techniques. Here most of the women will be knotting lengths of wool for pile rugs. But as we travel around the country, we'll see them making rugs using regionally characteristic techniques, patterns and colors. We'll see how they knot a pile rug and weave a kilim with discontinuous weft, or wrap the warp for the cicim  (jijim) technique.
One day in Cappadocia will be spent exploring the astonishing eroded rock shapes and valleys that make the area famous. In one valley of spires and "fairy chimneys" is a large group of fascinating Byzantine-era cave churches, excavated from the soft volcanic tufa stone.
It is believed that the first signs of monastic activity in Cappadocia date to the 4th century when hermit-monks lived in rooms dug out of the tufa rock formations. Later, in order to resist Arab invasions, people began banding together and hiding in underground villages which served as places of refuge. They also needed to worship in concealed churches hollowed out of the rock. Though interesting from a geological and ethnological point of view, the incomparable beauty of the decor of these Christian rock-cut churches makes Cappadocia one of the leading examples of the post-iconoclastic Byzantine art period.
The density of Cappadocia's cave-houses, secret churches, and subterranean cities within the rock formations make it one of the world's most striking and largest cave-dwelling complexes. We'll clamber up stairs to see some of these churches; the saints' portraits are colorful and superbly decorated.
In Cappadocia you can soar over amazing, eroded stone landscapes on the highly recommended (and included) hot air balloon ride. The balloons float safely and silently over the area, offering the passengers unparalleled views of the unusual "fairy chimney" volcanic formations.
Contrary to expectations, the early morning ride is not freezing cold; passengers are kept toasty warm by the balloon heaters. (Anyone not ballooning may sleep in, as the balloon crew leaves at 6am and returns for breakfast around 9am.) From Cappadocia, we'll drive west to Konya. It's famous for beautiful flat-weave wool rugs (in discontinuous weft, kilim, or tapestry technique), and it has an interesting bazaar and shops in the old town area.
Konya
Konya is also famous as the home of famous Sufi poet, Rumi. His mausoleum is a pilgrimage site and a fascinating museum. Several stunning mosques and madrasas (traditional Koranic schools) make Konya an interesting place to visit. We'll also go out of town to see the remains of the fascinating ancient city of Çatalhöyük. There are ongoing excavations and new displays; it is a UNESCO World Heritage site and believed to be the oldest city in the world!
"The taller eastern mound [at Çatalhöyük] contains eighteen levels of Neolithic occupation between 7400 BC and 6200 BC, including wall paintings, reliefs, sculptures and other artistic features. Together they testify to the evolution of social organization and cultural practices as humans adapted to a sedentary life. Çatalhöyük provides important evidence of the transition from settled villages to urban agglomeration, which was maintained in the same location for over 2,000 years. It features a unique street-less settlement of houses clustered back to back with roof access into the buildings." (UNESCO)
From Konya, we will head northwest to Afyonkarahisar for lunch and a view of an abandoned, empty castle on top of the outcropping that dominates the town. Then we'll continue to Uşak to see the carpets for which it is famous, and a nearby ancient city site that is little-visited but fascinating. Archeologists continue to excavate the site which features the largest known rock-tomb necropolis in Anatolia. A temple, theater, stadium, a colonnaded street and well-preserved city walls are other features of the city. Recently discovered lengthy inscriptions on thick stone pillars in the bath building have thrilled archeologists.
Selçuk and Ephesus
Then we'll head west to the pretty town of Selçuk (close to Izmir). We'll visit the hilltown village of Sirince and have lunch at a friend's country restaurant. Sirince is popular with tourists but still has a charming ambiance and interesting little shops that sell the local wine, baklava and handmade textiles. The famous archaeological site of Ephesus is next to the modern-day town of Selçuk. It is different from the other archeological sites we have seen. This UNESCO site was an ancient Greek city, built in the 10th century BC. The city flourished after it came under the control of the Roman Republic in 129 BC. Ephesus was famed for the nearby Temple of Artemis, one of the Seven Wonders of the Ancient World. Among many other monumental buildings are the Library of Celsus, and an amphitheater capable of holding 25,000 spectators.
Selçuk also has a number of interesting shops with carpets and interesting crafts on a tranquil pedestrian street in the old part of town. And before we head back to Istanbul, we'll drive out of Selçuk one day, to attend the local weekly market in a charming town where the women make scarves called yazma, with little flowery oya edging. These were typically worn by women all over Turkey, but yazma are worn more in the countryside nowadays. The little flowers traditionally served as a language to convey feelings that couldn't be openly expressed, such as 'I'm not getting along with my mother-in-law, or I'm feeling sad and lonely,' and so forth.
Back to Istanbul
And finally, we'll take a quick flight from Izmir back to Istanbul in the late afternoon. The next day in Istanbul (April 13) is a free day – yours to explore the city, see something new, or return to a favorite place. Perhaps walk to the nearby hamam for a sudsy scrubdown, or ask a taxi man to drop you off at the exquisite Chora Church with its stunning frescoes – called the Byzantine marvel of Istanbul. You might want to check out The Archeology Museum (an easy walk from our hotel) or the Yerebatan Cistern, right at the end of our street. Or on this free day, you might want to return to admire the Blue Mosque or just wander this beautiful city and see how many tulips are blooming – your choice.
(Lunch will be on your own, and we'll regroup in the evening for our Farewell Dinner at the hotel.)
I'm always happy to return to the Grand Bazaar with whoever wants to shop for final souvenirs. We could also drop in at the yarn bazaar (if we didn't go earlier) where they sell mostly acrylics but it's fascinating to see. And/or we could visit the place that sells loads of needle-worked flowery scarf trims. These can be added to a commercial scarf if you are handy with a needle! (Lunch on your own on the 13th.)
(Last included night of hotel is April 13.)
Pack up and organize for flights home tomorrow, April 14. The hotel will arrange departure transport to the airport for you; fare not included. Good-bye to Turkey!

PRICE: $6285

Single Supplement: $850
Includes the following:
18 nights accommodations (double occupancy, in charming boutique hotels, or good modern ones, when best available.)
English-speaking, licensed, professional Turkish native guide accompanying trip with Cynthia.
All meals – except 2 lunches and 2 dinners.
All non-alcoholic beverages with meals (tea, coffee, ayran yoghurt drink, water, cherry juice called vişne.)
Unless a meal is family-style, you may order your choice of dishes in restaurants; see Food Notes below.*
Interior flight from Izmir to Istanbul.
Hot air balloon ride over Cappadocia's surreal landscape.
All ground transportation by private Sprinter van with excellent, professional driver
Bottled water available in the van for road trips.
Transportation from airport to hotel on official arrival date (March 27).
Museum visits to see the textiles and archeology of Turkey
Cooking class and lunch in a private home
Entrance to all six UNESCO sites on the itinerary: Çatalhüyük ancient city, Byzantine cave churches, Ephesus, etc.
SPECIAL! Photo book of your adventure once you return home.
Not included: Turkish visa fee (around $20 for U.S.), departure airport transportation for flight home from Istanbul; airport transportation for early arrivals, alcoholic drinks, and guide and driver tips (suggested guidelines to come).
FOOD NOTES: Occasionally the guide will order a generous selection of different dishes so you can taste everything, to familiarize yourself with delicious homestyle Turkish cuisine. And sometimes in a family-style home-based restaurant, everyone will be served a delicious set meal. At these events, vegetarians will find usually find enough vegetable dishes, fresh breads and pasta to survive quite comfortably.
Vegan diets will be more difficult, but salads are available in many places, and pilaf dishes. Many typical Turkish dishes have a small amount of minced meat, such as stuffed eggplant or stuffed peppers and zucchini. They also eat lots of shish-kebabs of chicken or beef, but not huge chunks of meat like American steaks. More on food later.
Be sure to check out the Photo Gallery of TURKEY here.
For more information, E-mail Cynthia: [email protected]
or call 707-939-8874.
Photo Credits: Copyright Cynthia Samake except the following:
Dreamstime.com: Saffron Safranbolu crocus flowers; Mturhanlar
Cappadocia Uchisar hill; Xantana.
Blaundos ruins; Emiralikokal.
Hattusha Lion Gate, Selçuk Koc.
Grand Bazaar by Evren Kalinbacak.
Usak Carpet: Metropolitan Museum NYC, Creative Commons Zero license.
Ephesus Celsus Library: WikiCommons, Binh.
MAP: Rome2Rio.com