THREE 'STANS TEXTILE & CRAFT TOUR
September 25 – October 12, 2022


Depart for home October 13.
19-night all-new textile tour of Uzbekistan, Tajikistan and Kyrgyzstan!

Rikki Quintana from HoonArts Fair Trade and Cynthia Samaké, textile expert with Behind the Scenes Adventures, have created an authentic and fascinating experience for you! We'll visit three of the famous Central Asian 'Stan countries: Uzbekistan, Tajikistan, and finally Kyrgyzstan. Our guides in country are textile-focused, and know all the artisans that we'll visit.
Check another fabulous adventure off your bucket list!
Our route goes from one end of Uzbekistan to the other, then crosses an interesting corner of Tajikistan, makes a big loop through Kyrgyzstan, and ends in Bishkek, Kyrgyzstan. 
The ancient trade passage called the Silk Route, linked the western Mediterranean to China. This legendary route traversed Central Asia from Bukhara and Samarkand in the west, through Margilan and then to Osh in Kyrgyzstan, before crossing into China. Our "Three 'Stans" adventure follows this section of the Silk Route. The countries we have chosen for this adventure exhibit a variety of unusual textiles and skillful crafts s well as stunning architecture. Artisans create hand-embroidered suzanis, hand-dyed, handwoven ikat textiles; thick and cozy felted rugs and slippers, fine wood carving, and cobalt-blue ceramics and tile work.
Local textile experts will accompany our small group during the trip to be sure we meet the most talented artisans and enjoy several hands-on workshops. Along the whole route, we'll see stunning turquoise-domed buildings, bustling handicraft bazaars and superb mountain scenery. True to our name, we'll go 'Behind the Scenes' to meet silk ikat dyers and weavers, embroidery and ceramic masters, wood block printers, and more. We'll also see four UNESCO World Heritage Sites.
Trip Highlights
We'll meet you at the airport in beautiful Tashkent, Uzbekistan.
Turkish Airlines is usually the best way to arrive.
Meet the premier ikat weaving master and watch him tie, dye and weave jewel-toned ikat fabrics.
Create your own felted silk scarf with your choice of traditional patterns!
Jump on a fast train for the ancient town of Bukhara with its amazing mosques, galleries and museums.
Marvel at UNESCO-designated Samarkand and the blue-tiled Registan plaza.
Meet suzani embroiderers and contemporary felt designers; purchase their original work.
Spend a cozy night in an authentic felted yurt and learn about the nomadic lifestyle.
Watch the masters create colorful rugs and take one home if you wish!
Day trip to observe a potter making beautiful blue traditional ceramics.
Visit a silk carpet factory and the Museum of Decorative Applied Arts.
See four UNESCO World Heritage sites.
Relax in comfortable hotels and eat delicious local cuisine.
Three 'Stans: Uzbekistan, Tajikistan and Kyrgyzstan
Each country has something different to offer! The three countries we will experience were part of the Soviet Union until its dissolution, and we shall see remnants of this in the Soviet-style architecture. But in 1990, each republic declared sovereignty and became independent. Officially the countries are named the Republic of Uzbekistan, the Republic of Tajikistan and the Kyrgyz Republic. We'll learn more about the very complex history of the region from our guides, but most of our time will be spent admiring the arts, crafts and architecture, meeting the artisans, marveling at the mountains and lakes, and enjoying the delicious fresh foods!
Our route goes from Tashkent west to Samarkand and Bukhara, then back east into Tajikistan. Then we'll swing back into Uzbekistan to the Ferghana Valley, and on into Kyrgyzstan. We'll fly home from the Kyrgyz city of Bishkek. Once you sign up for the trip, we'll send details for flights, visas, what to take, etc.
First stop: Tashkent, Uzbekistan
In Tashkent (as in many Uzbek cities) the cerulean domes of historical buildings such as the 16th Barak-Khan Madrasa complex form one of the exciting photo opportunities and attractions. We'll also shop at a famous crafts bazaar, as well as visit a woodblock print studio, an embroidery workshop and the Applied Arts Museum. The State Museum of Applied Arts showcases some of the best historical artistic examples of the embroideries and ceramics of Uzbekistan. Long ago, the Imperial Russian diplomat and visionary Alexander Polovtsev built a mansion to display his extensive collections of unique national handicrafts; it is now open as a museum with collections that include traditional ikat garments.
Samarkand
Next we'll board the air-conditioned fast train to Samarkand. This interesting city lies right on the ancient Silk Road and its historical center is a UNESCO World Heritage site. Seasoned travelers consider Samarkand as one of the most beautiful cities in the world and we shall see why. Today it's the third largest city in Uzbekistan. Modern Samarkand is a unique city: it combines the spirit of modernity and old historical grace. Once the capital, and an important trade stop along the Silk Road, Samarkand sits at the center of the country. Prominent and iconic landmarks include the Registan, a plaza bordered by three ornate, tile-covered madrasas dating to the 15th and 17th centuries. We'll see the towering tomb of Timur (Tamerlane), founder of the Timurid Empire. The western part of the city is more modern, with architecture reflecting 19th and 20th c. European design and style, influenced by the Russian aesthetic. The city is often referred as a crossroad of cultures.
Next stop, Bukhara
The ancient city of Bukhara (also a UNESCO site) remains an exciting place to explore the architecture and textiles of Uzbekistan. This city has overflowing textile bazaars and an active art scene! Blue-tiled mosques and museums also abound in this fabulous historical city. The age-old caravansarai and madrasas have often been converted into artists' studios and workshops. And several ancient, domed bazaars here offer carpets, suzanis (embroidered panels) and jewelry. We'll explore these, as well as an artisan center where we can learn how some typical crafts are made.
While in Bukhara, we must see the Emir's summer palace, Sitorai Mohi Hosa. It's an 'over-the-top Russian/Central Asian confection built in 1911.'  The palace also houses the excellent Bukhara Museum of Decorative Arts where the suzani collection will enthrall the embroidery lovers among us. We'll visit architectural wonders such as the 9th century Ismael Samani Mausoleum, made of baked bricks in basket weave pattern, below.
Into Tajikistan
After a few days in Samarkand and Bukhara, we'll cross the border at Panjakent and enter Tajikistan. We'll check into our hotel then walk around town to get our bearings. One morning we'll take in the bustling Panjakent Bazaar, in an unusual round arched building. Panjakent has many crafts centers and Armughon will be our first visit. They make unique felted Tajik crafts such as pillows and ornaments.

Later we'll drop by to see the woodcarvers. They are called kandakori. With chisels, rasps and mallets, craftsmen make bookstands, latticework, pencil cases, molding for traditional tables and more. The most ambitious application of the craft is when large logs are shaped into finely worked columns and beams for mosques and the homes of the wealthy.
Famous Ferghana Valley, Ikat Heaven!
Next we'll head for the Ferghana Valley, home of superb and glowing ikat resist-warp dyed fabrics, the most renowned of Uzbek textiles. Our route to the Ferghana Valley leads us via the low Kamchik pass at around 7400 feet. After 4 hours drive, we'll stop in Kokand, to visit the incredible Khudayarkhan Palace and the Juma (Friday) mosque with carved wooden pillars. Taste the delicious homemade honey halva sold in the mosque courtyard! We'll have lunch and continue to Margilan.
In Margilan, an ancient Fergana Valley city, we'll meet ikat dyers and weavers who are the most skilled in Central Asia.  Margilan was already well-known in antiquity for the superb quality of silk created here. A highlight will be the Kumtepa Bazaar, one of the best places to buy ikat fabrics (with resist-dyed warp) which are the most renowned textiles of Uzbekistan. It's a great local market with an extensive area devoted to local textile crafts. Here you can buy ikat yardage to make robes, quilts or pillows, and other textile treasures.
Over the course of three days there, we'll visit many ikat weavers and artisans to see how they weave, tie and dye. We'll learn to make some typical dishes in a cooking class, pore over the textile bazaar and visit a silk factory. Later we'll visit the training center of the most renowned ikat weaver, whose workshop did custom work for Oscar de la Renta. We'll visit the Yodgorlik Margilan silk factory, established in 1972. Today about 450 people, mostly women, work there, and the visit is fascinating. Every month the factory produces about 6500 yards of fabric including natural silk and silk blend fabric. Over the course of our four days  in the Ferghana Valley, we'll visit many artisans, and the textile bazaar. At a silk factory, we'll witness the entire process from silkworm's cocoon to the finished ikat. There is also an excellent shop where we can purchase reasonably-priced ikat jackets, coats, purses, and other items.

On to Kyrgyzstan
Kyrgyzstan is a beautiful country with exquisite mountain scenery, often called the Switzerland of Central Asia, and makes a marvelous contrast to the landscapes of Uzbekistan and Tajikistan.
We'll get to know some of Kyrgyzstan's capital, Bishkek, before delving into the crafts traditions. Bishkek is a green city – it has 20 parks and a huge Botanical Garden.
The botanical garden is the pride of Bishkek and one of the most beautiful places in the city, so we will stroll though a corner of it one morning. Established in 1938, the Botanical Garden is one of the largest and most diverse in Central Asia.
The Garden is named after a famous Kyrgyz biologist, Gareev, and it's now part of the National Academy of Sciences. There are 2,500 species of trees and shrubs, 3,500 species of flowers and greenhouse species, and over 8,000 species of fruit plants in the Botanical Garden. In autumn the leaves of many trees turn yellow and red, creating a bright color palette.
Visit Tumar Studiio, a modern Kyrgyz felt boutique shop, which produces all manner of felt items from ethnographic horse trappings to simple, contemporary slippers. The goal of Tumar studio was to create livelihoods for women in the wake of the Soviet disintegration in 1991. Then we'll travel to Kochkor village, 260 kms from Bishkek. This is where we'll visit the Altyn Kol Women's Handicraft Co-operative and other renowned felt artists. At one Felt Master's we will learn how nomadic Kyrgyz women made felt rugs called Shyrdak, Ala-Kiyiz- a floor covering made by pressing felt of various naturally dyed colors. You will see a show of the process of felt carpet making. This is different than the modern art felt we have seen before.
Lunch will be served in Kochkor.  Kochkor is a famous province for farmers and woolen felt makers.
Afternoon visit Karasuu village to explore local felt makers' and embroiderers' home workshops. Back to Kochkor village for dinner and overnight.
Then we drive to Tash-Rabat Caravanserai on the Great Silk Road. This is a carefully restored stone building that once housed an inn on the Great Silk Road. Its date of origin is unknown – but there is archaeological evidence to suggest that the site was occupied in the 10th century. It lies up a small, beautiful valley in the foothills of the Tian Shan in the At-Bashy Mountain Range, 100 km before Kyrgyz-Chinese border, Torugart.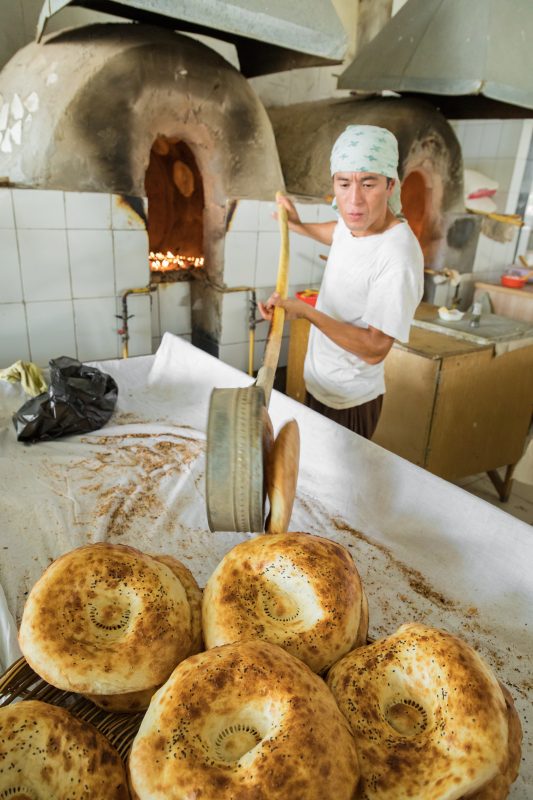 Upon arrival, time to explore Tash-Rabat canyon with similar to Mongolian landscapes. We'll have a traditional dinner in the yurt and spend a warm and cozy night with thick blankets at altitude of 9000 feet. Later drive to Karakol town, one the first Russian military outpost founded in 1869. Here we'll walk around town to see the houses with blue framed windows – "gingerbread" style.
Next day (October 12), drive back to Bishkek for our last night and then flights home on the 13th. You can most easily fly directly from Bishkek back to Istanbul, internationally, then connect to home, so no need to go back to Tashkent.
Sacred Bread
We'll eat delicious food everywhere and learn about the local cuisine in our cooking class. The diet includes skewered vegetables, salads and dishes such as pilaf or plov, with beef or lamb. Skewers of grilled chicken or ground beef are also popular and delicious. Vegetarians will have no trouble at all; many cheeses and fresh (and safe) salads such as grated carrots or beets with walnuts, or tomato and cucumber are popular and found in most restaurants. Delicious and refreshing cold yogurt soup with fresh dill and parsley is a common starter. Bread is divine and plentiful!
Bread is considered sacred by Central Asian peoples. The traditional round and flat bread, called non or lepeshka,  and is baked in a tandyr/tandoor (clay oven), after which it comes out toasted and crispy. Bread of each region has own particular method of leavening, its own baking techniques and its own inimitable taste. For instance, delicious flaky bread – katlama non, layered with butter or sour cream – typifies the Fergana Valley version. Some lepeshkas are prepared with onion or meat baked inside the dough.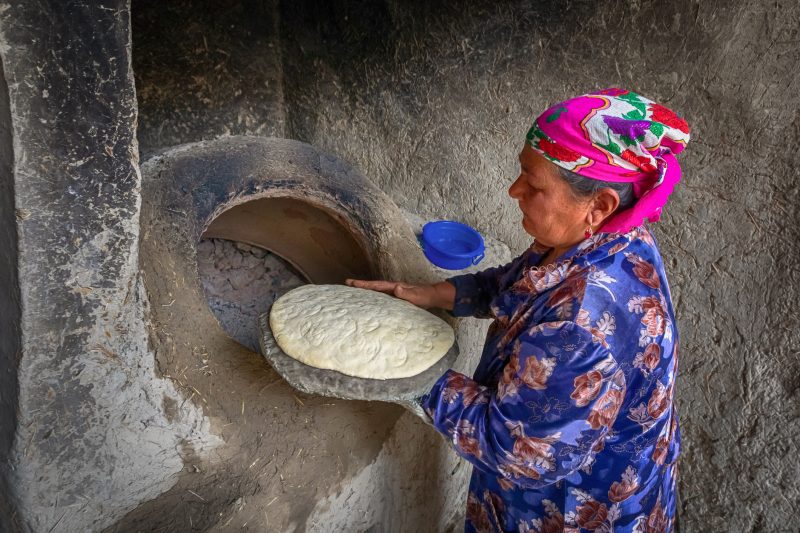 Traditionally Uzbek dinner guests never cut bread with a knife. At the start of the meal, they break the bread into pieces by hand and place it on the table near each place setting. And they take care not to act disrespectful by setting the bread upside down on the table (with its flat side up). We will learn about the cuisine as well as as the polite Uzbek way of dining. Two evening meals will be on your own, to lounge at the hotel with a picnic of freshly baked bread, cheese and fruit, or to find an interesting place to try.
At the end of our adventure, after seeing a million gorgeous suzanis and stunning ikats, we'll drive to the Bishkek airport for flights home.
Until time to depart for the airport, you are free to explore on your own — to see something you missed the first time, visit more museums. Or just relax at the hotel and pack up all your exquisite textiles for the trip home. Lunch on your own. Pack up bags tonight, before our Farewell Dinner.
Flights home the next day OCTOBER 13.
Once you sign up and pay the deposit, we'll send you the detailed itinerary and other information about the countries and the tour.
PRICE  $6495
Single Supplement $700
Two vaccinations against COVID are mandatory to join this trip. We will also need proof of travel/trip cancellation insurance.
  The 19-night tour cost includes: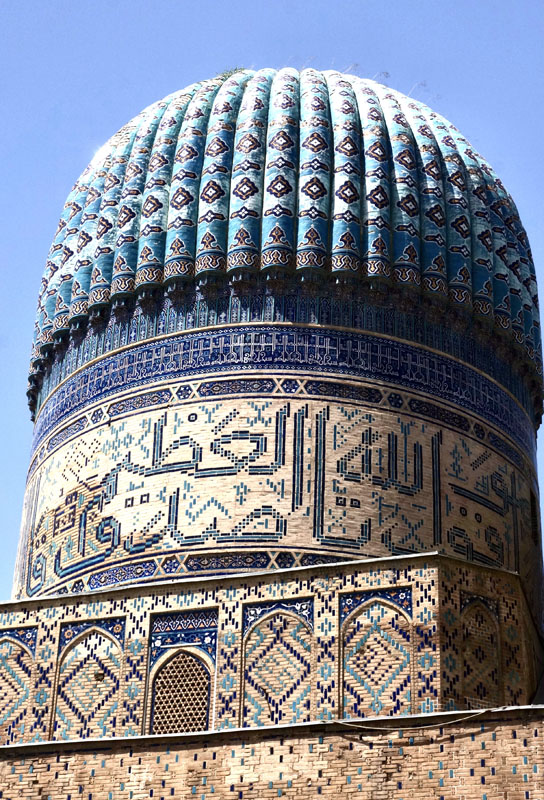 19 nights accommodation in double rooms with private bathrooms, including ARRIVAL Night #1 on September 24/25.
Single supplement available for a single room (except in yurt).
Expert English-speaking textile specialty local guides.
Rikki Quintana of HoonArts, trip coordinator will accompany the trip.
Cynthia Samake, textile expert will also join the tour.
All breakfasts in the hotels.
All Lunches and Dinners ( except 3 meals on your own)
Transportation by air-conditioned Minibus.
Entrance fees to all sites and monuments.
Flight from Urgench-Tashkent
All Tashkent and Bishkek airport transfers
Train travel between Tashkent and Samarkand, Samarkand
and Bukhara
All train station transfers – Samarkand, Bukhara, etc.
1 liter of bottled water per person per day.
Cooking master class, felt scarf workshop
Wood Block printing lesson
Ikat textile weaving demonstration/lesson
Not included:
 International flights to and from Uzbekistan
 Visas and passport fees
 Several meals as indicated on itinerary (buy fruit and cheese to eat at the hotel, or go out)
 Tips for guide and driver; suggested amounts will be included on the trip info.
 Mandatory travel insurance (more about this later)
Blue tiled building  by Kathleen Walsh.
Bread stamps by Dreamstime © 45304376. Antonella 865
Baker: DT © Mariusz Prusaczyk
Photo #11 Bread Sellers DT © Evgeniy Fesenko
Photo #12  DT ©Sergey Dzyuba
Map: ©Ontheworldmap.com
D-time.Tashkent Top photo: UZBEKISTAN.Evgeniy-Agarkov.57387916