Dates to be Announced for 2022

Check back for dates for 2022 soon!
Join us on a fabulous 17-night textile tour of Bhutan to see exquisite weaving, pristine wilderness and stunning Buddhist temple monasteries!
We'll attend a festival called a tshechu where spectators show off their best traditional clothing, and costumed dancers wear carved wooden masks. And we'll meet warmhearted people, stay in pretty hotels, and eat delicious new foods. March 15 is last included night of hotel. We will drive to Guwahati, India, on March 16 and fly to New Delhi that day. Plan your flights home late on March 16 or early on March 17.
The country represents a recently-added destination for Behind the Scenes, and we are very excited about it. We have just returned from the first tour and the travelers deemed it a huge success! They all loved the ultra-decorated buildings, the crisp air, the dark green forests, the kind people and the amazing handwoven clothing. Our guide and driver made us laugh often, and told the most interesting stories. They will accompany us on the new trips, so you will get to meet them.
Land of Happiness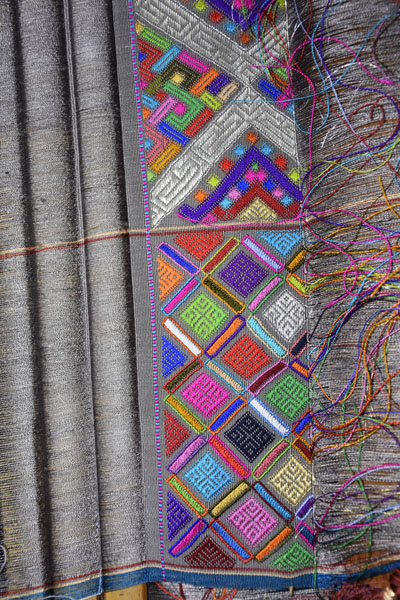 Bhutan is a tiny landlocked country in the eastern Himalayas, with a progressive young king, and a beautiful queen who promotes textiles and weaving (above).
This trip reflects authentic Bhutan. The Bhutanese have safeguarded their Buddhist culture and ancient way of life, and it's the traditional aspects that lend great charm and value to the country. We'll spend time in the less-visited and more rural eastern regions where the weaving and little villages are spectacular.
As we travel, the lush paddies in the valleys, and the hills covered with thick forests will amaze you . Because of an avid Forest Management program, protected blue pine, spruce and cypress forests cover over 70% of the country. Bhutan's government did not allow outsiders to visit for centuries, but now the people welcome travelers. The infrastructure of Bhutan improves annually, thus there are now better roads and hotels than in past years.
Traveling from west to east, our group will start out by meeting in New Delhi, and conquer our jet-lag with two nights there. We'll have a Delhi city tour that includes the Crafts/Hand-Loom Museum; you'll learn about how different the textiles of Bhutan are from Indian examples. (There will also be a pre-tour to see the Taj Mahal and the Wildlife SOS Bear Rescue Center, as well as other Delhi monuments. Ask for details.)
Then next day, we fly to Paro, Bhutan. And the adventure begins! We'll visit both Paro and Thimpu and see a fabulous festival before heading east. See details below for the fabulous Tiger's Nest Monastery visit, outside of Paro.
Thimpu, the Capital
Here we'll visit the important and up-to-date Textile Museum, started by the modern, young Queen. Then we'll check out a weaving center, and the Handicrafts Emporium where they sell various crafts plus handwoven fabrics.
We'll visit several large towns such as Bumthang plus many villages in the areas where the art of weaving excels. The whole eastern region is relatively undiscovered compared to the west, and it's the area famous for the high quality handwoven textiles of Bhutan. Many of these destinations also have spectacular dzongs or ancient fortress-type building complexes.
Dzongs are unique architectural forms in Tibet and Bhutan. Built mainly in the seventeenth century as fortresses and centers of religious authority, today they continue to serve as important administrative and monastic centers.
As recently as 1998 by royal decree all new and remodeled buildings had to be be constructed with multi-colored carved wood façades, small arched windows, and sloping roofs.
Architecture typical of Bhutan includes highly decorative window frames, carved columns, and painted beams. We will stay in hotels with this sort of decoration and will stop to check out other buildings with intriguing painted images.
Tiger Nest's Monastery Details
And this wouldn't be a trip to Bhutan without the chance to see the famous Tiger's Nest (Paro Taktsang) Monastery in the forested mountains outside of Paro. The day-trip to the cliff monastery begins in Paro and we return to our hotel for the night.
It was constructed on the side of a cliff in 1692, near the cave where Guru Rinpoche first meditated. It's said that he's the person who introduced Buddhism into Bhutan. A legend relates that Guru Rinpoche flew from Tibet to this steep cliff on the back of a tigress, thus giving it the name "Tiger's Nest."
The trek will be optional with the ascent either on foot or horseback. Horses climb only to the tea house at mid-point up the trail; you'll have a good view of the Tiger's Nest from here.
The horses are healthy and don't have to wear a bit, so they can pick their way along the rocky trail to find the best route. Many people walk up the rocky trail, so if you are fairly fit, it's possible to climb up the trail on foot. (Good hiking shoes are essential for this slippery trail.) For the last and steepest part from the tea house to the monastery, the guide will walk with those who want to climb.
Meanwhile, the rest of us can sit below at the tea house, relaxing among the prayer flags, drinking milky chai tea, and staring upward at the beautiful buildings on the cliff. It's necessary for everyone to hike back down on foot. The descent isn't bad if we go slowly; some people might want walking sticks for this part. And if a mountain trek isn't your cup of tea, you can relax at the hotel or explore Paro instead!
Textile Traditions
In 2005, the Queen of Bhutan  created The Royal Textile Academy that we will visit in Thimpu. She also encouraged weaving centers so that the country's youth may learn to appreciate, conserve and promote the weaving and fabric arts done all over the nation. She writes that "…the thagzo or art of weaving is a symbol of national identity that continues to play a significant role in all religious, official and social events. Weaving represents the very heart and soul of the country…" It's interesting to note that while the women weave the clothing and fabrics, it's often the men who embroider and appliqué items such as temple hangings, saddle covers, shoes, hats, and ceiling canopies.
In the past, Bhutanese citizens followed an imposed dress code. Everyone wore handwoven traditional clothing: the gho for men and the kira for women. Nowadays that has changed, and it's required only for government and office workers, and for school uniforms. Some young people have begun to adopt jeans and sweatshirts, but many people still proudly wear typical outfits everyday. And for festivals and special occasions such as weddings, everyone dons their very best and latest styles of handmade national dress.
Traditional Dress for Men and Women
Men wear the gho, a wrapped knee-length robe with deep white cuffs, tied at the waist by a woven belt known as kera. The pouch which forms at the front traditionally was.used for carrying food bowls and a small dagger. Today men store their cell phones and wallets in the pouch; see photo at left of men in gho with bulging front pouches.
Women wear the kira, an ankle-length dress made of handwoven panels, wrapped around the body and pinned at the shoulders. Over the kira they add a satin or brocade outer jacket known as a tego, with an inner blouse or layer called a wonju. However, people of ethnic groups such as the Bramis and Brokpas of eastern Bhutan generally wear traditional clothing that differs from the rest of the Bhutanese population.
Weaving
We'll visit many weaving households and some larger weaving organizations in various towns. Also, we'll learn about the incredibly labor-intensive techniques used to make the women's wrap dresses called kiras. The best place to see the women showing off their most exquisite outfits is of course at the Buddhist celebrations that we will attend.
For the finest pieces, weavers use complex pickup techniques that sometimes involve wrapping or twining the weft around the warp in specific patterns. This is called trima, and often looks like a chained embroidery technique. Because a finely detailed kira (above) can take almost a year to weave, a very intricate piece can cost several thousand dollars. Belts are stunning too, and more affordable. As we visit the weaving centers, we'll appreciate the huge variety of designs and color combinations, and perhaps find some textiles to buy!
Fly home after 11 pm on March 16, or early on March 17.
TOUR COST:  $5620
 17 nights
Single Supplement:  $850
Includes day tour of New Delhi with Textile Museum, visa for Bhutan (see below), 17 nights in comfortable hotels in double/twin rooms with private bath, all meals  (often buffets in our hotels) except one lunch, all soft drinks and bottled water with meals, airport transfers for all flights, city tour of New Delhi, two flights from Delhi to Paro and Guwahati to Delhi; English-speaking Bhutanese licensed guide during the trip, all in-country ground travel by private van with professional driver, bottled water available in the van, horseback transport to Tiger's Nest Monastery tea house, entrance to all museums and sites on the itinerary, and an 8″ x 11″ photo book documenting your trip.
Not included: International airfare, INDIA visa, alcoholic beverages, *tips for guide and driver (count on about $150 total for both), personal items such as laundry charges and any between-meal snacks or drinks.
IMPORTANT! Travel Plans
Plan your flights to arrive in NEW DELHI on February 28. At the end of the trip on March 16, we will drive from Samdrup Jongkar at the Bhutan border to the Guwahati Airport in India. On March 16 in the afternoon, we will fly from Guwahati back to New Delhi (flight included) to connect to your international flight home. We arrive in New Delhi at 6:40 pm with Air India. Customs and immigration formalities and check-in can take some time, so please plan your connecting flight HOME sometime after 11 pm on March 16 or early on March 17. Please check carefully before confirming your flights: you will be flying round-trip to New Delhi. Details about flight possibilities will be sent when you sign up.

VISAS

We will arrange the BHUTAN visas for you. You will need to send a scanned colored copy of your passport to the agent handling the visas; it's all safe and official. When you arrive, you will get a piece of paper that serves as your official visa until you get a small stamp in your passport when we enter the country at Paro.
YOU will need a MULTIPLE ENTRY VISA for India; cost not included.
Once you sign up, you will be sent the website link to get your one-year INDIA visa online. Or if you want a 10-year visa, you can fill out the forms and send your passport to the nearest visa office.
More info about visas and how to apply once you have signed up.
All photos by Cynthia except festival shots (Shutterstock), Tiger's Nest and me on a horse, by Sudhir Joshi, who traveled with me to Bhutan.