Webpage in progress: Price to come!
DATES:
November 22 through December 6 (15 nites). Fly home December 7.
Sensational ikat weaving, ancient Hindu temples, and sixty-two distinct groups of traditional peoples make the Indian state of Odisha an exceptionally interesting place to visit.  Some claim that the 'architectural legacy of the period is its greatest attraction.' Others find the 62 distinct tribal groups fascinating.  Odisha does have the most variety of ethnic peoples of any single state in the country. But for our small group of travelers, both the local people and the single and double handwoven ikat-patterned cloth will be equally important to the stunning temple architecture. Silk and cotton saris from this state are sought after within the Indian diaspora. Knowledgeable textile aficionados world-wide treasure Odisha ikats.
 Tour Highlights
City tour to see the best of Kolkata  (Calcutta).
A visit to Kala Bhoomi – Textile and Crafts Museum
Excursion to Gopalpur to meet local weavers
Visit to Pipli appliqué center to see artisans at work.
Explore Raghurajpur – A heritage crafts village
Explore Nuapatna textile village; see Siali crafts.
Meet the weavers of Sambalpur village, renowned for their intricate ikat saris.
Visit to the unique Yogini temple of Ranipur Jharial
Explore Kotpad weaving village to see their exceptional fabrics
Drive to Rayagada to visit Chatikona on Wednesday's traditional market
Visit the Padmasambhava Mahavihara Monastery in Chandragiri
Excursion to the village of Padmanvapur famous for its cotton weaving.
Explore Berhampur – oldest city of Ganjam District in the State of Orissa
Trip Details
We'll arrive in Kolkata (newer name for Calcutta) a bustling and fascinating city and relax from the long flight. Then we'll assemble for a Welcome Dinner. The next day we'll explore the city with its colorful markets and historical architecture. Then we'll fly to the capital of Odisha State, Bubaneshwar, dubbed "The Temple City" of India. It's home to hundreds of temples, most notably the intricately-carved Mukteshvara Temple and the Konark Sun Temple, above.
A tour through the Kala Bhoomi Museum in Kolkata will offer us a preview of the many kinds of textiles and handicrafts that we'll be seeing in Odisha. The museum has display galleries, and also many craft workshops where we can watch artisans creating their particular regional specialties.
We may offer a pre-tour of Kolkata that will include a cooking class and a market/photography tour. Ask about this when you sign up for the textile tour.
Odisha Craft Centers
We'll visit Raghurajpur, a heritage crafts village in the district of Puri. This village is recognized for its folk art called Pattachitra, an art form which dates back to the 5th century B.C. It is situated about 10 miles from the Hindu pilgrimage town of Puri, on the southern banks of the Bhargabi River.
The tradition of decorating the homes with hand-painted murals has made Raghurajpur a living museum that is delightful to stroll through. Situated amidst coconut palm groves, the main village has two streets with over 120 houses, most decorated with mural paintings. There the painters reside and paint colorful and detailed works of art.  The painters, known as chitrakars, prefer to make their own vegetable and mineral-based paints. They paint on earthen houses, paper or canvas and on palm leaves.
Other pattachitra paintings are made on a piece of cloth known as Patta, or on a dried palm leaf. The artists paint colorful and intricate pictures of various Gods, Goddesses, and mythological scenes with flowers, trees and animals. We'll visit some of the artists to watch them at work and perhaps purchase some masterpieces. Many other artisans also work in this interesting village, creating traditional masks, papier mâché, sculptures, and wooden toys. The village also has a series of temples dedicated not only to Bhuasuni, the local deity, but also to various Hindu gods.
Ikat Weaving: Silk and Cotton

In Odisha, it's all about the ikat! Artists here bind some of the most intricate designs in the world into threads for the weavers here. The precise and careful person who binds the threads into a complicated pattern to be resist-dyed is not necessarily the same person as the weaver. This specialization helps to create even more complex patterning because the artisans have help with the processes and can concentrate more completely on their particular skills. We will visit many ikat dyers and weavers so you can understand the techniques and see as many different examples as possible. Vendors in many towns will offer many motifs, styles and qualities of silk and cotton fabrics for sale. You'll learn about excellent quality ikat and the skills involved to achieve it. Sometimes we may buy directly from the weavers themselves, which always makes a more personal experience and memory. Most fabric in Odisha is woven in long 6-9 yard lengths for saris. This allows for plenty of yardage if you want to make clothes yourself at home, or have it made into pants, tunics or dresses  by a local tailor.
Pipli Appliqué

Pipli is the center of appliqué and where the Indian version of the craft of originated. Here we'll meet some of the many artisans in their workshops. And we can watch them practice the appliqué technique, creating both traditional and contemporary items. The Pipli applique work owes its origin to Lord Jagannath culture during 12th century. Long ago, umbrellas and canopies were prepared by gajapatis for the annual Jagannath ceremonies of  Ratha Jatra, the Hindu festival of chariots. And some specific appliqué items are still used mainly during rituals/jatras of the deities. Nowadays the technique has also been adapted for household, decorative and similar festival products; you may find some colorful treasures in the shops here.
Cuisine of Odisha
The foods of eastern, coastal India are delicious. Little containers at right show some of the typical ingredients, such as star anise, fenugrek and cardamom. Panch phutana is a blend of five spices that is widely used in Odia cuisine. It contains mustard, cumin, fenugreek, aniseed and kalonji.  Garlic, onion and ginger are used in most of the food.  Turmeric and red chillies are used regularly, but typically cooks use less oil and dishes are not as spicy as elsewhere. Mustard oil is used in some dishes as the cooking medium. Fish and other seafood are of course eaten mainly in coastal areas. Several curries are prepared from prawn and lobster with spices. A favorite Odia (Odisha) dish is Prawn Curry, served with the rice that is the staple food of this region.  Freshwater fish is available from rivers too.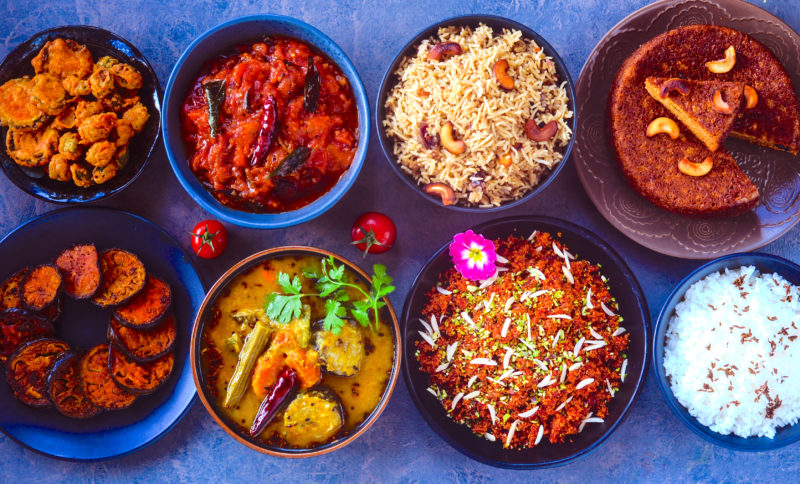 Unusual ingredients used in Odia cuisine are plantains, jackfruit, and papaya. Curries are sometimes prepared with curry leaves and tamarind, and garnished with dried raw mango. There are many versions of pilaf, rice and lentil dishes, and dozens of varieties of vegetable combinations. Yoghurt is used in many dishes. Many sweets of the region are based on chhena (cheese). In the past, food was traditionally served on banana leaves or disposable plates made of plantain leaves.
When we dine in Odisha, some meals will be excellent buffets at hotels and other times, you will order your choice from the menu. In some small towns, there may not be hygienic local places to eat so we will take meals at our hotels.
Weaving Villages
We'll head out to Nuapatna and Maniabandha countryside villages for a special weaving experience. Most villagers make a living by being involved in some process of sari weaving. Weavers' cottages line the lane between the two towns. You'll hear the rhythmic beating of working handlooms, and you'll see stretched warp yarn in the streets.  Multicolored, dyed yarn hangs to dry around the dyers' workshops.
The Lingaraj Temple complex, dating to the 11th century, is set around sacred Bindusagar Lake. The Odisha State Museum is focused on the area's history and environment.
Spice dishes photo: WikiCommons by Joe Mon Bkk.