October 6 – 21, 2021   
Depart for home Oct. 22.


or

add on the



Kyrgyzstan Extension
October 22 – 27 (7 nights)
Fly home Oct. 28.

Overview:
Our 16-night all-new textile tours of Uzbekistan check another fabulous adventure off your bucket list!
Uzbekistan was an important trade center on the Silk Route, the ancient trade route linking China to the Mediterranean. And Uzbek textiles are absolutely stunning. It's home to exquisite, hand-embroidered suzanis and hand-dyed, handwoven ikat textiles, as well as four UNESCO World Cultural Heritage Sites. An expert in Uzbek textiles and culture will accompany our small group during the trip to be sure we meet the most talented artisans, see the best pieces, and also most stunning blue-tiled architecture. The weather will be pleasant at this time of year.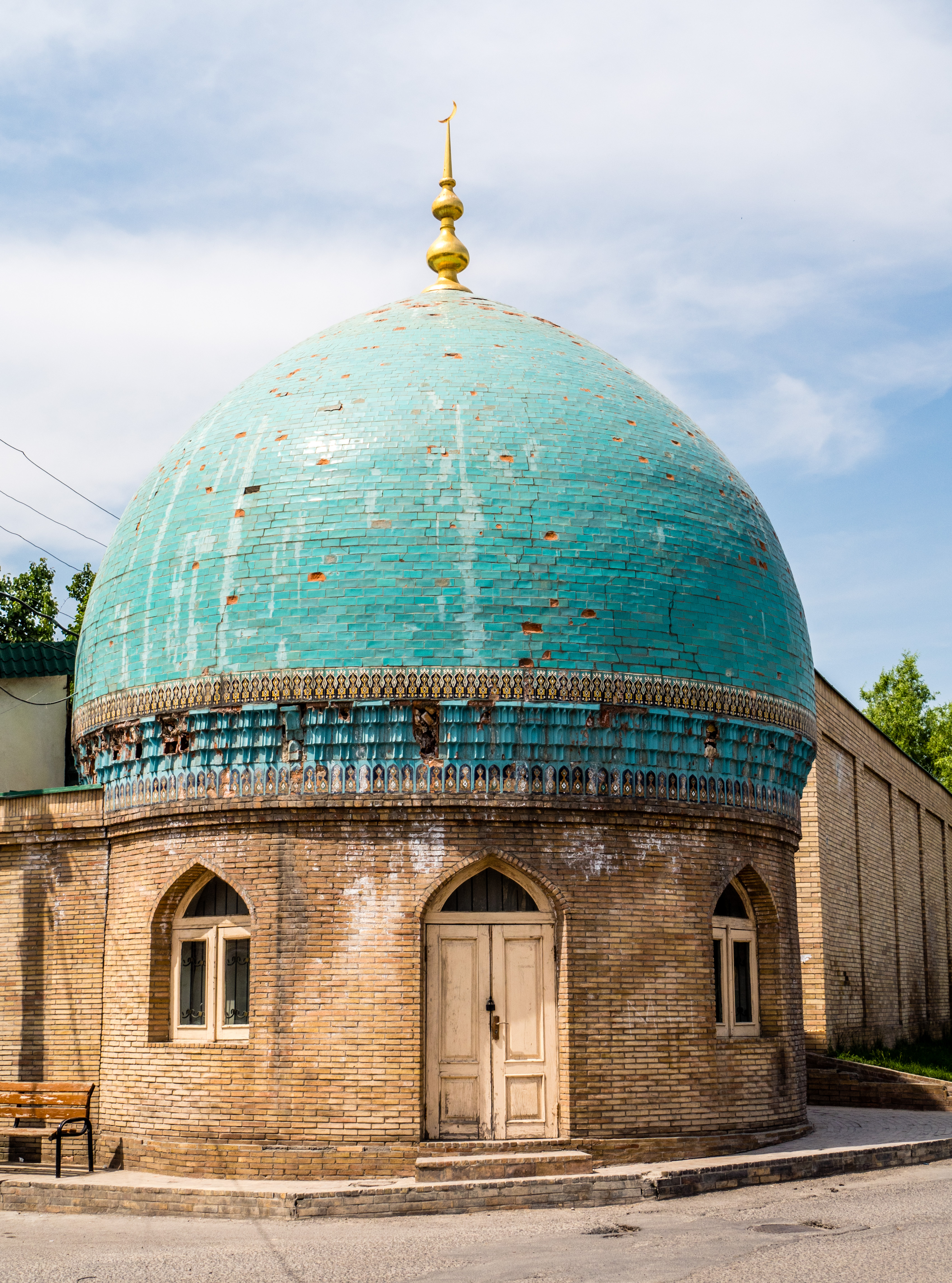 The trip begins and ends in the exciting city of Tashkent. Along the whole route, we will visit exquisite blue-tiled madrasas and museums, as well as bustling handicraft bazaars. And true to our name, everywhere we'll go 'Behind the Scenes' to meet silk ikat dyers and weavers, wood block printers, embroidery and ceramic masters, and more.
Next we'll head for the Ferghana Valley, home of superb and glowing ikat resist-warp dyed fabrics, the most renowned of Uzbek textiles. Over the course of four days there, we'll visit many ikat weavers and artisans, have a cooking class, see the textile bazaar and a silk factory. Then we're off to Samarkand by fast train. This interesting city lies right on the ancient Silk Road. Seasoned travelers consider Samarkand as one of the most beautiful cities in the world and we shall see why.
Next we'll visit Bukhara, a UNESCO World Heritage site. We will travel there via the sleek, new train line. Blue mosques and textile bazaars also abound in this fabulous historical city. Khiva is the next stop. We'll skirt the Kyzylkum or Red Sand Desert, to see Khiva's wondrous architecture and carpet knotters before heading back to Tashkent for our last day. Details of the Uzbekistan flexible itinerary below.
ASK about the Kyrgyzstan Extension, after the Uzbekistan tour. The itinerary includes 6 or 7 nights (depending on flight schedules) and loads of textiles and fabulous scenery, completely different than Uzbekistan! We'll send info if you are interested.
Trip Details:
Arrive in Tashkent, the Uzbek capital, on the arrival day. The guide and I will meet you at the airport then we'll check in to our hotel. We'll eat lunch and/or dinner as a group this first day, depending on what time you arrive. You can spend the day relaxing, or go out with us to explore the neighborhood. We may visit modern building of Chorsu Bazaar or the Human House Studio and Gallery where you can shop Uzbek arts and crafts, or enjoy cup of tea or coffee. (If you are interested in having interesting clothes custom-made, you can order them today. Then when we return to Tashkent at the end of the trip, your order will be ready for pick up.)
Tashkent
In Tashkent, we'll admire the turquoise-tiled domes of the historical  buildings such as the 16th Barak-Khan Madrasa complex. While in the old city, we'll also visit a famous woodblock print studio and an embroidery workshop. The State Museum of Applied Arts showcases some of the best historical artistic examples of the textiles of Uzbekistan.
Long ago, the Imperial Russian diplomat Alexander Polovtsev built a mansion to display his extensive collections of unique national handicrafts. After the Soviet revolution, the government nationalized his cherished home and opened it to the public as a museum. Polovtsev's rare examples of folk art such as rugs and wood carvings are on display here. Collections also include traditional ikat garments. The museum often holds exhibitions and sales of works by contemporary Uzbek artists.

Famous Ferghana Valley
Our route to Ferghana Valley leads us via the low Kamchik pass at around 7400 feet. After 4 hours drive, we'll stop in Kokand, to visit the incredible Khudayarkhan Palace and the Juma mosque, and to eat lunch. Taste the delicious homemade honey halva sold in the mosque courtyard!
In Margilan, an ancient Fergana Valley city, we'll meet ikat dyers and weavers who are the most skilled in Central Asia.  Margilan was already well-known in antiquity for the superb quality of silk created here. A highlight will be the Kumtepa Bazaar, one of the best places to buy ikat fabrics (with resist-dyed warp) which are the most renowned textiles of Uzbekistan. It's a great local market with an extensive area devoted to local textile crafts. Here you can buy ikat yardage to make robes, quilts or pillows, and other textile treasures.
There is also a workshop where you can buy the ikat fabrics directly from the weavers. Later we'll visit the training center of the most renowned ikat weaver, whose workshop did custom work for Oscar de la Renta. We'll visit the Yodgorlik Margilan silk factory, established in 1972. Today about 450 people, mostly women, work there, and the visit is fascinating. Every month the factory produces about 6500 yards of fabric including natural silk and silk blend fabric. Over the course of our four days  in the Ferghana Valley, we'll visit many other artisans, and the textile bazaar. At a silk factory, we'll witness the entire process from silkworm's cocoon to the finished ikat. We'll also learn to make some authentic dishes in our cooking class.
Samarkand
From Margilan we go back through Tashkent, then we'll board the air-conditioned fast train to Samarkand. Today it's the third largest city in Uzbekistan. Once the capital, and an important trade stop along the Silk Road, Samarkand sits at the center of the country. UNESCO included Samarkand in the list of the World Heritage of Humanity almost twenty years ago. Samarkand was at the forefront of Islamic architecture, witnessed in the old town built in typical medieval fashion. There, numerous mosques, madrasas and homes line the narrow streets. We can visit a silk carpet factory, the famous Afrosiab museum and the Observatory of Ulughbek.
Prominent landmarks include the Registan, a plaza bordered by 3 ornate, majolica-covered madrasas dating to the 15th and 17th centuries. We'll see the towering tomb of Timur (Tamerlane), founder of the Timurid Empire. Modern Samarkand is a unique city: it combines the spirit of modernity and old historical grace. The western part of the city is more modern, with architecture reflecting 19th and 20th c. European design and style, influenced by the Russian aesthetic. The city is often referred as a crossroad of cultures.
Next stop Bukhara!
The ancient city of Bukhara remains an exciting place to explore the architecture and textiles of Uzbekistan.
This city has amazing mosques, galleries and museums. The age-old caravansarai and madrasas have often been converted into artists' studios and workshops. And several ancient, domed bazaars here offer carpets, suzanis (embroidered panels) and jewelry. We'll explore these as well as an artisan center where we can learn how some typical crafts are made.
While in Bukhara, we must see the Emir's summer palace, Sitorai Mohi Hosa. It's an 'over-the-top Russian/Central Asian confection built in 1911.'  The palace also houses the excellent Bukhara Museum of Decorative Arts where the suzani collection will enthrall the embroidery lovers among us. The main building houses royal furniture of the 19th – 20th centuries, Japanese and Chinese porcelain, palace artifacts from Russia, and jewelry by well-known Bukharan masters.
At the center of the garden there is the octagonal pavilion, with an exhibition called the 'Clothes of Urban Dweller of Bukhara in the late 19th and early 20th Centuries.' The exhibition includes an interesting collection of wealthy citizens' clothes, belts, scarves, and shoes decorated with gold embroidery. We'll visit other architectural wonders such as the 9th century Ismael Samani Mausoleum, a perfect cube made of baked bricks in basket weave pattern.
Khiva
Onward from Bukhara to Khiva! This is a long drive, but the desert landscape is compelling: vast steppes, shepherds and their flocks, odd villages, military outposts and unusual vegetation. We'll cross the Amu Darya river, known as the Oxus in ancient times. Ichan Kala, the walled, ancient, inner city of Khiva made an important stop on the Silk Road. Traditionally known as Khorezm, Ichan Kala was declared a UNESCO World Heritage site and also the largest surviving walled city in the central part of Asia.
Once famous for its ruthless emirs, Khiva is now touted as the most intact and remote of Central Asia's silk road cities. Today it's considered the most homogeneous example of Islamic architecture in the world.  The city's rulers, the Khans of Khiva, originally built the wall to keep out colonial threats. However, Itchan Kala was later preserved by Russian colonial rulers.  Nearly sixty largely Islamic historic monuments are preserved in the old city, as the State Historical Archaeological Museum. These tiled and mosaic-encrusted treasures include palaces, mosques, minarets and pillars.
Textiles abound in Khiva. We'll visit another spectacular museum of handicrafts, and several grand architectural wonders. There is a particularly wonderful carpet shop in Khiva also. Hand-knotted examples here show patterns that were inspired by the designs of the tiles and doors of the city.  One exciting visit in Khiva will be to the Khiva Suzani Center to see stunning embroidered examples from all over Uzbekistan.
Sacred Uzbek bread
We'll eat delicious food everywhere and learn about the local cuisine in at least one cooking class. The diet includes grilled meats and stews such as pilaf or plov, with lamb/mutton. Usually cooks serve Uzbek meat dishes with vegetable kebabs and fresh salads.
Traditionally, lamb is the most popular meat among Uzbek people; They don't eat a lot of beef but people of coastal regions naturally catch and consume varieties of fish.
Bread is considered sacred by Uzbek people. The traditional round and flat bread, called non or lepeshka,  and is baked in a tandyr/tandoor (clay oven), after which it comes out toasted and crispy. Bread of each region has own particular method of leavening, its own baking techniques and its own inimitable taste. For instance, delicious flaky bread – katlama non, each layer smeared with oil or sour cream – typifies the Fergana Valley version. Some lepeshkas are prepared with onion or meat baked inside the dough.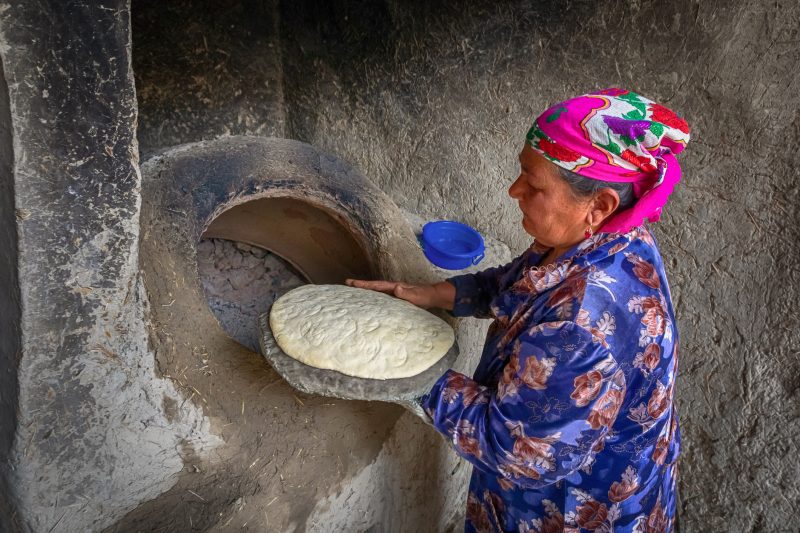 Traditionally Uzbek dinner guests never cut bread with a knife. At the start of the meal, they  break the bread into pieces by hand and place it on the table near each place setting. And they take care not to act disrespectful by setting the bread upside down on the table (with its flat side up). We will learn about the cuisine as well as as the polite Uzbek way of dining. Two evening meals will be on your own, to lounge at the hotel with a picnic of bread, cheese and fruit, or to find an interesting place to try.
At the end of our adventure, after seeing a million gorgeous suzanis and stunning ikats, we'll drive to nearby Urgench for early flights back to Tashkent. The rest of this day is free to explore Tashkent on your own — to see something you missed the first time, visit more museums, hit a 6 pm performance at the Theater of Opera and Ballet, or visit the local Chorsu bazar for some final gift treasures. Or just relax at the hotel and pack up all your exquisite Uzbek textiles for the trip home. Lunch on your own. Pack up bags tonight, before our Farewell Dinner.
Flights home the next day.
Once you sign up and pay the deposit, we'll send you the detailed itinerary and other information about the country and the tour.
Trip Cost:  $4450

Single Supplement: $520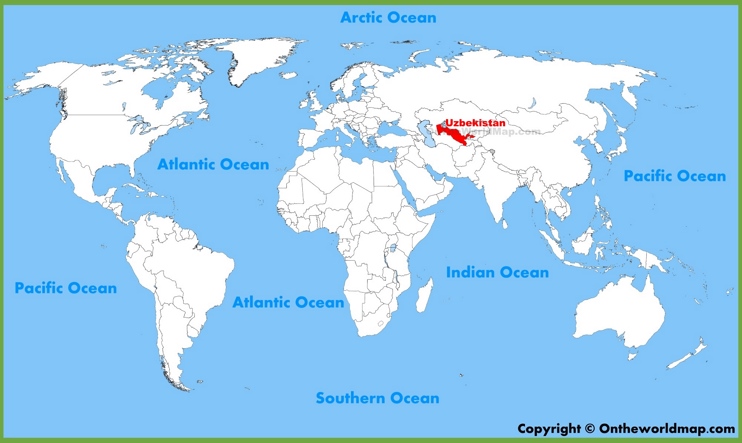 The 16-night tour cost includes:
16 nights accommodation in double rooms with private bathrooms.
Expert Uzbek English-speaking textile expert guide.
All breakfasts in the hotels.
15 Lunches and 15 Dinners (2 meals will be on your own)
Transportation by air-conditioned Minibus.
Entrance fees to all sites and monuments.
Flight from Urgench-Tashkent
All Tashkent airport transfers
Train travel between Tashkent and Samarkand, Samarkand
and Bukhara, and Bukhara-Khiva.
All train station transfers – Samarkand, Bukhara, etc.
1 liter of bottled water per person per day; you buy more as needed.
Cooking master class, embroidery master class
Wood Block printing lesson
Ikat textile weaving demonstration/lesson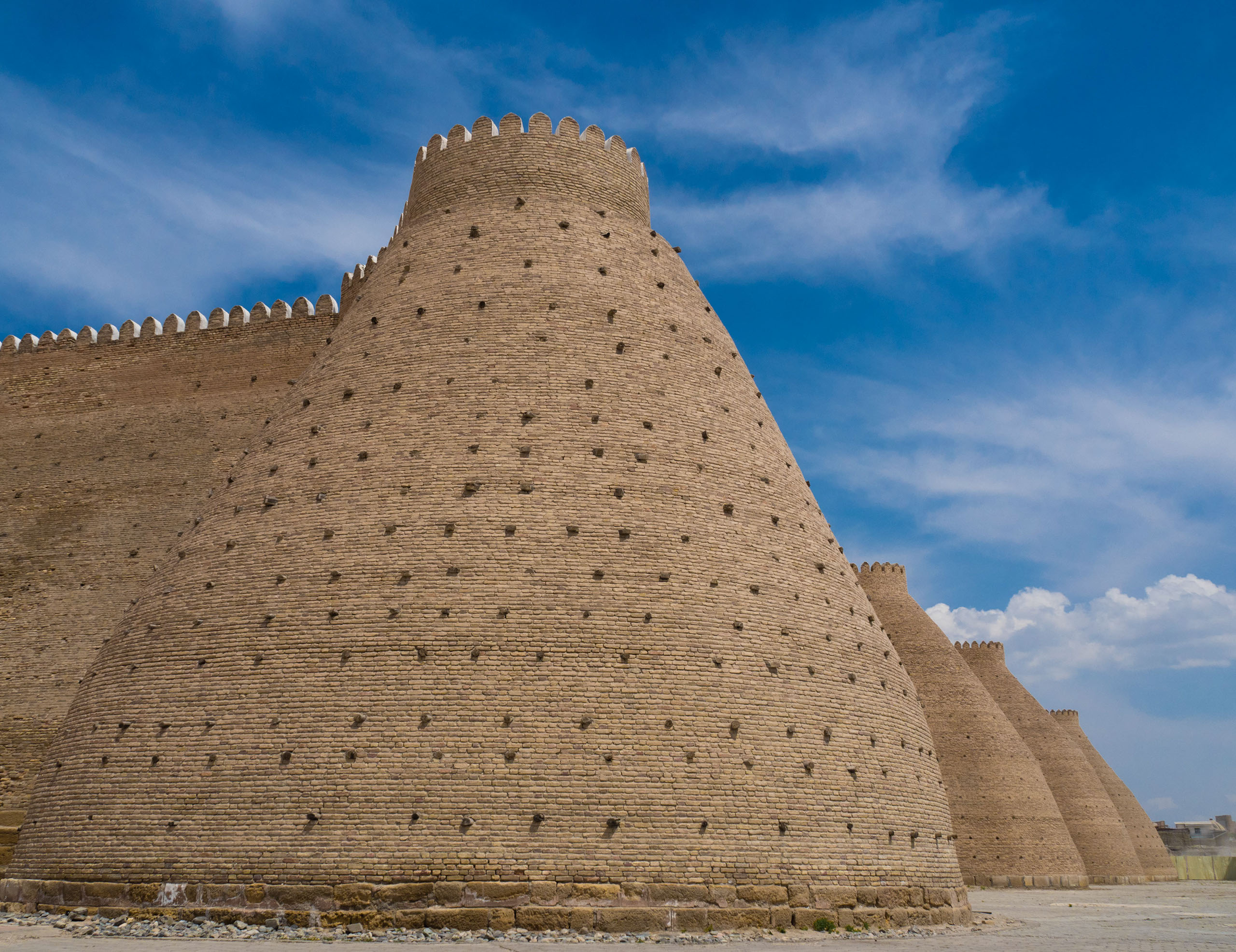 Not included:
 International flights to and from Uzbekistan
 Visa and passport fees
 2 Dinners (buy fruit and cheese to eat at the hotel, or go out)
 Tips for guide and driver; amounts will be suggested.
 Mandatory travel insurance (more about this later)
Note for Vegetarians: Most dishes contain meat in some form. Vegetarian visitors will find more choice of foods traveling in urban Uzbekistan. In out-of-the way places, there will be some rice and veggie combinations, but these will be the exception. However there are places that offer a choice of fresh salads like achichuk (shakarop, or Uzbek salad with tomatoes, onions, dill and red pepper), turf chakka (sliced summer radish served with traditional yoghurt), chalop (cold soup, mixture of chakka/suzma yogurt and greens, or cucumbers), carrot and walnut salad, very delicious beetroot salad (also frequently served with walnuts), excellent fried or grilled aubergines, tomatoes, potatoes, fried cauliflowers, squashes and many more.
More about foods and typical dishes later.
Food information above by Suzanna Fatyan, 2012.
Blue tiled building  by Kathleen Walsh.
Bread stamps by Dreamstime © 45304376. Antonella 865
Baker: DT © Mariusz Prusaczyk
Blue tile camel caravan by Joyce Carlson
Photo #11 Bread Sellers DT © Evgeniy Fesenko
Photo #12  DT ©Sergey Dzyuba
Map: ©Ontheworldmap.com