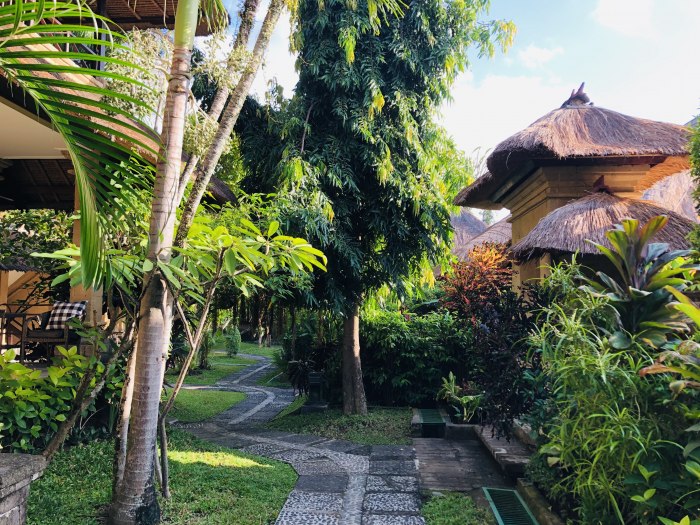 TEXTILES OF BALI
June 12-24, 2022
Fly home on June 25.
Just the word "Bali" evokes a tropical paradise with swaying palm trees, balmy weather, friendly people, glorious beaches and stunning temples. Less known is the long history of textile and art production that we will experience on this 13-night trip. We'll start in the bustling capital of Denpasar, and explore the island by private van, with art and textiles of Bali as our focus. Batik artists, weavers, painters and wood carvers will greet us to visit their studios and workshops. We'll also see some fabulous traditional dancing and music, and the most important temples and museums.

The trip is designed for everyone who loves handmade textiles and seeing different weaving processes. The heavenly food and lovely tropical hotels are a big plus! Quilters rejoice! You will find lots to exclaim over. You'll not only have a chance to see and purchase a wide variety of Indonesian textiles but also you can load up on yards and yards of hand-dyed cotton or rayon batik cloth. In Denpasar, we'll shop for oh-so-inexpensive Balinese batik quilt fabrics at a couple of places with incredible selections. You'll also create your own yardage at a local batik mini-factory. In this workshop, we'll stamp lengths of plain cloth with patterns, and dye with colors, of our choice.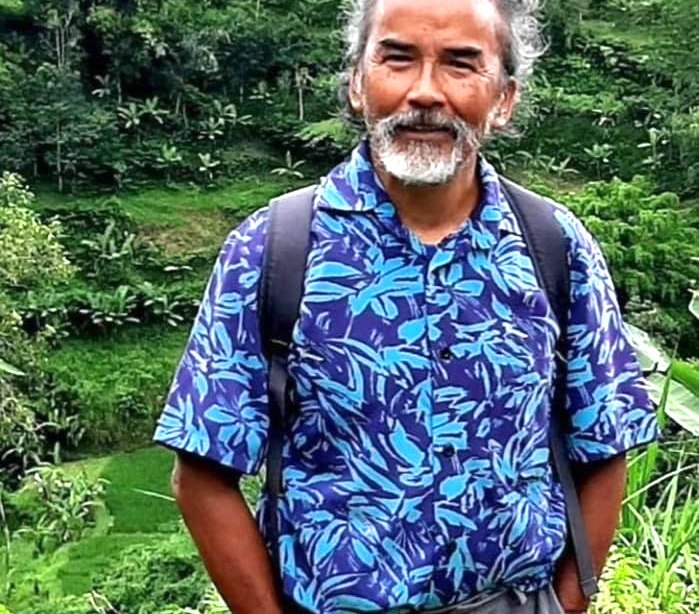 Highlights:
Travel with a Balinese native, meeting the local artists.
Visit a traditional double ikat weaving village.
Stamp and dye your own Batik fabric.
Watch a traditional Balinese dance show.
Shop for an incredible selection of batik fabric.
Tour the Bali Provincial (ethnographic) Museum.
Learn to make Balinese dishes in our cooking class.
Design a batik cloth painting in our class.
Visit stunning temples; learn about their traditions.
Take weird photos at Upside Down World Bali.
Savor delicious dishes on our Street Food tour.
Optional, included: Workshop with silversmith to create your own silver ring.
Optional: Snorkeling will be possible in at least one place (boat fee not included),
and the last hotel of the trip is right on the beach for free time.
Weather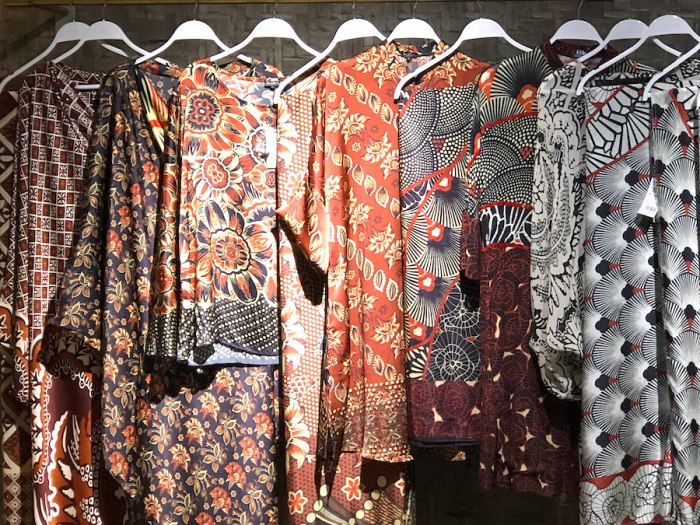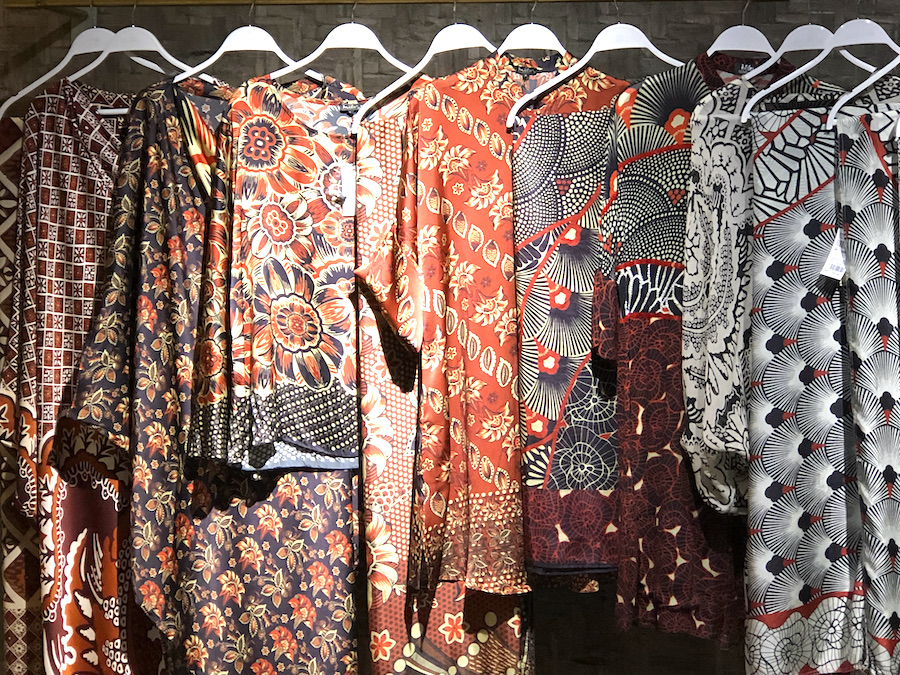 Bali is about 600 miles south of the equator, so the weather is tropical – hot and gloriously sunny. Daylight continues for a cheery 12 hours, and daytime temperatures average between 80º F (27ºC) to 90º F (32ºC). It's humid, so often it feels warmer. But the mountain areas are cooler, around 70º F (21ºC) to 80º F (27ºC). I have always felt the charm and beauty of the country make it worth the heat. The hotels have air-conditioning or good fan systems. Do bring a bathing suit because many of our hotels have lovely pools.
Bali's tropical monsoon climate has two distinct seasons: dry (between May to September) and wet (between October to April). Monsoon refers to the wind, not the rain. However even in the wet monsoon, in this tropical paradise it is still likely to be sunny for much of the day.
May, June and July are generally considered to be the best time to travel to Bali in terms of the weather.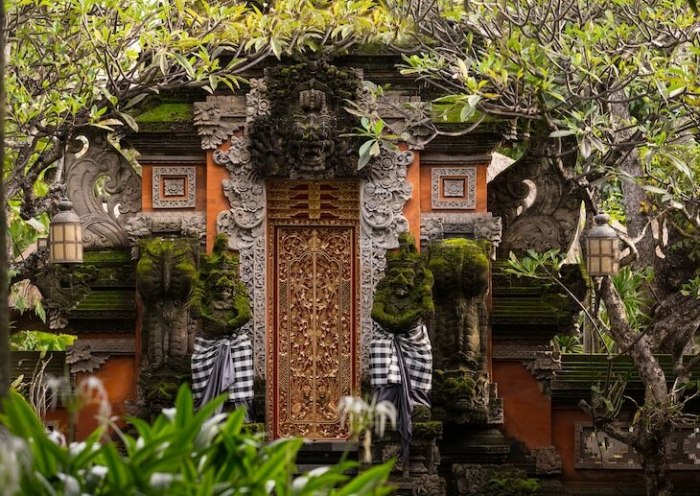 Textiles of Bali
The variety of weaving is stunning. The most common fabrication techniques by Balinese weavers are single and double ikat, supplementary weft and discontinuous weft. If these aren't familiar terms, you'll learn to distinguish cloth made with these methods as we observe weavers in several different locations.
And of course: Batik! The best-known textile of Bali (and next-door Java) is the fine, silky cotton, hand-stamped, batik-dyed fabrics, prized by quilters the world over. We'll print our own fabric, suitable for quilting or clothing too! And coming to the source ensures the best prices and best selection of course. We'll have an optional shopping excursion in the capital of Denpasar to renowned shops with a stunning choice of Bali batik cotton or rayon, at great prices.
Geringsing
And in the east, we'll watch weavers aligning the pre-patterned threads to weave the famous rust and ecru double ikat called geringsing, pictured above. Both men and women wear long pieces of it for traditional ceremonies.
The labor-intensive double ikat process, and the fact that geringsing is produced in only one village, make it one of the rarest and most valuable of Indonesian textiles. Geringsing cloths are characterized by bold, highly intricate patterns in white, morinda red, and indigo-blue-black colors produced from natural dyes. Geringsing literally means "against sickness" in Balinese. The cloth is believed to have protective qualities and magical power and thus is used ceremonially as offerings or clothing.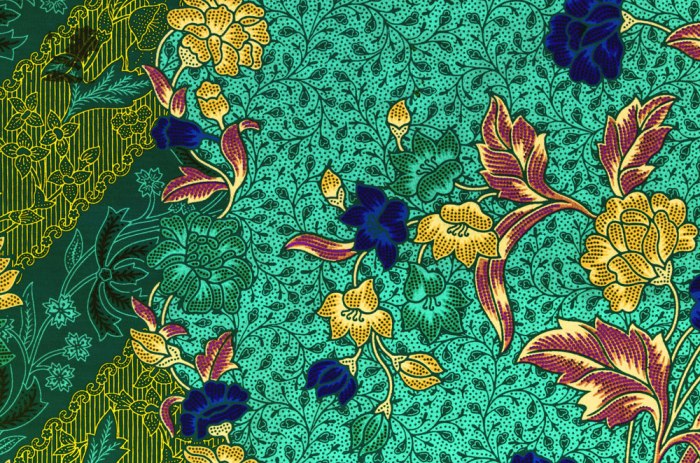 We'll visit the Museum Negeri Propinsi.
Here vast collections of ethnographic displays include classical paintings from East Bali, and treasures such as antique textiles, wayang kulit shadow puppets, theatrical masks, costumes and musical instruments.
The spiritual aspect of the small island of Bali also makes a visit extra special. Around every corner are carved stone deities and temples set in lush grounds. You'll marvel at the intricately woven and carefully arranged food offerings for the gods, and the guide will further enlighten us as to the significance of the spiritual objects and temple ceremonies.
"Hinduism and Buddhism reached Bali sometime in the first millennium, after the appearance of 'Indianized' kingdoms in Sumatra and Java. These religions blended with native animism and ancestor worship, and with a profound respect for the mountains, rivers, caves and other natural features found in abundance on this island. The need for balance between humanity, the unseen world of the gods and spirits, and the environment – a concept called tri hita karana – is at the core of modern Balinese Hindu philosophy and practice." (From Threads of Life, Ubud, Bali)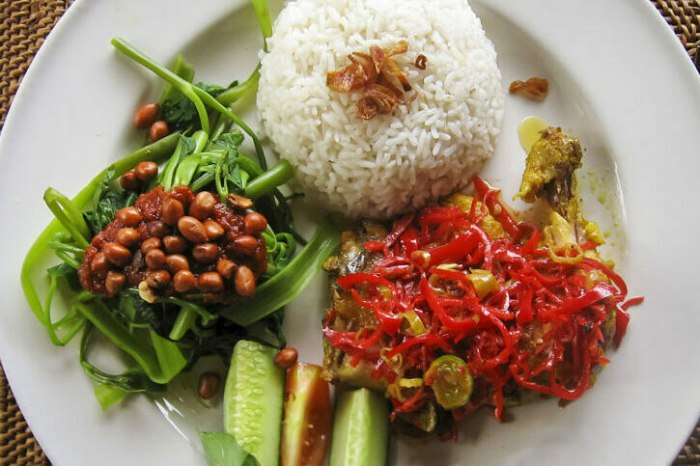 Tour Price: $4095
Single Supplement $550
INCLUDES:
13 nights in beautiful tropical hotels with pool, double/twin rooms.

Travel by private van with professional driver.

Airport transportation on arrival/departure days, June 12 and June 25.

All meals (your choice from menus) except 2 dinners & 2 lunches

on

your own.

Occasional buffets, or picnic lunches on the road.

All breakfasts in hotels.

All non-alcoholic soft drinks and water with meals.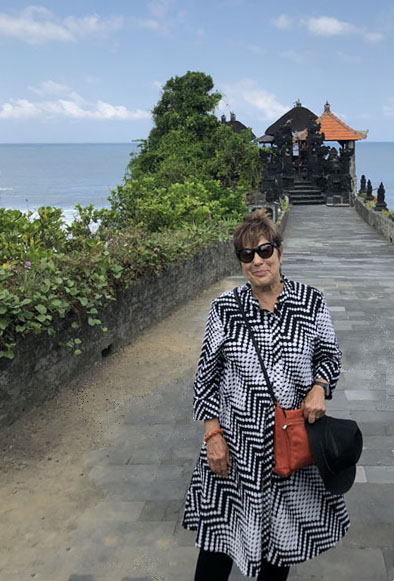 Entrance to all sites and museums.
Note that Travel and Trip Cancellation insurance is mandatory on all trips.
Not Included:
International airfare, alcoholic beverages, tips for driver, and any fees for other activities you choose to do but which are not not on the itinerary.
Snorkeling is optional, (about $90 to go out with the boat or free with rented equipment [$] from the beach).
All photos ©Cynthia LeCount Samake unless listed.
Geringsing photo: www.threadsoflife.com, Ubud, Bali.
Plate of lunch by Simon Gurney; Dreamstime.