Experience a country that is very different from Uzbekistan and enjoy two trips in one!
Kyrgyzstan has been at the crossroads of several great civilizations as part of the Silk Road. Though long inhabited by a succession of independent tribes, Kyrgyzstan has periodically fallen under foreign domination, and it attained sovereignty as a nation-state only after the breakup of the Soviet Union in 1991. Ethnic Kyrgyz make up the majority of the country's six million people, followed by significant minorities of Uzbeks and Russians.
After the modern cities and the fascinating historical sites of Uzbekistan, a visit to Kyrgyzstan is a refreshing change of pace. The few travelers that make it here love the peaceful countryside and stunning mountain views. In fact, the mountainous Tian Shan region covers 80 per cent of Kyrgyzstan. Some people still prefer to live in a felt yurt in the beautiful forests or lake country. Yet the capital, Bishkek, is modern with good restaurants and hotels, pretty parks, and a population of one million.
TRIP HIGHLIGHTS
Meet artists creating contemporary silk and felted wool scarves
Spend a night in a yurt at the edge of magnificent Lake IssyKul
Make your own felted piece in our private workshop
Discover superb rock engravings at the Cholpon Ata field of boulders
Admire the stark mountain landscapes and the wild horse herds
An Overview of Your Journey
Over the Border Into Kyrgyzstan!
The tour starts and ends in beautiful Bishkek. We will have a Kyrgyz specialist guide who will explain more about Kyrgyz history and culture.
In our time here, we'll see the highlights of the country, starting in the capital where we'll visit Oak Park, the State Museum, and other monuments.
We'll have several opportunities during the week to learn about Kyrgyz felt-making, in NGO supported workshops. Best known in the past for making felted rugs, saddle blankets, and tent bands, Kyrgyz artists also create felt toys and clothing such as slippers, shawls and scarves. 
We'll meet a talented felt artist, learn about her techniques and see her latest work. We'll also visit some women's coops that sell felted items in the form of home decor and accessories.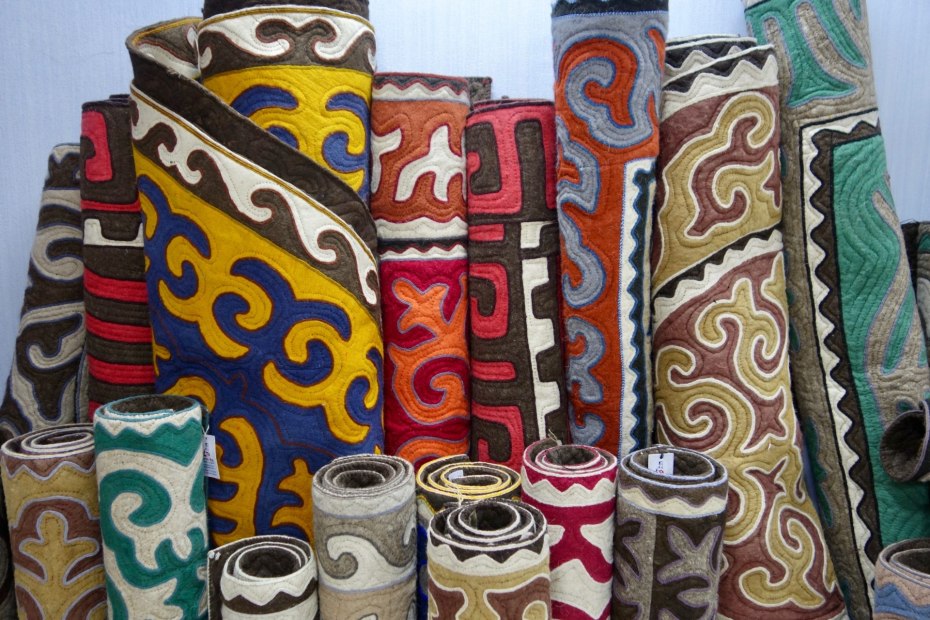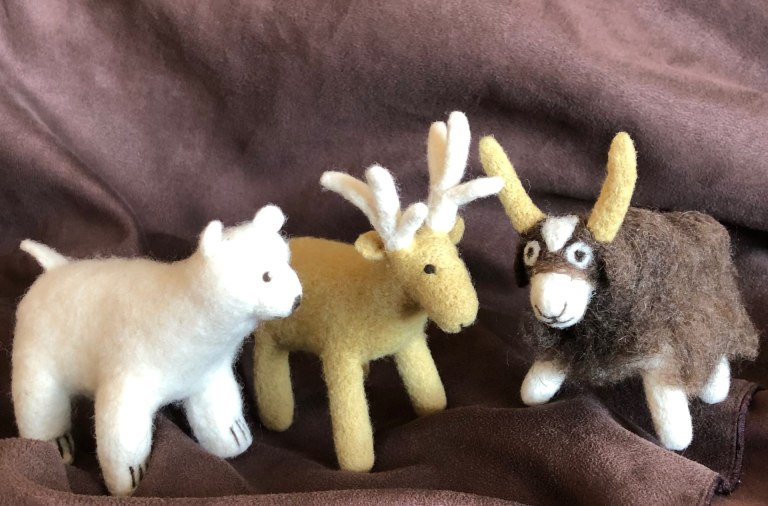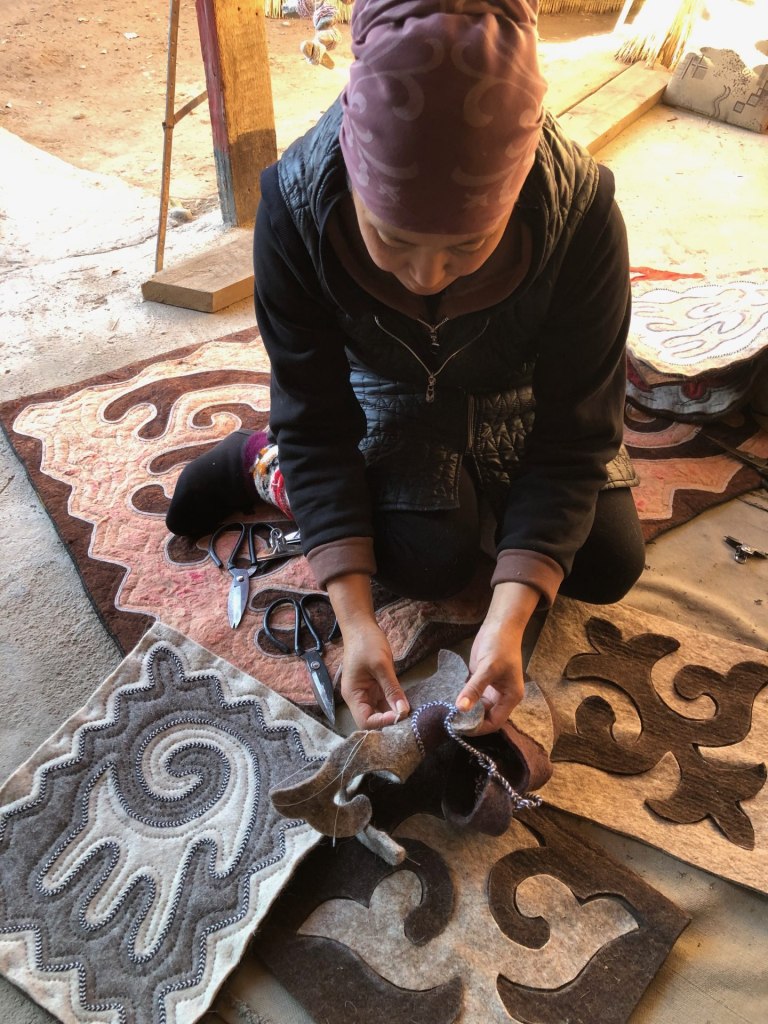 The Beauty of Felt!
Later we'll drive to Kochkor village, 260 kms from Bishkek. Kochkor is a famous province for farmers and woolen felt makers, and we'll visit the Altyn Kol Women's Handicraft Co-operative. At the Felt Master's studio, we will learn how nomadic Kyrgyz women make felt rugs called Shyrdak – a floor covering made by cutting positive and negative shapes out of prepared felt, in various brightly dyed colors. Then the positive shapes are inserted into the negative spaces of the background and stitched.
You will see a demonstration of another process of felt carpet making and make your own sample. This method of layering colored felt shapes on a background, then rolling it, is different from the modern art felt shyrdaks we have seen before.
In this area, we'll spend a couple of nights in welcoming and comfortable guest houses. These homestays are fun because we get a glimpse of how people really live. The families who volunteer to have travelers as guests are lively, interested folks who like to talk about the outside world.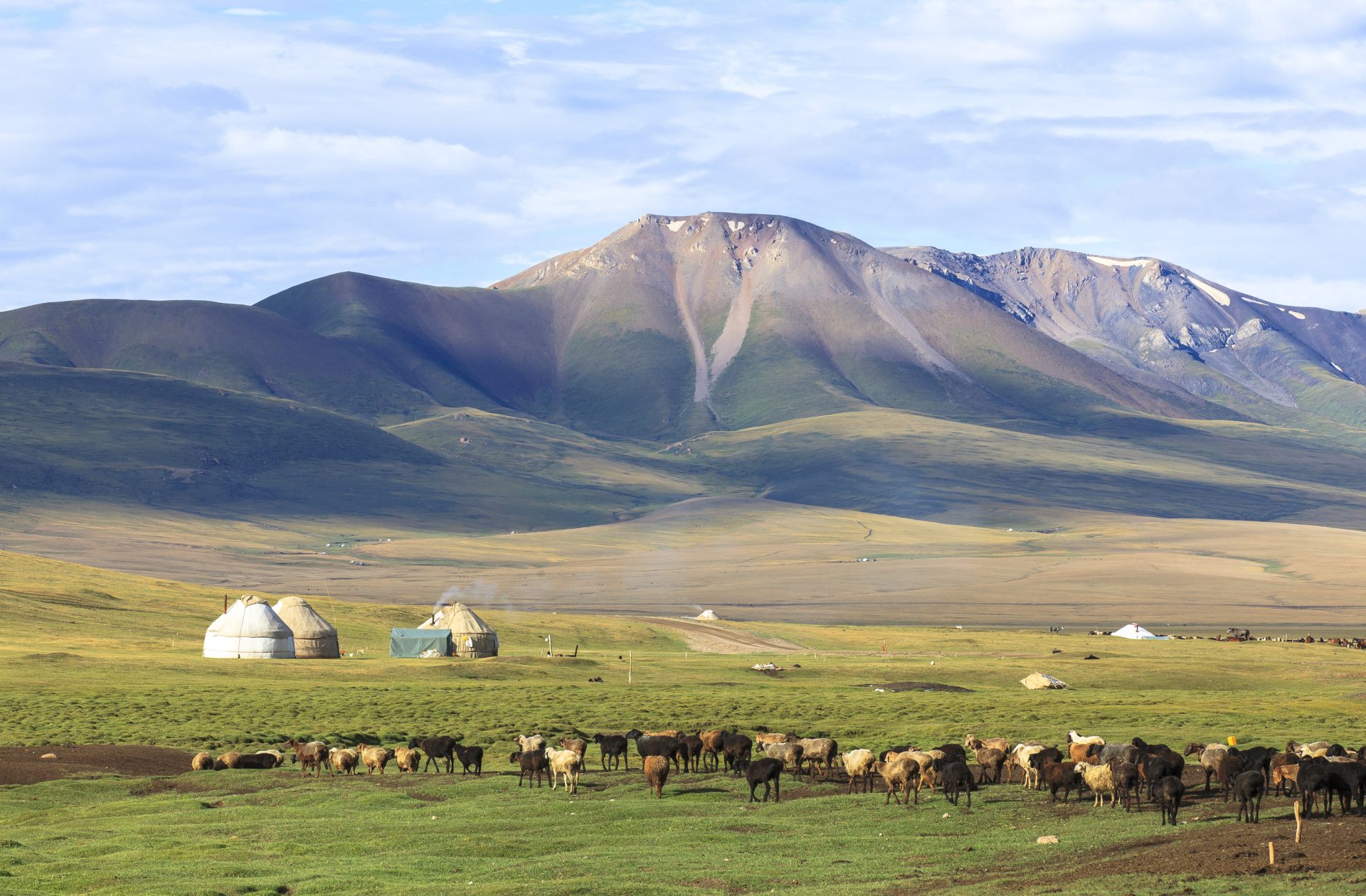 Tian-Shan Mountains
One day we'll drive along another part of the Great Silk Road to the remote Tash-Rabat 'Caravanserai.' This trip passes through the spectacular mountains and valleys of the Tian-Shan mountains.
Caravanserais were an extensive network of traveler's inns along old caravan roads, either located at cities along the way or as outposts in isolated regions, providing shelter from the hostile environment and from bandits. The well-preserved 15th century stone structure of Tash Rabat stands 100 km before Kyrgyz-Chinese border at Torugart, at 3500 meters altitude. The ancient inn has a central hall and 30-odd small rooms.
We'll drive along the enormous IssyKul Lake and depending on the weather, we may spend a night in the Yurt Camp at 2000 m. It may be too cold in October for yurts, so we might stay in a special homestay.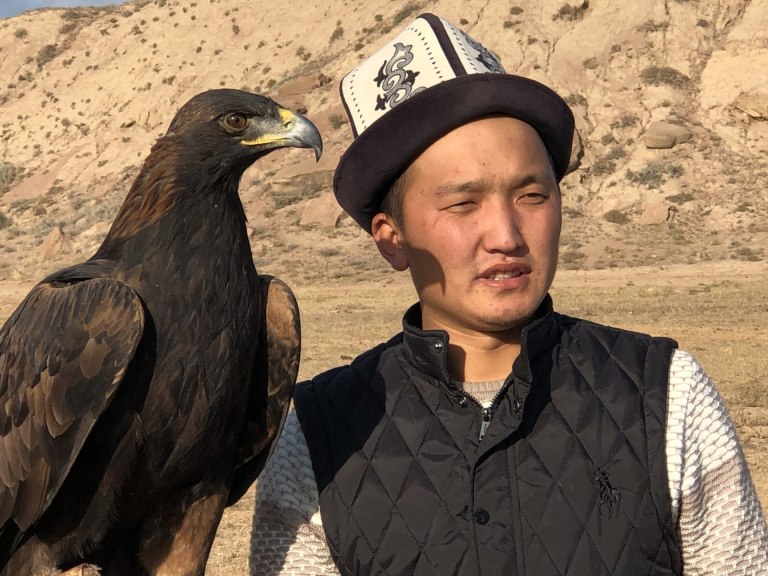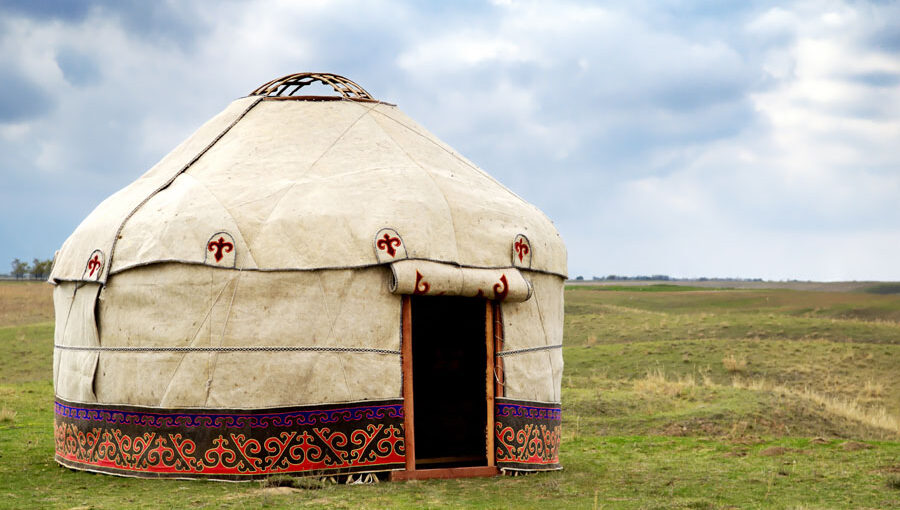 On to Karakol
Next morning, we'll continue to Kyzyl-Tuu village where a Kyrgyz family member will show us how to assemble a felt-sided traditional yurt. Here we will also learn about Kyrgyz national traditions such as beshik (baby cradle ceremony) with a demonstration using a cheerful local babe!
Nearby in a little valley, an eagle hunter will demonstrate traditional hunting. His female Golden Eagle's skill and speed are demonstrated by letting the eagle loose to chase and snag a goatskin with a chunk of meat attached (no animals harmed in the demo). In the past, the prey brought down by hunting eagles saved nomadic groups from starvation in harsh winters.
Later, we'll continue to Karakol. Karakol town, one the first Russian military outposts, was founded in 1869. We can stroll around town and see the wooden Russian Orthodox church called the Holy Trinity Cathedral.
Its fate varied over the years with the political vagaries of the region. The church was active until 1917, when it became property of the state, and was used as everything from a theater to warehouse.
After independence in 1991, the building was returned to church authorities, who started repairs and reconstructions for the damaged interior and exterior. It's a strikingly beautiful piece of architecture with decorative wooden details. In this part of town there's also a most unusual pagoda-styled Chinese mosque with brilliant colors.
Winding It up With Music…
And on our last night in the rural countryside, we'll have a superb dinner at a Uighur family house, with an interesting Kyrgyz musicians' folk concert. The talented and welcoming musicians will explain their unique instruments too.
Then on our way back to Bishkek we'll stop to see the enormous field of boulders with ancient rock engravings at Cholpon-Ata's open-air museum. With a splendid background made of high snowy mountains, this collection of petroglyphs dates back more than 4,000 years.
This open-air museum is a very important historical site, located on a territory of 42 ha (104 acres) that includes both petroglyphs, images carved on stones, and prehistoric structures and monuments.
We'll also see the Burana Tower, a truncated minaret, from the 11th century with another open-air collection of interesting stones, in this case, carved like human-shaped tombstones.
We'll spend the last night back in Bishkek and then fly home from Bishkek the next morning.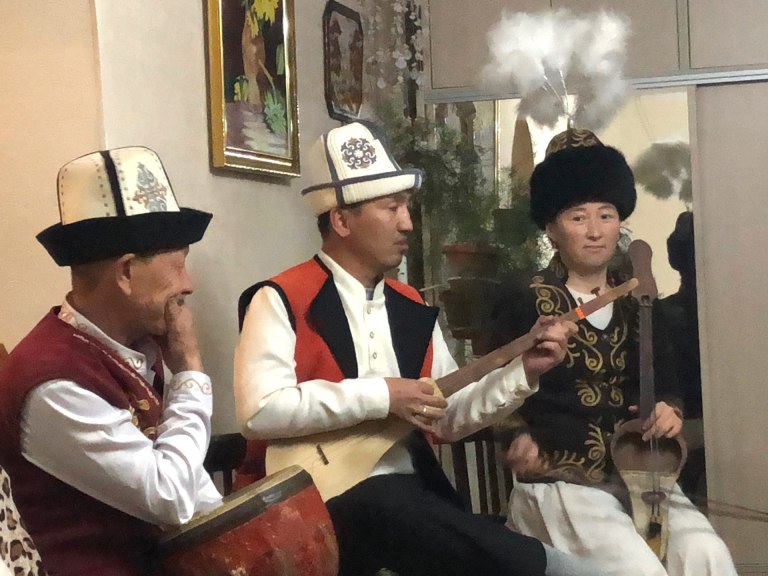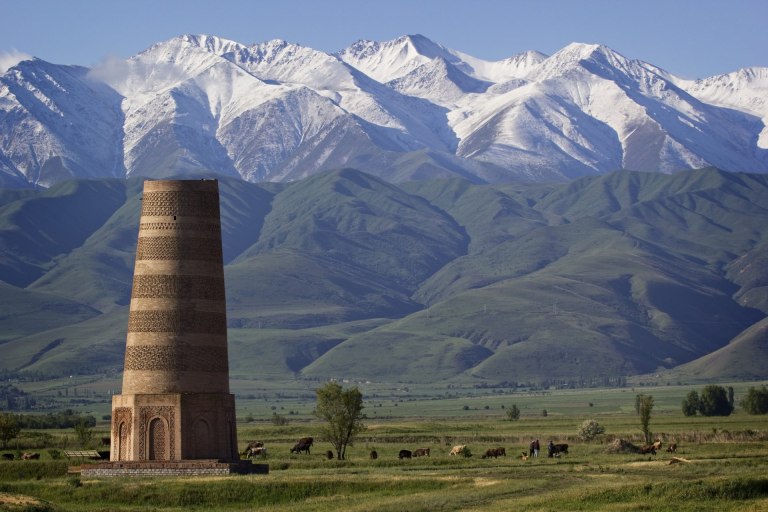 Where You Will Be Staying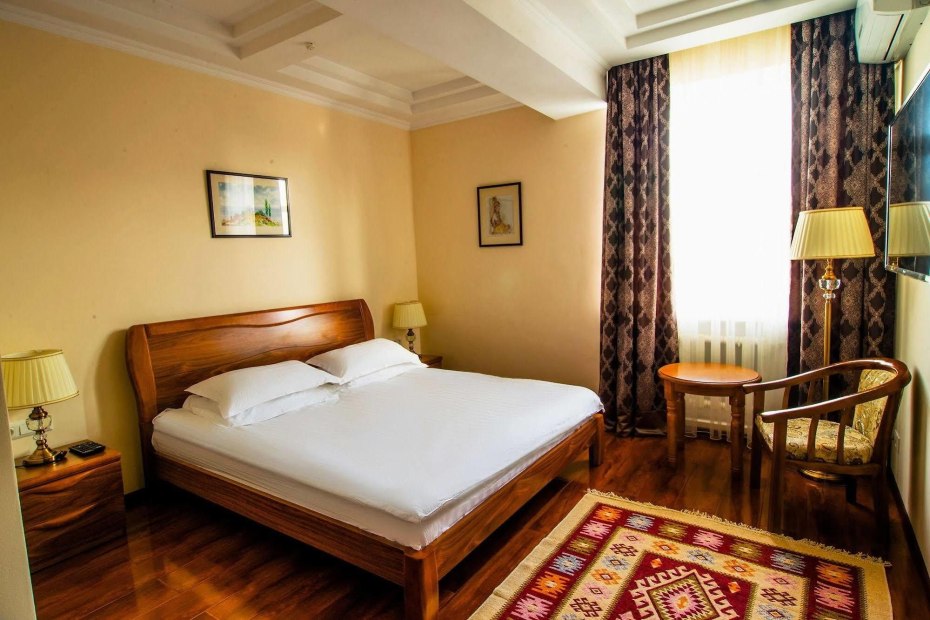 Soluxe Hotel, Bishkek
Modern and super-clean small hotel with lots of gleaming wood. Bathrooms are modern, beds are comfy with smooth linens. The breakfast is basic, because of Covid, but sufficient to start your day. In a convenient location.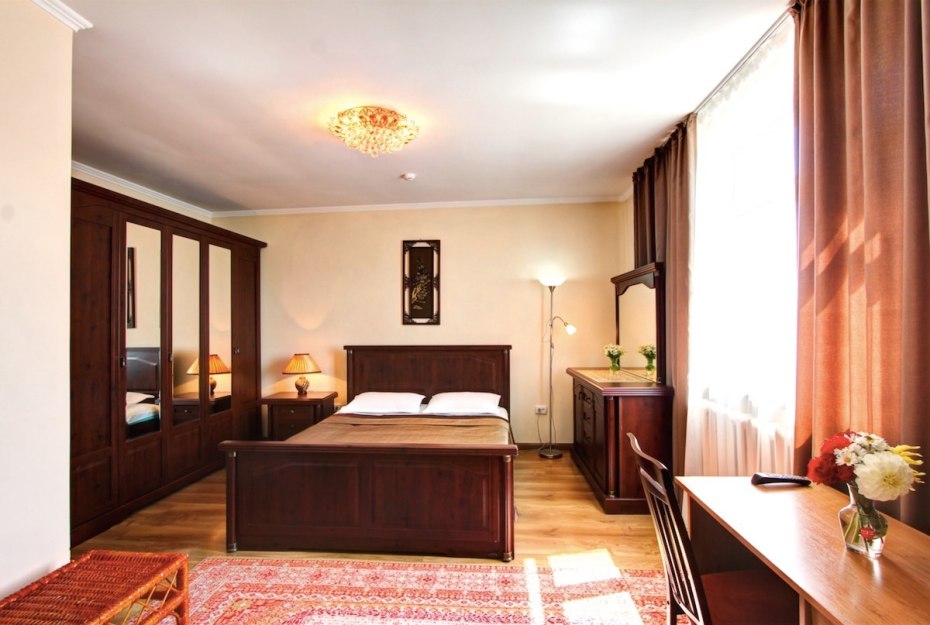 Green Yard Hotel, Karakol
Large and light-filled modern hotel surrounded by pleasant gardens and fruit trees. It has comfortable rooms and a spacious dining room. Breakfasts are delicious and huge with many choices. The owner and staff are all helpful and very welcoming.
Photos From Previous Adventures in Kyrgyzstan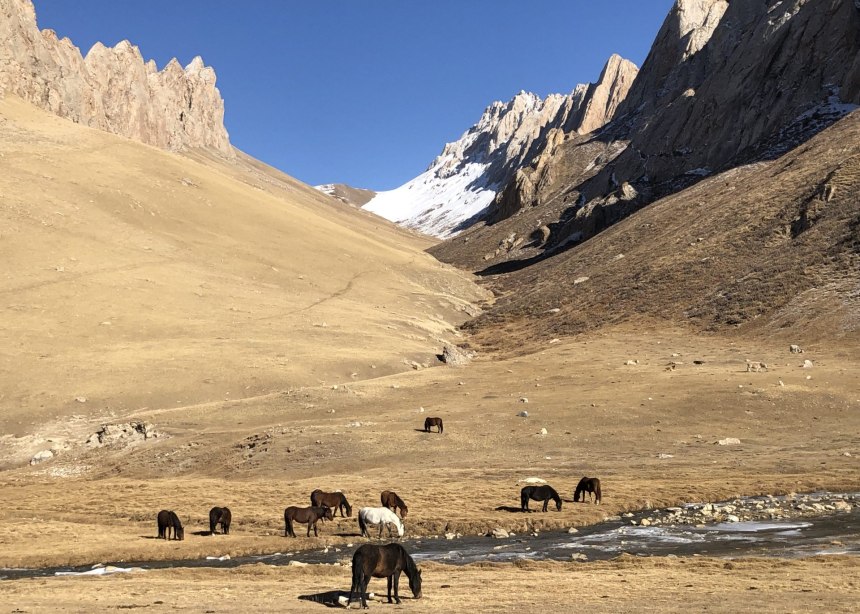 Your Trip Leaders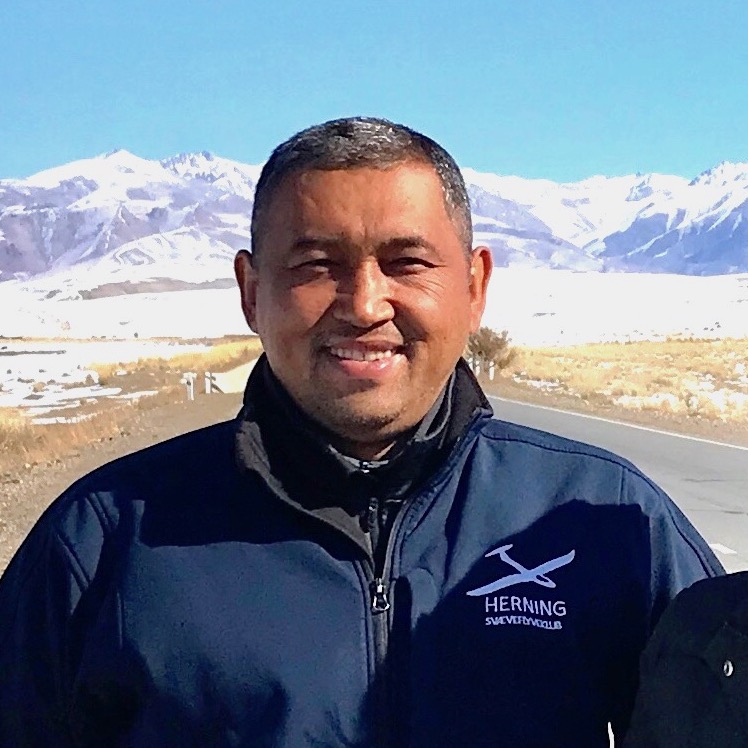 Ulan
After University graduation in 1998, Ulan became a professional guide in his country of Kyrgyzstan. He loves his job and is a font of knowledge about the country, its culture, and cuisine. Ulan is patient, ever-cheerful, and easy-going, and he seems to know everyone. He also speaks many useful languages like Russian, Uzbek, and Kyrgyz of course, in addition to great English.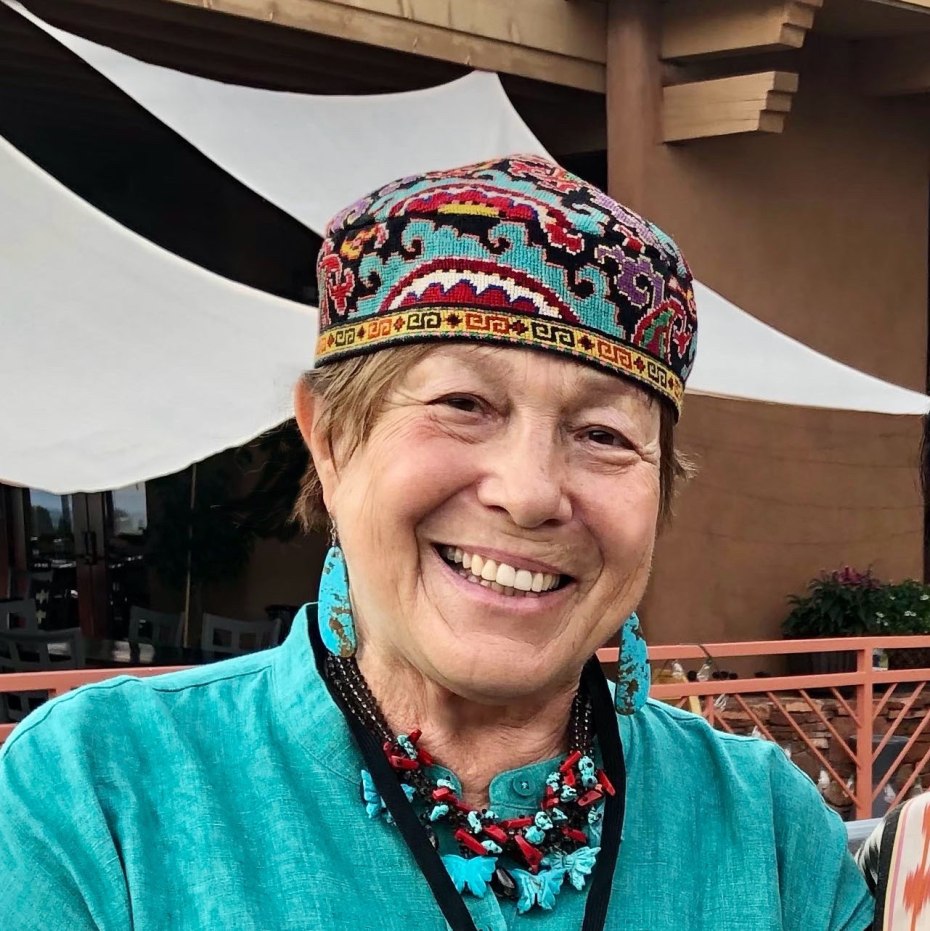 Cynthia LeCount Samaké
Cynthia began "Behind the Scenes Adventures" to share with others the traditional textiles and festivals of far-flung countries. Since 1998 she has led small groups of textile fanatics and friends all over the world. Desiring some new locations and new types of textiles, she has branched out and found wonderful connections and many other destinations for the tours.
Check Trip Availability
Trip signups are accepted on a first-come, first serve basis. Please provide your details below and we'll be in touch to confirm whether spaces are still available for this trip. If you need to get in contact, we are available during office hours 10:00 am – 5:00 pm MDT, Monday through Friday.
What's Included
7 nights accommodation in comfortable hotels and homestays with local families and one night in a yurt with shared bathroom, depending on the weather
Three meals daily; breakfasts in hotels/homestays
Bottled water, soft drinks and tea with meals
English (and Kyrgyz, Russian, Uzbek) speaking guide
Sprinter mini-bus with A/C
Eagle hunting demonstration (no live animal hunted)
A felt process demo and workshop to make a small felted project
Entrance fees to all sites
What's Not Included
Alcoholic drinks, tips to guide and driver. Suggested amounts later
Registration Information
Dates: October 30 – November 5, 2022
Fly Home: November 6, 2022 from Bishkek
Deposit: $500
Tour Cost: 7 Nights From $2000
Single Supplement: $220
For more information:
Phone: 707-939-8874
E-mail: info@btsadventures.com
Read: Frequently Asked Questions
Travel Plans
Most people will arrive in Tashkent, connecting through Istanbul, on the good Turkish Airlines. A typical route would be from your main international airport to Istanbul, then connecting to Tashkent. We can suggest some flights.
Going home, we'll fly out of Bishkek, most likely to Istanbul, usually on Turkish Airlines (but there are other choices; see your travel agent). Then you can connect with your flight home. Between Istanbul and Bishkek, the flight is on Uzbekistan Airways which is quite reliable.
Visas
Right now, Kyrgyzstan doesn't require any visa for foreign travelers from the USA, Canada, Australia, UK, Turkey and most of Europe. The list on the website linked below includes many more visa-free countries, and citizens of other countries can apply for an e-visa online. We will let you know if this policy changes. To learn more about Kyrgyzstan's visa policies.
Frequently Asked Questions
General Questions
What information will I receive after registering?
Once you sign up for a trip, we will e-mail a general itinerary, lists of Suggested Reading, what to take, cultural considerations, weather charts, etc.
How can I get a detailed itinerary for a tour?
A day-to-day itinerary will be sent once you sign up for a trip. If you need specific information about the flow of the trip and the pace of the specific activities, before committing to the trip, get in touch with your questions and we will be happy to fill you in.
What sort of clothing should I bring?
When you sign up for a tour, you'll receive detailed lists of what to bring to your destination, as well as weather info, to more easily coordinate your wardrobe with the heat or cold.
Your travel clothing will depend on the weather during your stay, in either May or October. We'll send a list of weather/temperatures to help you decide on comfort levels, but modest clothing is important at all times. Our Kyrgyzstan trip will be to rural, casual destinations so in general, sweaters/fleece and pants or skirts are fine, with comfortable shoes. Heavy hiking boots are not desirable, but some sturdy shoes or boots are good. The October trip will be much colder than the May trip, so we suggest bringing a heavy jacket, long underwear, a knit cap, wool socks, and thick slippers for the hotels and homestays.
Are laundry services available?
Most hotels have a laundry service and prefer that you don't wash clothes in the bathroom sinks. If there is no laundry service, and you don't want to wash your jeans and wait a day or two for them to dry, asking at the hotel desk is a good place to start.
Please note that it is considered demeaning to wash someone else's underpants, so we ask that you wash your own underpants. Hang them to dry discreetly in the bathroom.
What is the COVID situation?
The COVID situation is changing daily, but Turkey has done well with its vaccination campaign and it continues to improve. Masks are worn in all indoor venues such as museums and markets, and restaurants require proof of vaccination. Entry into Turkey now requires just a Vaccination card, proof of recovery from Covid, or a negative Covid test in the past 48 hours. A Vaccination Card is the easiest way to go through Customs and Immigration. We recommend bringing your original and a copy, and you carry them in two different places. Don't count on having important docs like these downloaded on your phone.
What are the COVID requirements for returning to the US?
All airline passengers to the United States ages two years and older, regardless of vaccination status or citizenship, must provide a negative COVID-19 viral test taken within one calendar day of travel.  Alternatively, travelers to the United States may provide documentation from a licensed health care provider of having recovered from COVID-19 in the 90 days preceding travel. Proof of your recovery from COVID equals showing your Positive test results and a doctor's attestation that you have recovered and are able to travel.
Do I need any vaccinations or immunizations?
This varies with each country. Make an appointment with your travel doctor and take your tours itinerary with you. Some areas of certain countries require malaria pills and others do not; same with Yellow Fever and others such as Cholera and Typhoid. He or she will have all the latest requirements at hand. A rural visit to a farm may require extra precautions, for example. We will send you the links to the CDC.gov information pages for your specific destination so that you can ask questions.
You should be current on all your typical childhood and international travel shots such as Polio and Tetanus. Some countries now demand proof of vaccination against COVID. Behind the Scenes Adventures requires you to have two COVID vaccinations. We recommend you have a booster as well.
How much physical activity is involved during the trip?
Each trip has different activity levels that will be fully explained in the specific tour material. But no activities or events are mandatory, and you are always welcome to sit at the bottom of the stairs to a temple or wait in the van while others ascend or visit a particular place. Walking sticks are fine to bring if they help you. We cannot accept wheelchairs or walkers.
For most tours, you'll need to be able to walk the distance of 4-5 city blocks on your own, with sturdy shoes. Please note that sidewalks in many countries are full of big holes and broken cement chunks, with bits of re-bar sticking out, and you must constantly be alert to these dangers. In urban areas where distances are greater, the group will take taxis and/or get help from local assistants. If you need a personal taxi or additional special aid, that will be at your expense.
In more rural areas at homestays or archeological sites, you should be able to navigate rocky paths and grassy fields, such as the terrain at Cholpon Ata, to see the rock engravings. It won't be feasible to use walkers or crutches while traveling with a group to foreign destinations that don't have facilities for handicapped persons.
What will the weather be like?
When you sign up, we will send you weather and temperature information for your destination. Behind the Scenes, trips are planned for the best weather possible for the tours and the events involved. For instance in Kyrgyzstan, we don't usually stay in the lakeside yurts on the October trip because it is too cold, but in May it is more comfortable.
Meals & Accommodations
What sort of hotels will we be staying in?
In the Kyrgyz capital of Bishkek, we stay in a modern hotel with comfortable beds, good linens, and spotless bathrooms. Once we leave the city, hotels are more rustic but always clean and pleasant. We also stay in a couple of village homestays – in middle-class, relatively modern homes in rural areas with very friendly hosts, and great meals – a wonderful way to meet the local people and learn about their ways of life.
On the May trip to Kyrgyzstan, we also stay in a rustic yurt camp in private or shared yurts. Shared yurts have 2-4 single beds and are very roomy. The yurts are nomad-style, made from traditional felted sheep's wool. They usually have electricity and basic space heaters but no insulation. The beds are comfortable and have lots of warm blankets (this is where you wear your long underwear).
What sort of food will we be eating?
Turkish food is fresh and delicious, usually featuring locally grown, organic ingredients. Breakfast often consists of many different foods: yogurt, dried fruits such as apricots and raisins, walnuts and almonds, dates, olives, and tomatoes. Fresh breads of different varieties and menemen, a scrambled egg dish with tomatoes and peppers, are both common breakfast specialties too.
Each region has its own specialties, often varieties of char-grilled meats served with grilled vegetables with a big scoop of yogurt. On the coast lots of fresh fish and seafood is served, although it is often prohibitively expensive — and further inland beef or lamb are served with rice. Chicken (tavuk) kebabs are popular everywhere, served with grilled vegetables.
Desserts are everywhere, with crispy baklava being a national specialty. It's made from very thin layers of pastry called yufka, and pistachios or walnuts, soaked in a honey syrup.
Kyrgyz foods are varied and delicious. There are many grilled meats, noodle soups called lagman, and vegetable salads. Sea Buckthorn Tea is a refreshing hot drink made from the orange berries of the wild plant, which we will see growing in the countryside.
Will I be able to accommodate my dietary needs?
If you have any special dietary, health, or nutrition issues, restrictions, etc, there is no guarantee that Behind the Scenes Adventures will be able to accommodate your special diets in foreign countries. Please contact us before departure, and bring sufficient alternative foods. Travelers with severe peanut allergies cannot be accepted. Vegan diets are possible but with much less variety than at home. Vegetarian diets are often fairly easy to accommodate, but also with less variety than what is available at home.
Flights & Travel
Will I need a visa for connecting countries?
It is very rare to need a visa for a connection if you stay in the Transit area. This will be regulated by the connecting country and the airline will send information as to this requirement.
What are the requirements for my passport to be valid?
Your passport needs to have one blank page for your visa, although, with an E-Visa, you will have just a piece of paper to show, and don't need room for anything except Immigration stamps in your passport.
Will I be met at the airport?
Yes! Cynthia, an assistant or a driver will meet you with a sign with your name and/or Behind the Scenes Adventures. They will have your flight schedule and know you will need time to pick up your luggage. Wait for them in the terminal, right outside the Arrivals area, and don't go with any other drivers that don't have your name on a placard.
What is the best airline to fly to the country?
Most of our Kyrgyzstan tours are Extensions to Uzbekistan trips and the flight is included from Tashkent or Osh on Uzbek Airways. The Extension involves flying HOME from Bishkek (KGZ) because it's a more convenient route than returning to Tashkent (UZB) again at the end of the trip.
If you are joining the Uzbekistan tour then adding the Kyrgyzstan Extension, you will fly into Tashkent from home and return home from Bishkek; this is called a Multi-City flight if you are searching on an airline website.

Turkish Airlines is the best airline to fly internationally (into and) out of Bishkek, Kyrgyzstan. See Expedia.com or the Turkish Airlines website for international flights from BISHKEK (FRU) to home.
(Note the tour arrival dates carefully as sometimes you will need to leave home a day or two early to arrive in Tashkent (UZB) on time.)
What will we use for transportation?
We have a new Sprinter van for larger groups up to 12. Smaller groups will usually travel in a Chevrolet SUV, made in Uzbekistan.