Join us on a fabulous 15-night textile tour of Bhutan to see exquisite weaving, pristine wilderness and stunning Buddhist temple monasteries!
Bhutan is a small landlocked country in the eastern Himalayas, with a progressive young king, and a modern queen who promotes traditional textiles and weaving.
The Bhutanese have safeguarded their Buddhist culture and ancient way of life, and it's the traditional aspects that lend great charm and value to the country. We'll spend time in the less-visited and more rural eastern regions where the weaving, tranquil villages, and mountain scenery are spectacular.
This trip reflects authentic Bhutan. We'll attend two fabulous festivals called tshechus where costumed monks perform didactic Buddhist legends, wearing carved wooden masks and brilliantly embroidered outfits. Travelers on the previous Bhutan tours have loved the ultra-decorated temple buildings, the dark green forests, the crisp air, the whirling festival dancers, and the stunning handwoven clothing. And we'll meet warmhearted people, stay in pretty hotels, and eat delicious new foods.
TRIP HIGHLIGHTS
Hike to the fabulous cliff side Tiger's Nest Monastery
Watch weavers at work on their intricate, glowing textiles
Attend exciting festivals with costumed dancers, in ancient temples
Travel to the far eastern provinces to experience authentic village life
Meet expert natural dyers and learn about their materials
What's Included in The Trip?
An Overview of Your Journey
The Most Amazing Weaving!
As we traverse Bhutan from west to east, we'll see lush rice paddies, hills covered with thick forests, and high, snowy mountain passes. Nowhere have I seen weaving as fine and intricate (and labor- intensive) as that done in the Land of Happiness! We'll visit many textile centers to see the distinctive styles and motifs of each region. Lunch with several weaver families will give us a first-hand insight into their techniques and dye materials too.
Already reserved for 2024 are the guide and driver that I love to travel with. These two are charismatic and cheerful, and they go far beyond their usual job descriptions to make our trip delightful.
Our guide will explain the architectural construction and the symbolic statues inside the spectacular ancient dzongs or Buddhist temple complexes. Bhutan's government did not allow outsiders to visit for centuries, but now the people welcome travelers and the infrastructure of Bhutan improves annually.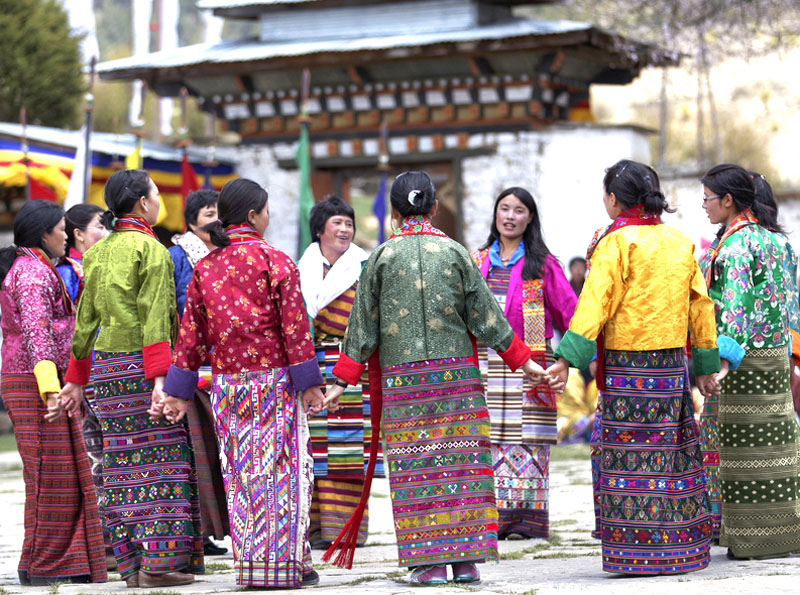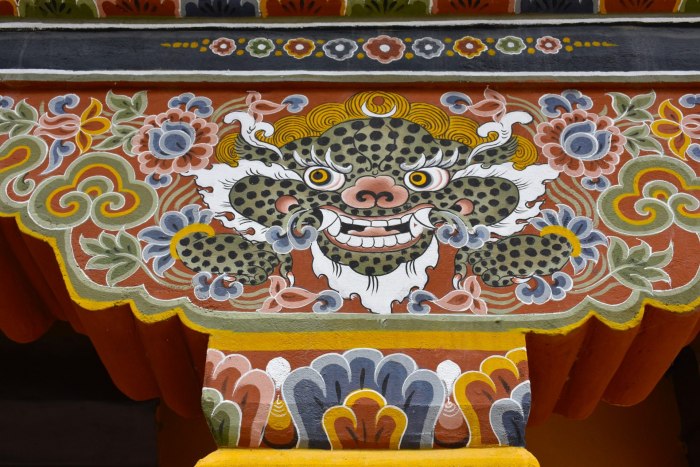 Tiger's Nest Monastery
Naturally we must see the famous Tiger's Nest (Paro Taktsang) Monastery built in 1692 on a cliff outside of Paro. A legend relates that Guru Rinpoche (who introduced Buddhism into Bhutan) flew from Tibet to this steep cliff on the back of a tigress, thus giving it the name "Tiger's Nest." The trek to the monastery is optional, with the ascent either on foot or horseback. If a mountain trek isn't your cup of tea, you can relax at the hotel or explore Paro instead!
Horses climb only to the tea house at mid-point up the trail; from there you'll have a good view of the Tiger's Nest. The horses are healthy and gentle. For the last and steepest part from the tea house to the monastery, the guide will hike up with you. If you don't want to climb all the way up to the monastery, you can sit below at the tea house, relaxing among the prayer flags, drinking spiced tea, and staring upward at the beautiful structure perched on the cliff.
It's necessary for everyone to hike back down from the tea house on foot. The descent isn't bad if we go slowly. Everyone will need sturdy shoes with tread but you don't need mountain boots. Some people might want walking sticks for the hike; the round-trip takes around 4-5 hours but there is no rush and you can take it slowly.
Festivals in Bhutan
We'll attend two fabulous festivals called tshechus which the local people attend, showing off their best handwoven, traditional clothing. Costumed monks perform didactic Buddhist legends, wearing carved wooden masks and brilliantly embroidered outfits.
In the eastern region, we'll go to a village festival; even in remote areas with no /few tourists, the dancers wear brilliant embroidered costumes and hand-carved masks. One festival takes place in a town, the eastern version in the highlands, so the different experiences will be fascinating.
These events typically provide fabulous photo-ops. We will most likely have just cushions and blankets to sit upon, but you can walk around a bit and get a better angle, as long as you are not on the central performance area. Some people like to stay all day and watch the dancing, and others want to wander in the dzong and admire the paintings and Buddha statues. When you have had enough of the festival, the driver will take you/us back to the hotel to relax.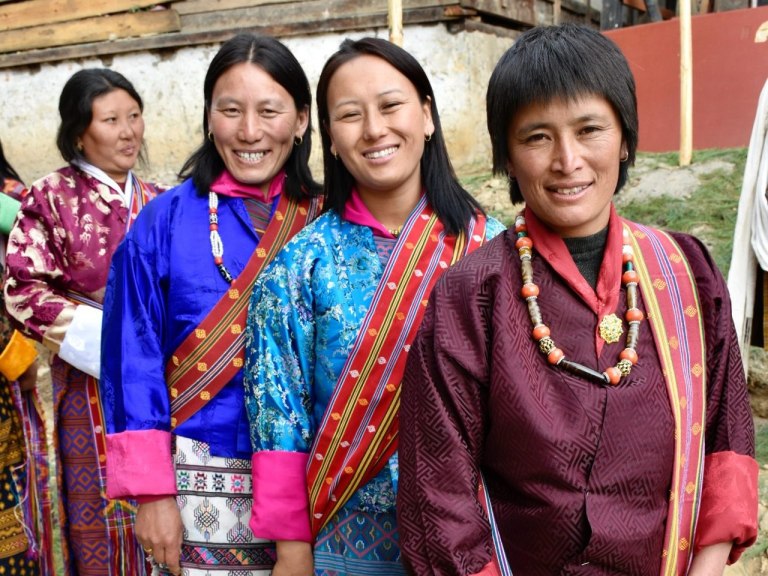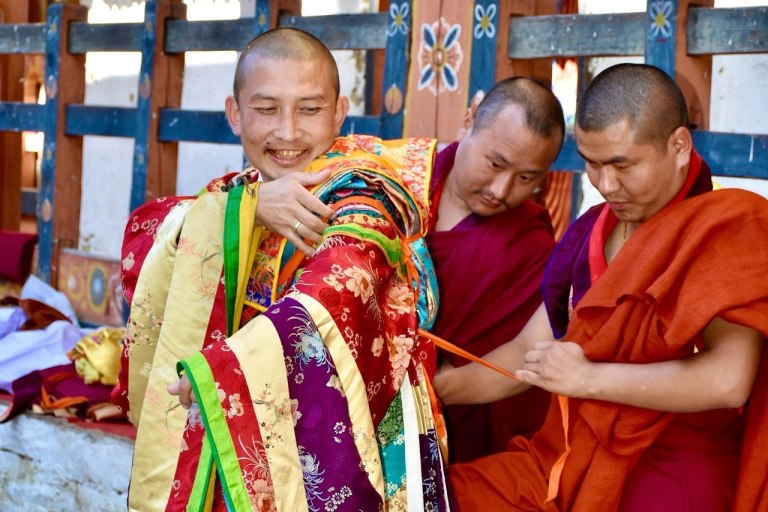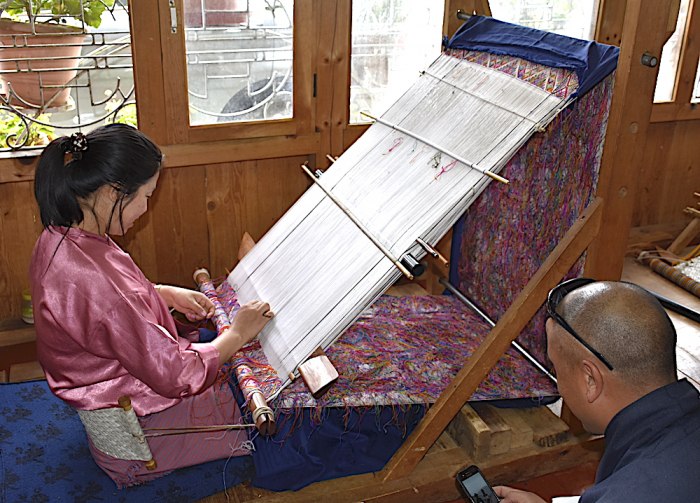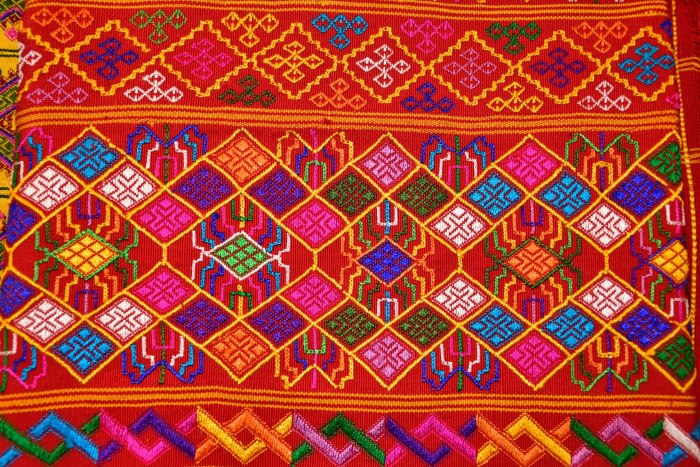 Weaving Traditions
We'll visit many weaving households and some larger weaving organizations in various towns. Also, we'll learn about the incredibly labor-intensive techniques used to make the women's wrap dresses called kiras. The best place to see the women showing off their most exquisite outfits is of course at the festive Buddhist celebrations that we will attend. The Royal Textile Museum has a superb collection of weavings and excellent information about dyes ff
As they weave, the women pick up warp threads with a pointed stick or their fingers, and interweave the weft in complex designs. The technique called trima involves wrapping 2 threads of weft around the warp in specific patterns. This looks like a chain stitch embroidery technique.
Because a finely detailed kira can take almost a year to weave, a very intricate piece can cost several thousand dollars. Belts are stunning too, and more affordable. As we visit the weaving centers, we'll appreciate the huge variety of designs and color combinations and perhaps find some textiles to buy. The weavers understand that we cannot all pay thousands of dollars for large pieces, so they now make wall hanging sizes around 18" x 30" that are reasonably priced.
Textile and Clothing Traditions
In the past, Bhutanese citizens followed an imposed dress code. Everyone wore hand-woven traditional clothing: the gho for men and the kira for women. Nowadays that has changed, and traditional dress is required only for government and office workers, and as school uniforms. Some young people have begun to adopt jeans and sweatshirts, but many people still proudly wear typical outfits everyday. And for festivals and special occasions such as weddings, everyone dons their very best and latest styles of handmade national dress.
Men wear the gho, a wrapped knee-length robe with deep white cuffs, tied at the waist by a woven belt known as kera. The pouch which forms at the front traditionally was.used for carrying food bowls and a small dagger. Today men store their cell phones and wallets in the pouch!
Women wear the kira, an ankle-length dress made of handwoven panels, wrapped around the body and pinned at the shoulders. Over the kira they add a satin or brocade outer jacket known as a tego, with an inner blouse called a wonju. However, people of ethnic groups such as the Bramis and Brokpas of eastern Bhutan generally wear traditional clothing that differs from the rest of the Bhutanese population.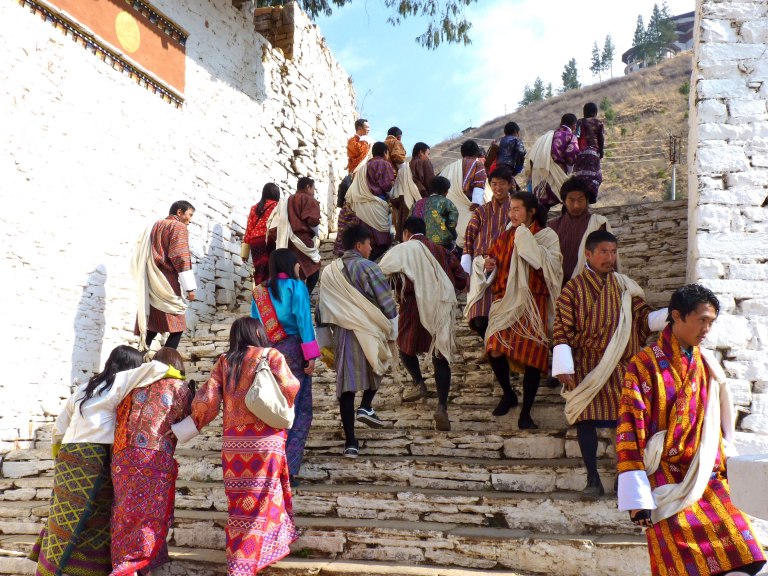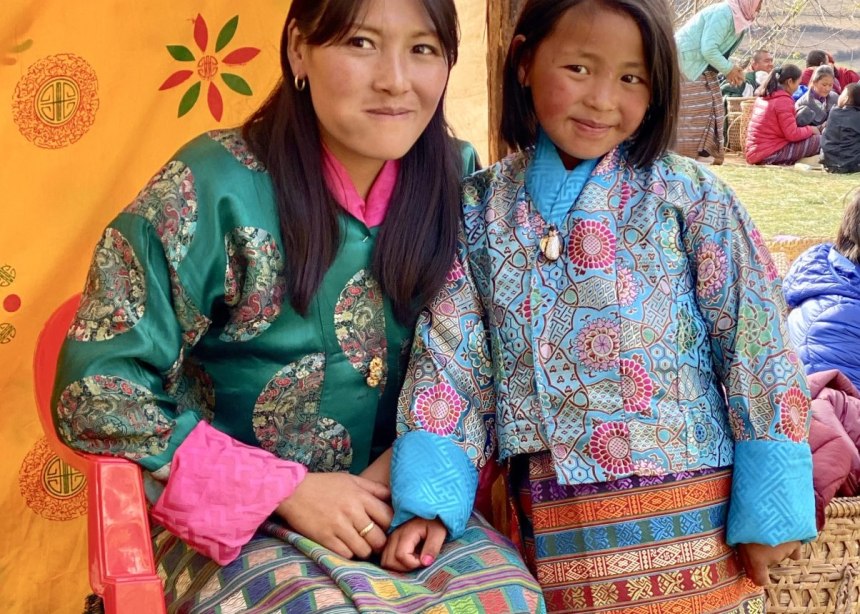 Where You Will Be Staying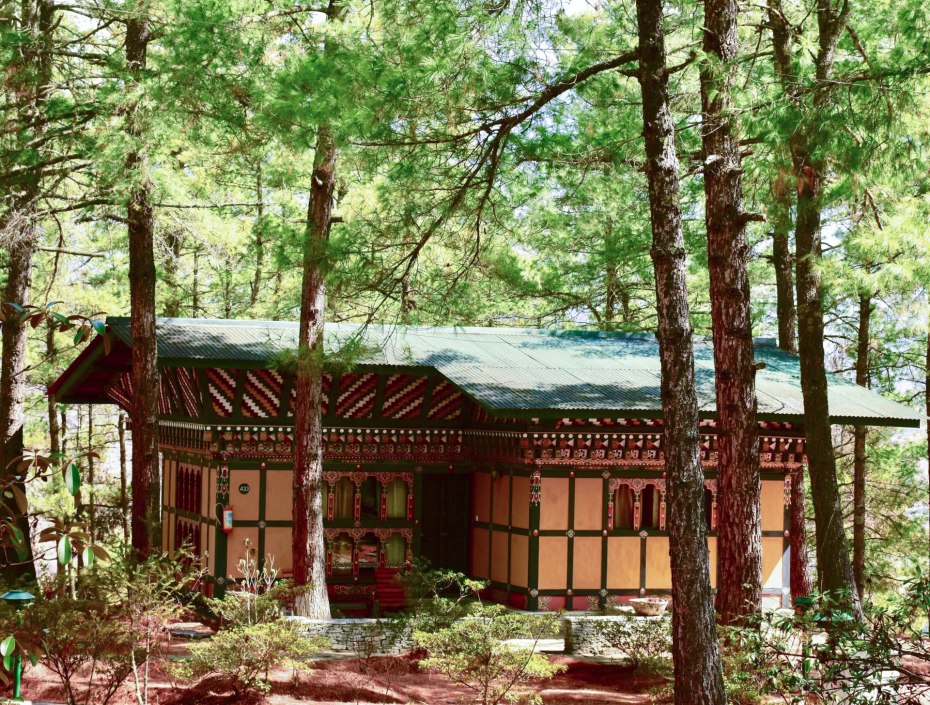 Paro Cabins
Homey and spacious cabins with knotty pine walls sit among the pines in the Paro hills. Cabin exteriors are decorated with painted trim, and the interiors are made cozy with Yathra or hand-woven woolen cushions on the couch and chairs.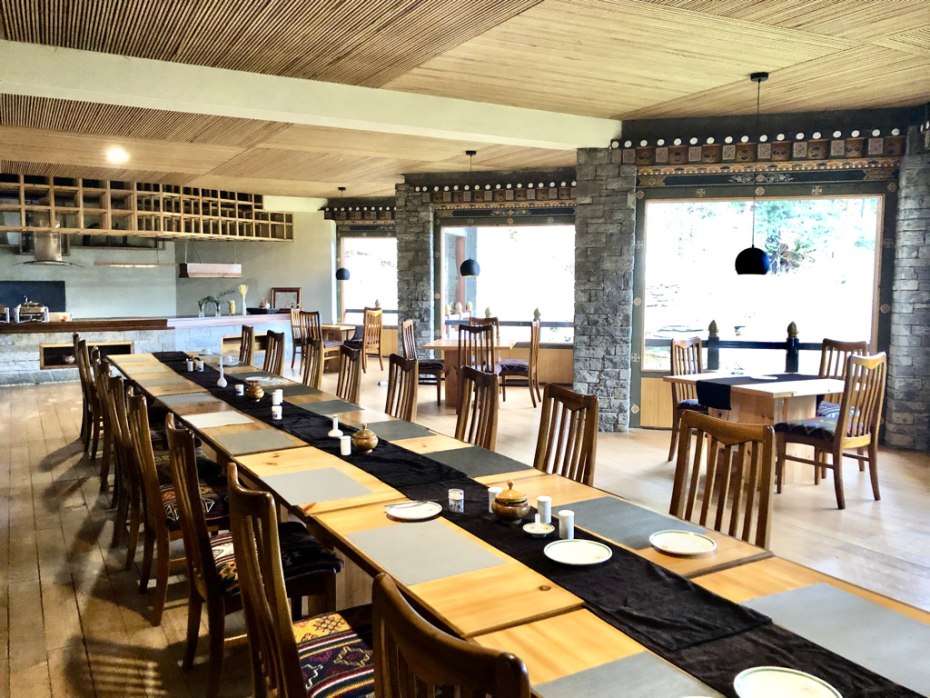 Mountain Lodge
A stunning new building with a cozy restaurant and a luxurious lobby with roaring fireplace. Rooms are spacious, all wood and stone construction, with modern bathrooms, and large windows. We learn to make Bhutanese dishes in our cooking class in their ample kitchen.
Additional Details & Experiences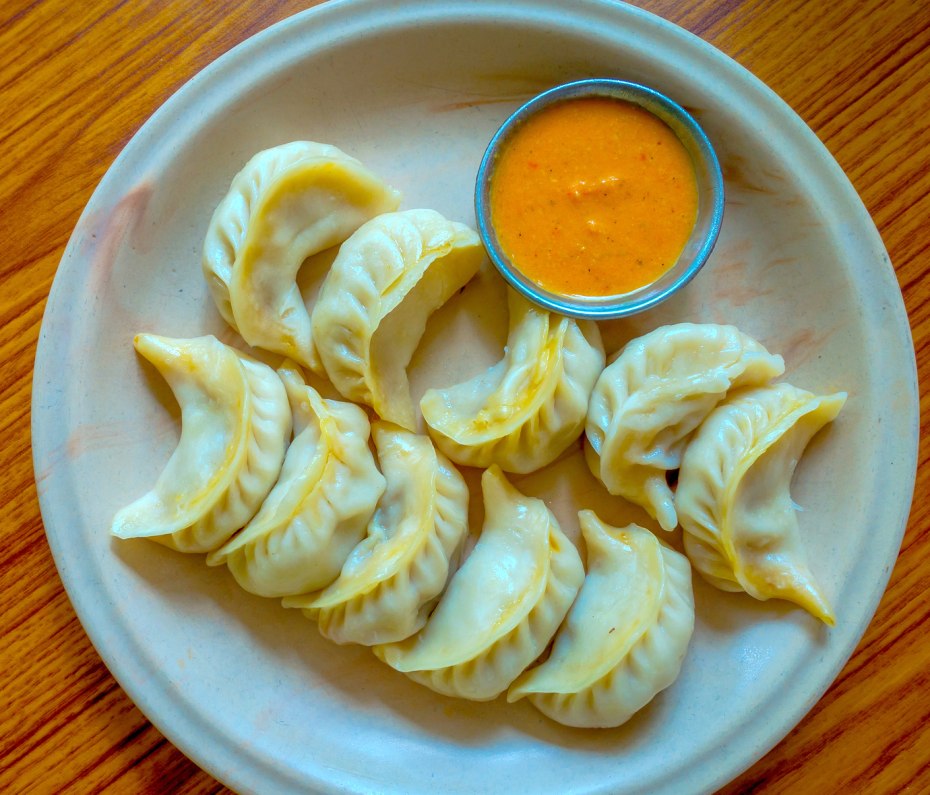 What Kinds of Food Will We Be Eating?
Food is quite tasty in Bhutan! Often we will be offered a good dinner buffet at our hotel, where you can taste all sorts of new dishes. Some foods are blazing hot-spicy, but usually we as travelers will be served mild versions. Momos, steamed dumplings like Chinese potstickers, are very common and popular everywhere for lunch. They are delicious with spicy chili-soy-type dipping sauces. Eggplant, either roasted or baked, is one of my favorite dishes.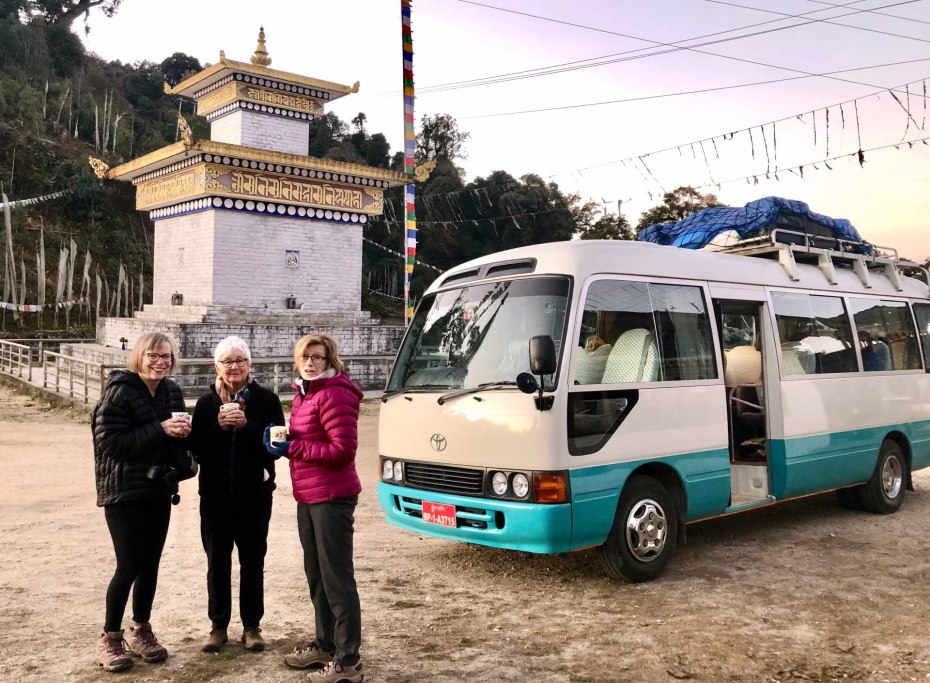 What Are the Roads and Travel Like in Bhutan?
Our driver is calm and professional and knows his country's geography well. We'll be riding in a comfortable Toyota mini-bus. Tourist facilities improve every year. Roads in Bhutan are not highways, but two-lane routes that are generally well-paved and smooth. In remote areas, when we head to a weaving village the roads may be more rustic. According to a recent conversation with the guide, roads are better than ever.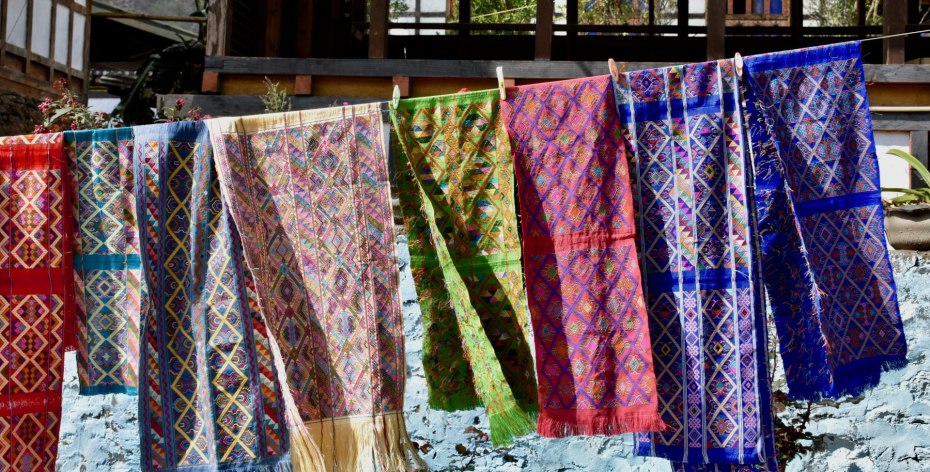 What Treasures Are There to Buy in Bhutan?
In some villages, we can purchase the hand-woven textiles directly from the weavers, so they end up with all the money for their efforts. We visit many families of weavers and you can not only see their working techniques but also buy their pieces. In other places we will visit central shops run by a middleman; we only visit a couple of such places, where we know the owners. It is undeniable that for economic reasons, the artists prefer to sell directly to travelers whenever possible.
If you enjoy traveling to exotic, seldom visited, places and meeting wonderful people, Cynthia's tours are just the best. Her N.E. India trip was so very special. I love the boutique hotels she finds and her local guides are excellent. I really can't say enough good things about the trips that I have taken with her.

Betsy Dillon
Your Trip Leaders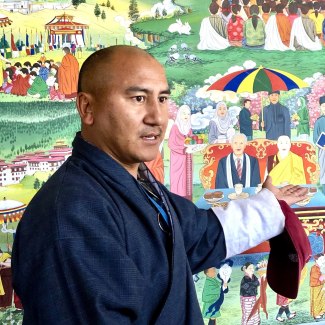 Sonam
Sonam and Tej, the Behind the Scenes Adventures guide and driver team help to make every trip to the 'Land of Happiness' a superlative experience. Sonam's positive energy, sense of humor and upbeat personality make him a joy to travel with – plus he knows helpful and friendly people everywhere. With his knowledge of the Dzongkha language, he can translate to English even the complicated explanations of natural dye sources or special techniques when we meet weavers in remote villages.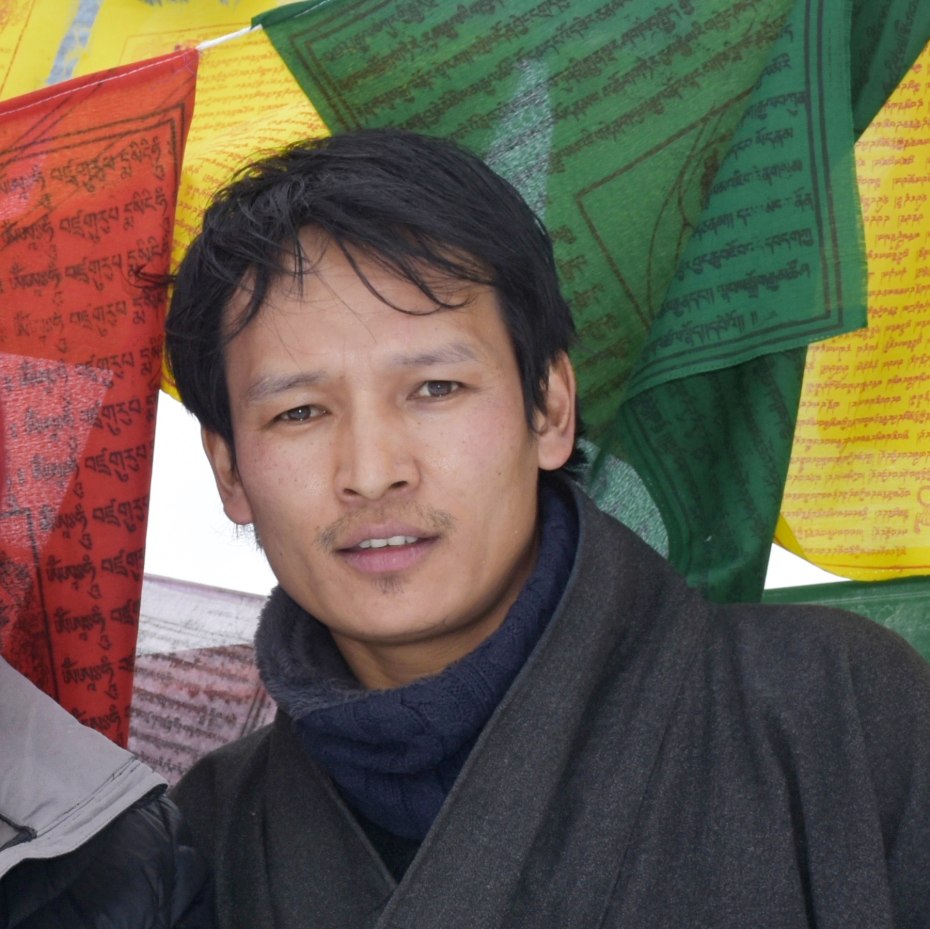 Tej
Tej is our patient, careful and cheerful driver who not only knows all the backroads, but graciously expands his job description to include climbing to Tiger's Nest to help us with the ascent, setting up a picnic site, dividing two weavings evenly, pouring tea, serving momos and more!
Both Tej and Sonam speak a Bhutanese language called Dzongkha, which is very helpful when we are in remote eastern villages. Bhutan is a small country and these two know everyone! Covid times were difficult for Sonam and Tej and their families; they are excited to get back to work.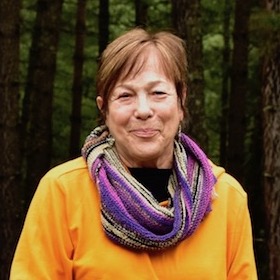 Cynthia LeCount Samaké
Cynthia began "Behind the Scenes Adventures" to share with others the traditional textiles and festivals of far-flung countries. Since 1998 she has led small groups of textile fanatics and friends all over the world. Desiring some new locations and new types of textiles, she has branched out and found wonderful connections and many destinations for her tours. Now the repertoire includes Uzbekistan and Kyrgyzstan, places where artisans dye and weave stunning silk ikat designs.
Check Trip Availability
Trip signups are accepted on a first-come, first serve basis. Please provide your details below and we'll be in touch to confirm whether spaces are still available for this trip. If you need to get in contact, please email: info@btsadventures.com
Registration Information
Dates: Dates to be announced for 2024
Fly Home: TBD
Deposit: $500
Tour Cost: TBD 15 Nights.
Single Supplement: $750
For more information:
Phone: 707-939-8874
E-mail: info@btsadventures.com
Read: Frequently Asked Questions
Travel Plans
Plan your flights to arrive in New Delhi on ____, in the morning if possible. We will meet you at the Delhi airport with a BTSA sign!
Details about flight possibilities will be sent as soon as available after you sign up.
Visas
We will arrange the Bhutan visas for you; the cost is included. You will need to send us a scanned colored copy of your passport which will be sent to the Bhutan agent handling the visas. When we enter the country at Paro, they scan your passport.
We usually go through India on our way to Bhutan. But depending on current COVID circumstances when we travel, there may be an alternative route by way of Bangkok.
If you need to connect in India, you may need a multiple entry visa unless you have a short time, and can stay in Transit; visa cost not included. Wait on this one; the visa requirements change often, but are easily fulfilled. See our FAQ on India visas for more details
What's Included
Visa for Bhutan (see below)
All accommodations: 15 nights in comfortable hotels in double/twin rooms with private bath
All meals (often buffets in our hotels) and picnic lunches in villages
All soft drinks and bottled water with meals
Airport transfers for arrival and departure flights
Short domestic flight TBA depending on final festival itinerary
English-speaking Bhutanese licensed guide accompanying the trip
All in-country ground travel by good Toyota van with professional driver
Bottled water available in the van at all times and roadside tea breaks
Horseback transport to the Tiger's Nest Monastery's tea house
Entrance to all museums and sites on the itinerary
An 8″ x 11″ photo book documenting your trip
What's Not Included
International airfare
India visa
Alcoholic beverages
Tips for guide and driver
Personal items such as laundry charges
Between-meal snacks or drinks
Frequently Asked Questions
General Questions
What information will I receive after registering?
Once you sign up for a trip, we will e-mail a general itinerary, lists of Suggested Reading, what to take, cultural considerations, weather charts, etc.
How can I get a detailed itinerary for a tour?
A day-to-day itinerary will be sent once you sign up for a trip. If you need specific information about the flow of the trip and the pace of the specific activities, before committing to the trip, get in touch with your questions and we will be happy to fill you in.
What sort of clothing should I bring?
When you sign up for a tour, you'll receive detailed lists of what to bring to your destination, as well as weather info, to more easily coordinate your wardrobe with the heat or cold.
Bhutan can be very cold in the mountains during some months. For quick basic guidelines: Bhutan is a conservative Buddhist country, not as conservative as some destinations, but nevertheless, it is better to cover your shoulders with short or long sleeves. Pants and skirts should be at least your ankles. Tops/blouses/shirts should be long enough to cover your bottom to mid-thigh.
Bring simple, comfortable clothing, but you don't need to wear outdoor, trekking clothes – except for the day when we hike up to the Tiger's Nest Monastery. And even then, thick-soled shoes with tread soles are the most important item. You will probably want sturdy pants if you plan to ride a horse up the trail.
Are laundry services available?
Most hotels have a laundry service and prefer that you don't wash clothes in the bathroom sinks. If there is no laundry service, and you don't want to wash your jeans and wait a day or two for them to dry, asking at the hotel desk is a good place to start.
Please note that it is considered demeaning to wash someone else's underpants, so we ask that you wash your own underpants. Hang them to dry discreetly in the bathroom.
What is the COVID situation?
The situation changes daily, but the country now admits foreigners with the new elevated Tourism Tax.
As of February 23, 2022, the Kingdom of Bhutan has had only SIX deaths from Covid during the pandemic period. On March 12, 2020, the King closed the country's borders which led to impressively low numbers of cases and deaths. Bhutan has had excellent success with their COVID vaccination program also; the great majority of the people have had at least one shot.
What are the COVID requirements for returning to the US?
There are no longer any COVID 19 health restrictions related to returning to the USA as a US citizen.
Do I need any vaccinations or immunizations?
This varies with each country. Make an appointment with your travel doctor and take your tours itinerary with you. Some areas of certain countries require malaria pills and others do not; same with Yellow Fever and others such as Cholera and Typhoid. He or she will have all the latest requirements at hand. A rural visit to a farm may require extra precautions, for example. We will send you the links to the CDC.gov information pages for your specific destination so that you can ask questions.
You should be current on all your typical childhood and international travel shots such as Polio and Tetanus. Some countries now demand proof of vaccination against COVID. Behind the Scenes Adventures requires you to have two COVID vaccinations. We recommend you have a booster as well.
How much physical activity is involved during the trip?
Each trip has different activity levels that will be fully explained in the specific tour material. But no activities or events are mandatory, and you are always welcome to sit at the bottom of the stairs to a temple or wait in the van while others ascend or visit a particular place. Walking sticks are fine to bring if they help you. We cannot accept wheelchairs or walkers.
For most tours, you'll need to be able to walk the distance of 4-5 city blocks on your own, with sturdy shoes. Please note that sidewalks in many countries are full of big holes and broken cement chunks, with bits of re-bar sticking out, and you must constantly be alert to these dangers. In urban areas where distances are greater, the group will take taxis and/or get help from local assistants. If you need a personal taxi or additional special aid, that will be at your expense.
In more rural areas when we visit a remote village or temple, you should be able to navigate rocky routes, such as the dirt paths of Khoma village. Bring collapsible walking sticks if they might help you get around. You can always sit on a chair or bench if available in one place, and wait for the rest of the group also. It won't be feasible to use walkers or crutches while traveling with a group to foreign destinations that don't have facilities for handicapped persons.
What will the weather be like?
Our trips are planned for great festivals and reasonably good weather. The weavers work all year round so we can visit them any time. But some of the best festivals take place during the winter months when snowy scenery and landscapes are also spectacular. When you sign up, we'll send you weather and temperature charts as well as suggestions for warm clothes that will keep you comfortable if you travel during winter months.
Meals & Accommodations
What sort of hotels will we be staying in?
We start this trip in the east of the country, where we find the most rustic lodgings – and the most weavers! The quaintest hotel in the eastern region has small cozy rooms with knotty pine walls. Yet the restaurant here turns out amazing savory food; the best eggplant dish I had in Bhutan was made by the cook here! In the capital of Thimpu, we stay in a modern hotel with comfortable beds, good linens and modern bathrooms. In nearby Paro, we stay in individual pine cottages in an evergreen forest; the cottages are painted and decorated in the typical Bhutanese style. This place also has a good restaurant. Later in the Bumthang Valley we spend our nights in a new, deluxe stone and wood hotel with cushy beds and sleek modern bathrooms.
What sort of food will we be eating?
Bhutanese food is delicious but not as varied as the cuisine of nearby countries such as India. Red or white rice is a staple, and handmade, chewy buckwheat noodles and pancakes are popular. Ema Datshi is the national dish, a hot mix made from chilis and cheese and it can be very spicy. It's yummy but a little goes a long way. Datshis are also made with potatoes and mushrooms, among other vegetables.

Momos, similar to Chinese potstickers, are very popular. They are handmade with different stuffings – meats or vegetables like cabbage, or cheese. Momos are either steamed or deep-fried and crispy. All of them can be enhanced with a chili sauce and they are delicious for lunch or a snack. Momos are eaten with hot chili sauces.
Will I be able to accommodate my dietary needs?
If you have any special dietary, health, or nutrition issues, restrictions, etc, there is no guarantee that Behind the Scenes Adventures will be able to accommodate your special diets in foreign countries. Please contact us before departure, and bring sufficient alternative foods. Travelers with severe peanut allergies cannot be accepted. Vegan diets are possible but with much less variety than at home. Vegetarian diets are often fairly easy to accommodate, but also with less variety than what is available at home.
Flights & Travel
Will I need a visa for connecting countries?
It is very rare to need a visa for a connection if you stay in the Transit area. This will be regulated by the connecting country and the airline will send information as to this requirement.
Will I need a visa for connecting countries?
Yes, you will need a visa to enter Bhutan. We'll send you information on what we need for your visas: We'll send copies of our passports to the travel agent who will procure our visas and hand them to us when we enter the country at the border near Guwahati, India. The fee for the Ghutan Visa is included with the trip cost, but the visa for India is not included.
Where we will enter Bhutan is still TBA. If we need to connect in India, you will need a multiple-entry visa for India, cost not included. Wait on this one as the visa requirements change often but are easily fulfilled.
Once you sign up for the tour, you will be sent the website link to get your one-year India e-visa online. Or if you want a 10-year visa, you can fill out the forms and send your passport to the nearest visa office. You can do this anytime soon as long as you won't need your passport for about 2 weeks.
What are the requirements for my passport to be valid?
Your passport needs to have one blank page for your visa, although, with an E-Visa, you will have just a piece of paper to show, and don't need room for anything except Immigration stamps in your passport.
Will I be met at the airport?
Yes! Cynthia, an assistant or a driver will meet you with a sign with your name and/or Behind the Scenes Adventures. They will have your flight schedule and know you will need time to pick up your luggage. Wait for them in the terminal, right outside the Arrivals area, and don't go with any other drivers that don't have your name on a placard.
What will we use for transportation?
In Bhutan, we use a roomy and late model Toyota van of a sort not seen in the USA. It has 12-15 seats and there are photos of it on the website. The van is driven by our professional and courteous driver and is as comfortable as possible on bumpy mountain roads.