Our 22-night all-new textiles and arts tour of Uzbekistan and Kyrgyzstan checks another fabulous adventure off your bucket list!
On this spectacular tour, we'll be following part of the Silk Road, the ancient trade route that linked the Mediterranean to China. Ancient artistic exchanges and shared aesthetic traditions practically assured that nowadays the whole region would be home to large numbers of talented artisans. Uzbek textile artists create exquisite hand-embroidered suzanis and brilliant hand-dyed, handwoven ikat fabrics. Kyrgyz women have expanded traditional nomadic-style felt-making (yurts and rugs) to produce innovative craft items such as cozy slippers. In both countries, we will meet these welcoming people and see their weaving, dyeing and felting techniques first-hand.
In the historic areas of many cities such as Samarkand and Bukhara, blue and turquoise-domed mosques and madrasas compose important UNESCO World Heritage sites. Detailed tile mosaics with masterful calligraphic panels decorate these stunning ancient buildings inside and out. Bishkek, the Kyrgyz capital, has modern hotels, tree-lined streets and verdant parks. The restaurants of both countries are superb and would be at home anywhere, with the great variety of fresh and healthy foods.
TRIP HIGHLIGHTS
Visit exquisite blue-tiled madrasas, mosaic-covered mosques, and fascinating museums
Shop in the bustling markets and handicraft bazaars of Bishkek and Tashkent
Meet silk ikat dyers and weavers, woodblock printers, and embroidery and ceramic masters
Meet Kyrgyz feltmakers and learn their methods of making shyrdak rugs
Walk the historical neighborhoods of ancient Samarkand and Bukhara to see UNESCO Heritage sites
An Overview of Your Journey
The Barak-Khan Madrasa
The trip begins in the booming city of Tashkent, the Uzbek capital. You will be met at the airport and transported to our hotel for check-in. Depending on what time you arrive you'll sleep or relax until time for breakfast, then go out with us to explore markets and mosques on this first day in beautiful Tashkent. The capital city is known for its many museums and its mix of modern and Soviet-era architecture. Big sycamores line the wide avenues and mosaic-decorated apartment blocks alternate with sleek new glass and steel edifices. The Soviet-era Metro stations are stunning and we will take a ride to see some of the artistic masterpieces underground.
In Tashkent's old city, we'll admire historical buildings with iconic turquoise-tiled domes, such as the 16th Barak-Khan Madrasa complex. It is famous for the intricate mosaic tile work on the buildings. We'll also visit the home/studio of a famous embroiderer's workshop and school. She will show us her working methods with hand-dyed silk threads, and we'll also have a chance to see and purchase her beautiful jackets, pillows, and other pieces.
We'll visit the Museum of Applied Arts which showcases some of the best historical artistic examples of the arts of Uzbekistan, in the mansion of the Imperial Russian diplomat Alexander Polovtsev. He commissioned the intricately decorated mansion expressly to display his extensive collections of unique handicrafts and textiles. After the Soviet revolution, the government nationalized his cherished home and opened it to the public as a museum. Polovtsev's rare examples of folk art such as vintage ceramics, handmade rugs, and wood carvings are on display in the wondrous house with its colorfully decorated ceilings.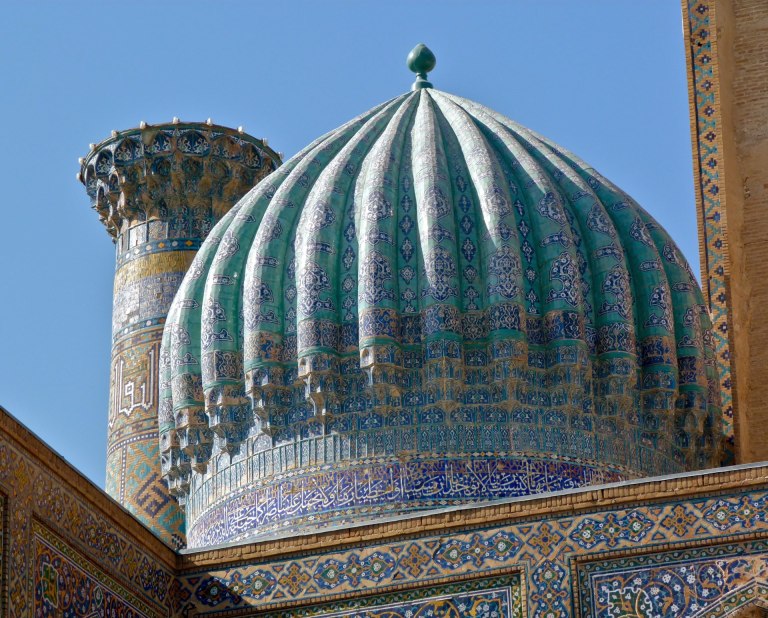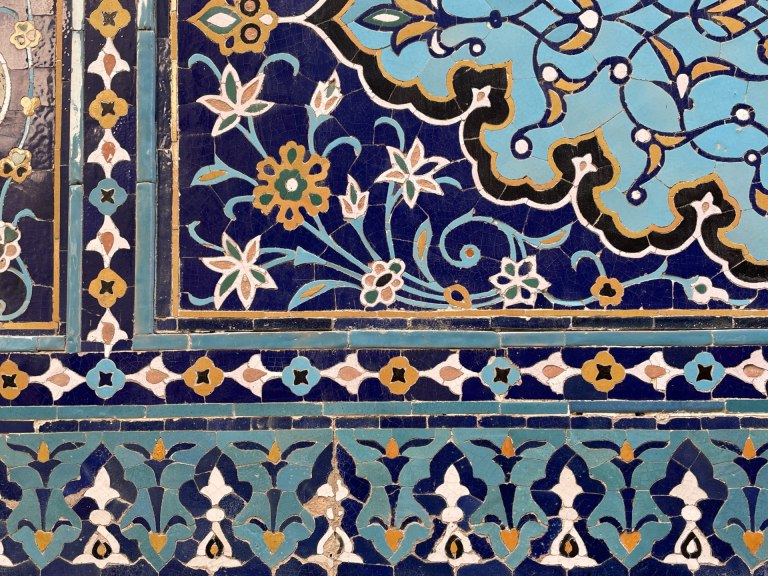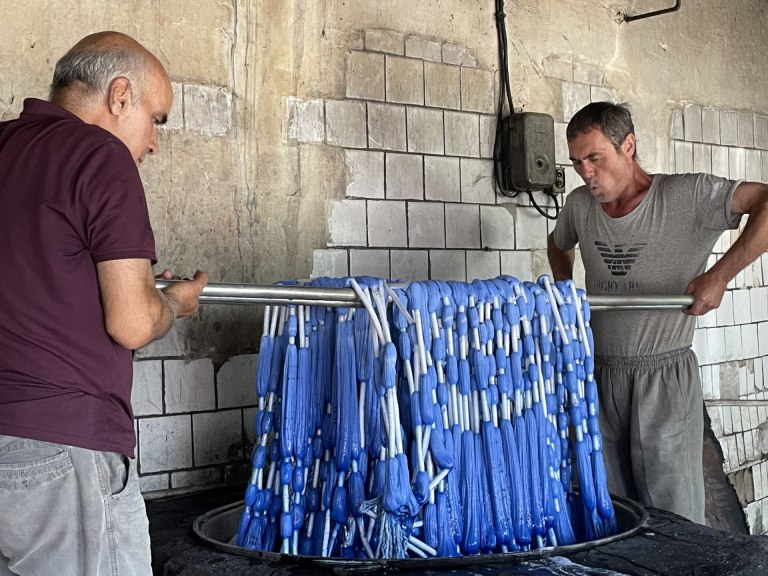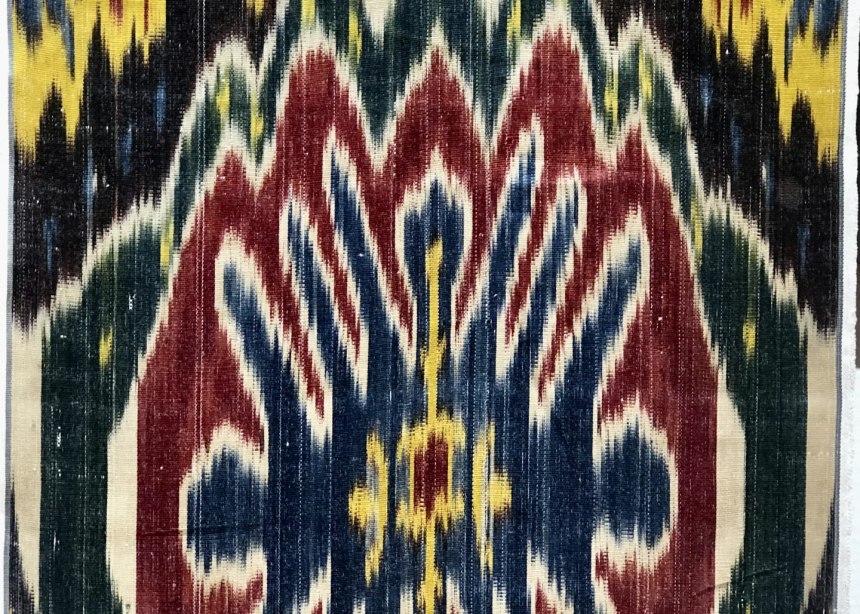 Ferghana Valley of Ikat
Next we'll head for the Ferghana Valley in SUVs because vans are not allowed on the mountain routes. After 4 hours, we'll stop in Kokand, to visit the incredible Khudayarkhan Palace and the Juma mosque.
Along the route, we'll stop several times, for lunch and to visit the bakers slapping dough rounds or juicy samosas onto the walls of fiery domed ovens. Then we continue to Margilan, an ancient Ferghana Valley city, and home of glowing resist-warp dyed (ikat) fabrics, the most renowned of Uzbek textiles. Margilan town was well-known in antiquity for the superb quality of silk created here. We'll meet ikat dyers and weavers who are the most skilled in Central Asia. Over the course of our days there, we'll visit ikat masters to see thread binders, weavers, and dyers. Stunning ceramic plates and bowls will be available at the master ceramicist's studio we'll visit. All the pieces are intricately hand-painted.
A highlight will be the Kumtepa Bazaar, one of the best places to buy inexpensive ikat fabrics (with resist-dyed warp) which are the most renowned textiles of Uzbekistan. It's a great local market with an area devoted to handwoven fabrics and traditional ikat wedding outfits. Here you can buy ikat yardage to make robes, quilts or pillows, and other textile treasures.
Later we'll visit an ikat dyeing workshop and will see how the warp threads are bound to make the bold patterns. We'll visit the Yodgorlik Margilan silk factory where we can see the entire process from reeling the silk cocoons to weaving the finished ikat. The shop here has appealing yardage and also examples of ikat jackets and coats at reasonable prices.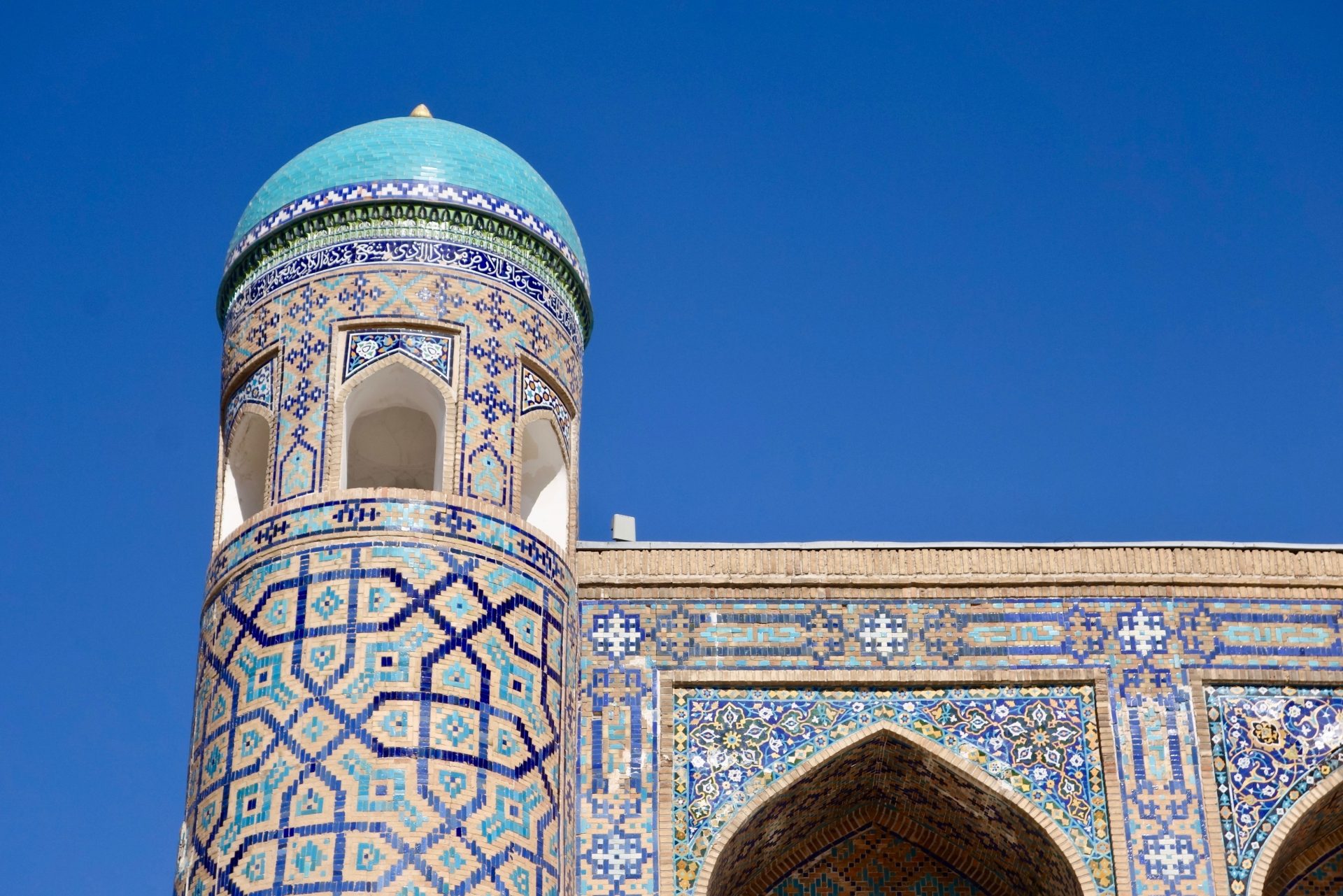 Samarkand
From Margilan we go back to Tashkent for one night then board the air-conditioned fast train to Samarkand. Seasoned travelers consider Samarkand as one of the most beautiful cities in the world, not only for the stunning historical monuments but also for the tree-shaded avenues and lovely green city parks. It was an important trade stop along the Silk Road and was at the forefront of early Islamic architecture.
We'll visit the mausoleums of Shah-i-Zinda, where Tamerlane built elaborate tiled mosaic tombs for his favorite wives, his wet-nurse and his sisters. We can visit a silk carpet factory, the Afrosiab museum and the fascinating Observatory of visionary astronomer, Ulughbek. We'll see the towering tomb of Emir Timur (Tamerlane), founder of the Timurid Empire. Prominent landmarks include the iconic Registan, a plaza bordered by three ornate, majolica-covered madrasas dating to the 15th and 17th centuries.
The Registan Square is very close to our hotel and it's fun to stroll over at night when it is lit with floodlights and looking magical. Modern Samarkand is a unique city: it combines the spirit of modernity with old historical grace. The western part of the city is more modern, with architecture reflecting 19th and 20th c. European design and style, influenced by the Russian aesthetic – as well as 21st c. towering modern glass and steel buildings.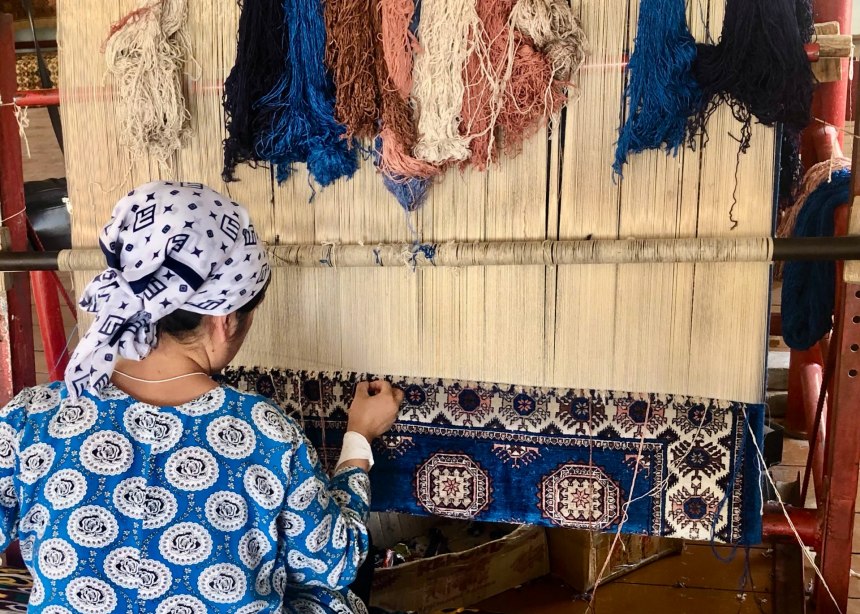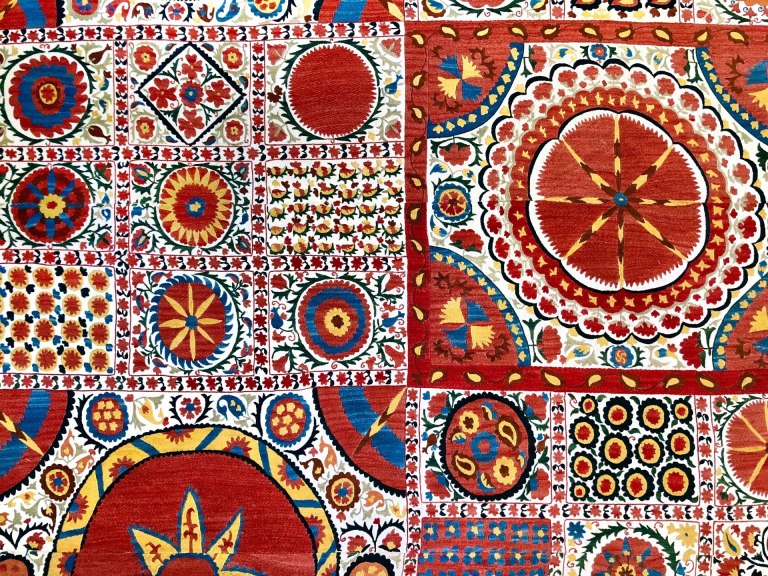 Next Stop Bukhara!
Next we'll visit the ancient city of Bukhara, a UNESCO World Heritage site that is more than 2,000 years old. It was a prominent stop on the Silk Road trade route between the East and the West, and a major medieval center for Islamic theology and culture. It still contains hundreds of well-preserved mosques, madrasas, bazaars and caravanserais, dating largely from the 9th to the 17th centuries. Monuments of particular interest include the famous unglazed baked brick tomb of Ismail Samani, a masterpiece of 10th-century Muslim architecture. Blue mosques and textile bazaars also abound in this fabulous historical city. Bukhara remains an exciting place to explore the architecture and textiles of Uzbekistan.
The city has amazing mosques, galleries and museums. The age-old caravansarai and madrasas have often been converted into artists' studios and workshops. And several ancient, domed bazaars here offer carpets, suzanis (embroi-dered panel at left), and jewelry. We'll explore these as well as an artisan center where we can learn how some typical crafts are made. We know many artisans and collectors that we will visit, so you will have a first-hand chance to see some exquisite textile masterpieces.
While in Bukhara, we'll see the Emir's summer palace, Sitorai Mohi Hosa. It's an 'over-the-top Russian/Central Asian confection built in 1911.' The palace also houses the excellent Bukhara Museum of Decorative Arts where the superb suzani collection will enthrall the embroidery lovers among us. The main building with its tall ceramic fireplaces houses treasures such as royal furniture of the 19th – 20th centuries, palace artifacts from Russia, stained glass windows and intricate woodcarvings.
On to Khiva!
Onward from Bukhara to Khiva! This is a long drive, but the desert landscape is compelling: vast steppes, shepherds and their flocks, odd villages, military outposts and unusual vegetation. We'll skirt the Kyzylkum or Red Sand Desert, to see Khiva's wondrous architecture and carpet knotters. We'll cross the Amu Darya River, long ago known as the Oxus.

Ichan Kala is the UNESCO site walled, ancient, inner city of Khiva, considered to be the largest surviving walled city in central Asia. An important stop on the ancient Silk Road, the inner city was protected by 10-meter high brick walls. It was the last resting place of camel caravans before crossing the desert to Iran. Although few very old monuments remain, it is a coherent and well-preserved example of the Muslim architecture of Central Asia. Tiled and mosaic-encrusted treasures of Khiva's old town include stunning palaces, mosques, and minarets.
Embroidered textiles and fluffy sheep's wool caps abound in Khiva. We'll visit several grand architectural wonders and have dinner on a rooftop with 360-degree views of nighttime illuminated Khiva. There is a wonderful carpet shop in Khiva also. Hand-knotted examples here show patterns that were inspired by the designs of the tiles and doors of the city. Another visit in Khiva will be to the Suzani Center to see stunning embroidered examples from all over Uzbekistan.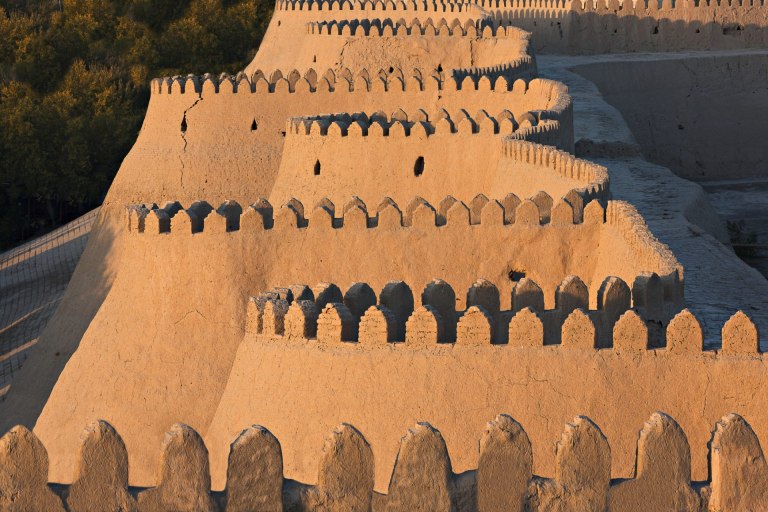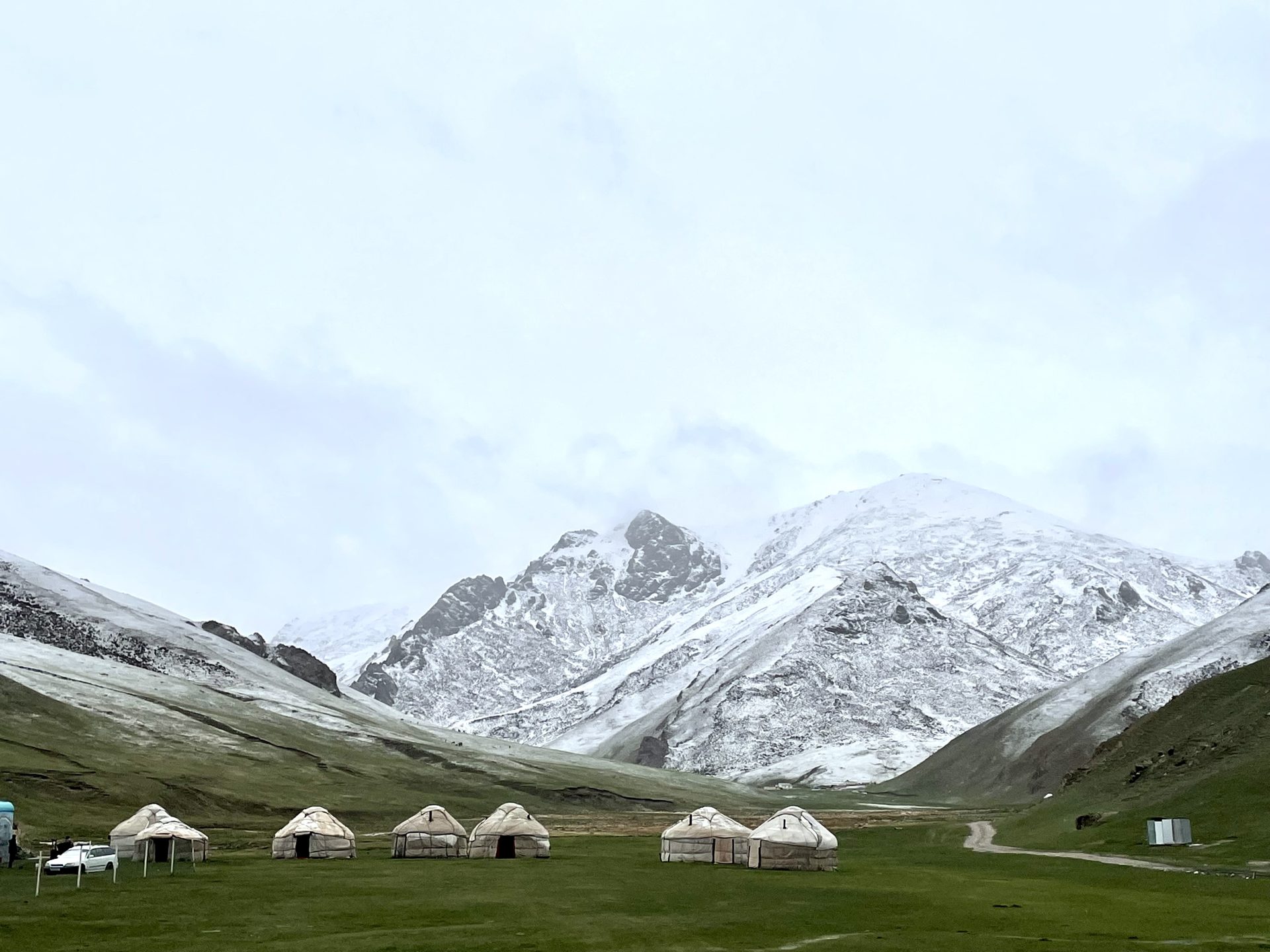 Over the border into Kyrgyzstan
After our time in Uzbekistan, we'll drive over the border to beautiful Kyrgyzstan. Visiting this mountainous and mostly rural country makes a wonderful change of pace after the modern cities and fascinating historical sites of Uzbekistan.

Though long inhabited by a succession of independent tribes, Kyrgyzstan has periodically fallen under foreign domination, and it attained sovereignty as a nation-state only after the breakup of the Soviet Union in 1991. Ethnic Kyrgyz make up the majority of the country's six million people, followed by significant minorities of Uzbeks and Russians.
The few travelers that make it here love the warm-hearted people, peaceful countryside and stunning mountain views. In fact, the mountainous Tian Shan region covers 80 per cent of Kyrgyzstan. Some people still prefer to live in a felt yurt in the beautiful forests or lake country. Yet the capital, Bishkek, is modern with good restaurants and hotels, pretty parks, and a population of one million.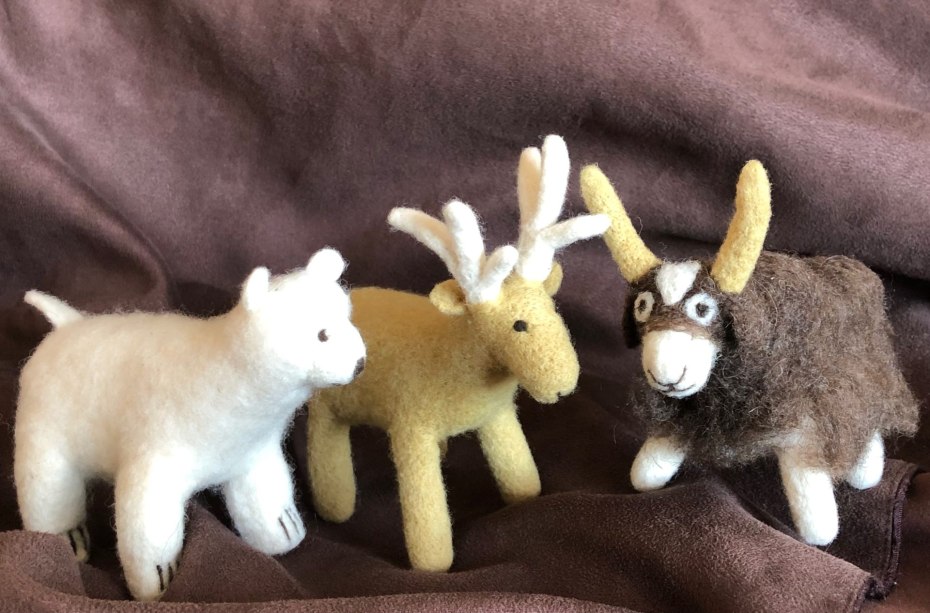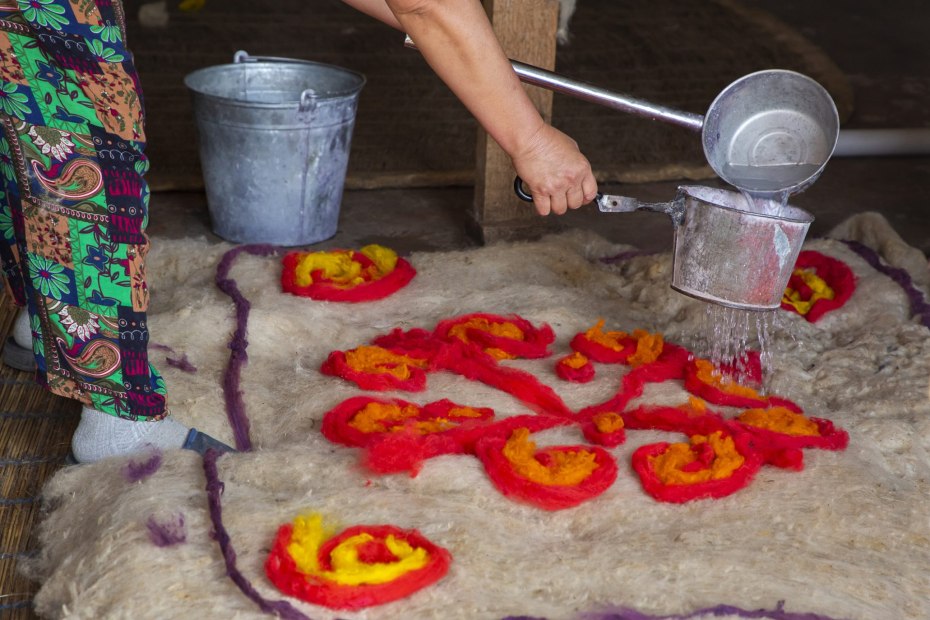 The Beauty of Felt!
We will have a local Kyrgyz specialist guide who will explain Kyrgyz history and culture. Starting in the capital of Bishkek, we'll visit verdant and peaceful Oak Park and other historical monuments. The bustling Osh Bazaar warrants a visit in case you want a pointy felt cap with earflaps like mine, or a new backpack to haul home your pretty felt rug!
We'll have several opportunities to learn about the renowned Kyrgyz felt-making, in NGO-supported workshops around the country. Best known for making traditional articles such as yurt covers, felted rugs, saddle blankets, and tent bands, Kyrgyz artists have innovated and they now also create charming felt toys and clothing such as warm slippers, pretty shawls and scarves.
We'll meet a talented Kyrgyz felt artist, learn about her contemporary techniques and see her latest work. We'll also visit several women's coops where the felting methods are different, and we'll try our hand at making a silk and wool scarf! You can choose the colors of wool and make shapes to decorate the silk backing, then roll and pound it to perfection.

For the charming little felt animals, women use the 'needle-felting' technique, poking into the wool with a special needle that enmeshes the fibers. The wet-rolling felt method is used to make home decor and accessories, such as pillows and the colorful appliqué shyrdak rugs. We'll witness all the different felting techniques as we visit various artisans.
Shyrdak and Ala-kiyiz Carpets
Later we'll drive to Kochkor village, 260 kms from Bishkek. Kochkor is a famous province for sheep farmers and woolen felt makers. We'll visit the Altyn Kol Women's Handicraft Co-operative to see their work. And at the Felt Master's studio, we will learn how nomadic Kyrgyz women make felt rugs called Shyrdak – a floor covering made by cutting positive and negative shapes out of prepared felt, in various brightly dyed colors. Then the positive shapes are inserted into the negative spaces of the background and stitched with a decorative edging.
We will see a demonstration of another process of felt carpet making called Ala-kiyiz. This method of layering colored felt shapes on a background, then wetting it, rolling it up and stomping on the roll to bind the wool fibers, is different from the modern felt carpets with the cutout shapes that we have seen before.
In this area, we'll spend nights in a couple of nights in welcoming and comfortable guest houses. Homestays are fun because we get a glimpse of how people really live! The families who volunteer to have travelers as guests are lively, interested folks who like to talk about the outside world.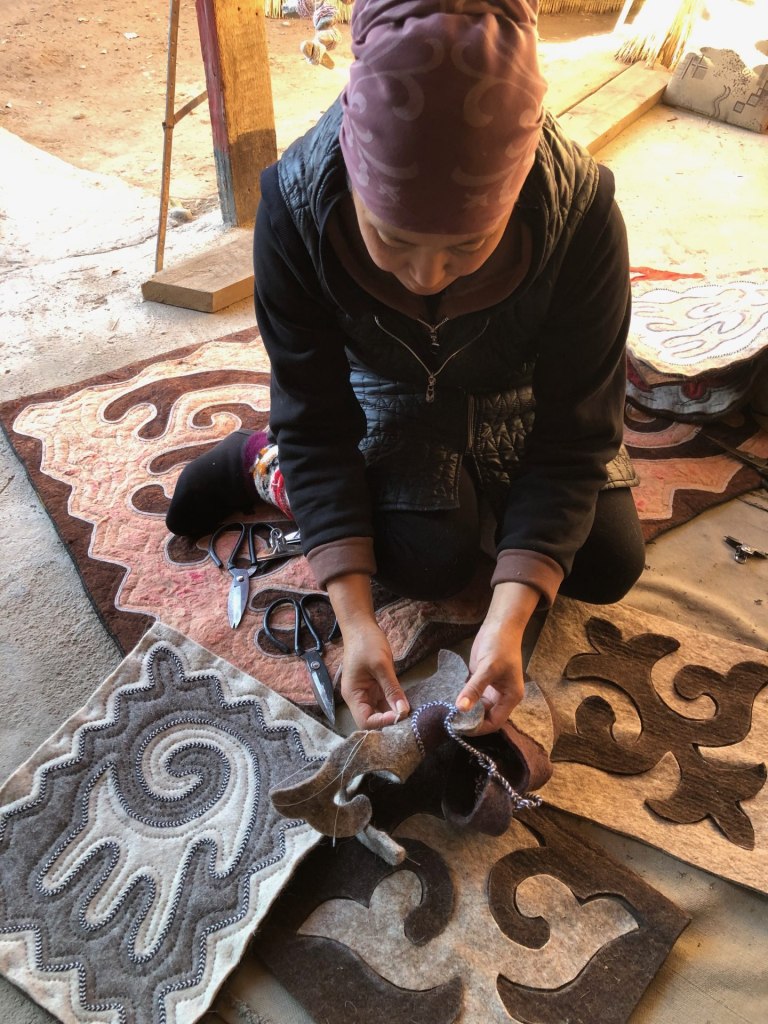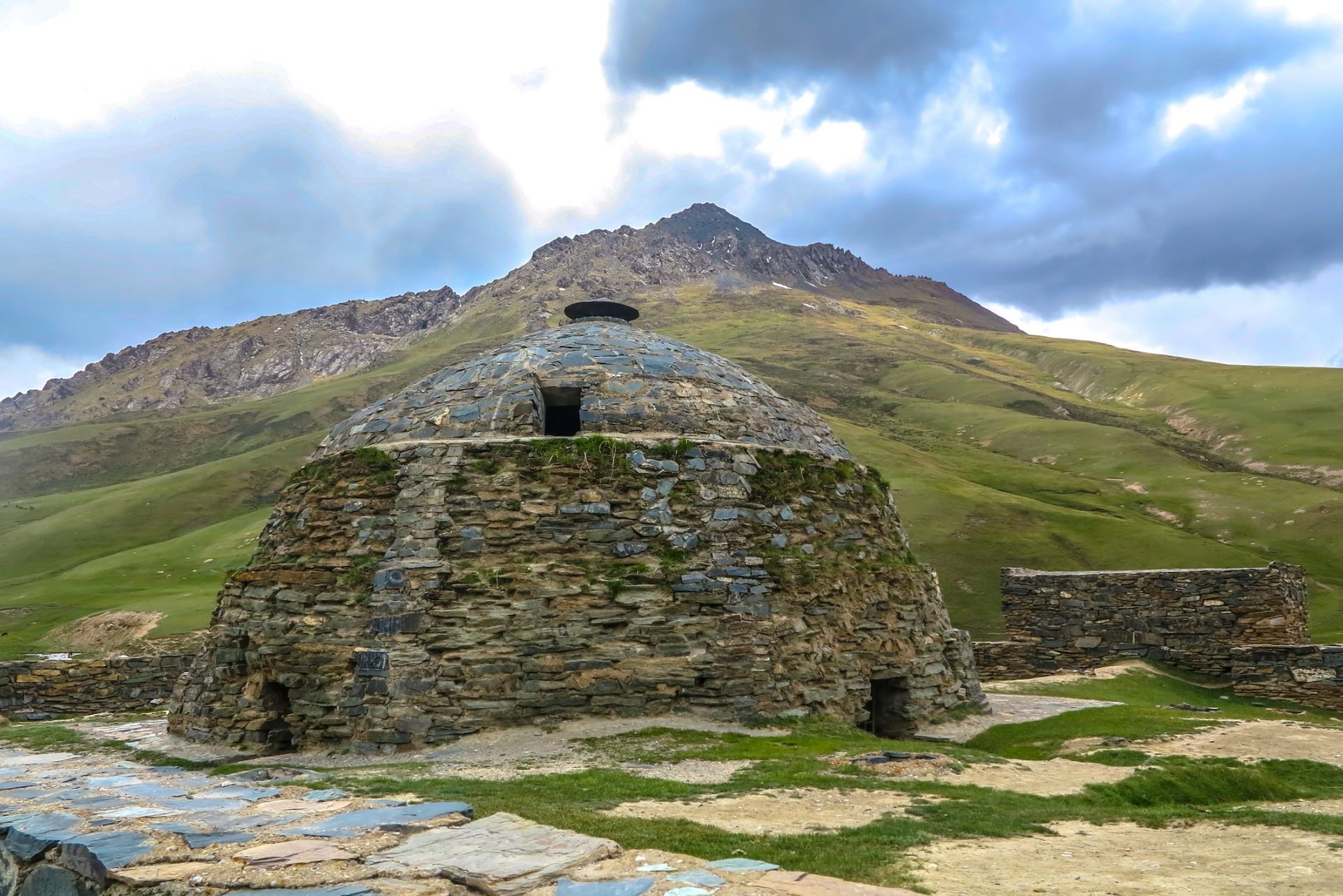 Tian-Shan Mountains
One day we'll drive along another part of the Great Silk Road to the Tash-Rabat Caravanserai. This trip passes through the spectacular mountains and valleys of the Tian-Shan mountains where we will enjoy stunning views of the At-Bashy ranges.
The well-preserved 15th century stone fortress of Tash Rabat stands 100 km before the Kyrgyz-Chinese border at Torugart, at 3500 meters altitude. It has a central hall and 30-odd small rooms. Some parts of the stone structure have a spiritual arrangement and atmosphere, and there is a theory that it was related to Nestorian religion or a Buddhist monastery.
The Tash-Rabat region is spectacular. High mountains are dotted with Golden Marmots observing the scene from in front of their burrows. Shaggy near-wild horses roam the picturesque hills.
We'll enjoy a group dinner in a communal Yurt, and perhaps a night in the Yurt Camp at the high altitude of 3000 m. near the enormous IssyKul Lake, depending on the weather. If it is too cold in September for yurt camping, we'll stay in a special homestay.
On to Karakol
Next morning, we'll continue to Kyzyl-Tuu village where a Kyrgyz master yurt maker will show us how to assemble a felt-sided traditional yurt, without metal or nails. Here we will also learn about Kyrgyz national traditions such as beshik (baby cradle ceremony) with a demonstration using a cheerful local babe!
A traditional eagle hunter will demonstrate his Golden Eagle's skill by letting the eagle loose to chase and snag a goatskin with a chunk of meat attached (no animals harmed in the demo). We'll learn about the tradition of hunting with eagles. The Master will explain how the eagles are trained to hunt and how they helped save the nomadic population from starvation over harsh winters. The close bond between the eagle and her Master is fascinating.
We'll continue to Karakol. Karakol town, one the first Russian military outposts, was founded in 1869. Here we can walk around to see the wooden Russian Orthodox church called the Holy Trinity Cathedral. There is also a most unusual pagoda-styled Chinese mosque with with complex cut woodwork decorations under the eaves.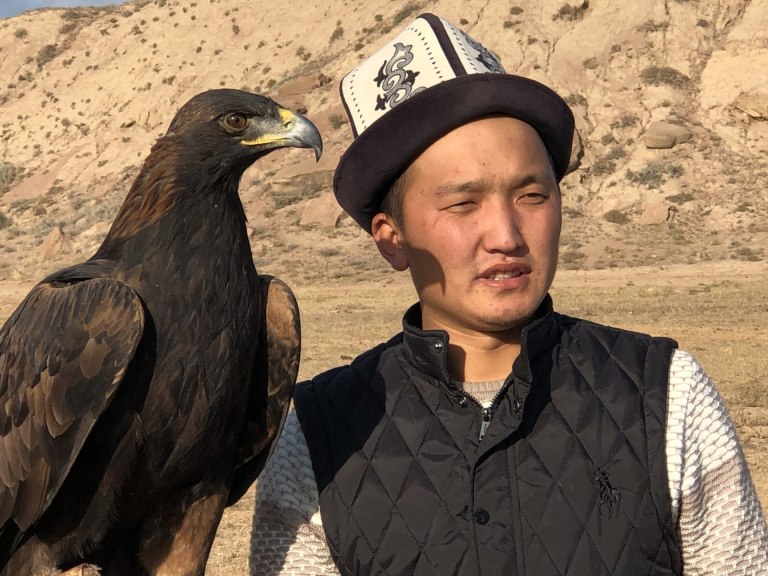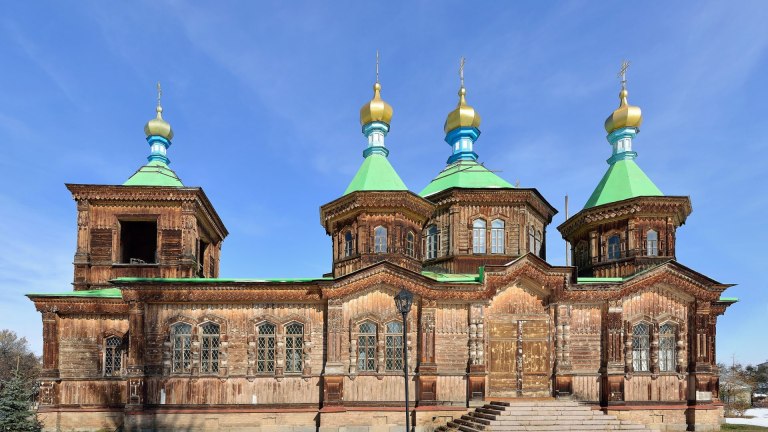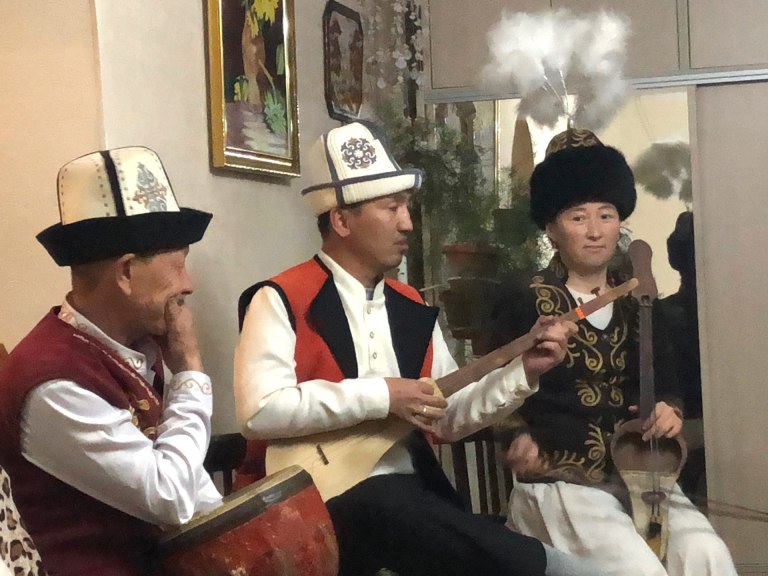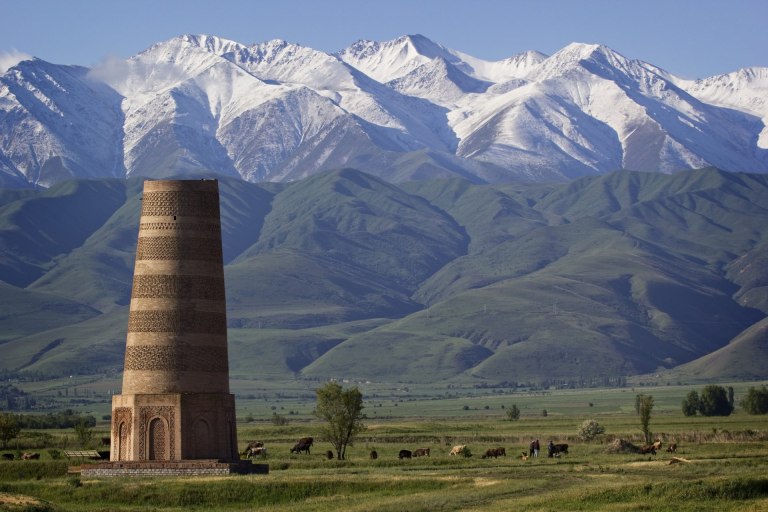 Winding it up with Music…
And on our last night in the rural countryside, we'll have a superb dinner at a Uighur family house, with an interesting Kyrgyz musicians' folk concert. The talented and welcoming musicians will explain their unique instruments too.
Then next day, on our way back to Bishkek we'll stop to see the enormous field of boulders with ancient rock engravings at Cholpon-Ata's open-air museum. With a splendid background made of high snowy mountains, this collection of petroglyphs dates back more than 4,000 years.
This open-air museum is a very important historical site, located on a territory of 42 ha (104 acres) with hundreds of petroglyphs (images carved or tapped onto stones).
We'll also see the Burana Tower, a truncated minaret, from the 11th century with another open-air collection of interesting stones, in this case, carved like human-shaped tombstones.
At the end of our adventure, after seeing gorgeous suzanis, stunning ikat yardage and beautiful felt scarves, we'll return to Bishkek. The rest of this day is free to explore on your own or just relax and pack up your treasures. Our Farewell Dinner is tonight!
We'll spend the last night back in Bishkek and then fly home from Bishkek early the next morning.
Some of our Hotels…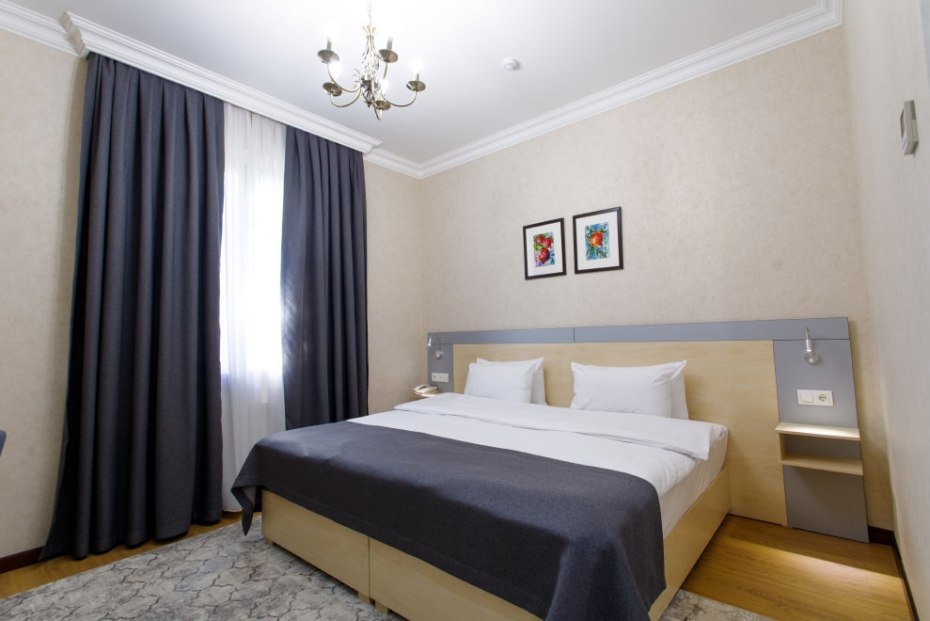 Hotel Navruz, Tashkent
A modern hotel with a good swimming pool, conveniently located on a quiet street of Tashkent. Rooms are comfortable with lots of light and contemporary bathrooms. The breakfast buffet is very good, with lots of choice and eggs made to order. Several good restaurants are within easy walking distance.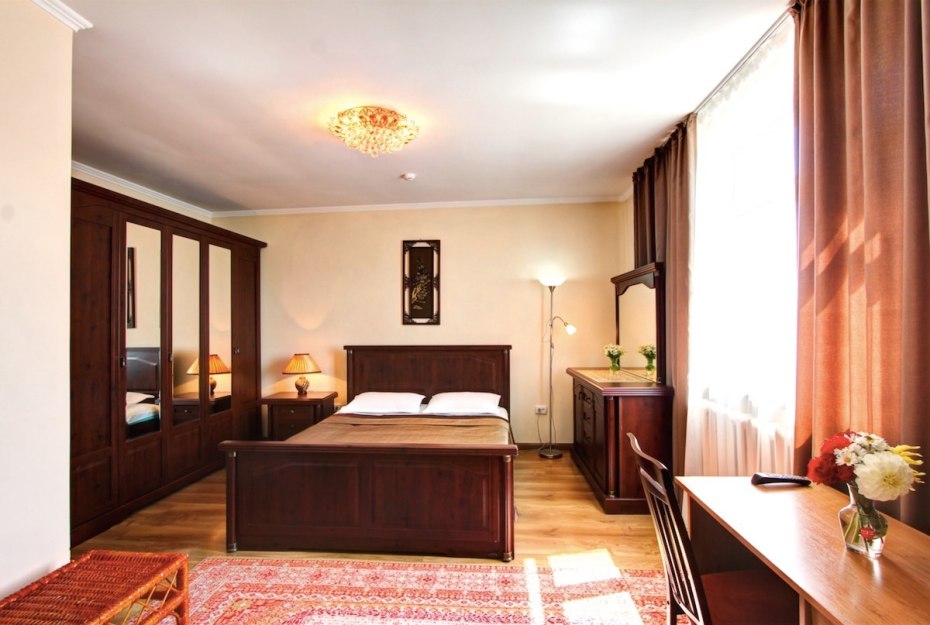 Green Yard Hotel, Karakol
Large and light-filled modern hotel surrounded by pleasant gardens and fruit trees. It has comfortable rooms and a spacious dining room. Breakfasts are delicious and huge with many choices. The owner and staff are all helpful and very welcoming.
Additional Details & Experiences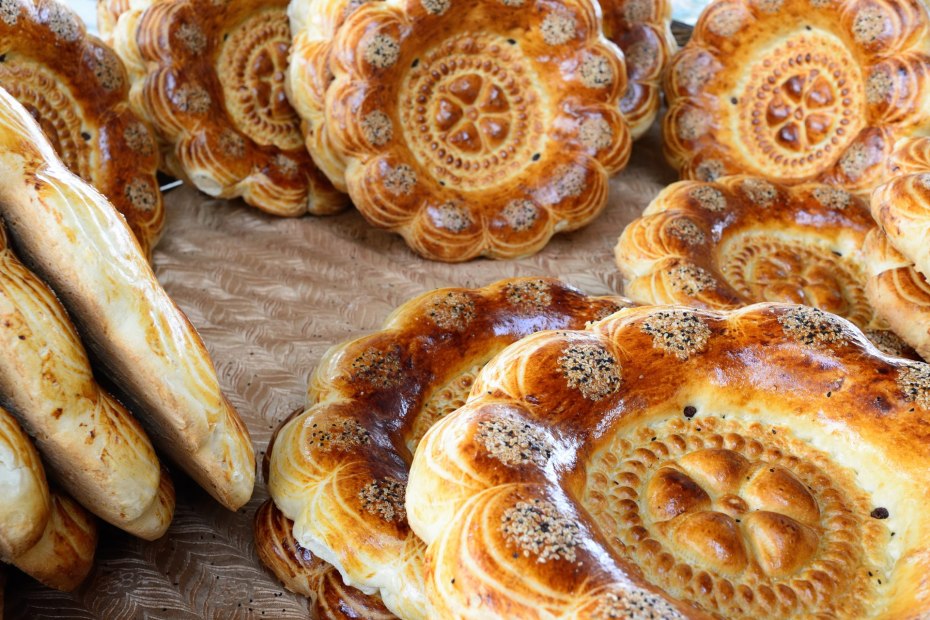 Bread In Uzbekistan
Bread is considered sacred by Uzbek people. The traditional round and flat bread, called non or lepeshka, is baked in a tandoor (round clay oven), after which it comes out toasted and crispy. Loaves are decorated with spiked bread stamps in different patterns. Bread of each region has its own particular method of leavening, its own baking techniques and its own inimitable taste. For instance, delicious flaky bread – katlama non – typifies the Fergana Valley version. Some yummy breads called lepeshkas are prepared with onion or meat baked inside the dough.
What are the traditional foods of Uzbekistan?
We'll eat delicious food everywhere and learn about the local cuisine in at least one cooking class. Popular foods include vegetable, chicken or beef skewers, fresh salads and dishes such as pilaf or plov, with beef or lamb. Meat-filled pastries called samosas are common too. Vegetarians will have no trouble at all; many salads such as grated carrots or beets with walnuts, or tomato and cucumber are popular and found in most restaurants. Vegetarian soups like cold cucumber and yogurt are popular too,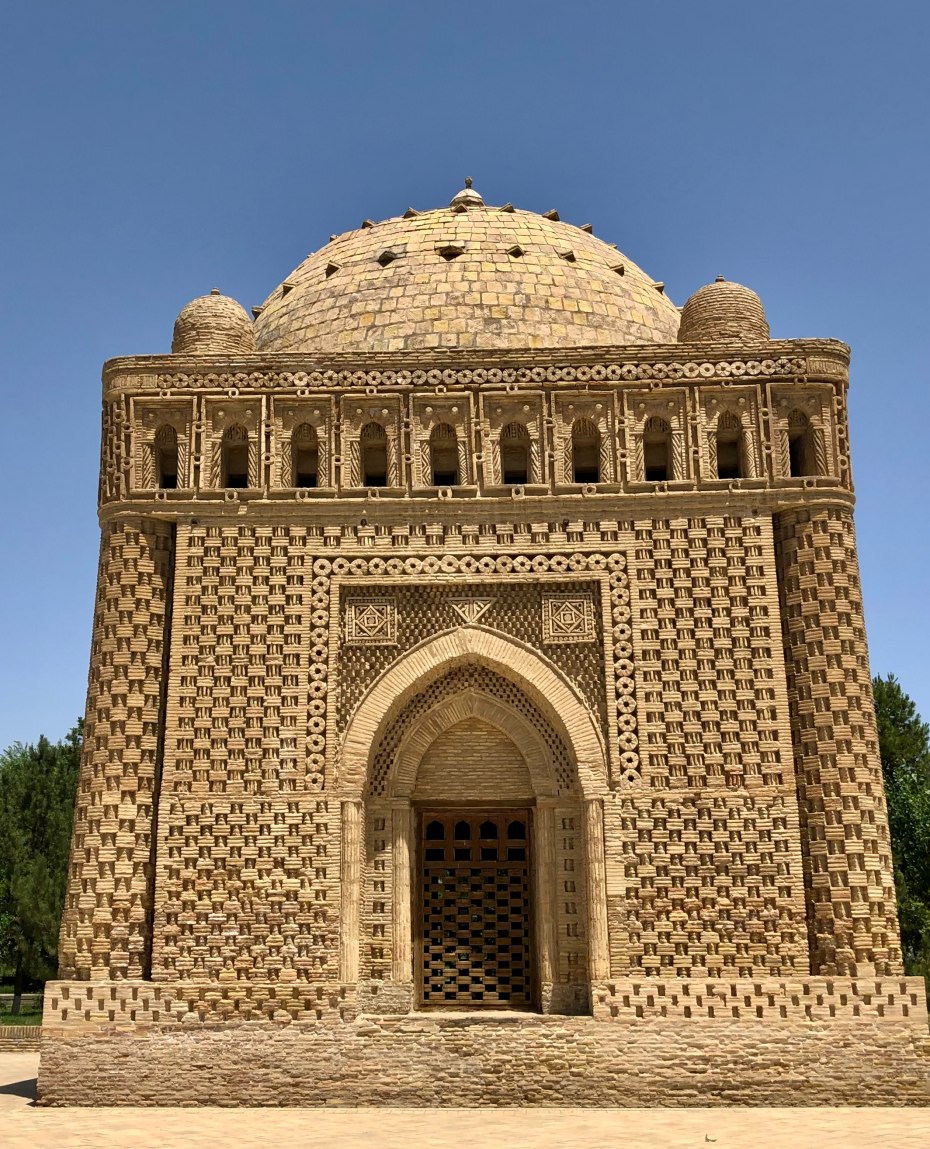 The Ismail Samani Mausoleum
The Samanid Mausoleum is an architectural wonder, a perfect cube of tan bricks, with decorative basket-weave brickwork patterns inside and out. It's located in the northwestern part of Bukhara, just outside its historic center. It was built in the 9th-10th centuries AD as the resting place of the powerful and influential Islamic Samanid dynasty. The mausoleum is extremely important from an art historical perspective as it is the earliest instance of an Islamic tomb to survive in Central Asia. It's also a rare example of decorating a structure with unglazed bricks.
Your Trip Leaders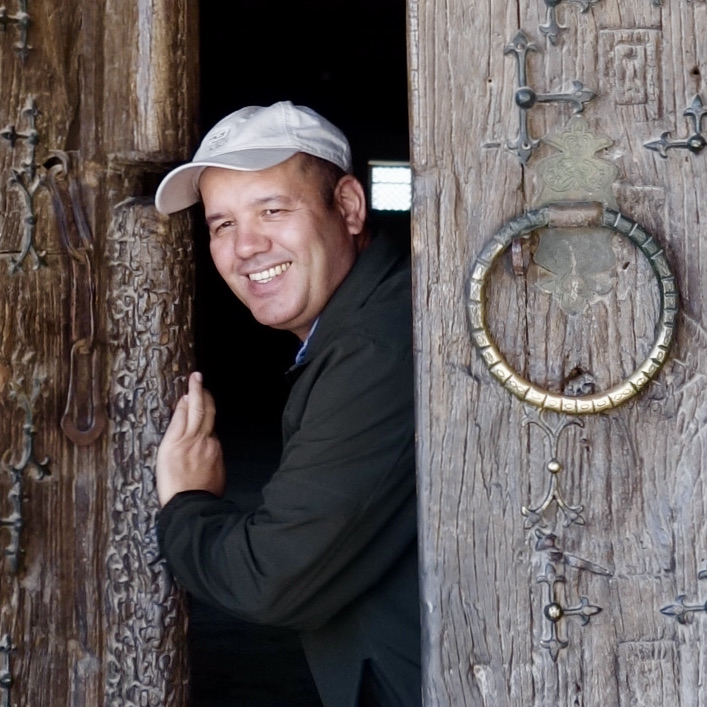 Mirza Ruzmetov
Mirza's easy-going personality is a large part of why trips with him are so delightful! He also explains just the right amount of the complicated history of his country and its architecture. It would be easy to get overwhelmed by all the conquerors and territorial battles, but MIrza seems to know just how much info to impart. He's also friends with the textile and ceramic artisans that we visit, which makes those encounters much more interesting.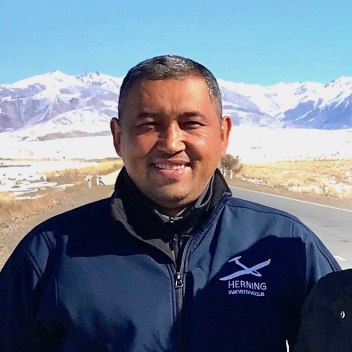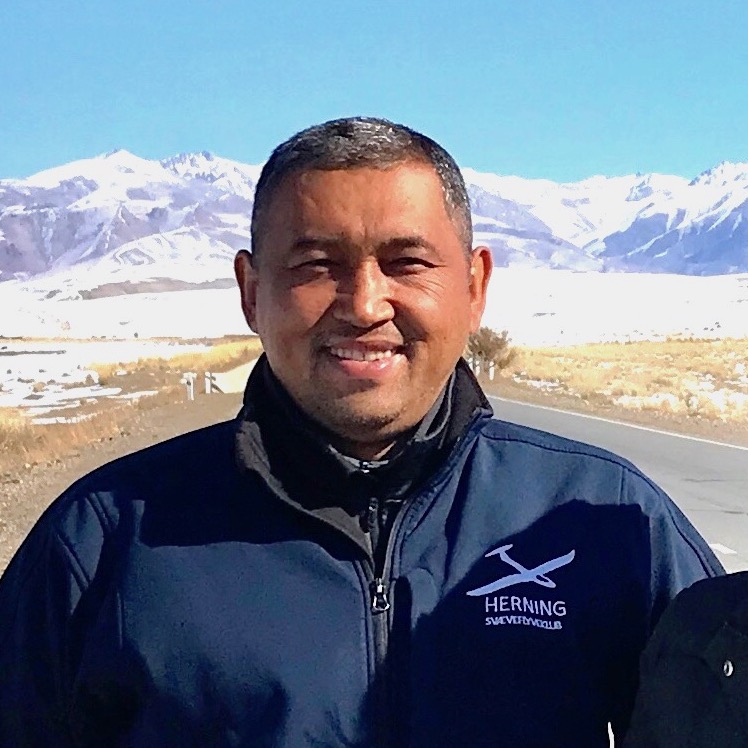 Ulan Ermek
After University graduation in 1998, Ulan became a professional guide in his country of Kyrgyzstan. He loves his job and is a font of knowledge about the country, its culture, and cuisine. Ulan is patient, ever-cheerful, and easy-going, and he seems to know everyone. He also speaks many useful languages like Russian, Uzbek, and Kyrgyz of course, in addition to great English.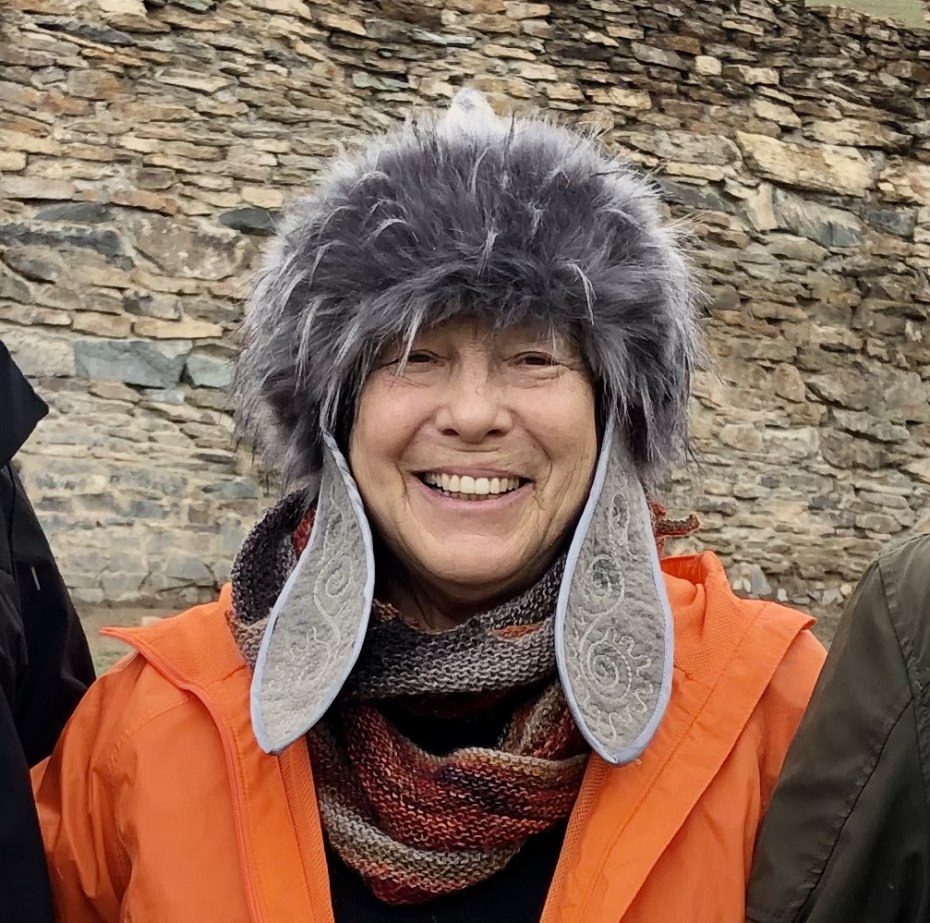 Cynthia LeCount Samaké
Cynthia began "Behind the Scenes Adventures" to share with others the traditional textiles and festivals of far-flung countries. Desiring some new locations and new types of textiles, she has branched out and found wonderful connections and new destinations for her tours. Now the repertoire includes Uzbekistan and Kyrgyzstan, places where artisans weave stunning silk ikat designs and make felted rugs.
Check Trip Availability
Trip signups are accepted on a first-come, first serve basis. Please provide your details below and we'll be in touch to confirm whether spaces are still available for this trip. If you need to get in contact, we are available during office hours 10:00 am – 5:00 pm MDT, Monday through Friday.
Registration Information
Dates: September 9 – 30, 2023
Fly Home: October 1, 2023
Deposit: $500
Tour Cost: $6,520 for 22 Nights
Single Supplement: $750
For more information:
Phone: 707-939-8874
E-mail: info@btsadventures.com
Read: Frequently Asked Questions
Travel Plans
Most people fly into Istanbul from their home airport, then connect with Turkish Air for the flight to Tashkent, Uzbekistan. For Americans living in cities served by Turkish, it may be less expensive to take Turkish Airlines for the whole flight itinerary.
You will fly into Tashket, then fly home from BISHKEK, KGZ at the end.
Visas
Visas are becoming unnecessary or easy to get. If you are over 55 years old, a visa for Uzbekistan is no longer necessary, as of May 1, 2022. If you are under 55 you will need to apply through the government's website; we'll send the link if this is your case.
Right now, Kyrgyzstan doesn't require any visa for foreign travelers from the USA, Canada, Australia, UK, Turkey and most of Europe. The list includes many more visa-free countries, and citizens of other countries can apply for an e-visa online. We will let you know if this policy changes.
What's Included
22 nights of accommodation in double rooms with private bathrooms, one-night yurt, and occasional homestay in Kyrgyzstan with a shared bathroom. Single rooms available with supplement.
Expert Uzbek English-speaking professional guide
Expert Kyrgyz English-speaking professional guide
Textile expert Cynthia Samake to accompany tour.
All breakfasts in the hotels
22 Lunches and 20 Dinners (2 meals will be on your own)
Transportation by air-conditioned Minibus
Entrance fees to all sites and monuments
Flight from Urgench-Tashkent
All Tashkent and Bishkek airport transfers
Train travel between Tashkent and Samarkand, Samarkan and Bukhara.
Mini-bus to Khiva
All train station transfers – Samarkand, Bukhara, etc.
Bottled water on all van rides and in most hotel rooms (one per day); you buy more if needed.
Two Felt-making demonstrations.
Ikat dyeing and weaving demonstrations.
Wood Block printing demonstration.
What's Not Included
International flights
Visa and passport fees
2 Dinners (buy fruit and cheese picnic to eat at the hotel, or go out on your own)
Tips for guide and driver; amounts will be suggested
Recommended travel/trip cancellation insurance (suggestions about this later)
Frequently Asked Questions
General Questions
What information will I receive after registering?
Once you sign up for a trip, we will e-mail a general itinerary, lists of Suggested Reading, what to take, cultural considerations, weather charts, etc.
How can I get a detailed itinerary for a tour?
A day-to-day itinerary will be sent once you sign up for a trip. If you need specific information about the flow of the trip and the pace of the specific activities, before committing to the trip, get in touch with your questions and we will be happy to fill you in.
What sort of clothing should I bring?
When you sign up for a tour, you'll receive detailed lists of what to bring to your destination, as well as weather info, to more easily coordinate your wardrobe with the heat or cold.
Your travel clothing will depend on the weather during your stay, in either May or October. We'll send a list of weather/temperatures to help you decide on comfort levels, but modest clothing is important at all times. In Kyrgyzstan, we'll be visiting rural, casual destinations and you will need sturdy shoes for walking around the archeological sites. Bring a walking stick if it might help you walk over rough mountain terrain; we will not be trekking but strolling… over the field of boulders with the petroglyphs, for instance.
Are laundry services available?
Most hotels have a laundry service and prefer that you don't wash clothes in the bathroom sinks. If there is no laundry service, and you don't want to wash your jeans and wait a day or two for them to dry, asking at the hotel desk is a good place to start.
Please note that it is considered demeaning to wash someone else's underpants, so we ask that you wash your own underpants. Hang them to dry discreetly in the bathroom.
What is the COVID situation?
The COVID situation is changing daily, but Uzbekistan has done well with its vaccination campaign and it continues to improve. Masks are worn in all indoor venues such as museums and markets, and restaurants require proof of vaccination. Entry into Uzbekistan now requires just a Vaccination card, proof of recovery from Covid, or a negative Covid test in the past 48 hours. A Vaccination Card is the easiest way to go through Customs and Immigration. We recommend bringing your original and a copy, and you carry them in two different places. Don't count on having important docs like these downloaded on your phone.
On January 10, 2022, the Uzbek government announced reinforced public safety measures, including:
Requirement to wear masks, maintain social distance and undergo temperature checks at the entrance to all indoor public places
Prohibition on government offices and government-affiliated organizations holding events
Acceleration of public vaccination campaigns, including distribution of booster shots
Requirement for government employees to be vaccinated
What are the COVID requirements for returning to the US?
All airline passengers to the United States ages two years and older, regardless of vaccination status or citizenship, must provide a negative COVID-19 viral test taken within one calendar day of travel.  Alternatively, travelers to the United States may provide documentation from a licensed health care provider of having recovered from COVID-19 in the 90 days preceding travel. Proof of your recovery from COVID equals showing your Positive test results and a doctor's attestation that you have recovered and are able to travel.
Do I need any vaccinations or immunizations?
This varies with each country. Make an appointment with your travel doctor and take your tours itinerary with you. Some areas of certain countries require malaria pills and others do not; same with Yellow Fever and others such as Cholera and Typhoid. He or she will have all the latest requirements at hand. A rural visit to a farm may require extra precautions, for example. We will send you the links to the CDC.gov information pages for your specific destination so that you can ask questions.
You should be current on all your typical childhood and international travel shots such as Polio and Tetanus. Some countries now demand proof of vaccination against COVID. Behind the Scenes Adventures requires you to have two COVID vaccinations. We recommend you have a booster as well.
How much physical activity is involved during the trip?
Each trip has different activity levels that will be fully explained in the specific tour material. But no activities or events are mandatory, and you are always welcome to sit at the bottom of the stairs to a temple or wait in the van while others ascend or visit a particular place. Walking sticks are fine to bring if they help you. We cannot accept wheelchairs or walkers.
For most tours, you'll need to be able to walk the distance of 4-5 city blocks on your own, with sturdy shoes. Please note that sidewalks in many countries are full of big holes and broken cement chunks, with bits of re-bar sticking out, and you must constantly be alert to these dangers. In urban areas where distances are greater, the group will take taxis and/or get help from local assistants. If you need a personal taxi or additional special aid, that will be at your expense.
What will the weather be like?
Our Uzbekistan trips are planned for temperate weather with little or no rain, in April-May and September-October. Summer temperatures are far too hot! Average daytime temperatures are usually in the 70s and nights can be cooler, in the 50s. With global warming, it is much harder to predict but we will send Weather Charts with your pre-departure info.
Meals & Accommodations
What sort of hotels will we be staying in?
Hotels that we choose in Uzbekistan are usually in traditional style with carved wood decor, typically new and up-to-date. Our hotel in Tashkent is new and modern, with comfortable, well-lit rooms, excellent beds, and linens. It has modern bathrooms, a good restaurant at lobby level, and an elevator. The hotel in Samarkand is more modest and belongs to a good friend. It's built around central gardens and they serve an excellent breakfast. The new, private, homestay in Margilan belongs to the family of the most famous ikat weavers; it's a treat to stay there, surrounded by textiles! Before we depart, we will send you a list of all hotels with contact information in case someone at home needs to contact you.
What sort of food will we be eating?
Uzbek food is fresh and delicious. There is an excellent variety of salads without lettuce, including grated carrots, beets, and other fresh choices. Chicken or beef kebabs are popular and delicious. There are some good hot and cold soups, such as a cold yogurt and cucumber version, so refreshing in warmer months. Lagman is a delicious thick noodle soup with bits of beef.
Other popular dishes are samosas, meat or vegetable-filled pies baked in a round tandoor oven, and the Uzbek national dish called Plov. Typical blue-collar lunch plov mixtures served from huge cauldrons are greasy but other healthier and delicious plov versions include lots of yellow and orange carrots, garbanzos, and raisins. Uzbekistan is famous for fresh-baked bread and bakeries. Every meal starts with fresh bread, sometimes with grilled onions incorporated (my favorite!).
Will I be able to accommodate my dietary needs?
If you have any special dietary, health, or nutrition issues, restrictions, etc, there is no guarantee that Behind the Scenes Adventures will be able to accommodate your special diets in foreign countries. Please contact us before departure, and bring sufficient alternative foods. Travelers with severe peanut allergies cannot be accepted. Vegan diets are possible but with much less variety than at home. Vegetarian diets are often fairly easy to accommodate, but also with less variety than what is available at home.
Flights & Travel
Will I need a visa for connecting countries?
It is very rare to need a visa for a connection if you stay in the Transit area. This will be regulated by the connecting country and the airline will send information as to this requirement.
Will I be met at the airport?
Yes! Cynthia, an assistant or a driver will meet you with a sign with your name and/or Behind the Scenes Adventures. They will have your flight schedule and know you will need time to pick up your luggage. Wait for them in the terminal, right outside the Arrivals area, and don't go with any other drivers that don't have your name on a placard.
What are the requirements for my passport to be valid?
Your passport needs to have one blank page for your visa, although, with an E-Visa, you will have just a piece of paper to show, and don't need room for anything except Immigration stamps in your passport.
What is the best airline to fly to the country?
You will need to get to Istanbul, Turkey, then connect to Tashkent. There are non-stop flights to Istanbul's fabulous new airport from SFO and LAX, and perhaps other major cities. Try to get a non-stop flight; it's much easier not to have to change planes. Some flights connect in Istanbul for an hour or two, then continue directly to Tashkent – easy!

I found good deals on Expedia.com with Turkish Airlines which is very good; they are a partner of United. Turkish and United are the airlines I always use but from your home airport, there may be other deals with other airlines such as Delta and Air France, etc.
What will we use for transportation?
We use a Mercedes Sprinter for most interior transportation. It is high-topped and spacious, and our luggage is stored in the back, or on top if we amass extra bags along the way. (This is another reason we must start with a luggage limit.)
With a small group, we may use a Chevrolet SUV (made in Uzbekistan!) for the whole trip. Vans and buses are not allowed on the route from Tashkent to Ferghana Valley, so we will go in Chevy SUVs. And we will take the modern high-speed train, from Tashkent to Samarkand and on to Bukhara.
We may also fly on one interior/domestic flight from Urgench (Khiva) back to Tashkent, on Turkish Airlines or Uzbek Airways. If not we will use the van on this route also.