Rikki Quintana from HoonArts Fair Trade, and Cynthia Samaké, textile expert with Behind the Scenes Adventures, have created an authentic and fascinating experience for you!
We'll visit three of the famous Central Asian 'Stan countries: Uzbekistan, Tajikistan, and finally Kyrgyzstan. In addition to producing stunning traditional textiles, these little-visited countries have good roads and comfortable hotels. The urban areas have a modern infrastructure and excellent restaurants offering a great variety of fresh foods.
Our guides in-country are textile-focused and know all the artisans that we'll visit. True to our name, we'll go 'Behind the Scenes' to meet silk ikat dyers and weavers, embroidery and ceramic masters, woodblock printers, and more. Along the whole route, we'll see stunning turquoise -domed buildings, bustling handicraft bazaars, and beautiful mountain scenery. We'll also see four superb UNESCO World Heritage Sites.
TRIP HIGHLIGHTS
Check three exciting countries off your Bucket List
Marvel at the iconic Registan complex with its stunning tile facades
Thrill to sparkling skies over snowy peaks with grazing horses below
Visit private and museum collections of exquisite hand-embroidered suzanis.
Watch the creation of hand and machine-woven ikat fabric
See traditional felt-making and yurt construction
An Overview of Your Journey
Three 'Stans: Tajikistan, Uzbekistan, and Kyrgyzstan
Our "Three 'Stans" Adventure follows a section of the famous Silk Route. Each country has something different to offer! The three countries we will experience were part of the Soviet Union until its dissolution in 1991. At that point, each republic declared sovereignty and became independent.
We shall see remnants of this influence in some Soviet-style architecture. Officially the countries are named the Republic of Uzbekistan, the Republic of Tajikistan, and the Kyrgyz Republic. We'll learn more about the very complex history of the region from our guides, but most of our time will be spent admiring the arts, crafts, and architecture, meeting the artisans, marveling at the mountains and lakes, and enjoying the delicious fresh foods!
We fly into Tashkent, Uzbekistan, and tour the country to the west, first seeing the famous cities of Bukhara and Samarkand. These interesting cities lie right on the ancient Silk Road. The ancient city of Bukhara (a UNESCO site), is an exciting place to explore Uzbek architecture and textiles. The city has overflowing textile bazaars and the excellent Bukhara Museum of Decorative Arts where the suzani collection will enthrall the embroidery lovers among us. We'll also visit architectural wonders such as the 9th century Ismael Samani Mausoleum, made of baked bricks in a basket weave pattern.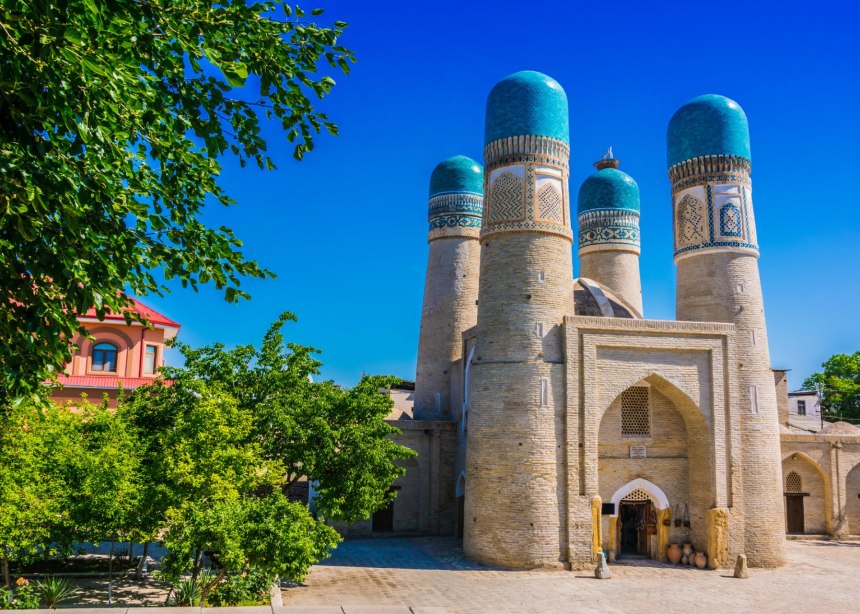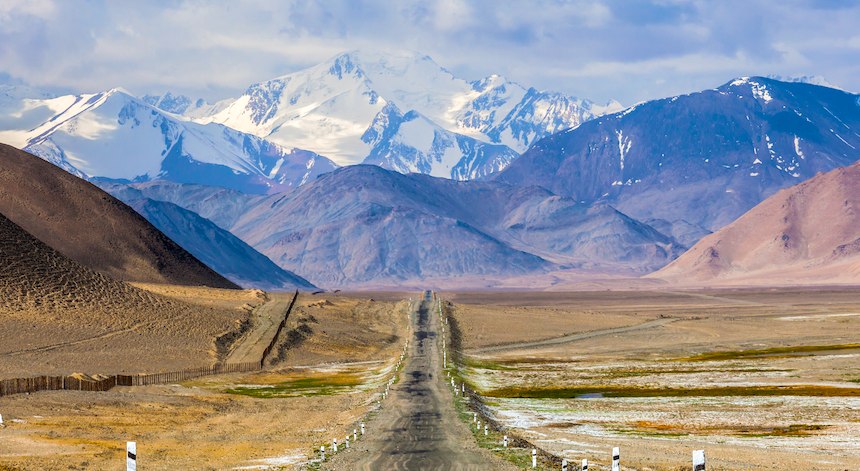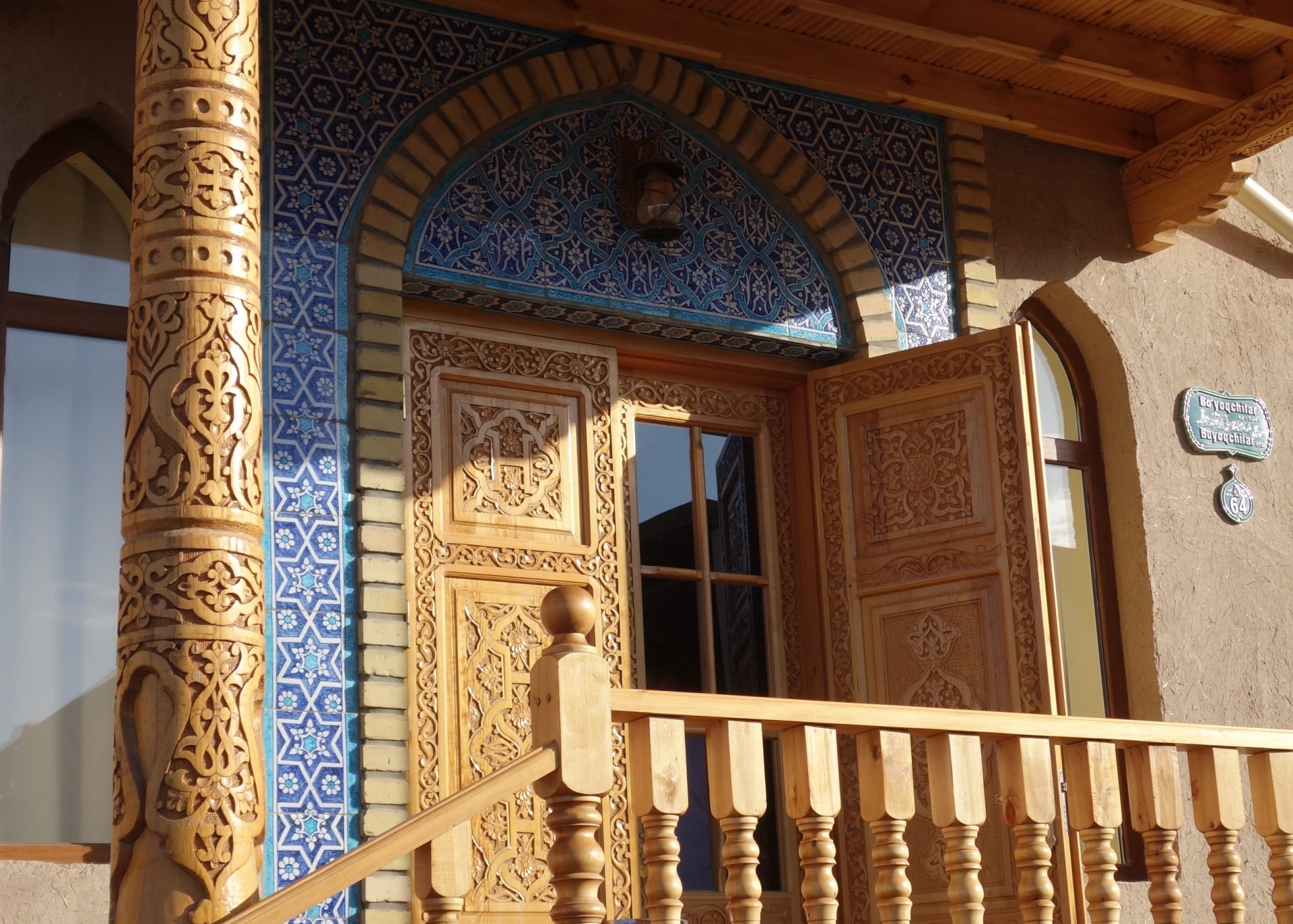 Samarkand and on to Tajikistan
The historical center of Samarkand is also a UNESCO World Heritage site. Prominent landmarks include the Registan, a plaza bordered by three ornate, tile-covered madrasas dating to the 15th and 17th centuries. The western part of the city is more modern, with architecture reflecting 20th and 21st c. European/Western design and style.
Later we'll continue eastward, cross the border, and visit Panjakent, in Tajikistan. The town has many crafts centers; the Armughon artisans will be our first visit. They make unique felted Tajik crafts such as pillows and ornaments.
Next, we head for Madm to see the carpet making, which has a long tradition of many generations. Later we'll drop by to see the woodcarvers. With chisels, rasps, and mallets, craftsmen make book stands, latticework, molding for traditional homes, and tall columns. The most ambitious application is when large logs are shaped into finely worked columns and beams for mosques, hotels, and homes for the wealthy.
Ikat Weaving Galore!
Continuing east, we arrive at the Fergana Valley, home of sensational ikat dyeing and weaving, Margilan and nearby Fergana town are the home of glowing resist-warp dyed (ikat) fabrics, the most renowned of Uzbek textiles.
We will meet talented ikat dyers and weavers, some using wooden hand looms with a flying shuttle, a setup that produces cloth about 15 inches wide. In another room, clanking, mechanized Soviet-era steel looms churn out yardage about 24 inches wide; one woman oversees a dozen of the iron beasts, making sure nothing gets tangled and no threads break.
These skillful people will show us their ingenious methods of tying resist patterns into a super-long warp (up to 200 yards long!), ready to be dyed and woven. We'll visit a silk ikat factory where the shop offers ikat yardage and handsome clothing made from ikat fabric.
Later we'll fly from Osh north into Bishkek, the capital of Kyrgyzstan, to see the highlights of that beautiful country. We'll meet felt makers who will show us their techniques of making cozy and beautiful shyrdak rugs. A nomad friend and chief yurt-maker of the area will show us how a traditional yurt is assembled, partly from folding wood lattices and partly from thick felt sheets that wrap around the frame. Using a cheerful neighbor babe, the yurt-maker's mother will show us the typical baby 'diapering' method, using the traditional Kyrgyz cradle with a strategically placed hole in the base…!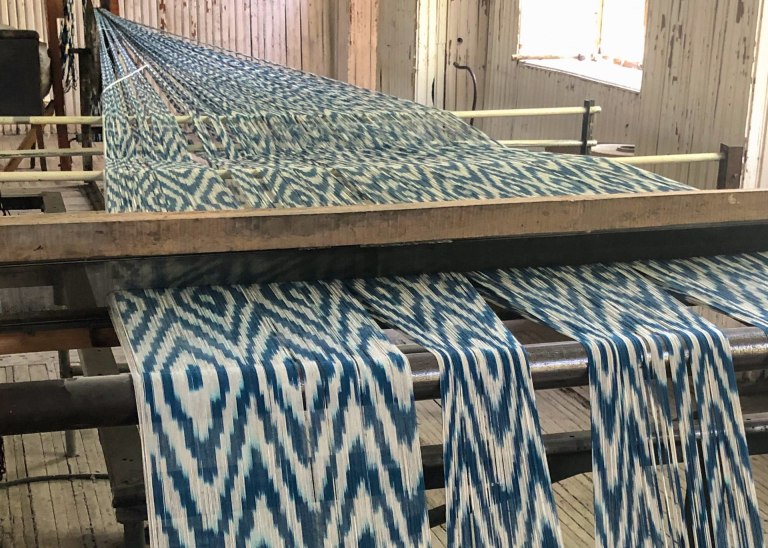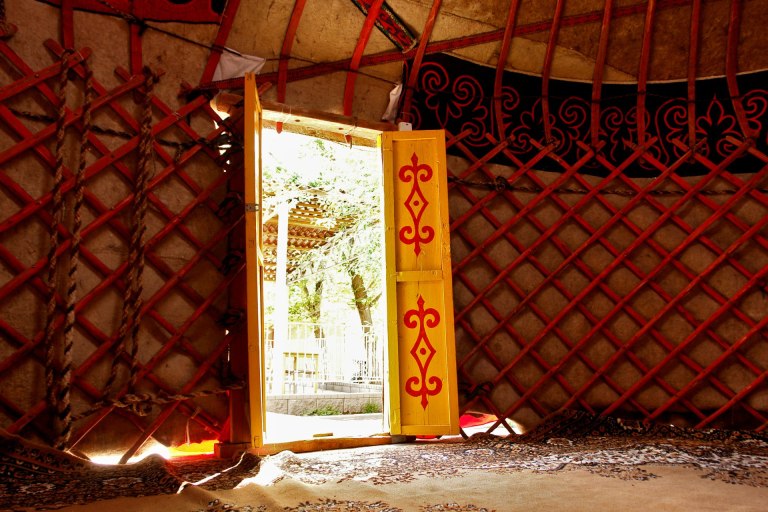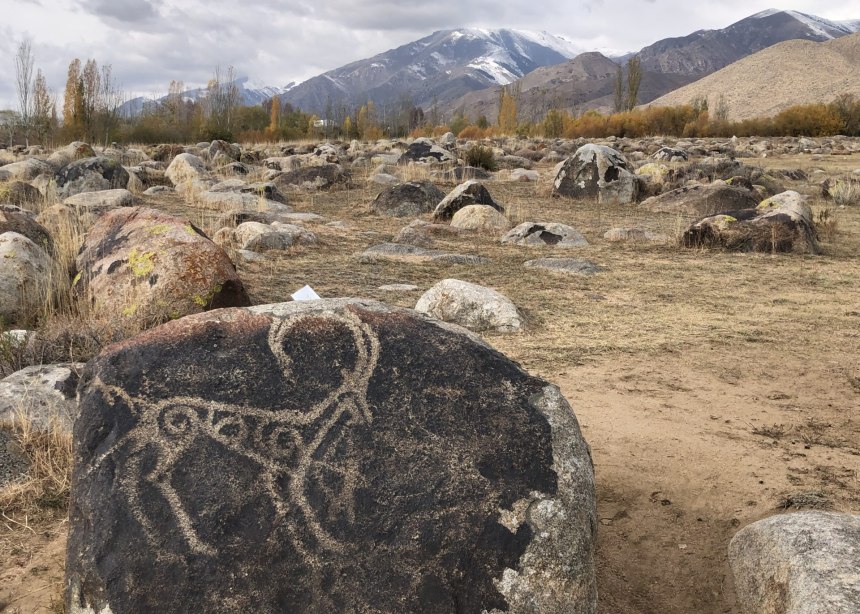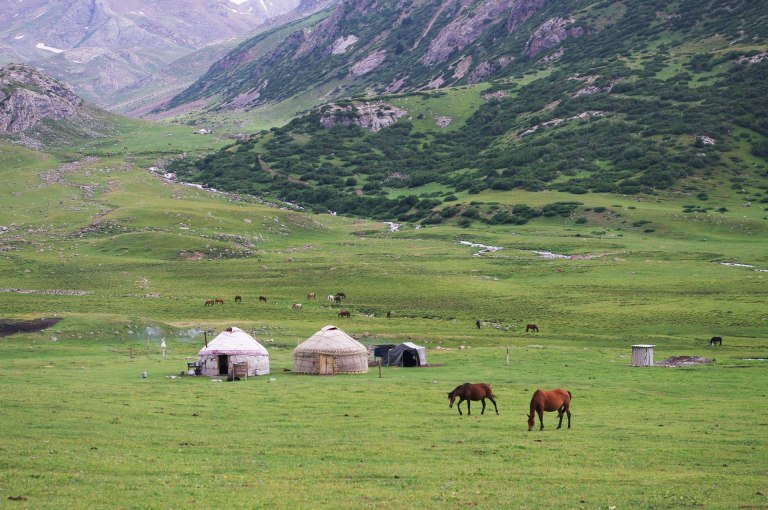 Rock engravings and an ancient Caravanserai
After we've assembled the felt yurt, we'll have a generous dinner in a friend's home, and a private concert by traditional musicians.
One day we'll visit the huge fields at Cholpon Ata which are studded with boulders enhanced with rock engravings or petroglyphs. They are made by 'pecking' directly on the rock surface to chip off the outer patina, using a stone chisel and a hammerstone. These stunning petroglyphs with their images of ibex, deer, and hunters, date from the 2nd century BC up to the 4th century AD. We'll also drive through gorgeous high snowy passes to see the ancient stone caravan-serai of Tash-Rabat. This is a well-preserved 15th century travelers' inn, in a starkly beautiful and isolated location along the Silk Route, at an altitude of about 9500 feet.
The next day, we'll drive along the huge lake on our way back to the modern Kyrgyz capital city of Bishkek. A special Farewell Dinner awaits us on this last night. We'll get a good night's sleep in our comfy Bishkek hotel before departing for home from the Bishkek (FRU) airport.
Places We Stay…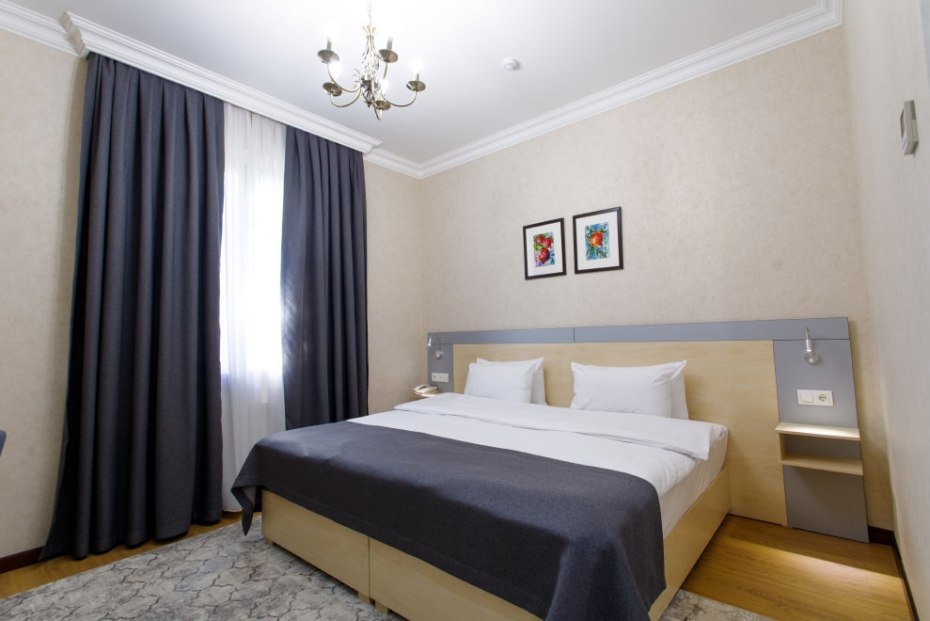 Hotel Navruz, Tashkent
Modern hotel on a quiet street a short walk away from several excellent restaurants. Modern bathrooms and comfy beds. Great breakfast and super pool for the hot summer days.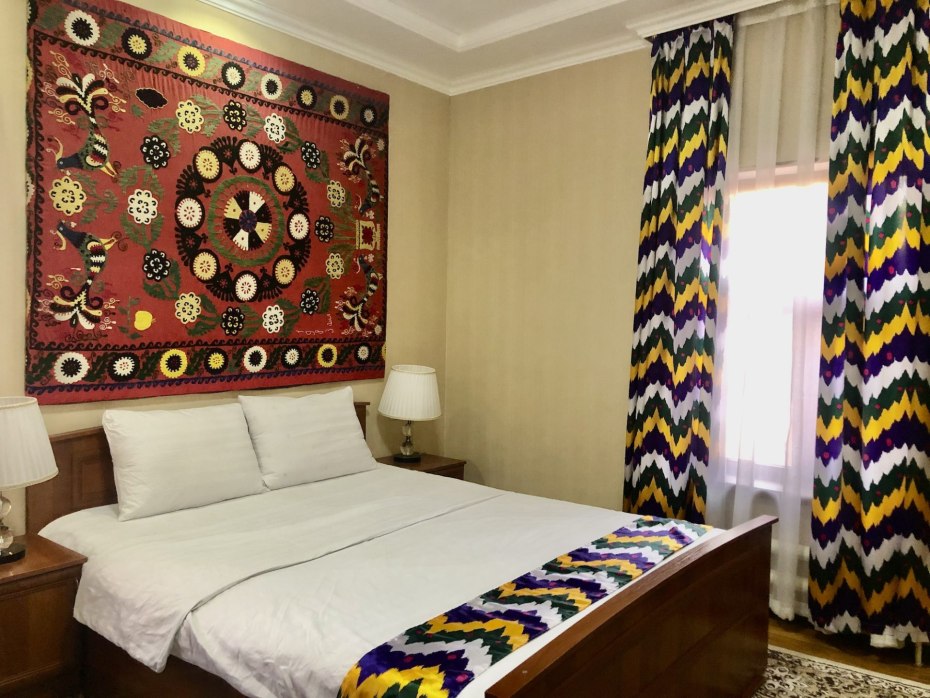 Samarkand Hotel
Comfortable and friendly two-story small hotel with rooms around a central garden. Rooms are decorated with local handwoven textiles and have private bathrooms.
Additional Details & Experiences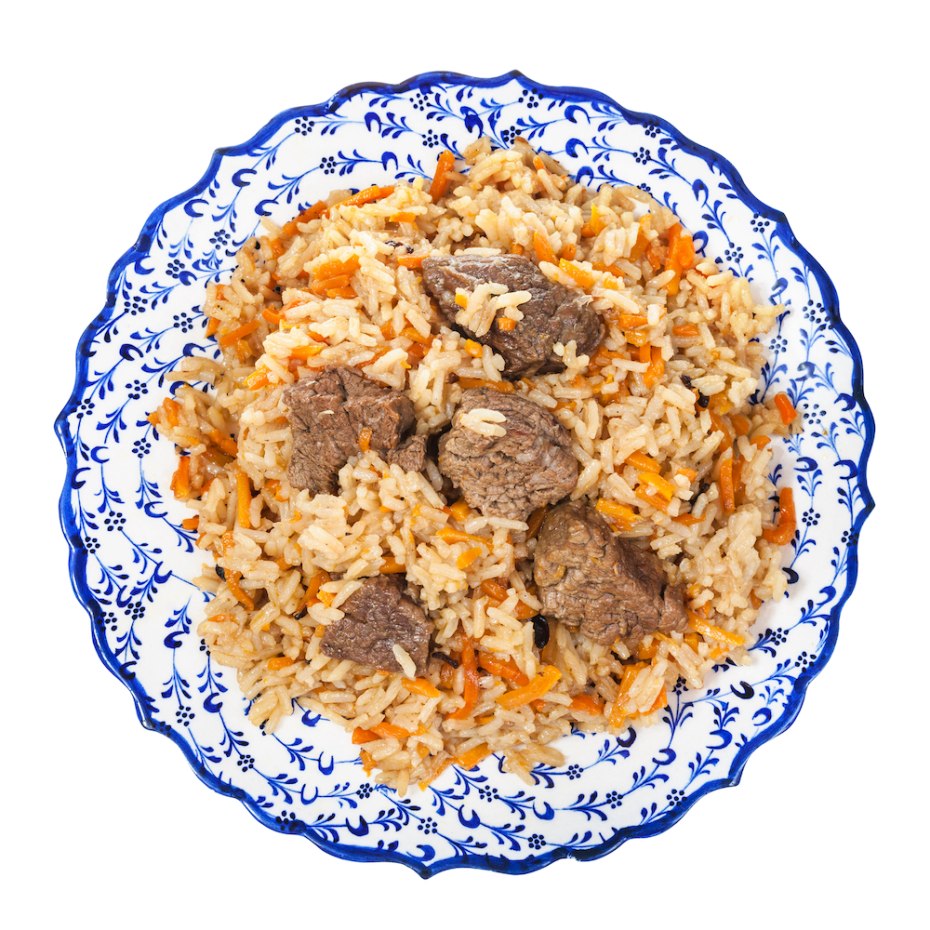 What kind of food will we be eating?
We'll eat delicious food everywhere and learn about the local cuisine in at least one cooking class. Popular foods include grilled vegetables, chicken or beef skewers, salads, and dishes such as the traditional and succulent plov, made with beef or lamb, and carrots, raisins and chickpeas. Meat-filled pastries called samosas are common too.
Vegetarians will have no trouble at all; many fresh (and safe) salads such as grated carrots or beets with walnuts, or tomato and cucumber are popular and found in most restaurants. Delicious and refreshing cold yogurt soup with fresh dill and parsley is a common starter. Bread is divine, plentiful, and usually hot out of the oven. Different bread varieties are baked in each place we travel and we will meet some bakers at work forming loaves and sticking them into round ovens.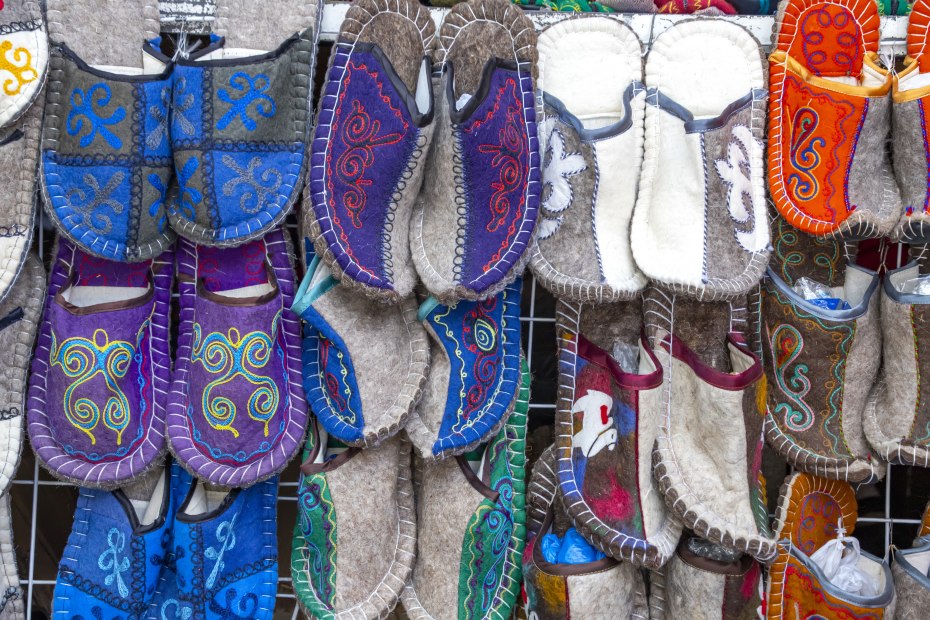 What sorts of arts and crafts will we be able to purchase?
Each country has a specialty but textiles are important artistic creations in all three. Uzbek women embroider exquisite cloth panels called suzanis; many shops have excellent selections of new and vintage suzanis. If you like to sew, you'll find hundreds of patterns of ikat yardage in cotton, silk, and a mixture of the two, at a very reasonable prices, around $2/meter for cotton ikat to $15/yard for handwoven velveteen ikat.
Kyrgyz artisans specialize in felt! You'll find charming needle-felted animals and toys, silk and wool scarves and slippers, in addition to shyrdaks, the thick, cozy and colorful felted rugs. Tajik artists also create beautiful embroidered pillows and striking felt and silk scarves.
Cynthia, on a very personal note, I love traveling with you; you have such a welcoming personality, and it adds immeasurably to the enjoyment of a trip… Other trips do not include "behind the scenes" visits to textile workshops, craft studios, village shops and activities. You have such a natural, warm way about you, and find your way so comfortably into the hearts of people you meet, that we get such heartfelt receptions from them (do I sound like a big fan?).

Kemi I

– Los Angeles, CA
Your Trip Leaders
Rikki Quintana
Founder & CEO, HoonArts Fair Trade
Rikki founded HoonArts Fair Trade in a blind leap of faith in 2014, after retiring from her law career. As the first person to work on building a US market for handicrafts from Tajikistan, Rikki now works with artisan groups in 3 Central Asian countries.
With customers on 4 continents, HoonArts is helping to empower over 100 artisans, mostly rural women. Rikki is passionate about using her long-term partnerships with master artists to open a doorway to this amazing region, and give her clients unique products, travel, and educational experiences they can't get anywhere else.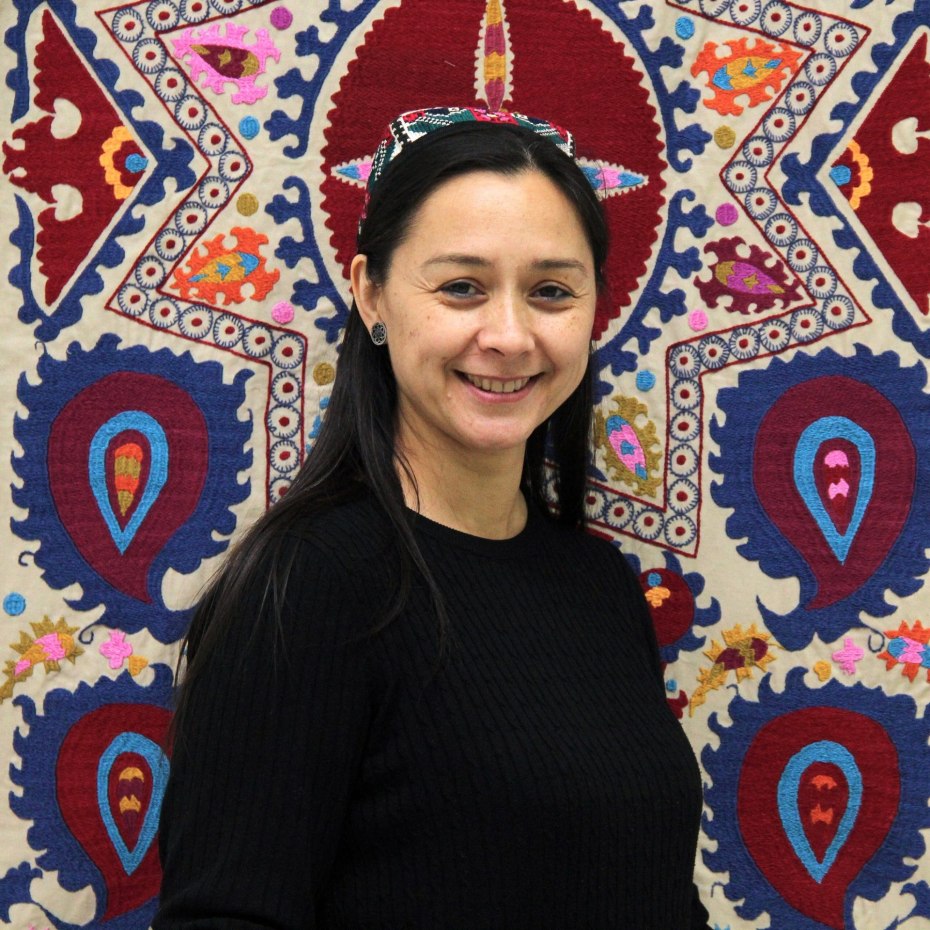 Munira Akilova
Guide in Tajikistan
Munira Akilova of Khujand, Tajikistan, is a modern-day Silk Road "Renaissance woman." After a first career as an economist and university teacher, she left academia behind to turn her beloved embroidery hobby into a business. Today, she runs her own handicraft and design business called Munir, and is manager and designer for Armughon Handicrafts, one of the top artisan brands in Tajikistan.
The winner of numerous awards for her embroidery work, Munira is also an international consultant for artisan-based businesses. She is highly sought after as a master teacher in the traditional Tajik textile arts.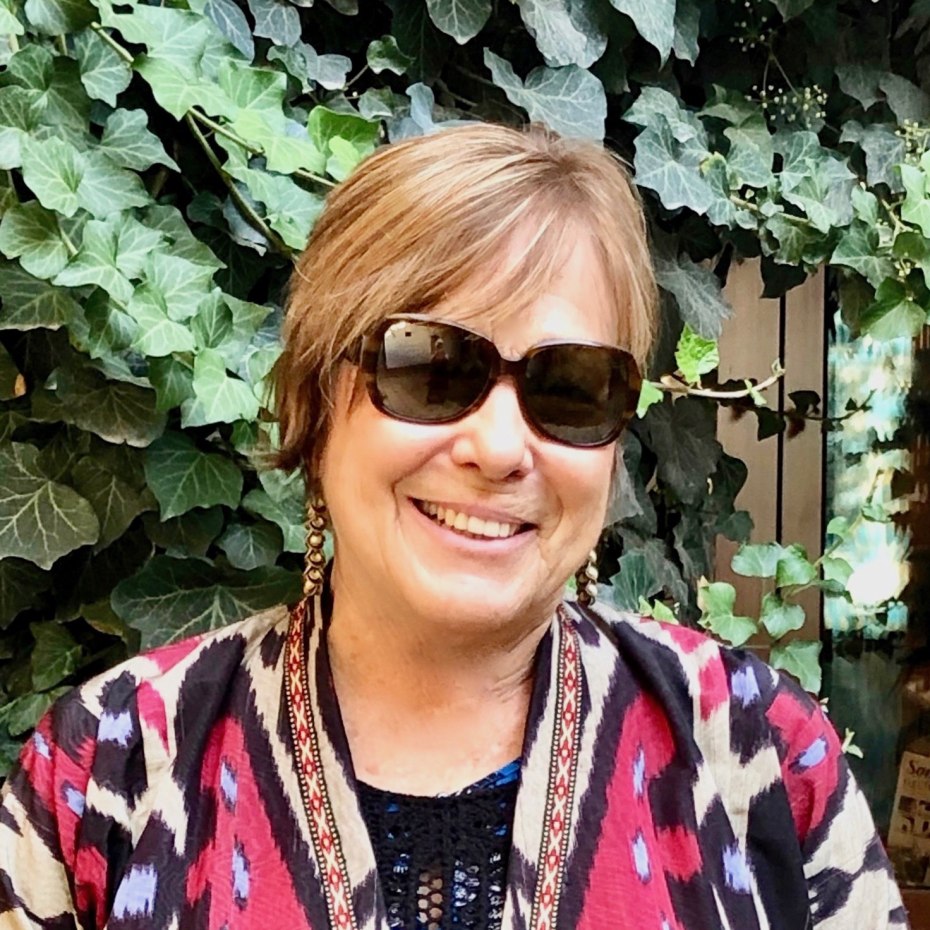 Cynthia LeCount Samaké
Cynthia began "Behind the Scenes Adventures" to share with others the traditional textiles and festivals of far-flung countries. Since 1998 she has led small groups of textile fanatics and friends all over the world. Desiring some new locations and new types of textiles, she has branched out and found wonderful connections and many destinations for her tours. Now the repertoire includes Uzbekistan and Kyrgyzstan, places where artisans weave stunning silk ikat designs and create felted textiles.
Check Trip Availability
Trip signups are accepted on a first-come, first serve basis. Please provide your details below and we'll be in touch to confirm whether spaces are still available for this trip. If you need to get in contact, we are available during office hours 10:00 am – 5:00 pm MDT, Monday through Friday.
Registration Information
Dates: September 25 – October 12, 2022
Fly Home: October 13, 2022
Deposit: $500
Tour Cost: $6,495 for 18 Nights
.Single supplement available for a single room (except when staying in a yurt) $700
For more information:
Phone: 707-939-8874
E-mail: info@btsadventures.com
Read: Frequently Asked Questions
Travel Plans
We will fly into Tashkent, drive around the interesting parts of Uzbekistan, then tour around Tajikistan, and return to an edge of Uzbekistan for a complete discovery of its wonders. Next we'll head to Bishkek, the capital of Kyrgyzstan, and see the highlights of that mountainous country. Finally, we'll fly back home from Bishkek, KGZ. Many Turkish Airlines international flights depart from Bishkek.
Visas
At this point (early August 2022) NO VISAS are necessary for any of these three Stans countries. The exception is If you are under 55 years old, you will need an Uzbekistan visa. If this is your case, let us know and we will send instructions.
What's Included
18 nights accommodation in double rooms with private bathrooms (except for one night in yurt camp with communal bathroom)
Expert English-speaking textile specialty local guides in each country
Rikki Quintana of HoonArts, trip coordinator will accompany the trip
Cynthia Samake, textile expert will also join the tour.
All breakfasts in the hotels
All lunches and dinners ( except 2 meals on your own)
Transportation by air-conditioned Minibus
Entrance fees to all sites and monuments
Flight from Osh to Bishkek
All Tashkent and Bishkek airport transfers
Train travel between Tashkent and Samarkand, Samarkand, and Bukhara
All train station transfers – Samarkand, Bukhara, etc.
1 liter of bottled water per person per day
Cooking master class, felt scarf workshop
Wood Block printing demo
Ikat textile dyeing, tying and weaving demonstrations
What's Not Included
International flights to and from Tashkent, UZ and Bishkek, KGZ
Any necessary visas and passport fees
Several meals as indicated on itinerary (buy fruit and cheese to eat at the hotel, or go out)
Tips for guide and driver; suggested amounts will be included on the trip info and collected at the beginning of each trip.
Mandatory trip cancellation travel insurance (more about this later)
Frequently Asked Questions
General Questions
What information will I receive after registering?
Once you sign up for a trip, we will e-mail a general itinerary, lists of Suggested Reading, what to take, cultural considerations, weather charts, etc.
What sort of clothing should I bring?
When you sign up for a tour, you'll receive detailed lists of what to bring to your destination, as well as weather info, to more easily coordinate your wardrobe with the heat or cold.
We will also include suggestions for appropriate clothing for dressing in conservative countries. Basically you'll need modest clothes that cover your shoulders and legs. Being well-dressed will show the locals that we respect them and their society
What is the COVID situation?
The COVID situation is changing daily, but all three countries have done well with their vaccination campaign and they continue to improve. Masks are worn in all indoor venues such as museums and markets, and restaurants require proof of vaccination. Entry into Uzbekistan requires just a Vaccination card, proof of recovery from Covid, or a negative Covid test in the past 48 hours. (This involves proof of your previous Positive test, plus a physician's attestation that you are cleared for travel.) We recommend bringing your original and a copy, and you carry them in two different places. Don't count on having important docs like these downloaded on your phone.
Entry into Tajikistan and Kyrgyzstan requires Negative COVID tests also as we cross borders. We will update you on their precise requirements closer to departure dates. The guides and driver will always be active in staying up-to-date on the COVID rules and we will go as a group to be tested. Testing is much easier and available in more places than in the USA. Test results are returned in 3-4 hours. Usually we test in the morning, have lunch, and by the end of lunch, results have been emailed to our phones.
On January 10, 2022, the Uzbek government announced reinforced public safety measures, including:
Requirement to wear masks, maintain social distance, and undergo temperature checks at the entrance to all indoor public places
Prohibition on government offices and government-affiliated organizations holding events
Acceleration of public vaccination campaigns, including distribution of booster shots
Requirement for all government employees to be vaccinated
What are the COVID requirements for returning to the US?
All airline passengers to the United States ages two years and older, regardless of vaccination status or citizenship, must provide a negative COVID-19 viral test taken within one calendar day of travel.  Alternatively, travelers to the United States may provide documentation from a licensed health care provider of having recovered from COVID-19 in the 90 days preceding travel. Proof of your recovery from COVID equals showing your Positive test results and a doctor's attestation that you have recovered and are able to travel.
In both Tashkent and Bishkek (our departure cities) there are very efficient test sites that give quick results. In Tashkent, these test kiosks are right at the airport, making it very easy. These tests qualify for the flights back to the USA and the results come back quickly.
Do I need any vaccinations or immunizations?
This varies with each country. Make an appointment with your travel doctor and take your tours itinerary with you. Some areas of certain countries require malaria pills and others do not; same with Yellow Fever and others such as Cholera and Typhoid. He or she will have all the latest requirements at hand. A rural visit to a farm may require extra precautions, for example. We will send you the links to the CDC.gov information pages for your specific destination so that you can ask questions.
You should be current on all your typical childhood and international travel shots such as Polio and Tetanus. Some countries now demand proof of vaccination against COVID. Behind the Scenes Adventures requires you to have two COVID vaccinations. We recommend you have a booster as well.
How much physical activity is involved during the trip?
You should be able to stand and stroll around markets and museums for several hours at a time. Most indoor venues such as our hotels, restaurants and museums have air-conditioning. Most days will involve some walking around towns on paved streets, but the sidewalks are sometimes broken and rutted. We'll take our van or taxis for any long distances out to see the Buddhist temples and wats, or archeological sites.

The days involving the most exercise (at your own pace) will be at the Angkor Wat temple complex. These extensive and glorious ruins involve lots of walking, usually along hard dirt pathways. Closed toe shoes with good tread are important for climbing slippery stone stairs and walking in the jungle. There will always be the possibility of moving slowly in the heat and taking frequent breaks for cold water and iced teas. Bring a collapsible walking stick if you think you might need one.
What will the weather be like?
You will receive weather and temperature information with your pre-departure info. Our Three Stans trips are planned for temperate weather with little or no rain, in April-May and September-October. Average daytime temperatures are usually in the 70s and nights can be cooler, in the 50s. With global warming, weather is much harder to predict, but if you dress in layers, you should be comfortable. Your pre-departure information will include suggested clothing for each season and altitude.
Meals & Accommodations
What sort of hotels will we be staying in?
Hotels that we choose in Uzbekistan are usually in traditional style with carved wood decor, typically new and up-to-date. Our hotel in Tashkent is new and modern, with comfortable, well-lit rooms, excellent beds and linens. It has modern bathrooms, a good restaurant at lobby level, and an elevator. The hotel in Samarkand is more modest, has a warm, friendly ambiance, and belongs to a good Uzbek friend who spent many years in the US./. It's built around central gardens and they serve an excellent breakfast. The new, private, homestay in Margilan belongs to the family of the most famous ikat weavers – it's a treat to stay there, surrounded by textiles!
Before we depart, we will send you a list of all hotels with contact information in case someone at home needs to contact you.
What sort of food will we be eating?
Foods in the THREE STANS are fresh and delicious. Each country has similar dishes with regional varieties, but in general, there is an excellent variety to choose from. We'll hand out a list of common foods at the beginning of the trip to help you choose.
Sometimes the guide will choose a variety of dishes so we can all taste some specialties, family style – and other times you can choose your own dishes. It's polite to finish what is served to you, since wasting food is considered offensive. It's also uncouth to smell a dish before tasting it; just take a tiny bit on your fork, to taste, instead of bringing the plate to your nose!
What sort of food will we be eating?
Foods in the THREE STANS are fresh and delicious. Each country has similar dishes with regional varieties, but in general, there is an excellent variety to choose from. We'll hand out a list of common foods at the beginning of the trip to help you choose.
Sometimes the guide will choose a variety of dishes so we can all taste some specialties, family style – and other times you can choose your own dishes. It's polite to finish what is served to you, since wasting food is considered offensive. It's also uncouth to smell a dish before tasting it; just take a tiny bit on your fork, to taste, instead of bringing the plate to your nose!
Will I be able to accommodate my dietary needs?
If you have any special dietary, health, or nutrition issues, restrictions, etc, there is no guarantee that Behind the Scenes Adventures will be able to accommodate your special diets in foreign countries. Please contact us before departure, and bring sufficient alternative foods. Travelers with severe peanut allergies cannot be accepted. Vegan diets are possible but with much less variety than at home. Vegetarian diets are often fairly easy to accommodate, but also with less variety than what is available at home.
Flights & Travel
Will I need a visa for connecting countries?
It is very rare to need a visa for a connection if you stay in the Transit area. This will be regulated by the connecting country and the airline will send information as to this requirement.
We are working on getting official information that will be valid in July, about connecting flights to Laos. We are hoping to be able to connect to Vientiane or Luang Prabang as soon as possible after arriving in Bangkok.
What are the requirements for my passport to be valid?
Your passport needs to have one blank page for your visa, although, with an E-Visa, you will have just a piece of paper to show, and don't need room for anything except Immigration stamps in your passport.
Your passport must remain valid (not expired) for 6 months after you enter each country.
Will I be met at the airport?
Yes! Cynthia, an assistant or a driver will meet you with a sign with your name and/or Behind the Scenes Adventures. They will have your flight schedule and know you will need time to pick up your luggage. Wait for them in the terminal, right outside the Arrivals area, and don't go with any other drivers that don't have your name on a placard.
What is the best airline to fly to the country?
You will need to get to Istanbul, Turkey, then connect to Tashkent to begin the trip. There are non-stop flights to Istanbul's fabulous new airport from SFO and LAX, and perhaps other major cities. Try to get a non-stop flight; it's much easier not to have to change planes. Some flights connect in Istanbul for an hour or two, then continue directly to Tashkent – easy!
I found good deals on Expedia.com with Turkish Airlines which is very good; they are a partner of United. Turkish and United are the airlines I always use but from your home airport, there may be other deals with other airlines such as Delta and Air France, etc.
Returning home, you will fly out of BISHKEK (FRU) Kyrgyzstan. We'll send some suggested flights at a later date, but pay careful attention to the arrival and departure dates!
What will we use for transportation?
We use a Sprinter van for most interior transportation. It is high-topped and spacious, and our luggage is stored in back, or on top if we amass extra bags along the way. (This is another reason we must start with a luggage limit.)
With a small group, we may use a Chevrolet SUV (made in Uzbekistan!) for the whole trip. Vans and buses are not allowed on the route from Tashkent to Ferghana Valley, so we will go in Chevy SUVs. And we will take the modern high-speed train, from Tashkent to Samarkand and on some other routes.
We may also fly on an interior/domestic flight on Turkish Airlines or Uzbek Airways, depending on the schedule TBD, If not we will use trains or the van.