This exciting tour is part of the Off the Beaten Path Textile Tour series that includes fascinating, little-visited and non-touristic parts of Turkey. After a dozen trips to this delightful country, I wanted to discover some different destinations.
So I plotted an interesting route that includes traditional textiles and also some fascinating historical sites. Here are the highlights, and below are the details of the itinerary.
We'll arrive in Istanbul to see the UNESCO sites of the old city area, such as the Blue Mosque. Then we'll head east to Samsun and arrive at pretty riverside Amasya with its ancient cliffside tombs. Tokat, home of wood block-printing, is our next destination and there we will create our own printed scarves.
Then we go southeast to Sivas and further into the country to see the UNESCO site of Dvrigi, an ancient mosque and hospital complex famous for amazing stone carving. Heading south to Adiyaman, we'll climb to the hilltop to see the huge heads at the temple-tomb on Mount Nemrut. Later we'll explore Gobekli Tepe, one of the world's most ancient sites and learn what the archeologists have discovered recently.

Then we'll head south to Sanliurfa, and Gaziantep to see one of the largest Mosaic Museums in the world. We'll explore the seaside archeological sites of Side and Aspendos with their striking settings, Finally we will fly back to Istanbul from coastal Antalya.
TRIP HIGHLIGHTS
See the enormous, interactive Zeugma Mosaic Museum in Gaziantep
Stamp your own cotton Tokat traditional scarf in a typical workshop
Admire the spectacular 12th c. UNESCO site of the Grand Mosque and Hospital at rural Divrigi
Walk up Mount Nemrut to see the 30-foot stone statues of the gods that guard Antioches' tomb
Discover the huge stone pillars forming 11,000-year old Gobekli Tepe
Sleep in the Museum Hotel in Antakya, over the ruins of ancient Antioch
READY TO BEGIN YOUR ADVENTURE
An Overview of Your Journey
Welcome to Istanbul!
This Off the Beaten Path trip starts and ends in Istanbul. We'll fly into one of my favorite cities in the world and then proceed in a big loop around the country to see some amazing and little-visited sites.
Turkish Airlines has efficient and direct flights connecting from several US cities into Istanbul; we'll send flight suggestions later. We'll meet our guide in Istanbul, and spend two days seeing famous sights such as the exquisite Blue Mosque, right. The huge edifice was started in 1609 and finished only 7 years later. Six minarets surround the impressive mosque and the inside is covered in blue Turkish tiles, giving it the name Blue Mosque. Our pretty hotel is located in the heart of historic Istanbul, two blocks from world-famous architectural and cultural treasures.
We'll also visit the nearby Aya Sophia building, and learn its complex story as the superb structure was changed from church to mosque to museum, and most recently back to a mosque.
The Grand Bazaar is within easy walking distance to the hotel so we'll familiarize ourselves with the easy pedestrian route to that shopping mecca of art, rugs, textiles, scarves, and jewelry! Our hotel has an excellent restaurant and several others are nearby, serving delicious typical dishes.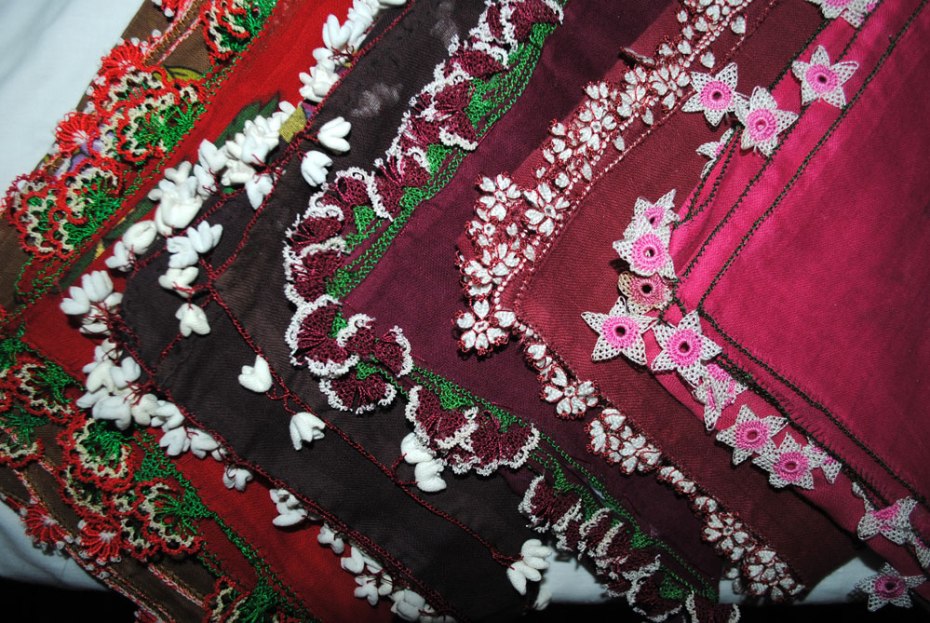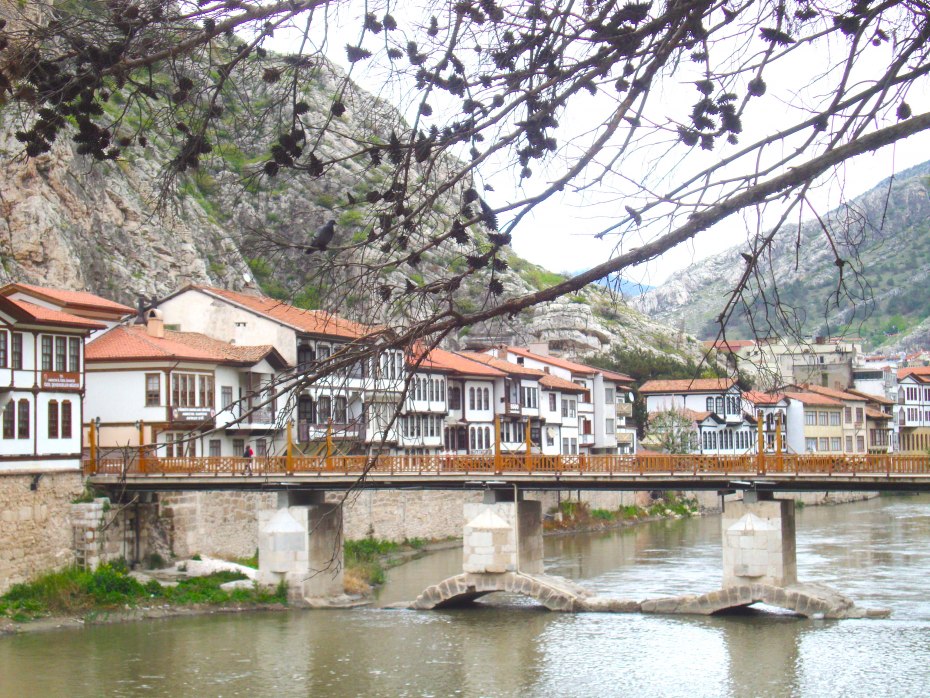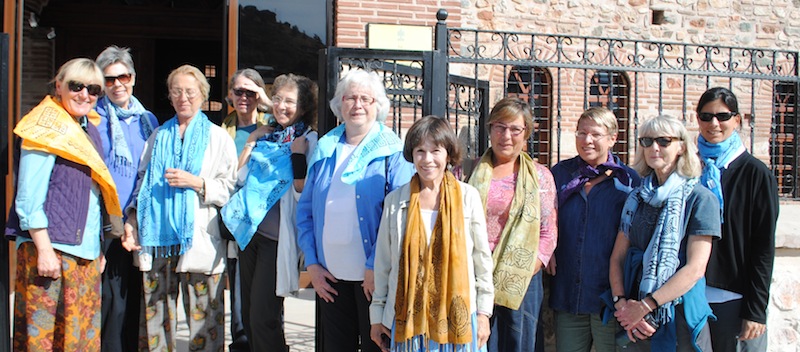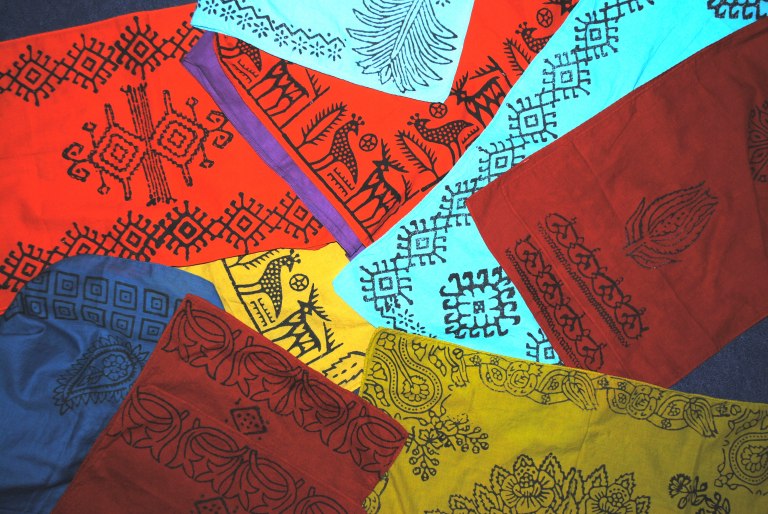 Print a Lovely Scarf
After our days in Istanbul, we'll head east for our block-printing workshop with a master printer. He will show us how to make a beautiful scarf called yazma. We'll have our choice of his large selection of hand-carved linden wood blocks to print with.
After lunch at a traditional restaurant, we'll visit spectacular caves with stunning limestone 'curtains.' We will also visit a couple of other museums. A culinary specialty of Tokat is the delicious, traditional stuffed pasta dish called manti; we'll have a chance to try it there and in other regions.
Later we'll go southeast through Sivas and arrive at the UNESCO site of Divrigi in a couple of hours. Divrigi's Great Mosque has earned itself a place in architectural history as a masterpiece of Islamic architecture. The mosque has a single prayer room and is crowned by two cupolas. The highly sophisticated technique of vault construction, and a creative, exuberant type of decorative sculpture – particularly on the three doorways, in contrast to the unadorned walls of the interior – are the unique features of this masterpiece. The three decorated portals have abstract plant designs revealing Georgian and Armenian influence. The staircase pulpit made in 1240 is one of the most beautiful in the country.
World's first "spiritual" site
As we continue south, the mysterious UNESCO archeological site of Gobekli Tepe is next! This is a monumental complex of T-shaped pillars (right) arranged in circles by hunter-gatherers between 9,600 and 8,200 BCE. It is estimated that only 5% of this site has been excavated, and that dozens of other stone circles lie underground. Interestingly no remains of dwellings nor midden heaps have been found so far, indicating that the huge site may have been for ceremonial or spiritual events. We'll visit other towns and sites along the way, such as Sanliurfa, and the stunning multi-million dollar Zeugma Mosaic Museum at Gaziantep.
Continuing westward to Antakya, the superb new Museum Hotel there will be our dramatic home for a night! This hotel was built with high-tech features and careful consideration of conservation of the ancient ruins of the Roman city of Antioch. You can look down from your room, onto exquisite mosaics that were wealthy merchants' villa floors 2300 years ago! And at the end of our trip, we'll fly back to Istanbul from a nearby city, and connect with flights to home.
Our guide loves archeology and textiles and will give us a thorough explanation of the theories and realities of all these astounding places. This is a perfect tour for those of you who are interested in everything – from textiles to archeology, to Anatolian architecture and cuisine.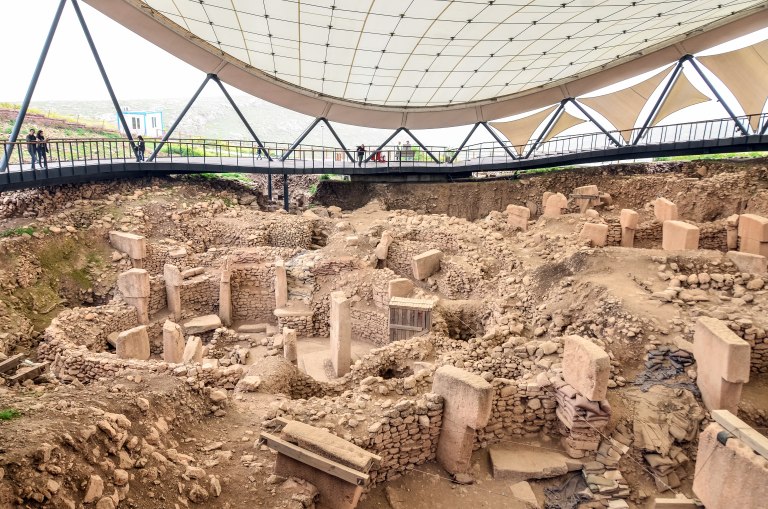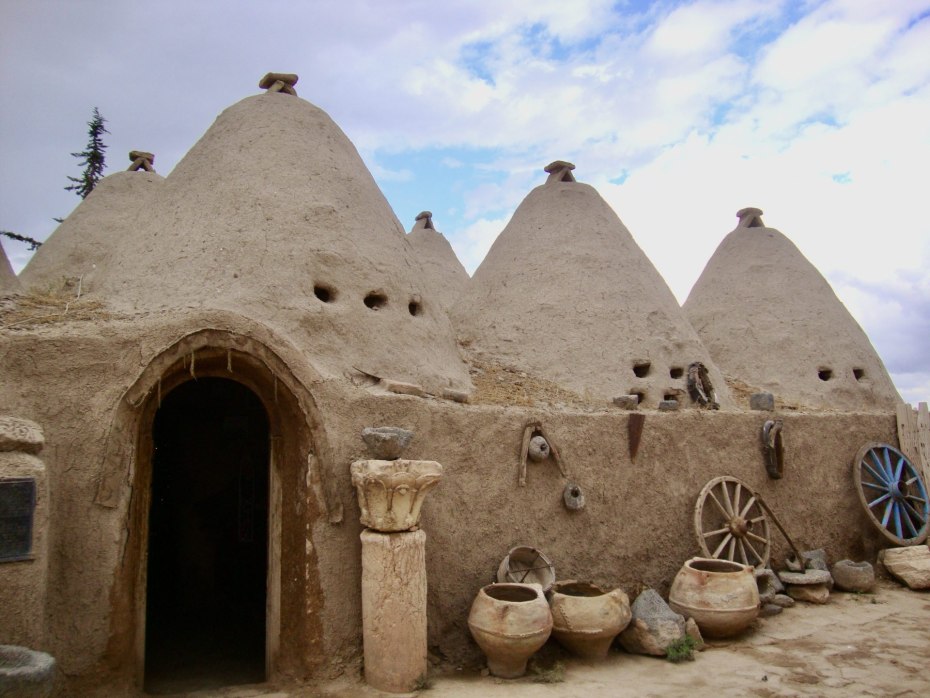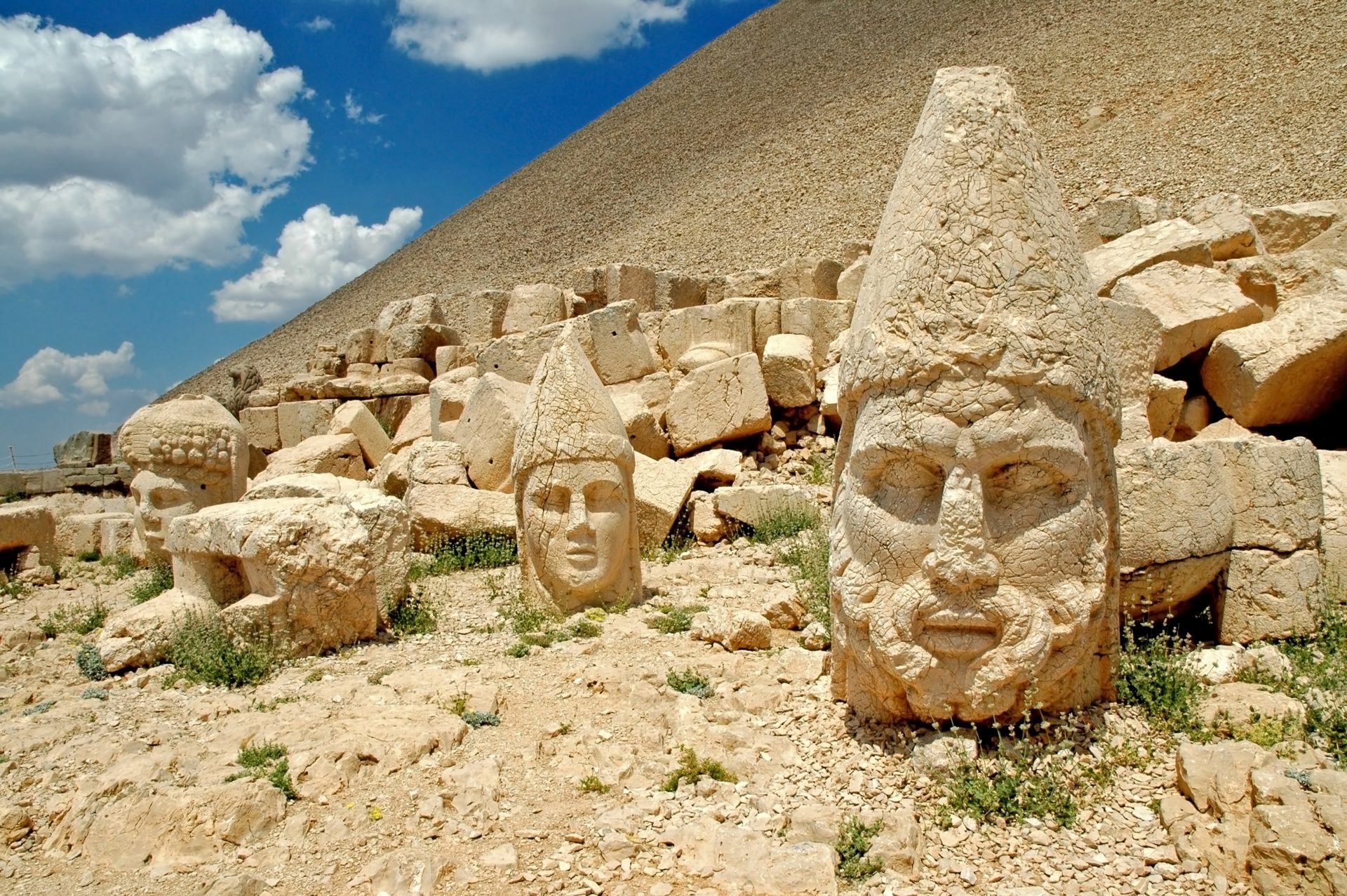 The statues of Mount Nemrut
Continuing south to more amazing ancient history…we'll climb a paved pathway to see the huge carved stone heads at Mt. Nemrut, a UNESCO World Heritage site. In 62 BC, King Antiochus I Theos of Commagene built on the mountain top a tomb-sanctuary flanked by huge statues (26–30 ft. high) of himself, two lions, two eagles and various Greek, Armenian, and Iranian gods, such as Hercules-Vahagn and Zeus-Aramazd. These statues were once seated on thrones, with names of each god inscribed on them. Earthquakes toppled the enormous heads and now they are scattered around below their thrones.
Next stop: Gaziantep! This charming town is Turkey's center of pistachio culture and known for having the best BAKLAVA in the country. In comparison with some other regions of Turkey, tourists are still a novelty in Gaziantep and the locals make them very welcome. Gaziantep has a wonderfully authentic bazaar with craftsmen at work, very close to the hotel. The town boasts a world-class museum, the biggest repository of ancient mosaics in the world containing 1700 m² of mosaic floors rescued from flooding during a dam project on the Euphrates River.
Next we'll head west to Antakya, home of the amazing Museum Hotel, carefully constructed OVER the archeological site of the ancient villas of Antioch. Finally we'll drive to nearby Antalya for the short flight back to Istanbul. The next day, April 8, we'll fly home from Istanbul.
Where You Will Be Staying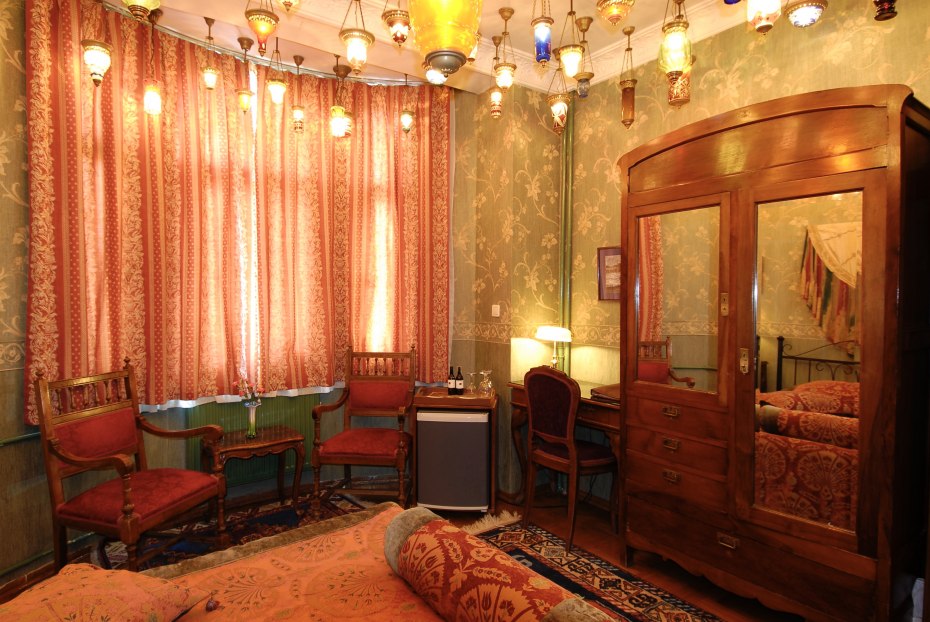 Istanbul Hotel
A cozy Ottoman-era lodging with marble staircases. Located in historic central Istanbul, it's just a five-minute walk to the Blue Mosque and Aya Sophia, and a ten-minute walk to the Grand Bazaar. The famous Yerebatan cistern runs for several blocks under the hotel. Known for the kind, helpful staff, the hundreds of colored glass lamps that hang from the ceilings, and the great restaurant, the hotel has charming traditional decor.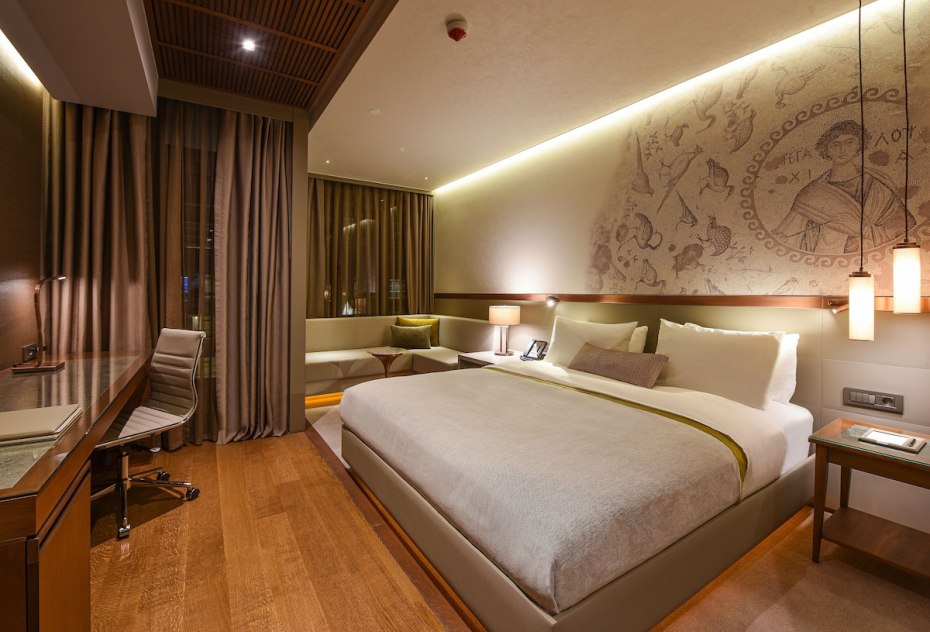 Museum Hotel
The superb new Museum Hotel in Antakya will be our dramatic home for a night. Designed and built with great care using an innovative system of weight-bearing columns and modules, the hotel sits directly above the ruins of the Roman city of Antioch. You can look down from your room onto the archeological site and the exquisite mosaics that were wealthy merchants' villa floors 2300 years ago!
Additional Details & Experiences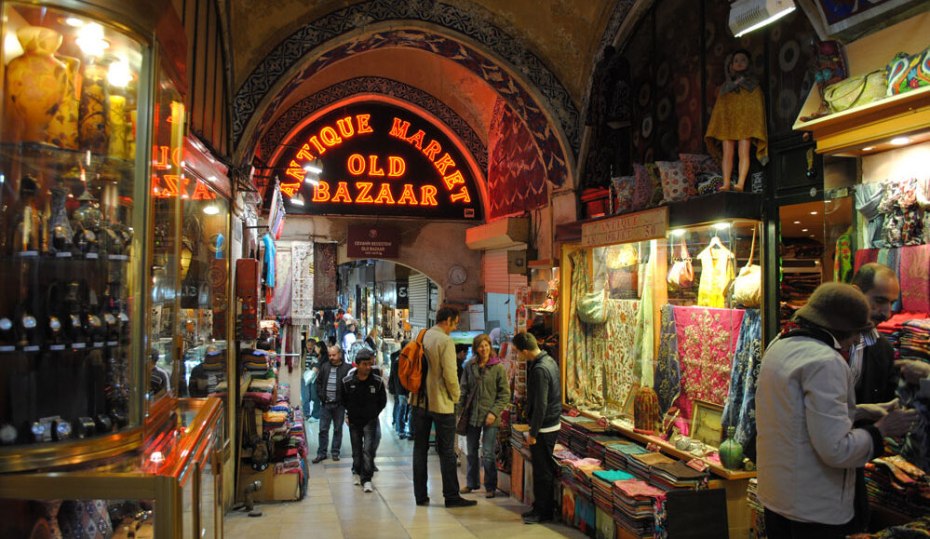 The Grand Bazaar
The whole complex is huge and ancient (from Byzantine and Ottoman times), really a city unto itself with around 5000 stalls. It's fun to wander, and discover different areas. You have to go into the far edges and little hans (courtyards) to find more unusual merchandise and good little cafes. Explore and you're sure to find some exciting treasures. Bargain only if you really want something, and do it respectfully! Note that the Grand Bazaar is closed on Sundays.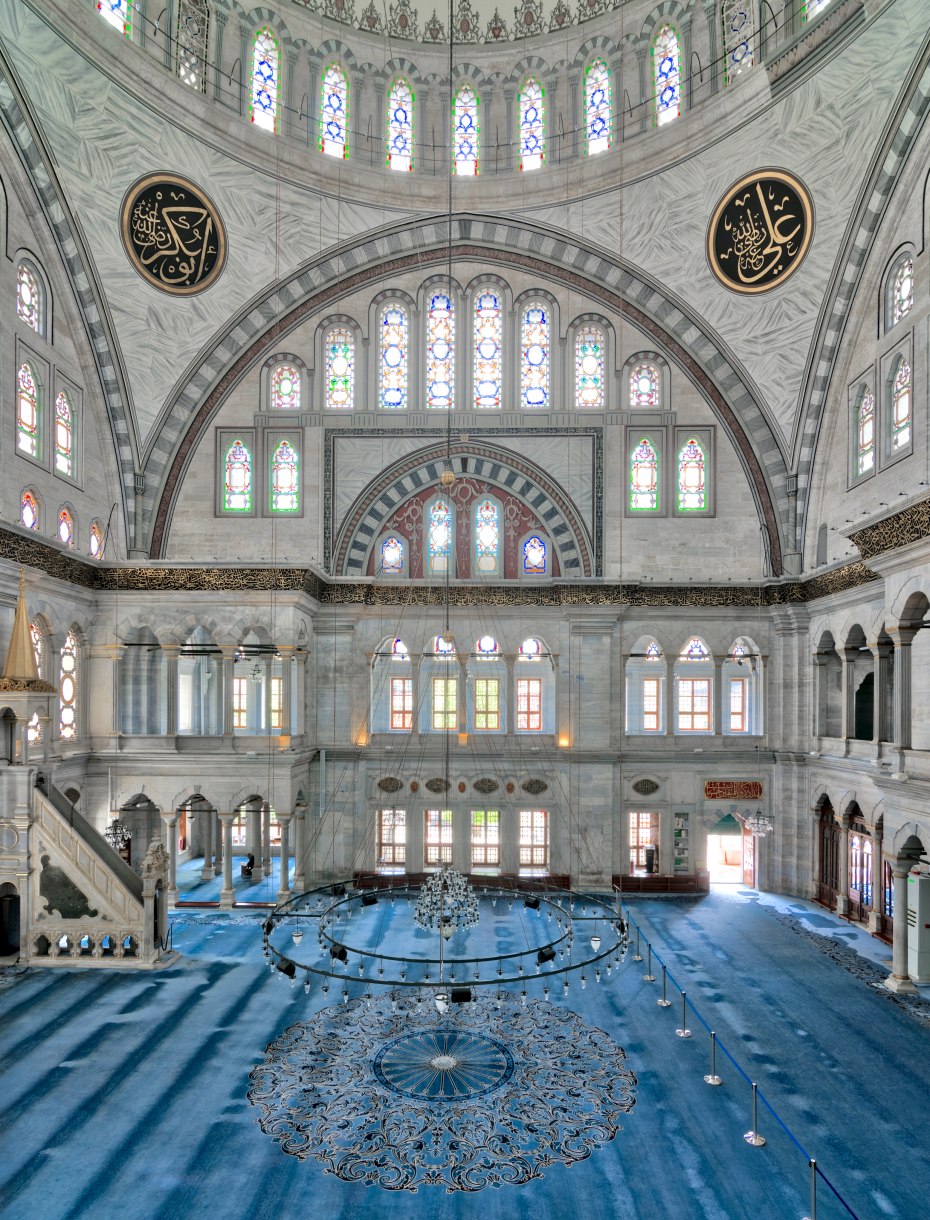 The Nuruosmaniye Mosque
Right on the walking route, before the main Grand Bazaar entrance at Çemberlitaş is the striking Nuruosmaniye Mosque. Like many mosques, this one was built as a complex consisting of the mosque itself and a madrasa (religious school), a soup kitchen, tombs, a public fountain, and a library. Although it appears quite sleek and modern, this serene, awe-inspiring mosque was finished in 1755. Cover your head, take off your shoes and enter quietly for a peaceful moment.
I have been on NINE of Cynthia's trips: Turkey several times, Peru, Bolivia, Thailand, Laos, Morocco, Mali and most recently Bhutan. You might ask why I keep returning! It's because on each trip I arrive home having had the most incredible time. Always I've met interesting people, stayed in small, boutique hotels and visited the usual tourist sites, but because of Cynthia's ability to strike up hard and fast friendships with her guides and drivers, hotel keepers, shop keepers, and crafts people, we experience an in-depth appreciation for the countries' history, culture and especially of textile arts and crafts.

Anne Duffey

-Davis, CA
Your Trip Leaders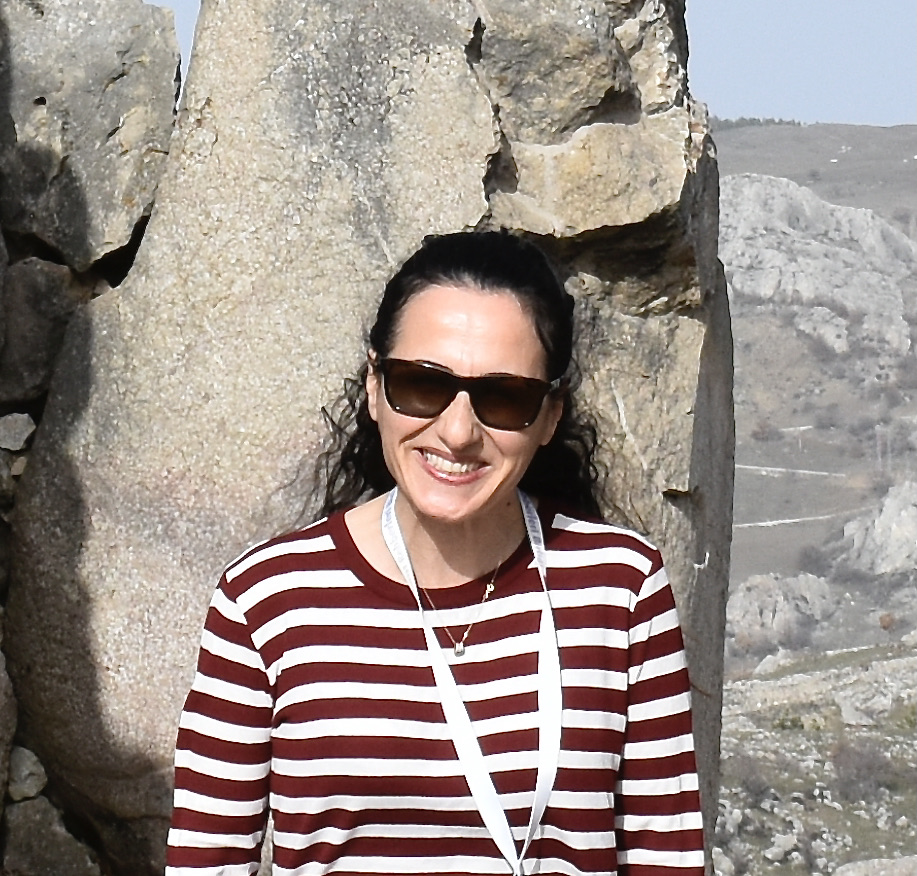 Derya Aydyn
Derya was born south of Istanbul in the historical city of Bursa, and became an official tour guide after 4 years of study and travel to historical and cultural sites. After years as an English-speaking guide in Turkey she decided to work with tourists from Spain. To that end, she spent months in Antigua, Guatemala, at an intensive language school, and now Spanish travelers are lucky to know her. She agreed to do the interesting Behind the Scenes Adventure tours to little-known places, and we always have a super time with her.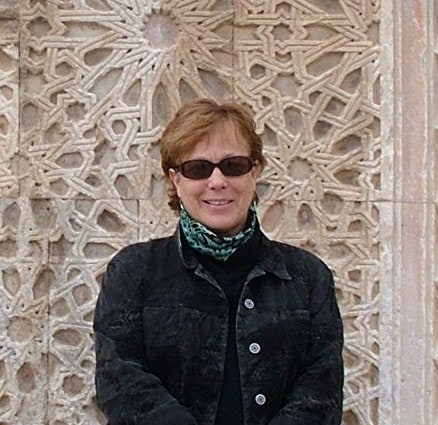 Cynthia Samaké
Cynthia began "Behind the Scenes Adventures" twenty-five years ago, to share with others the traditional textiles, festivals, and cuisine of far-flung countries. Since then, she has led small groups of textile fanatics and friends all over Turkey. Desiring new locations and new types of textiles, she discovered little-visited destinations and has branched out with this series of Off the Beaten Path tours. Remote and interesting UNESCO World Heritage sites are highlights.
Check Trip Availability
Trip signups are accepted on a first-come, first serve basis. Please provide your details below and we'll be in touch to confirm whether spaces are still available for this trip. If you need to get in contact, we are available during office hours 10:00 am – 5:00 pm MDT, Monday through Friday.
Registration Information
Dates: March 22 – April 7, 2023
Fly Home: April 8, 2023
Deposit: $500
Tour Cost: $6,250 for 17 Nights
Single Supplement: $850
For more information:
Phone: 707-939-8874
E-mail: info@btsadventures.com
Read: Frequently Asked Questions
Travel Plans
This Turkey tour begins and ends in Istanbul. You will fly into Istanbul's big new airport, with the Airport Code IST, not SAW, the old airport.
Visas
You will need a travel visa (called an E-visa or Electronic Visa) to enter Turkey. This is usually quite an easy process, applied and paid for online, then printed out at home. OR, right at Passport Control, Turkish authorities offer visas-on-arrival for $30 for US citizens; the amount varies for citizens of other countries, but the process is very fast and easy–just a sticker in your passport.
The latest visa info for Turkey will be sent closer to our departure time. Regulations and prices change often and vary with the citizenship of the traveler applying, so you'll need the latest info.
What's Included
17 nights accommodations in charming boutique hotels or modern hotels in big cities
English-speaking, licensed, professional Turkish guide
All meals – except 2 dinners. Unless a meal is family-style, you may order your choice of dishes in restaurants
All non-alcoholic beverages included with meals (tea, coffee, ayran (yoghurt drink), water, cherry juice (vişne), etc.
Interior flight from Antalya to Istanbul
All ground transportation by private Sprinter van with excellent, professional driver
Bottled water available in the van for road trips.
Transportation from airport to hotel on official arrival date of March 22
Museum admissions to see the textiles and archeology of Turkey
Cooking class and lunch in a private home
Entrance to all six UNESCO sites on the itinerary
Photo book of your adventure once you return home
What's Not Included
Turkish visa fee (around $20-50 for U.S.)
Departure airport transportation for flight home from Istanbul; the hotel in Istanbul will arrange vans.
Airport transportation for early arrivals March 21 or earlier
Alcoholic drinks
Guide and driver tips (suggested guidelines to come).
Frequently Asked Questions
General Questions
What information will I receive after registering?
Once you sign up for a trip, we will e-mail a general itinerary, lists of Suggested Reading, what to take, cultural considerations, weather charts, etc.
How can I get a detailed itinerary for a tour?
A day-to-day itinerary will be sent once you sign up for a trip. If you need specific information about the flow of the trip and the pace of the specific activities, before committing to the trip, get in touch with your questions and we will be happy to fill you in.
What sort of clothing should I bring?
When you sign up for a tour, you'll receive detailed lists of what to bring to your destination, as well as weather info, to more easily coordinate your wardrobe with the heat or cold.
We will also include suggestions for appropriate clothing for dressing in conservative countries. Basically you'll need modest clothes that cover your shoulders and legs. Being well-dressed will show the Turkish people that we respect them and their society.
Are laundry services available?
Most hotels have a laundry service and prefer that you don't wash clothes in the bathroom sinks. If there is no laundry service, and you don't want to wash your jeans and wait a day or two for them to dry, asking at the hotel desk is a good place to start.
Please note that it is considered demeaning to wash someone else's underpants, so we ask that you wash your own underpants. Hang them to dry discreetly in the bathroom.
What is the COVID situation?
The COVID situation is changing daily, but Turkey has done well with its vaccination campaign and it continues to improve. Masks are worn in all indoor venues such as museums. Entry into Turkey now requires just a Vaccination card to go through Customs and Immigration. We recommend bringing your original and a copy, and you carry them in two different places. Don't count on having important docs like these downloaded on your phone.
Basically everyone is going about business as usual.
What are the COVID requirements for returning to the US?
There are no longer any COVID 19 health restrictions related to returning to the USA as a US citizen.
Do I need any vaccinations or immunizations?
This varies with each country. Make an appointment with your travel doctor and take your tours itinerary with you. Some areas of certain countries require malaria pills and others do not; same with Yellow Fever and others such as Cholera and Typhoid. He or she will have all the latest requirements at hand. A rural visit to a farm may require extra precautions, for example. We will send you the links to the CDC.gov information pages for your specific destination so that you can ask questions.
You should be current on all your typical childhood and international travel shots such as Polio and Tetanus. Some countries now demand proof of vaccination against COVID. Behind the Scenes Adventures requires you to have two COVID vaccinations. We recommend you have a booster as well.
How much physical activity is involved during the trip?
Each trip has different activity levels that will be fully explained in the specific tour material. But no activities or events are mandatory, and you are always welcome to sit at the bottom of the stairs to a temple or wait in the van while others ascend or visit a particular place. Walking sticks are fine to bring if they help you. We cannot accept wheelchairs or walkers.
For most tours, you'll need to be able to walk the distance of 4-5 city blocks on your own, with sturdy shoes. Please note that sidewalks in many countries are full of big holes and broken cement chunks, with bits of re-bar sticking out, and you must constantly be alert to these dangers. In urban areas where distances are greater, the group will take taxis and/or get help from local assistants. If you need a personal taxi or additional special aid, that will be at your expense.
What will the weather be like?
Our Turkey trips are planned for temperate weather with little or no rain, in April-May and September-October. Average daytime temperatures are usually in the 70s and nights can be cooler, in the 50s. With global warming, it is much harder to predict but we will send weather charts with your pre-departure info.
Meals & Accommodations
What sort of hotels will we be staying in?
The hotels we will be staying in are charming and traditional whenever possible. For instance, two Ottoman-era homes with marble staircases were joined to form our charming Istanbul hotel. Occasionally we stay in a modern hotel if no boutique hotels are available.
Before we depart, we will send you a list of all hotels with contact information in case someone at home needs to contact you.
What sort of food will we be eating?
Turkish food is fresh and delicious, usually featuring locally grown, organic ingredients. Breakfast often consists of many different foods: yogurt, dried fruits such as apricots and raisins, walnuts and almonds, dates, olives, and tomatoes. Fresh breads of different varieties and menemen, a scrambled egg dish with tomatoes and peppers, are both common breakfast specialties too.
Each region has its own specialties, often varieties of char-grilled meats served with grilled vegetables with a big scoop of yogurt. On the coast lots of fresh fish and seafood is served, although it is often prohibitively expensive — and further inland beef or lamb are served with rice. Chicken (tavuk) kebabs are popular everywhere, served with grilled vegetables.
Desserts are everywhere, with crispy baklava being a national specialty. It's made from very thin layers of pastry called yufka, and pistachios or walnuts, soaked in a honey syrup.
Will I be able to accommodate my dietary needs?
If you have any special dietary, health, or nutrition issues, restrictions, etc, there is no guarantee that Behind the Scenes Adventures will be able to accommodate your special diets in foreign countries. Please contact us before departure, and bring sufficient alternative foods. Travelers with severe peanut allergies cannot be accepted. Vegan diets are possible but with much less variety than at home. Vegetarian diets are often fairly easy to accommodate, but also with less variety than what is available at home.
Turkish food is rarely spicy but you can always ask for no hot peppers.
Flights & Travel
Will I need a visa for connecting countries?
It is very rare to need a visa for a connection if you stay in the Transit area. This will be regulated by the connecting country and the airline will send information as to this requirement.
What are the requirements for my passport to be valid?
Your passport needs to have one blank page for your visa, although, with an E-Visa, you will have just a piece of paper to show, and don't need room for anything except Immigration stamps in your passport.
Will I be met at the airport?
Yes! Cynthia, an assistant or a driver will meet you with a sign with your name and/or Behind the Scenes Adventures. They will have your flight schedule and know you will need time to pick up your luggage. Wait for them in the terminal, right outside the Arrivals area, and don't go with any other drivers that don't have your name on a placard.
What is the best airline to fly to the country?
Turkish Airlines is very good and has many flights daily into Istanbul from the USA and Europe.  Several reputable European and American airlines such as United, Delta, Lufthansa and others fly into Istanbul from JFK and other cities. Direct flights on Turkish from JFK, SFO or LAX are much easier, especially nowadays with Covid testing.
What will we use for transportation?
We use a Mercedes high-top Sprinter for interior transportation. We will also fly on one or two interior/domestic flights, still on Turkish Airlines.