Preparing For Your Adventure
Get answers to the most common questions other travelers have asked before joining us on one of our tours. If you don't find your answer here, you are welcome to reach out and get in touch with us.
Our Experience
How long has Behind the Scenes Adventures been in business?
Cynthia has organized and led group tours around the world for the past 25 years. She began leading field research expeditions (UREP) for the University of California. Cynthia also traveled alone extensively in Bolivia and Peru while she was writing her award-winning study called Andean Folk Knitting (1993).
How much experience do the Behind the Scenes Adventures trip leaders have?
Cynthia began Behind the Scenes Adventures with the first textile tour to South America in 1996. After dozens of weaving and knitting trips to Peru, she began branching off and organizing trips to places she had traveled independently and loved.
Expert local guides and assistant trip leaders accompany Cynthia on the tours. You can learn more about the background and experience of some of our Trip Leaders. They are all experts in their fields of ethnic art, indigenous textiles, cuisine, and architecture. Learn more about Behind the Scenes Adventures.
All Behind the Scenes Adventures leaders and guides receive rave reviews from past trip participants for their enthusiasm and knowledge. But you don't have to take our word for it, see past travelers' accolades.
Will we travel with a professional, native guide who speaks the local languages as well as good English?
Yes! The guides and drivers are an integral part of every trip! All Behind the Scenes Adventures guides are professionally licensed and speak excellent English. Cynthia also accompanies each trip and speaks fluent French and good Spanish.
Our guides are people we have worked with for many years and during dozens of voyages – and we trust them implicitly. Most guides speak several other languages besides English. We make a point of reserving favorite guides over a year in advance to be sure we travel with the people we respect and love!
As part of the lengthy guide-licensing process (several years in most cases), the guides have learned the often complex history, traditions, and cultural foundations of their countries. They have also traveled to every corner of the land as part of their guide training programs.
Is it possible to talk with a past Behind the Scenes trip participant about his or her experience?
Of course! We have a list of past travelers who will be glad to answer specific questions and give you some idea of the pace of a tour. Just get in touch, and we will send you the phone number or email of someone in your area who has experienced the trip already in past years.
About Our Tours
Who goes on these tours?
Active, interested, friendly folks of all ages join Behind the Scenes trips. You can see a number of Behind the Scenes Adventures group photos taken over the past 25 years! We have had travelers from ages 18 to 85, and if anything seems too difficult you are welcome to sit and rest at the bottom of the stairs to a temple or wait in the van while others ascend or visit a particular place
Nowadays, about half of all Behind the Scenes Adventures travelers are repeats, meaning that they have gone to other countries with us. Many people who met on a Behind the Scenes Adventures trip have become lifelong friends. Ann Duffey of Davis, from California, is our champion loyal traveler with 9 Behind the Scenes Adventures trips under her belt, and she's coming to Turkey again in 2022! And Kathy Spangenberg of Whitefish, MT is the runner-up!
How many people will I be traveling with?
Our maximum group is usually twelve people. This group size allows us to visit remote villages and sites by private van and to interact on a personal level with the artisans of these locales. Occasionally the groups are smaller. Travelers often remark that it's like traveling with a bunch of friends!
Are scheduled group departures guaranteed?
No, we are a small company and need a minimum number of travelers on our trips. If the trip minimum has not been reached we will offer you a postponement date or another tour at a later date. Of course, we always appreciate your inviting a friend or relative to join you on a tour.
May I bring my well-behaved 10-year-old nephew?
No, we are sorry but children are not allowed on Behind the Scenes Adventures trips; the minimum age is 18. The focus subject matter is typically most interesting to adults. Too, most people who come on our trips want a destination vacation, without distractions. There are many companies that offer family vacations to similar parts of the world.
How much physical activity is involved during the trip?
Each trip has different activity levels that will be fully explained in the specific tour material. But no activities or events are mandatory, and you are always welcome to sit at the bottom of the stairs to a temple or wait in the van while others ascend or visit a particular place. Walking sticks are fine to bring if they help you. We cannot accept wheelchairs or walkers.
For most tours, you'll need to be able to walk the distance of 4-5 city blocks on your own, with sturdy shoes. Please note that sidewalks in many countries are full of big holes and broken cement chunks, with bits of re-bar sticking out, and you must constantly be alert to these dangers. In urban areas where distances are greater, the group will take taxis and/or get help from local assistants. If you need a personal taxi or additional special aid, that will be at your expense.
What is generally included in the tour price?
Note that each trip is different and offers different activities and events. See individual itineraries for details.
Any domestic/internal flights as noted in the itinerary
All internal transportation, usually by private van, occasionally first-class bus or train
All lodging in good comfortable hotels (double rooms with private baths)
All meals and tips in restaurants (unless otherwise specified)
Each trip includes a few meals "on your own" because people like to discover new places. Some trips include a picnic or two in the country
Entrance to museums and archeological sites on the itinerary
Textile experts and/or professional guides accompany all tours
Guided tour explanations by specialized, local, English-speaking guides who have all the latest information about their site – at places such as Machu Picchu, Blue Mosque, Registan, or Angkor Wat
Workshops, lessons, and classes (and usually materials) as indicated on the itinerary
Note that international airfare, alcoholic beverages, airport departure transportation, guide and driver tips, and tips for luggage porters are usually not included unless noted
We will send suggestions for Guide and Driver tips with your specific destination info
May I plan my own activities and go off on my own during the trip?
Yes, but at any point during the planned trip, if you want to do something else during the scheduled group activity, it's important to:
Inform both the trip leader and the guide of your plans ahead of time, so we know where you are and what you plan, also so that any reservation funds are not forfeited.
Understand you are "on your own" and Behind the Scenes Adventures is not liable for your risks, actions, and activities. For example, if you fall during your visit to the islands near Istanbul instead of joining the group's guided activities, Behind the Scenes Adventures is not liable for your injuries or inconveniences.
Most trips have some Free Time or Free Days included in the itinerary; these days are designed to allow you to explore the locale at your own pace, according to your interests. It is courteous but not imperative to tell the trip leader what you plan to do and where in case you get lost. Be sure to take a business card from the hotel so that you know the name and address of where you are staying. Usually, lunch (and sometimes dinner) is "on your own" on these days because the group is not together.
Meals & Accommodations
What sort of hotels will we be staying in?
We'll stay in charming boutique riads, villas, or the best available rustic places in certain countries, depending on the trip. In big cities such as Casablanca, we stay in large, modern hotels with good restaurants. In Istanbul, we've stayed in the same charming boutique hotel for the past twenty years; every destination offers a variety of comfortable and charming lodging. We judge and choose the hotels on the quality of rooms, beds, and decor – and on extra amenities such as a pool, quality of breakfast or restaurant, and the helpfulness/friendliness of the staff.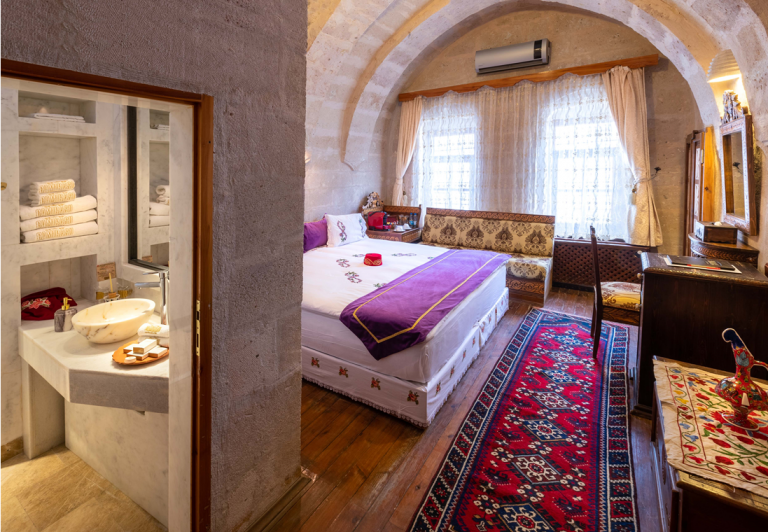 Usually, the hotel owners and staff are long-term friends eager to offer the best to Behind The Scenes Adventures groups. Occasionally we'll try a new or newly-discovered place to stay, and would love feedback from those of you who stay there.
Are single rooms available and can we request a specific roommate?
You can request to travel with or share a room with a friend or relative. If you prefer the privacy and quiet of a single room, an optional single supplement is available for most trips. The single room price is on the individual trip pages. Note that we don't determine the single room price; it is calculated by the local travel agency who confirms hotel availability.
If you are traveling alone, and want to share a room, we will try to find a friendly trip participant to be your roommate! If there is no roommate available for you, you will need to pay the single supplement price which varies by trip– and you will then have a private room and private bathroom. However a single room may be smaller than a double room; you are paying for peace and quiet, not necessarily a better room!
What's the average cost of a single room supplement?
The Single Room Supplement (SS) varies greatly by country and naturally depends on the price of the hotel rooms. The price is clearly stated on each trip's page and can vary between $300 to $1000, depending on the country's economy and hotel prices. The price is set by the in-country travel agent, not by Behind the Scenes Adventures.
What sort of food will we be eating?
Our tour leaders all love to eat, so finding great dishes and pleasant cafes and restaurants is part of the fun! We'll eat in a variety of good places serving authentic local or more rarely, continental cuisine. These may vary from little outdoor tables with grills on the sidewalk of Chefchaouen to amazing Italian in Marrakech, to a beloved family's dining room in Cuzco, to a tried-and-true Turkish truck stop.
Usually, you will be able to choose your dishes from the menus in the cafes and restaurants. Occasionally we will order big platters of family-style food to enable you to try as many traditional dishes as possible. And sometimes we will have a picnic lunch along the route, stopping in a garden restaurant that will let us use their tables if we buy their drinks. We will send you information about traditional foods and translations of favorite dishes for your destination country/countries when you register for a tour. You'll have a better experience if you are open-minded and willing to try new foods.
Will I be able to accommodate my dietary needs?
If you have any special dietary, health, or nutrition issues, restrictions, etc, there is no guarantee that Behind the Scenes Adventures will be able to accommodate your special diets in foreign countries. Please contact us before departure, and bring sufficient alternative foods. Travelers with severe peanut allergies cannot be accepted. Vegan diets are possible but with much less variety than at home. Vegetarian diets are often fairly easy to accommodate, but also with less variety than what is available at home.
Is the water safe to drink?
Not generally. It's safer everywhere to drink bottled water. Most hotels provide bottled water in your room; some even have a big bottle with a spigot to refill your own bottle. This of course saves plastic. We will have a carton of water bottles at room temp. In the van at all times for your use.
How much should I tip the guides?
In your trip information, we'll suggest daily amounts to offer the guides and drivers. Most of these people have not worked for a couple of pandemic years, so your generosity will be hugely appreciated!
Usually, the guide will tip the luggage porters. But in special situations such as huge heavy suitcases, and a room on the fourth floor in a hotel with no elevator, you can add the local equivalent of about $US 1 per bag.
Are laundry services available?
Occasionally hotels discourage you from washing your clothes in the bathroom sink; these places have laundry services that they want you to use.
If there is no laundry service, and you don't want to wash your jeans and wait a day or two for them to dry, asking at the hotel desk is a good place to start. Often there is someone in the village willing or anxious to make some money doing laundry. (Since most laundry is done by hand and not in a machine, please wash your own underpants instead of putting them in with your bag of clothes to be washed. Nobody wants to wash someone else's undies by hand…)
Hotels with laundry services will usually provide cloth or plastic bag for your dirty clothes. Tick off your items on the Laundry List that is usually provided, to be sure you get them all back. I've found that if clothes are missing from your clean clothes stack, it's rarely a theft, but a mix-up and your undies are in a male traveler's pile or vice versa!
Hotel laundry service can be expensive. Sometimes washing is priced by the piece and sometimes just by the weight of the whole bag. Your favorite travel shirt may get melted because workers often take pride in ironing everything. (A general rule is not to travel with anything so precious that its destruction or loss would be devastating.)
Flights, Travel & Packing
How do I make my plane reservations to arrive and depart at the right times?
Behind the Scenes Adventures provides you with a complete itinerary well in advance of your trip, so that you can schedule your international flight with the help of a travel agent or a website. We often search for prices on Expedia.com or Orbitz.com…then we use the airlines' own website to make our reservations to be sure we get customer service and miles from the airlines' Frequent Flyer plans. Delays and problems are more easily solved by the actual airline than by a cheap travel company.
Any extra hotel nights necessary for getting to the tour arrival point, or extra nights at the end of the tour are naturally on your own. Booking.com and Orbitz or Expedia.com both can be helpful.
Do you recommend that I work with a travel agent?
Specific information about arrival and departure options and suggested flight arrangements will be sent several months before departure.
Some itineraries are complicated, and a travel agent can help by offering you more possibilities and prices from different airlines on different dates. In this case, we recommend that you work with a travel agent, such as Nancy Smart in Berkeley, California. We have worked with Nancy for decades. She knows the dates for our trips and is happy to make suggestions, and discuss your flight itinerary. A good travel agent can be a real friend, finding you the best connections, prices, seats, and upgrades. Naturally, she charges a typical agent fee. You can e-mail her at nancy@berkeley4travel.com or call her office (510) 843-1000 on Tuesday and Wednesdays. Other days, call (510) 658-8188.
Will I be met at the airport?
Yes! Cynthia, an assistant or a driver will meet you with a sign with your name and/or Behind the Scenes Adventures. They will have your flight schedule and know you will need time to pick up your luggage. Wait for them in the terminal, right outside the Arrivals area, and don't go with any other drivers that don't have your name on a placard.
What should I pack and what sort of luggage should I bring?
Once you sign up, we'll send detailed information on luggage and packing for your specific trip. But in general, as we travel, it's a good idea to have a large purse-type satchel or day-pack on the bus with you for everything that you'll need during the day; this is the carry-on used for the same purpose on the airplane. It might contain your knitting, a book, your wallet, medication, sunscreen, a hat, a water bottle, chapstick – and whatever else you need on a car ride.
You can safely leave your passport locked in your suitcase in the hotel while we go out on day trips. If this makes you feel nervous, take it with you in your secret pouch around your neck or waist. (Nobody will ask for your passport during the trip once you are beyond Immigration & Customs or the border crossing.) Your passport is safer locked in your suitcase in the hotel than in your purse slung over the back of a restaurant chair!
How do I get all my purchases home?
We recommend that everyone bring a zippered nylon duffel bag to transport textile purchases home. If you buy something fragile, such as ceramics, the merchant will often provide a cardboard box with padding for a carry-on container. I have had good luck with putting a large ceramic plate in the middle of my hard-sided suitcase, surrounded by tightly packed clothing.
If you don't want to carry a large object on the plane, most merchants will ship your purchases home for you. Note that this is usually quite expensive but items arrive in a week to a month, depending on the service you have paid for.
Health & Safety
What are your policies and procedures related to COVID issues?
All travelers joining a Behind the Scenes Adventures trip must show that they have had TWO vaccinations (or one J&J) against Covid19. We recommend that you also get two booster shots, as added protection.
Even with the vaccine, some countries still require a negative PCR test to travel, although this could change. We will send you the latest info in the weeks before departure.
Closer to the departure date (leaving the USA), we will notify you of the requirements regarding a PCR test for (heading home) from wherever we have been traveling. We will go as a group with the driver and tour leader to a convenient local clinic and all get tested at once. OR a team of nurses will come to our hotel and test us there and have the results ready in 6-8 hours, sent as an email to the tour leader/guide or to each person's email individually. Don't worry about this part, as by early June 2022, it has become very easy and convenient!
We want to also protect local populations where we travel, so we will be careful about wearing masks wherever it is suggested, or where it seems prudent.
For some trips, we will ask that you sign a Waiver, stating that you understand the risks of travel during a pandemic.
What happens if someone on the tour gets sick?
This is where your Travel Insurance comes into play. If a Behind the Scenes Adventures traveler should get sick on tour, we will use our contacts and knowledge of the language and area to assist you. You may have the possibility of recuperating in the hotel, as in COVID isolation, until you test negative. Be sure your travel insurance policy includes hotel charges for Covid isolation.
If you need medical attention beyond recuperation at the hotel, we will make recommendations for health facilities and help check you in, and help you understand the suggested treatment by the medical staff. We and our local partners can not cover any additional expenses and are in no way liable; see the Release Waiver that is part of the tour application process.
Please bring proof of your health care policy and your travel insurance. We will be happy to pass along documentation to your medical insurance. There is no service charge for our assistance.
What precautions do you take to keep tours as safe as possible?
We make every possible effort to keep Behind the Scenes Adventures travelers safe and happy! The guides and drivers of all our trips have been double-vaccinated and often had booster shots also. The van is cleaned inside and out daily, and there is always hand sanitizer available. We work with known and trusted travel companies in the destination countries. You will be met upon arrival at the airport and will be escorted back to the airport when you depart. We stay in secure and atmospheric hotels whose owners we have known for dozens of years.
During the trips, we make a point of using trustworthy and known van and taxi drivers and bus companies. With all our contacts over 25 years of taking groups to exotic destinations, we have many friends who drive the rented mini-vans and other transportation.
Our trip leaders are all experienced and savvy travelers; we also give safety rules and pointers along the way to prevent petty thefts and pickpocketing, problems that actually aren't common at all in the countries where we travel.
Registration
How do I register for a trip?
Once you have gotten in touch to confirm availability for the trip you're interested in, you will need to reserve your spot by paying your trip deposit and completing the Trip Registration form, signing the Trip Contract & Liability Release.
You can register online with our convenient registration form and deposit payment or via mail by printing and sending in your completed forms and deposit. One reservation form is required for each traveler.
When will the full payment be required?
The final payment is due 75 days before departure. Anyone joining the trip after the 75th-day payment deadline date needs to pay the full trip payment at signup.
What forms of payment do you accept?
Personal checks, credit/debit cards, and cashier's checks are all good.
You may pay your deposit and final payment easily with a debit/credit card, or cashier's check. You may also send a personal check to Behind the Scenes Adventures at the address at the bottom of the Trip Contract and Release Form or your Invoice. All invoices are sent through our secure invoice system and online payments are safely and securely handled by our payment processor Stripe.