This trip takes you Behind the Scenes with a small group of friendly people to share an authentic experience of Moroccan hospitality.
The itinerary is special because although we visit justifiably popular sites like Marrakech and Fes, we'll also spend time in authentic Berber or Amazigh villages in the remote Atlas Mountain regions. We'll meet Berber women making rugs, learn to prepare typical dishes with a local family, admire the date palm plantations and buy the sweetest dates from the farmers.
Charming and comfortable hotels called riads, or kasbahs in the desert, will be our home bases. As we travel, we'll explore the historic walled ksars, watch craftsmen at work, and poke around in the traditional little souks for treasures to take home. Moroccan food is divine, in case you aren't familiar with it. In two cooking classes, we'll create delicious meals that include salads, crusty bread and tajine, a typical, succulent stew. Everywhere we go, our guide (a bit of a foodie himself!) will show us the best places to eat, the hidden corners to visit and the most interesting people to meet.
TRIP HIGHLIGHTS
8 UNESCO World Heritage Sites including the bustling Medina of Fes!
Shop for jewelry, spices and crafts in the souks of exotic Marrakech
Learn how tile mosaics are made for floors and walls
Visit the fabulous Hassan II Mosque, at seaside Casablanca
Explore the archaeological site of Volubilis with its Roman floor mosaics
An Overview of Your Journey
Casablanca to Essaouira and Marrakech
We'll start this marvelous adventure by flying in to legendary Casablanca. The next day we'll visit the fabulous Hassan II Mosque, at seaside Casablanca. The mosque has exquisite mosaics inside and out, and the enormous construction is stunning. We'll have a specialized guide for our mosque visit and she'll explain the mosque's amazing statistics and its special features.
Essaouira to Marrakech
Next, we'll hop in our Sprinter and drive south along the coast to El Jadida, an old Portuguese fortress town. The most exciting feature is the underground cistern with its striking mirror reflections between the water and the columns.
Later we'll arrive at the artists' town of Essaouira. We'll stroll over from the hotel to the Damgaard Gallery where you might find a very affordable piece of local art! My favorite painting in my home is by the young Youness Touil of Essaouira – and I bought it at this gallery. Our pretty riad is close to many restaurants and little cafes; this is one place where you have a dinner "on your own." After two relaxing nights here, we'll head for fabled and friendly Marrakesh.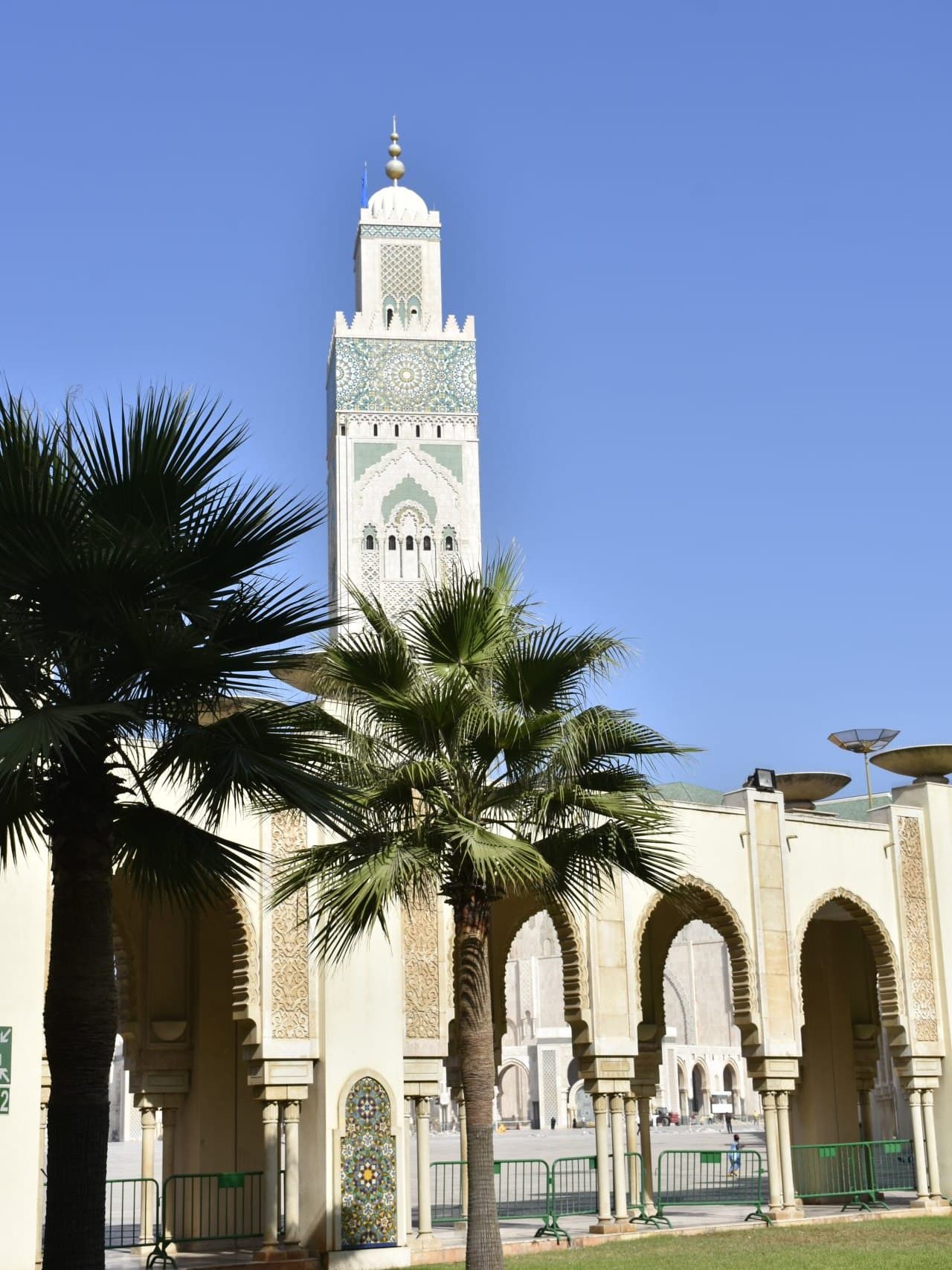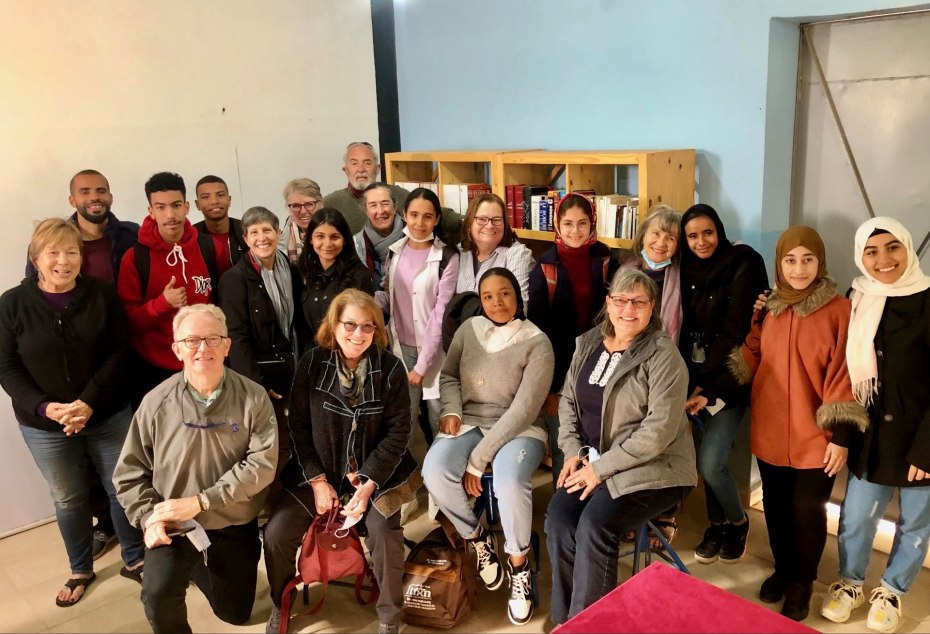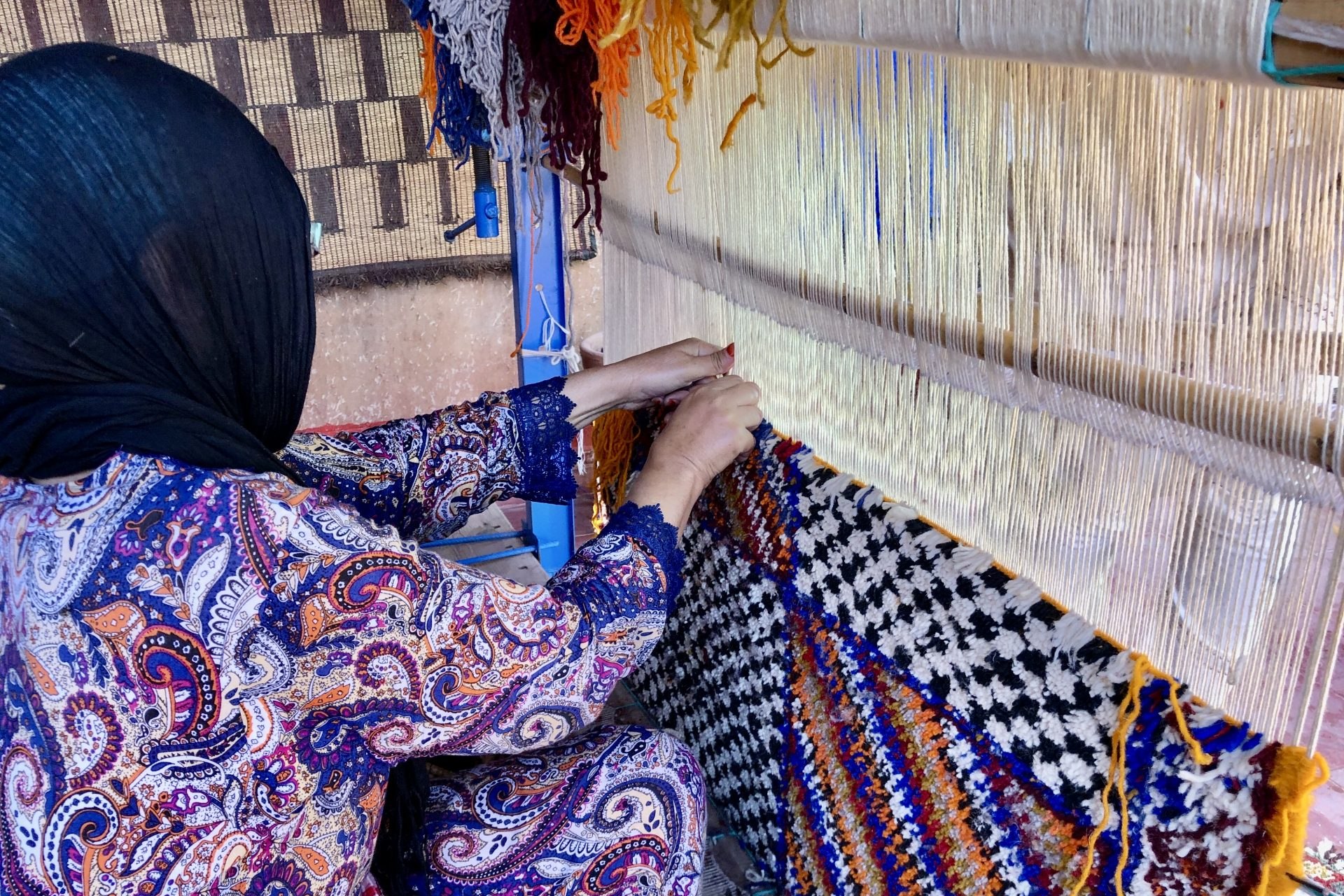 Legendary Marrakech and the Atlas Mountains
Even today Marrakech manages to feel exotic and other-worldly, especially in the old fortified city area, called the medina. The Marrakech medina is a densely packed, walled medieval city. Little market shops offer a treasure of traditional textiles, baskets, felted slippers, pottery and jewelry. Here we can meet master artisans at work, and wander the narrow, cobblestone streets of the market.
One morning in Marrakech we will have a professional cooking class, then eat our delicious creations for lunch! We will also see the stunning Majorelle Gardens begun by French painter Jacques Majorelle, and the excellent museums of authentic Berber jewelry, clothing and textiles. Lunch that day will be in the pretty garden patio of the Yves Saint Laurent Museum.
We can stroll through the bustling open-air square called Place Djemaa el Fna and enjoy the ambiance. After a few days, we drive over the Atlas Mountains to Ouarzazate. One day we'll drive south to visit a women's coop group of traditional rug makers. We'll have a natural dye workshop to tint skeins of soft wool yarn with natural materials. We can also watch them make the beautiful rugs sold in the coop.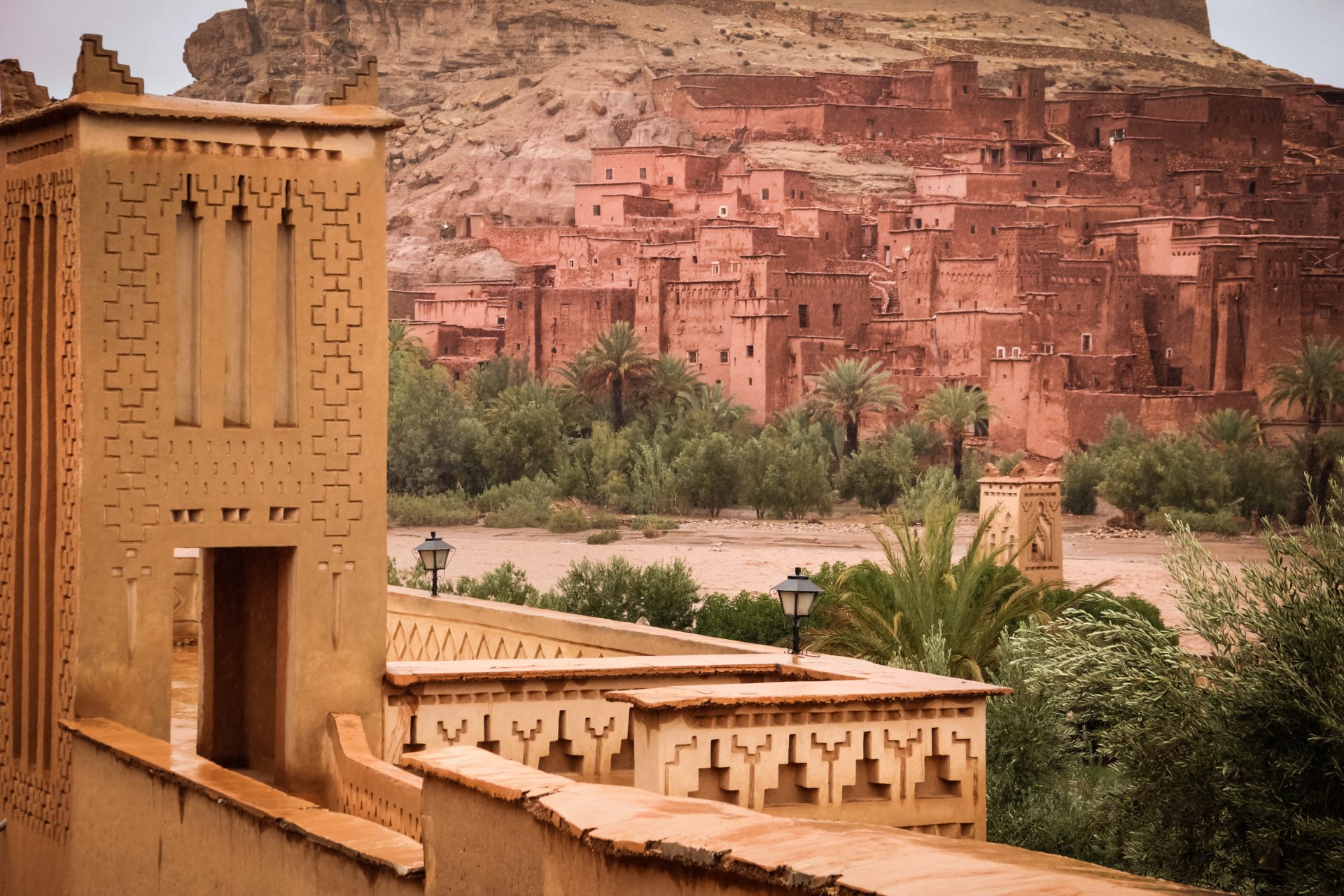 Ait Ben'Haddou and
Morocco Library Project
Along the way, we'll see the mystical ksar or fortified city at Ait Ben'Haddou, a spectacular complex of earthen buildings surrounded by high walls. In Ouarzazate we can go through the quirky Museum of the Cinema. Dozens of 'swords and sandals' films such as Cleopatra and Lawrence of Arabia have been made in this desert landscape. We'll also drive through the spectacular Todra Gorges, carved by the forces of two rivers, the Todra and the Dades. Several days relaxing in this beautiful rural area around Skoura and Klaa M'Gouna will give us a good experience of Berber culture. A Berber cooking class and yummy lunch with a local family will contrast with our upscale Marrakech cuisine experience.
We've partnered with a California-based library project working in Morocco. We'll visit a Berber community's high school library and donate books in English that we have brought from home. Wish List to follow! Then we head inland to Midelt, land of fossils, geodes, and minerals. Here we'll meet a group of women in a textile cooperative and see their creations. Next day we'll head to the Swiss-influenced town of Ifrane, and on to our cozy riad in Fes.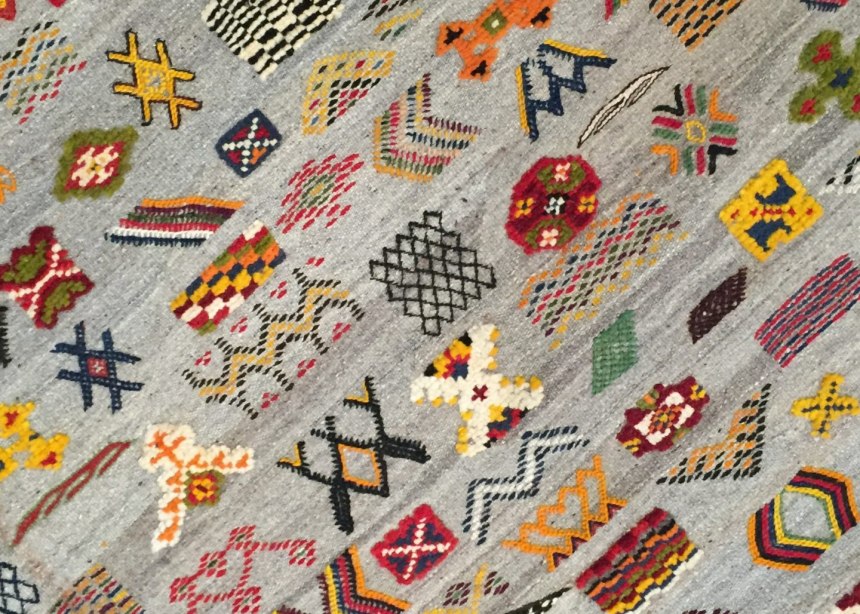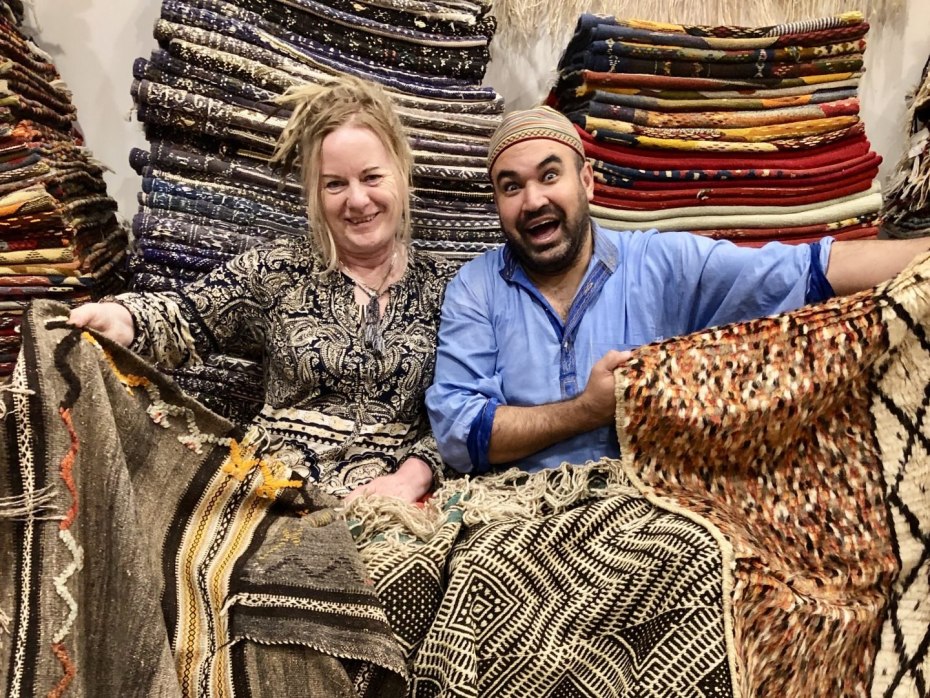 The fabulous Fes Medina
The delightful city of Fes is primarily known for its ancient sprawling medina or walled city, the best-preserved in the Arab world, and another UNESCO World Heritage site.
Major monuments that we will visit in Fes date to the 13th and 14th centuries. The world's oldest university, University of Al Quaraouiyine is here too. We'll spend several days in Fes, sleeping in a charming riad with zellij mosaic tiles, in the old medina.
Ali will explain the mosques, madrasas and souks with their highly decorated mosaic walls. This medina is much calmer than the one in Marrakech. Craftsmen still work and sell their products here, and like others, this medina is divided into areas by trade—the leather crafters, ceramicists and so forth. Wander in the medina to find traditional arts of Morocco: carpets, leather slippers, brass lanterns, or antique silver jewelry.
In the medina, we'll visit a friend who has a small shop with stacks and stacks of beautiful carpets. He and I will explain the various techniques and patterns with different examples, from different areas of the country.
Ceramics of Fes and Roman Volubilis
We'll tour a large ceramics factory in Fes where craftspeople still hand-paint plates and vases. Other workers there paint tiles and fire them, then cut the intricate glazed tile pieces for zellij – complex mosaics composed of tiny geometric shapes – used to decorate walls, fountains and floors of mosques, madrasas and villas.
Volubilis, ancient Roman city
The next day, we'll head east to walk around the hills of Volubilis, another UNESCO site. Ancient buildings have amazing and intricate floor mosaics. We'll have lunch nearby in town then continue on to Rabat for the night. Next morning we'll visit the royal stables and other monuments before leaving town.
Finally, we drive a couple of hours back to Casablanca to our hotel; the rest of the day is free to pack up suitcases and/or explore the city. September 23 is our last included night of hotel. At the Farewell Dinner, we'll take leave of old friends and new and then get a good night's sleep for our flights tomorrow.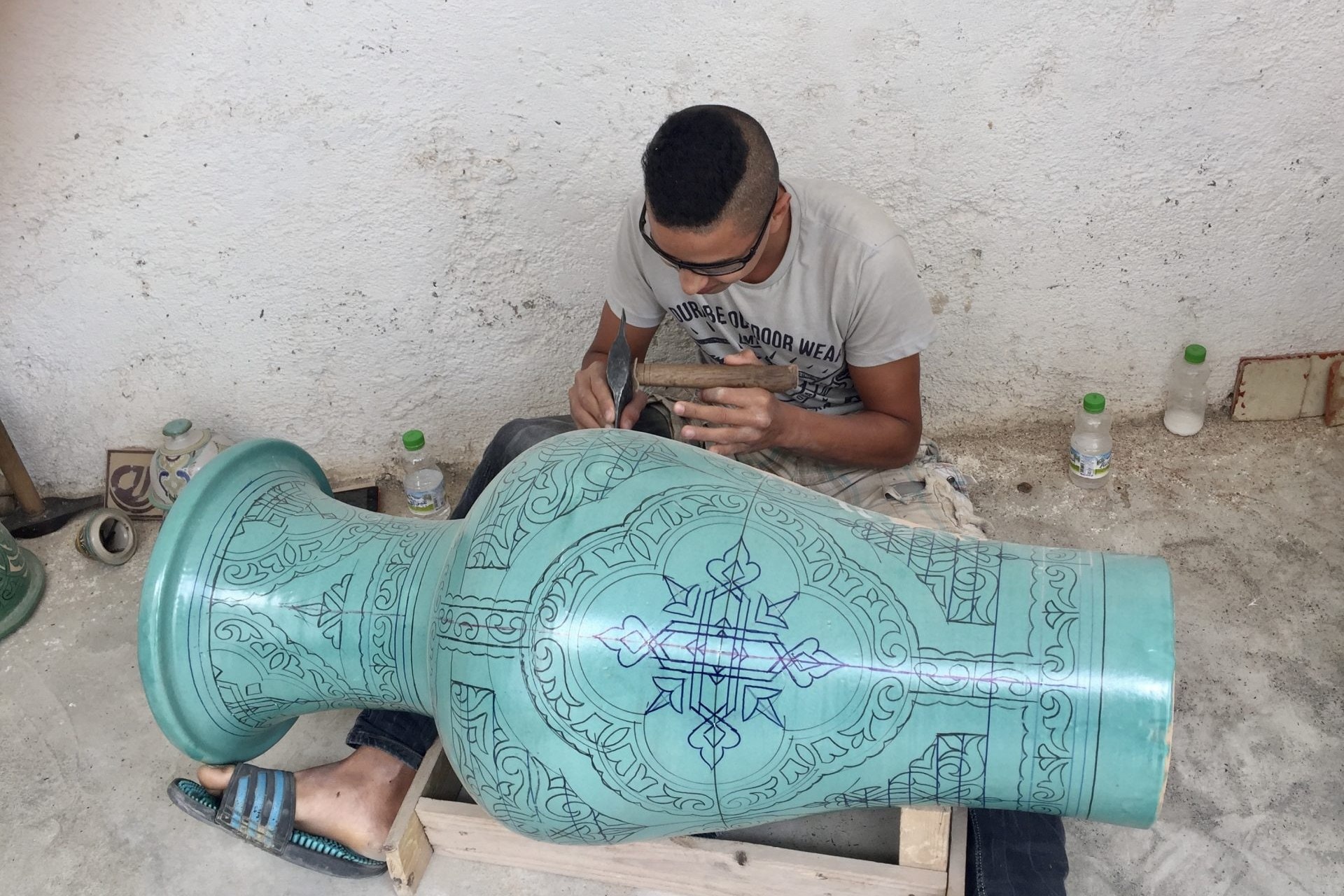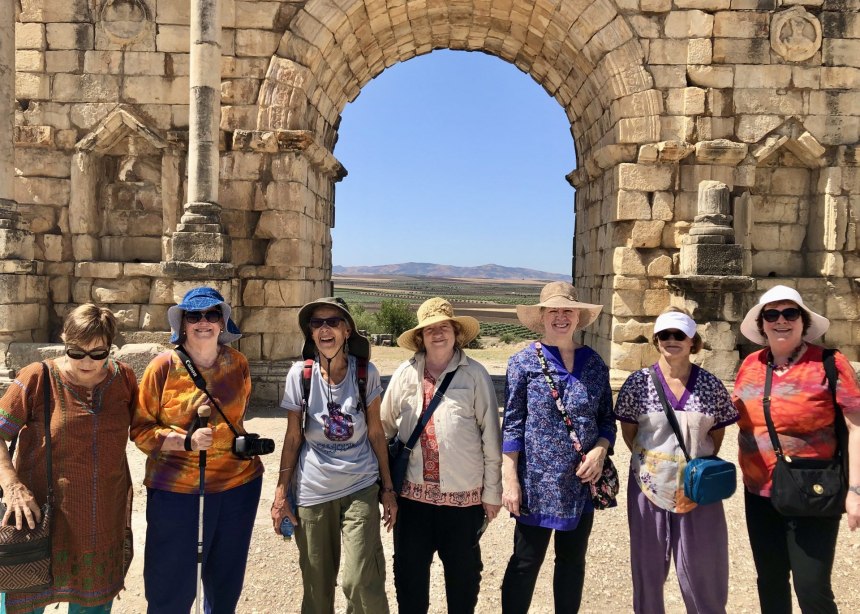 Where You Will Be Staying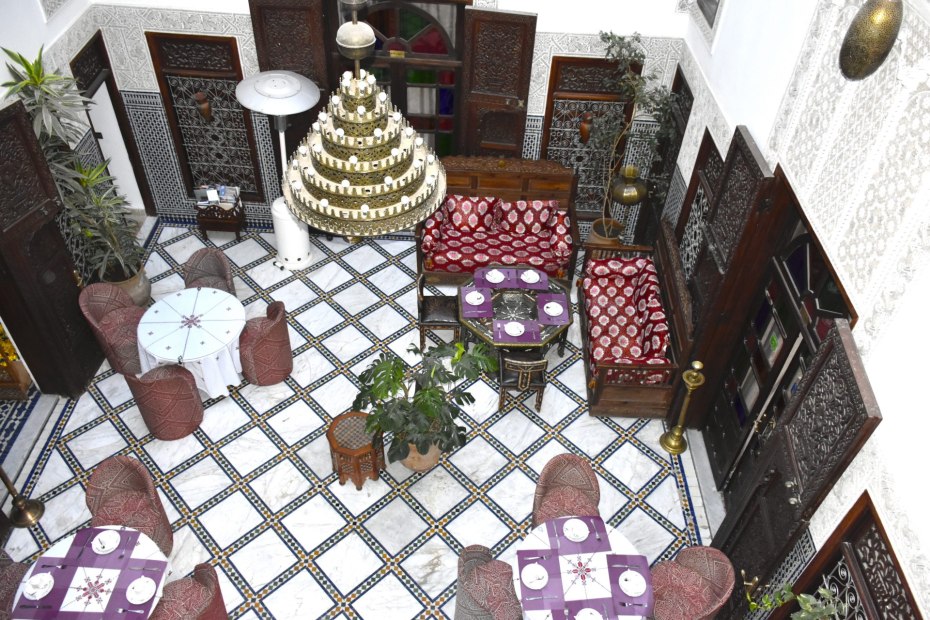 Fes Riad Hotel
Exquisitely renovated villa just two blocks from one of the Medina gates. Rooms are large and lush with typical zellij mosaics and traditional furniture. Delicious breakfasts and dinner are served in the central patio. One evening we'll have a buffet-style picnic on the rooftop terrace. From here, the view of the Medina and the evening call to prayer are especially amazing.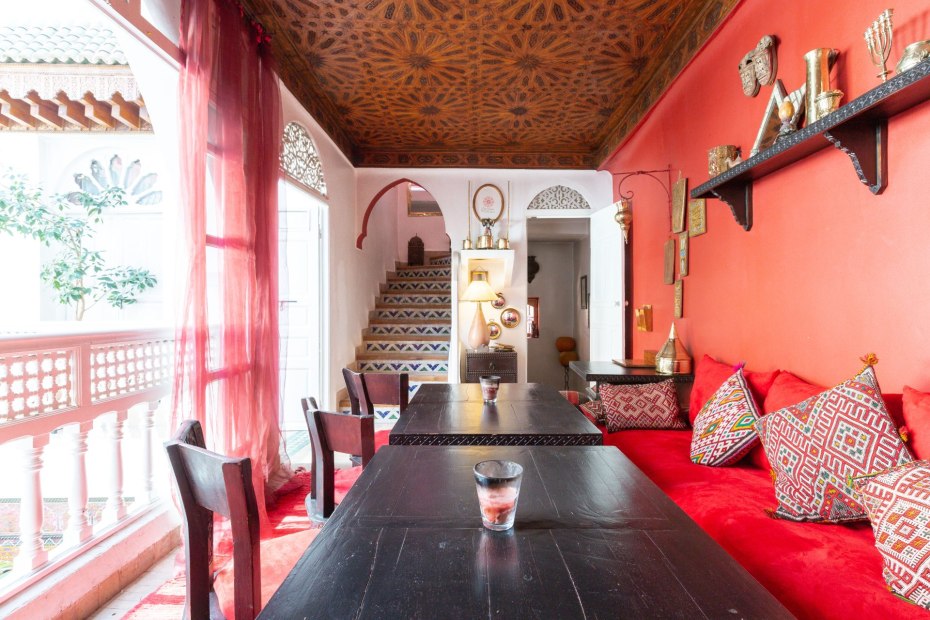 Riad Terrasse des Oliviers
A short walk into the Medina is this charming little Swiss-Moroccan-owned riad where you'll feel at home since we will be the only guests in the cozy place. We'll eat breakfast and a sumptuous couscous dinner on the upstairs terrace. Traditionally decorated rooms surround a central courtyard with a dipping pool. Olive trees enhance the relaxing patio downstairs.
Additional Details & Experiences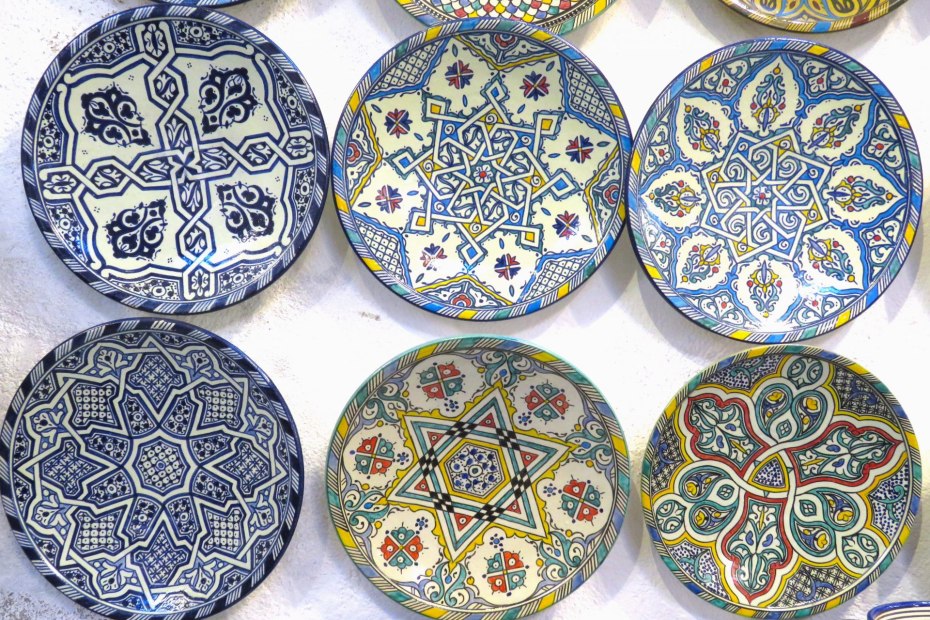 What Is There to Buy in Morocco?
There are wonderful things to bargain for and take home from Morocco. We will visit numerous artisans and can purchase arts and crafts directly from many of them. We'll see pretty handwoven pillows and rugs in many places, but felted slippers, leather handmade slippers, ceramic plates, and unusual button-decorated caftans are also good buys. Having the memory of the woman who made your rug, or the young man who painted your beautiful cobalt blue plate makes those items so much more meaningful and precious.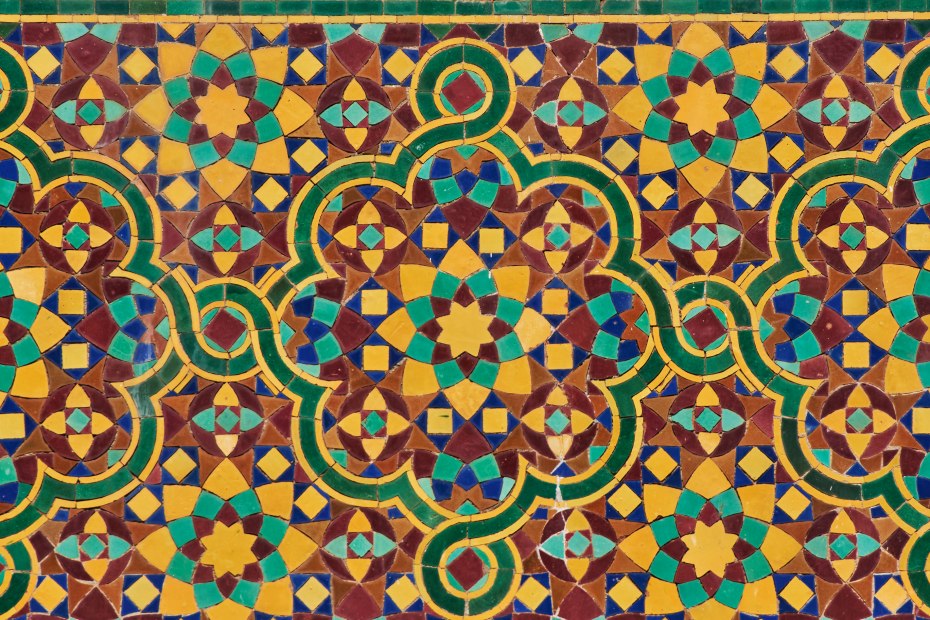 Zellij – Moroccan Mosaics
You'll see intricate and colorful mosaics on walls and floors all over Morocco. We'll visit a mosaic workshop, usually part of a ceramics factory, to see the mosaics or zellij being made. Cut from hand-made ceramic tiles and set upside down on a paper pattern, the little pieces are carefully fitted together. Then a slurry of cement is poured on top, soothed over neatly, and turned upright when dried. Once you see how these intricate mosaics are constructed, you'll start seeing them everywhere and appreciating them for their skill and craftsmanship.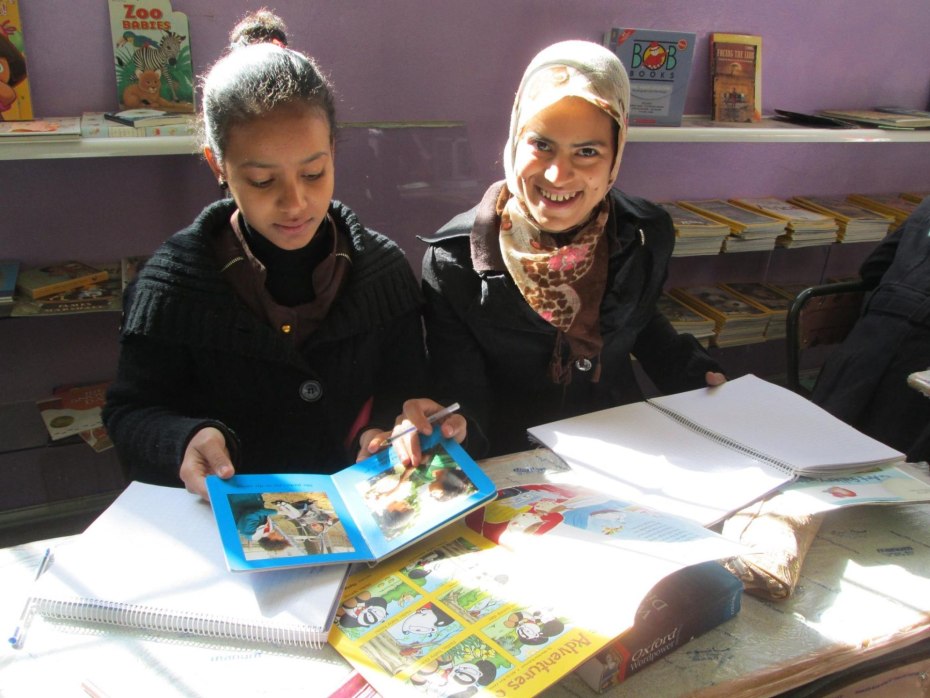 Bring Books to Donate
We hope you'll bring some books for teens to contribute to this Olive Seed library project. Olive Seed has a list of most-read, favorite books that we will send to you for suggestions if you like. Gently used books from the thrift store or from your bookshelves are fine too! See the FAQ for full details. Our plan is to donate books in English to a couple of school libraries in rural areas. According to our itinerary, Barb will plan a visit for us to a school library that needs books. Students start learning English in high school and become avid readers when they have gripping stories to read.
Morocco is over the top amazing – the sights, sounds, tastes, smells, and COLORS are so intense! The Textiles and Tajines Tour is a marvelous blend of yes, textiles and tajines, but also culture, history, and architecture, with camels and goats thrown in for good measure! The trip was a wonderful well-planned experience.

Sharon B.

– Minnesota
Your Trip Leaders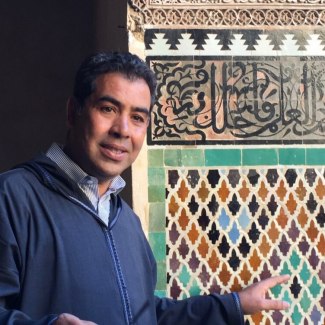 Ali
Ali is the Behind the Scenes Morocco guide par excellence! Ali will not only relate the history of Morocco, but amuse you with his take on all aspects of his culture, from the King to marriage customs, culinary traditions, etiquette, and more. On every trip, Ali discovers more textile techniques and artisans' workshops, and encourages the working masters to give demos for the Behind the Scenes Adventures groups. Ali speaks French, Arabic and English, due to his decades of guide experience. He knows where to find the best djellabas and carpets, the sweetest dates and the crispest b'stilla.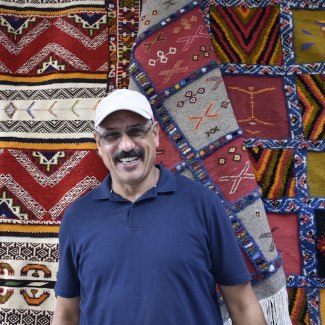 Abdel
Abdel is the best driver! While skillfully navigating the Sprinter in Casablanca traffic, calmly dodging rude drivers, and agreeing to umpteen bathroom stops, Abdel never stops smiling. Nothing is ever too much trouble for him. He happily joins the group to help out whenever he can. He has even ridden camels in the desert with us, definitely not in his job description!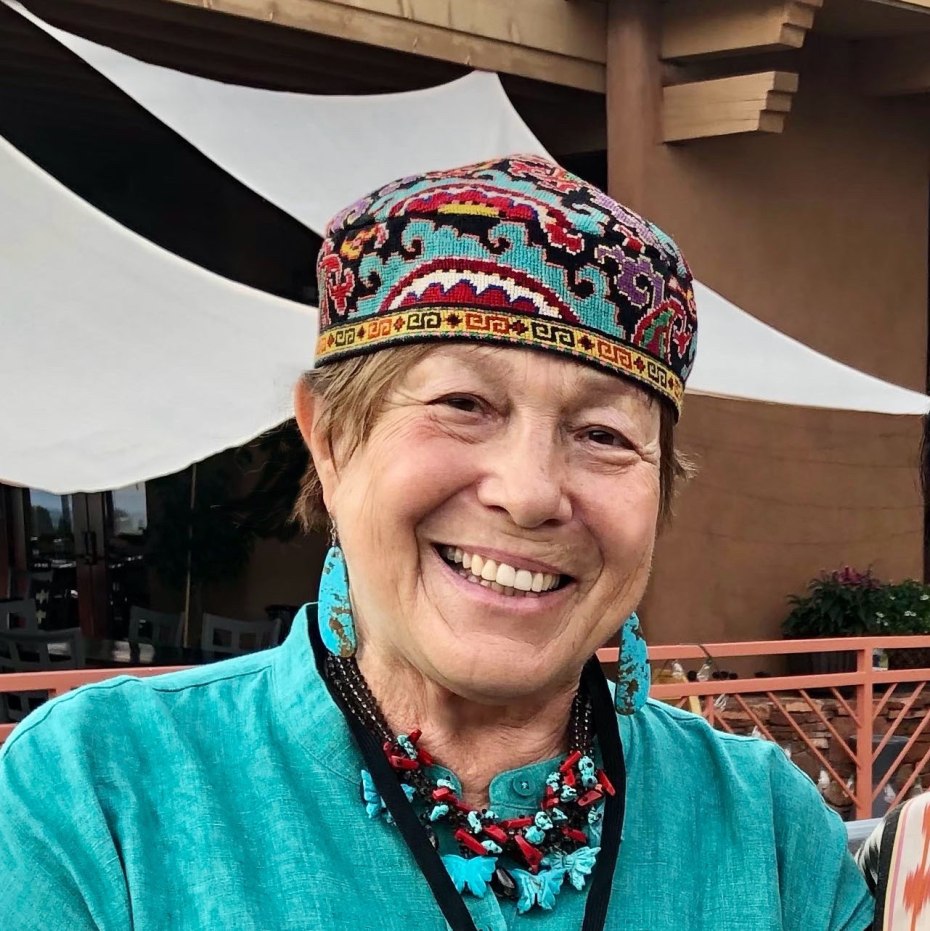 Cynthia LeCount Samaké
Cynthia began "Behind the Scenes Adventures" to share with others the traditional textiles and festivals of far-flung countries. Since 1998 she has led small groups of textile fanatics and friends all over the world. Desiring some new locations and new types of textiles, she has branched out and found wonderful connections and many other destinations for the tours.
Check Trip Availability
Trip signups are accepted on a first-come, first serve basis. Please provide your details below and we'll be in touch to confirm whether spaces are still available for this trip. If you need to get in contact, we are available during office hours 10:00 am – 5:00 pm MDT, Monday through Friday.
Registration Information
Dates: September 7 – 23, 2023
Fly Home: September 24, 2023
Deposit: $500
Tour Cost: $6,595 for 17 Nights
Single Supplement: $995
For more information:
Phone: 707-939-8874
E-mail: info@btsadventures.com
Read: Frequently Asked Questions
Travel Plans
The United States no longer requires a negative COIVD test for returning home from abroad. But immigration officials in Morocco or other destinations might want to see your vaccination cards. Since this trip is so far in the future, we will keep you informed about the status of COVID regulations.
We'll send you some suggestions for convenient flights and airlines, plus the latest COVID info as it becomes available. You can search for a plane ticket on Orbitz.com or Expedia.com or you can contact Behind the Scenes Adventures travel agent Nancy Smart or your favorite travel agent for a ticket.
Visas
Visa Information for Morocco:
A tourist visa is not required for stays of less than 90 days for citizens of most countries, such as USA, UK, Australia, Canada, etc. Check for more current info on the Morocco Embassy website, closer to departure time.
When we arrive at the Casablanca CMN airport, the Immigration officials will stamp our passports with an entry date.
Passport Validity:
Your passport must have at least six months of validity at time of entry. You need one blank passport page for the Morocco entry stamp.
What's Included
17 nights hotel accommodations (September 7-23), (double occupancy), in charmingly decorated riads (small private villas with central courtyards), and very good modern hotel in Casablanca)
All meals and non-alcoholic beverages–except 2 lunches and 2 dinners on your own
All ground transportation by private Sprinter van with excellent, professional driver
Bottled water in the van for road trips
Transportation to/from airport on official arrival and departure dates
English – and French/Arabic-speaking easy-going and professional guide to accompany the tour
French – and English-speaking textile expert Cynthia Samaké also accompanies the itinerary
A cooking class in Marrakesh to learn gourmet cuisine for your lunch
Entrance to all historical sights, museums, etc., on the itinerary
Beautiful custom photo book, created and sent once you get home, with group pictures, sites and recipes from our classes
What's Not Included
Personal items
Visits to sites or activities not on the itinerary
Between-meal snacks and bottled water when not in the van. (It's rare that anyone needs extra food; our meals are typically very generous.)
Early arrival/late departure (on a different date) airport transport is extra ($55 for 1-5 people and $75 for 6-10 people)
Frequently Asked Questions
General Questions
What information will I receive after registering?
Once you sign up for a trip, we will e-mail a general itinerary, lists of Suggested Reading, what to take, cultural considerations, weather charts, etc.
How can I get a detailed itinerary for a tour?
A day-to-day itinerary will be sent once you sign up for a trip. If you need specific information about the flow of the trip and the pace of the specific activities, before committing to the trip, get in touch with your questions and we will be happy to fill you in.
What sort of clothing should I bring?
When you sign up for a tour, you'll receive detailed lists of what to bring to your destination, as well as weather info, to more easily coordinate your wardrobe with the heat or cold.
We will also include suggestions for appropriate clothing for dressing in conservative countries. Basically, you'll need modest clothes that cover your shoulders and legs. Being well-dressed will show the locals that we respect them and their society.
Are laundry services available?
Most hotels have a laundry service and prefer that you don't wash clothes in the bathroom sinks. If there is no laundry service, and you don't want to wash your jeans and wait a day or two for them to dry, asking at the hotel desk is a good place to start.
Please note that it is considered demeaning to wash someone else's underpants, so we ask that you wash your own underpants. Hang them to dry discreetly in the bathroom.
What is the COVID situation?
In the past few months, Moroccan officials have decided that all you need to enter the country is a Vaccination Certificate – or Proof of having recovered from Covid in the past. Be sure to copy your Vaccination card onto a piece of paper and keep it separately from your passport. Keep the original card in your pouch with your passport. You can also copy or photograph your card with your phone, but don't count on phone proof. You could lose the phone or you might not have a way to charge it before arriving at Customs and Immigration where they will ask for proof of at least TWO vaccinations.
At this point (end February 2022) we still need a negative COVID test to return to the USA one calendar day before we depart Casablanca at the end of the trip. The guide and driver will deliver us to the testing lab and make sure we have the results in time. More about this later.
What are the COVID requirements for returning to the US?
All airline passengers to the United States ages two years and older, regardless of vaccination status or citizenship, must provide a negative COVID-19 viral test taken within one calendar day of travel.  Alternatively, travelers to the United States may provide documentation from a licensed health care provider of having recovered from COVID-19 in the 90 days preceding travel. Proof of your recovery from COVID equals showing your Positive test results and a doctor's attestation that you have recovered and are able to travel.
Do I need any vaccinations or immunizations?
This varies with each country. Make an appointment with your travel doctor and take your tours itinerary with you. Some areas of certain countries require malaria pills and others do not; same with Yellow Fever and others such as Cholera and Typhoid. He or she will have all the latest requirements at hand. A rural visit to a farm may require extra precautions, for example. We will send you the links to the CDC.gov information pages for your specific destination so that you can ask questions.
You should be current on all your typical childhood and international travel shots such as Polio and Tetanus. Some countries now demand proof of vaccination against COVID. Behind the Scenes Adventures requires you to have two COVID vaccinations. We recommend you have a booster as well.
How much physical activity is involved during the trip?
Each trip has different activity levels that will be fully explained in the specific tour material. But no activities or events are mandatory, and you are always welcome to sit at the bottom of the stairs to a temple or wait in the van while others ascend or visit a particular place. Walking sticks are fine to bring if they help you. We cannot accept wheelchairs or walkers.
For most tours, you'll need to be able to walk the distance of 4-5 city blocks on your own, with sturdy shoes. Please note that sidewalks in many countries are full of big holes and broken cement chunks, with bits of re-bar sticking out, and you must constantly be alert to these dangers. In urban areas where distances are greater, the group will take taxis and/or get help from local assistants. If you need a personal taxi or additional special aid, that will be at your expense.
What will the weather be like?
Our Morocco trips are planned for temperate weather with little or no rain, in the spring months of March to June, and fall (September-November). During these seasons, the weather is warm but pleasant, unlike the freezing cold of winter. The summer temperatures of July and August are far too hot, especially in the desert areas. During our trips, average daytime temperatures are usually in the 60s and to high 70s, and nights can be cooler, in the 50s, bring layers! The coastal regions like Essaouira can be visited year-round. Temperatures are much harder to predict, but we will send Weather Charts with your pre-departure info. 
Meals & Accommodations
What sort of hotels will we be staying in?
Our places to stay in Morocco are all charming and trusted, tried-and-true lodgings, generally small riads (private villas) owned by locals. We know the staff and have stayed in these favorite places for many years. They are all comfortable and homey; some have only 6-8 rooms so we have the whole riad to ourselves, just like a private home. These small riads don't have elevators but staff will take your luggage upstairs for you. In Casablanca, where there is no reasonable riad-like choice, we stay in a centrally-located, modern hotel with an elevator, and a good restaurant.
What sort of food will we be eating?
Moroccan cooking abounds with subtle spices and intriguing flavor combinations. Think tart green olives paired with preserved lemon rind in a tagine of tender chicken or the surprise of rich chicken pie dusted with cinnamon and powdered sugar (called b'stilla), soups, or many different chopped, vegetables – raw or cooked – made into delicious salads. Fresh bread is always plentiful too.
We will send out lists and information about traditional Moroccan cuisine. And we will have two cooking classes where you can choose to prepare exactly what you prefer to eat!
The guide will sometimes choose a variety of typical dishes to share around the table, so we can taste many different combinations and find our favorites. Then when possible, you can order what you like from the menu. The portions are huge, and we have never had anyone leave the restaurant table hungry! Some restaurants don't have menus but have a specialty that everyone receives. This is definitely the case when we have lunch with a family of weavers and we are served Family Style.
Will I be able to accommodate my dietary needs?
If you have any special dietary, health, or nutrition issues, restrictions, etc, there is no guarantee that Behind the Scenes Adventures will be able to accommodate your special diets in foreign countries. Please contact us before departure, and bring sufficient alternative foods. Travelers with severe peanut allergies cannot be accepted. Vegan diets are possible but with much less variety than at home. Vegetarian diets are often fairly easy to accommodate, but also with less variety than what is available at home.
Flights & Travel
Will I need a visa for connecting countries?
It is very rare to need a visa for a connection if you stay in the Transit area. This will be regulated by the connecting country and the airline will send information as to this requirement.
What are the requirements for my passport to be valid?
Your passport needs to have one blank page for your visa, although, with an E-Visa, you will have just a piece of paper to show, and don't need room for anything except Immigration stamps in your passport.
Your passport must remain valid (not expired) for 6 months after you enter each country.
Will I be met at the airport?
Yes! Cynthia, an assistant or a driver will meet you with a sign with your name and/or Behind the Scenes Adventures. They will have your flight schedule and know you will need time to pick up your luggage. Wait for them in the terminal, right outside the Arrivals area, and don't go with any other drivers that don't have your name on a placard.
What is the best airline to fly to the country?
We'll send you some suggestions for airlines as it becomes available. You can search for a plane ticket on Orbitz.com or Expedia.com or you can contact Behind The Scenes Adventures travel agent Nancy Smart or your favorite travel agent for a ticket.
What will we use for transportation?
We use a new Mercedes Sprinter for most interior transportation. It is high-topped and spacious, and our luggage is stored in the back, or on top if we amass extra bags along the way. (This is another reason we must start with a luggage limit; see list of What to Take for luggage limits.)