Come and enjoy the best of all three countries, the most interesting textiles, festivals, architecture, and archeology, including three UNESCO World Heritage sites.
Some serious bucket list destinations are included on this 19-night tour, such as the ancient Khmer complex of Angkor Wat, and the royal city of Luang Prabang with its golden temples!
Besides festivals and temples, in all three countries we'll see plenty of stunning handwoven textiles, most of them patterned with the complex ikat or mat-mi technique. We'll meet dyers and ikat weavers at work, and learn about their indigo dyeing methods on silk and cotton.
In northeast Thailand, at the little-known UNESCO archeological site of Ban Chiang we'll learn about the earliest culture and striking ceramics being excavated here.
We'll attend the Wax Candle Festival or Khao Phansa in Ubon Ratchathani. This exciting event showcases some of the country's best artistry with the hand-carved wax Buddha figures. Festively decorated flatbed trucks carry montage scenes of the life-sized figures, like parade floats, in procession through the streets of Ubon Ratchathani. Floats are interspersed with groups of dancers and musicians.
TRIP HIGHLIGHTS
See the UNESCO site of Angkor Wat in Cambodia and the golden Buddhist temples of Luang Prabang, Laos
Watch weavers in all three countries make fabulous hand-woven silk and cotton ikat textiles
Attend the traditional Wax Candle festival or Khao Phansa, in little-visited NE Thailand
Learn to make natural dyes at the Ock Pop Tok textile center in Laos
See intricately painted masks and costumes of the Phi Ta Khon festival.
What's Included in The Trip?
An Overview of Your Journey
First Stop: Bangkok
We first fly into Bangkok and spend the night to rest a bit. Next morning we fly together to the ancient royal capital, Luang Prabang, now designated a UNESCO World Heritage site. We'll check into a comfortable hotel right next to the tranquil Mekong River. Next day, with a local licensed guide, we'll walk around the charming and laid-back town to explore the golden wats or Buddhist temple complexes. We will visit the most important wats and learn about the Lao version of Buddhist practices. You'll also be able to explore this relaxed, safe and friendly town on your own. Time to soak up the tranquil, tropical ambiance!
We will spend spend one afternoon at the textile center of Ock Pop Tok where we'll collect wood chips and extract seeds from prickly achiote pods to learn about making natural dyes. We'll be able to watch talented silk weavers and have a gourmet lunch at the Ock Pop Tok restaurant by the Mekong River. Laotian food is divine! At dinner, you might want to try Amok, a traditional dish of fish in coconut milk steamed in banana leaves, or delicious crispy-fried river moss.
We'll take a morning to visit the excellent new textile museum and good shop offering handmade crafts. And although it is getting rather commercialized, there are still some interesting things to be found in the nearby Night Market. Along with the magnificently decorated golden temples, a significant part of the old town's appeal is the many French provincial style houses, the riverside location, and the tropical ambiance. Luang Prabang is a delightful place to relax for our introduction into Lao culture.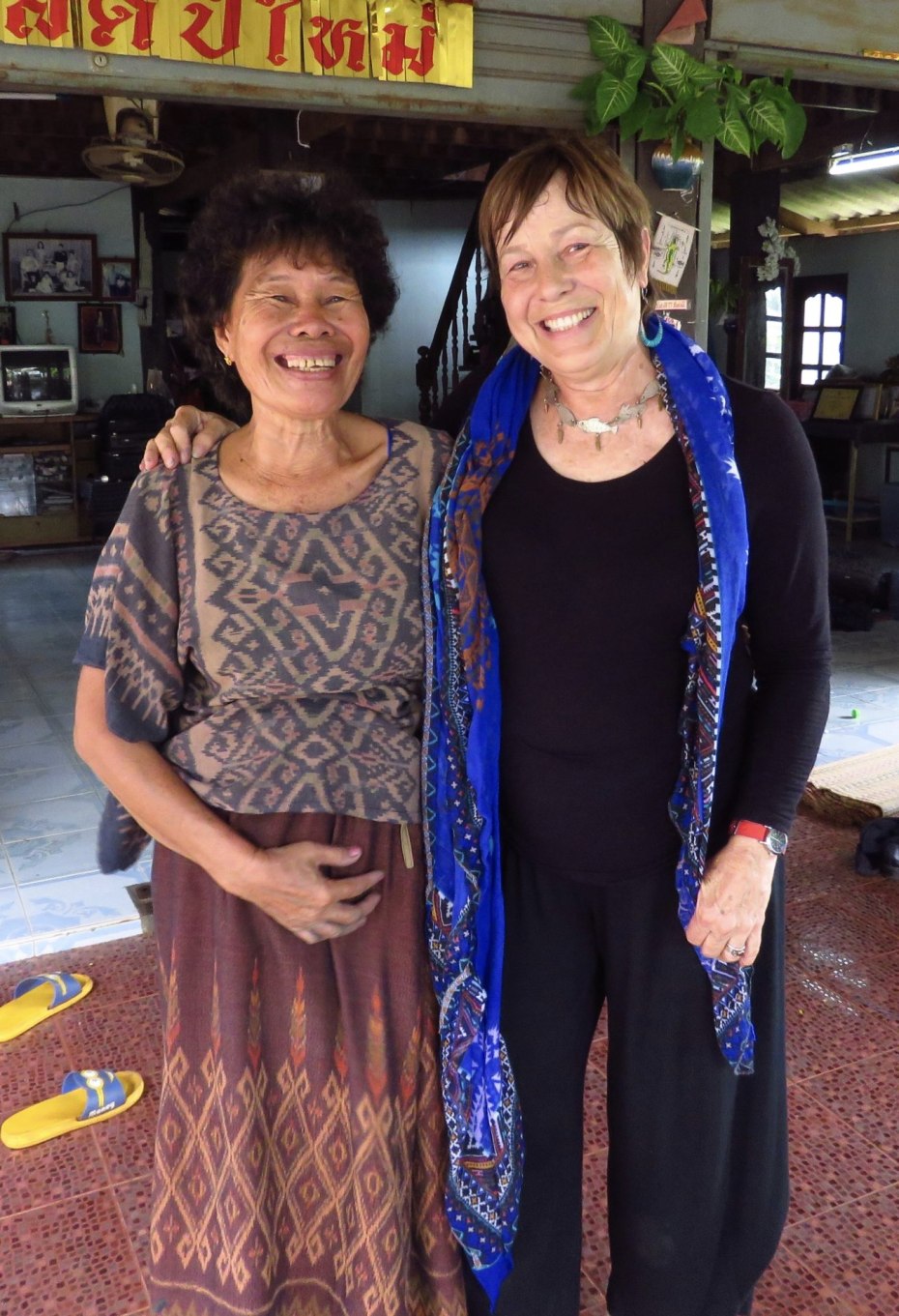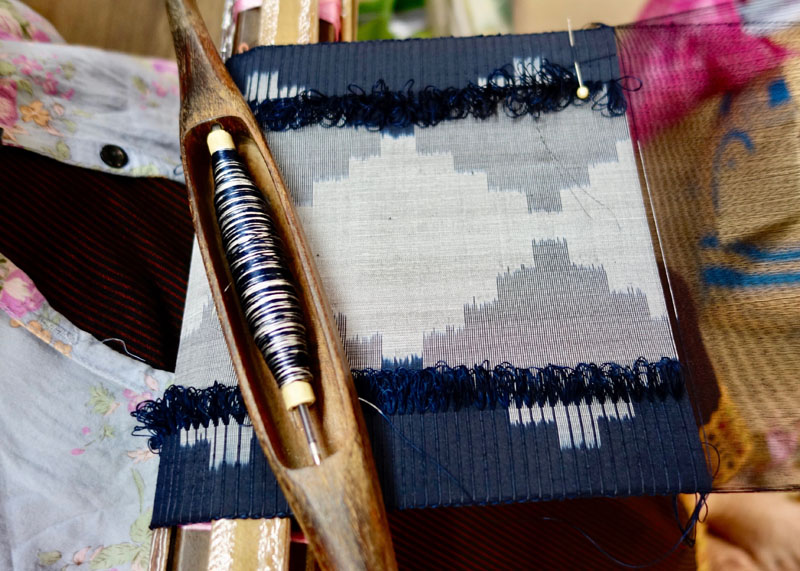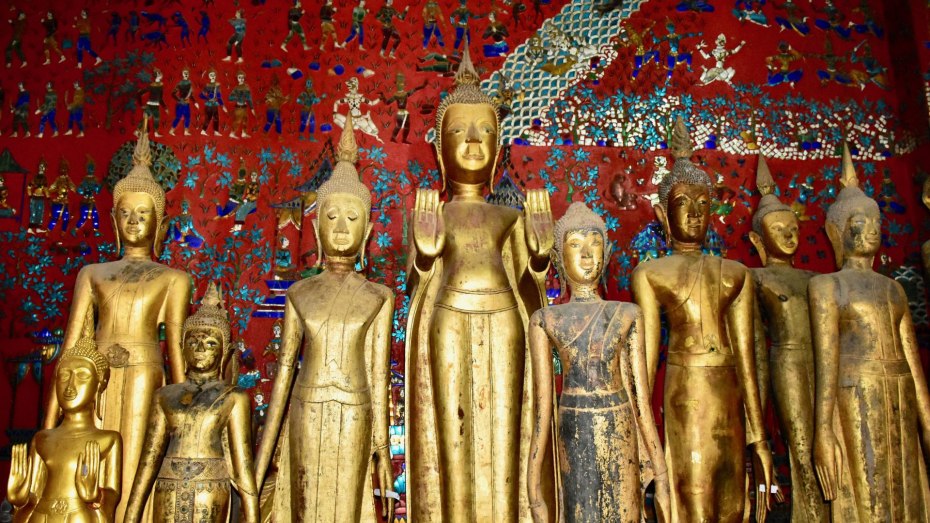 Vientiane and into Thailand
After relaxing in Luang Prabang, we fly south to the pleasant riverside capital, the city of Vientiane. I love to visit the enormous Salat Tao, the Morning Market for locals, with many stalls of exquisite examples of silk weaving. A Laotian textile collector friend will take us to meet the weavers in a nearby weaving village. We'll also tour the innovative silk weaving studio called Lao Textiles, started by American fabric designer Carol Cassidy who helped revive Lao silk weaving. Vientiane also has fabulous wats (Buddhist temple complexes) such as the ancient wooden Wat Si Saket, with its 10,000 brass and wooden Buddha figures.
Leaving Laos, we'll drive across the Friendship Bridge, at the Mekong River and get our passports stamped on arrival at the Thai border. Then we drive through lovely countryside to the village that hosts the Phi Ta Khon festival. It takes place at another time, dates to be determined by the Spirit Medium, but we will visit the Phi Ta Khon Museum at the largest temple in the village. There we can learn about the history of the event and see examples of the hand-painted masks such as the one at left.

Our hotel here is especially beautiful, with its water buffalo theme (and real creatures too!), excellent restaurant, and large infinity pool. (Be sure to bring a bathing suit.)
Ikat Fabric and
Ban Chiang ancient site
Indigo dyeing villages are our next destination. There we'll visit some friends who dye cotton threads with natural indigo. These Master dyers of cotton ikat will show us their indigo pots and their tying and dyeing methods, as well as the actual weaving process. Some weavers have many pots of dye going at once, in different stages of fermentation and readiness. The weavers love to show off their skills and these visits are fascinating.
One day we'll head out of Udon Thani to the UNESCO archeological site at Ban Chiang, to learn about the fascinating culture being excavated here. Ban Chiang is considered the most important prehistoric settlement so far discovered in South-East Asia. Metalworking technology here has proven to be among the earliest discovered in Asia. Preliminary excavations began in 1967 but in 2003, Ban Chiang gained international attention when the United States Department of Justice prosecuted smugglers and museums for trafficking in Ban Chiang antiquities. [UNESCO]
The Ban Chiang Archaeological Site consists of many large, previously undisturbed earthen mounds. When archeologists began to excavate, they found the prehistoric habitation site of some of Southeast Asia's earliest farmers.The site is also the richest in Southeast Asia in the number and variety of artifacts recovered from the site, so we'll go through the excellent site museum, full of unique cream-colored ceramics with rust swirls and spirals, right.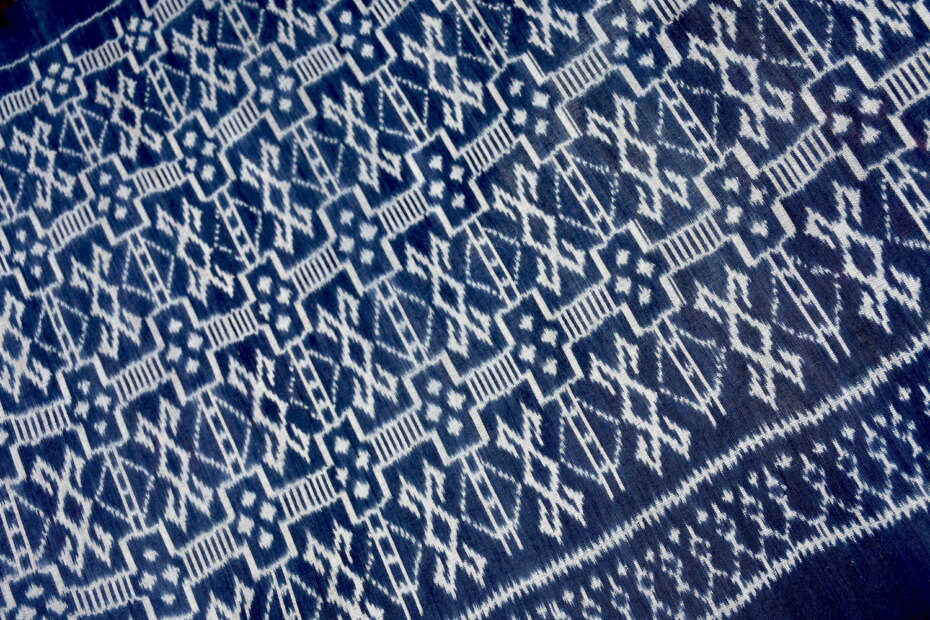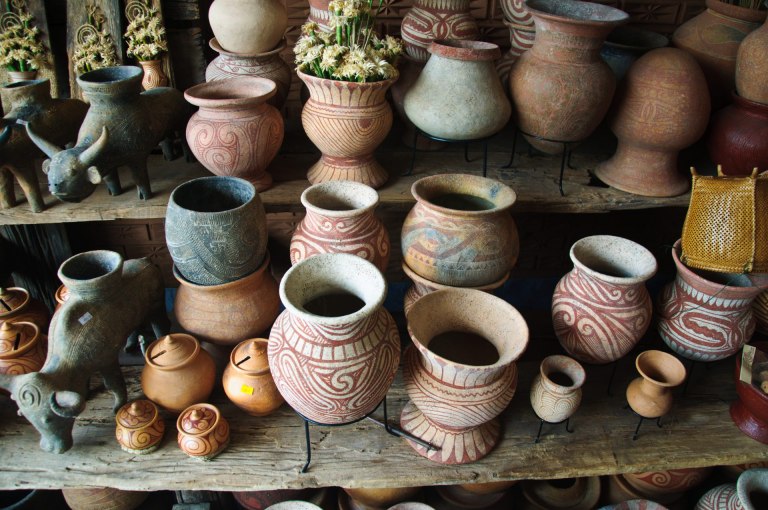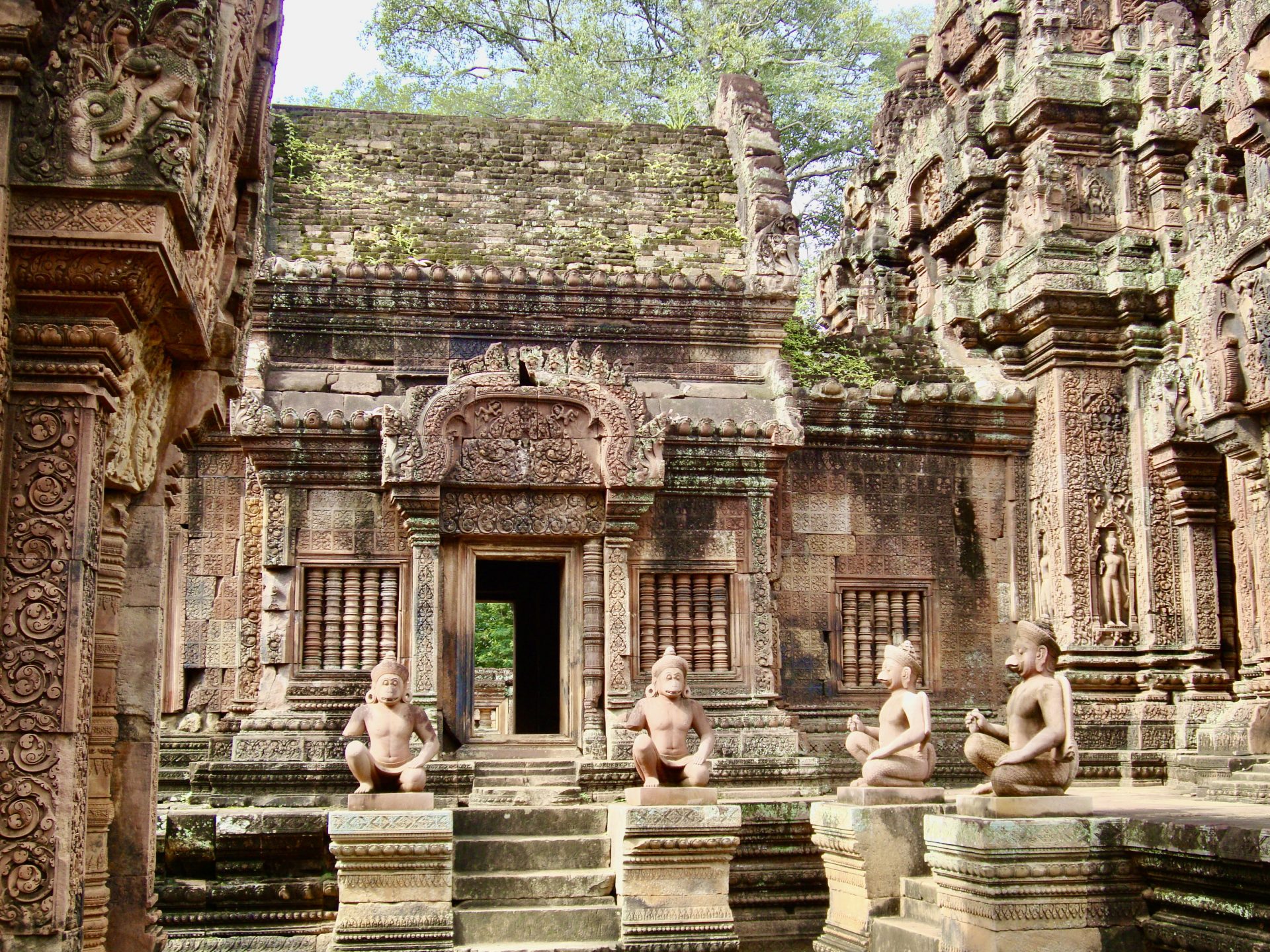 Angkor Wat Complex and Siem Reap Town
From Ubon, we'll head south into Cambodia, to Siem Reap, to see the fabulous carved stone temples of Angkor Wat. A UNESCO Heritage site, Angkor Wat and the surrounding temples form a world-class temple complex, with sophisticated wall carvings. We'll go from temple to temple in tuk-tuks, and a professional guide will explain some of the most stunning sites.
Angkor stretches over some 400 square kilometers, including the surrounding forested area. Angkor Archaeological Park contains the magnificent remains of the different capitals of the Khmer Empire, from the 9th to the 15th century. They include the famous Temple of Angkor Wat and, at Angkor Thom, the Bayon Temple with its countless sculptural decorations. UNESCO has set up a wide-ranging program to safeguard this symbolic site and its surroundings.
Siem Reap is a very pleasant town with great restaurants and shops with interesting arts and crafts. While visiting Angkor Wat temples and the surrounding sights, we'll stay five nights in a lovely hotel in Siem Reap. It boasts modern rooms and a refreshing pool.
Cooking Class and Cambodian Silk Weaving
One morning, we'll learn the subtleties of delicious Cambodian cuisine (similar to Thai) in an optional hands-on cooking class in a popular local restaurant. First we'll visit the produce market to learn about some of the more unusual ingredients. Then we each choose a few appealing menu items, and make our lunch. And in the market, you can buy some typical spices to make Cambodian dishes at home, or for your foodie friends.
Cambodia also has some of the most intricate silk ikat weaving anywhere in the world. We'll go into the countryside near Siem Reap to visit the premier silkworm breeding and silk reeling facility. Here we'll watch the weavers to see how different their ikat techniques are from the Thai and Lao silk 'mat-mi' or ikat artisans. Our last dinner will be followed by a performance of Phare, the renowned Cambodian youth circus – no animals – but great acrobatics by young people!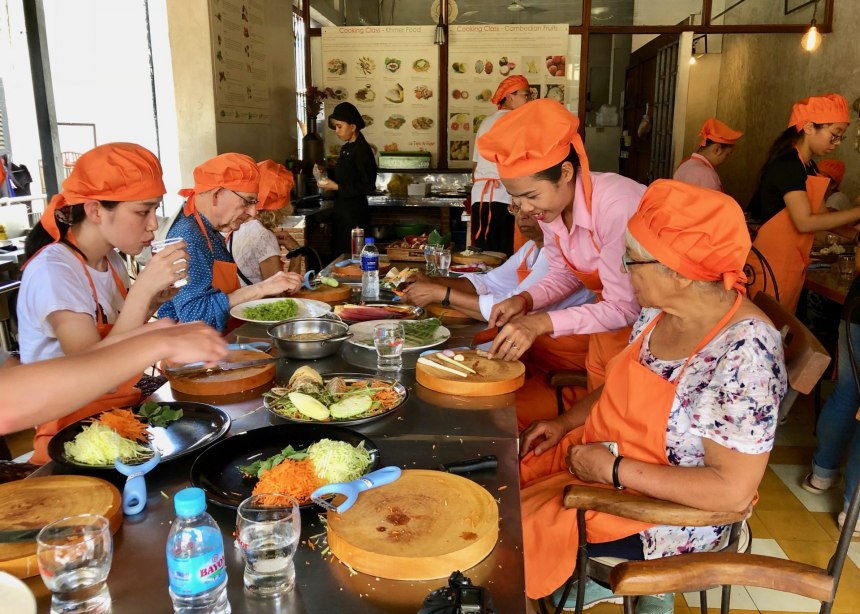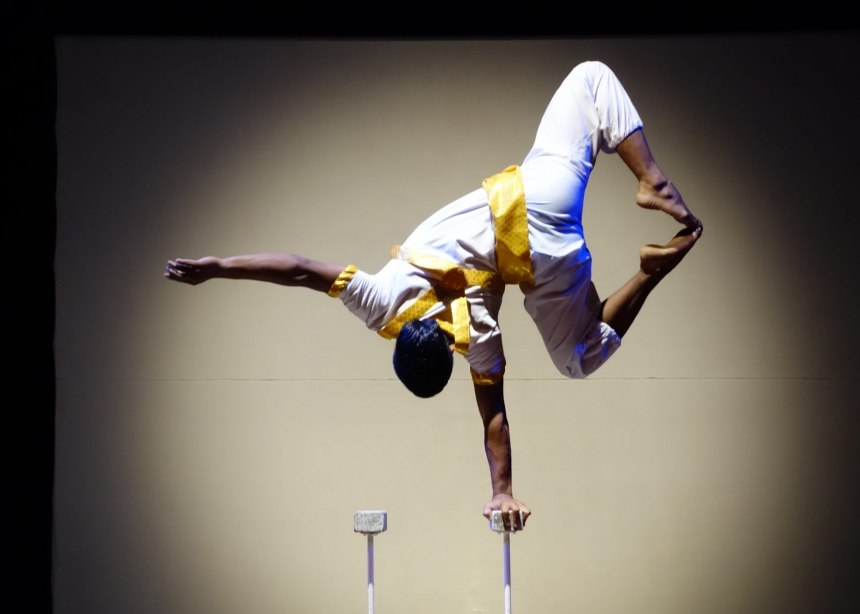 Where You Will Be Staying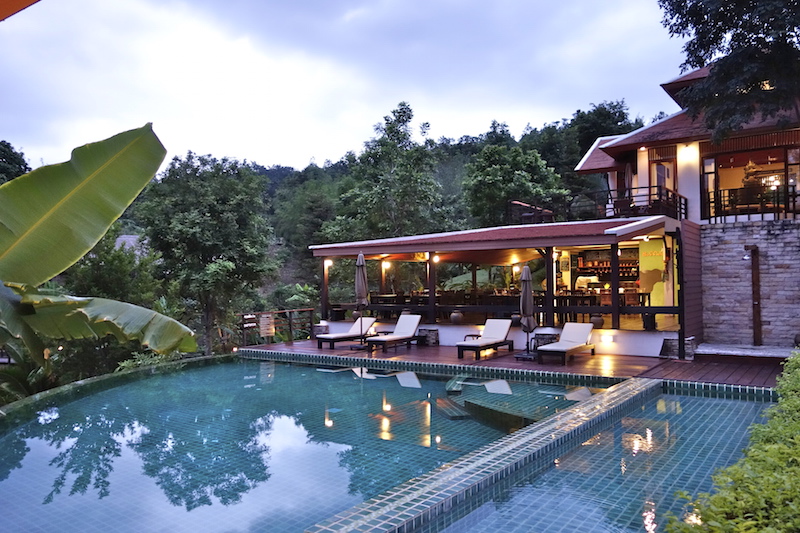 Dan Sai Hotel
Luxurious country resort with comfortable rooms, sparkling infinity pool, and great restaurant featuring organic food grown on site. Hotel has a water buffalo theme and several of the beasts roam the lower garden.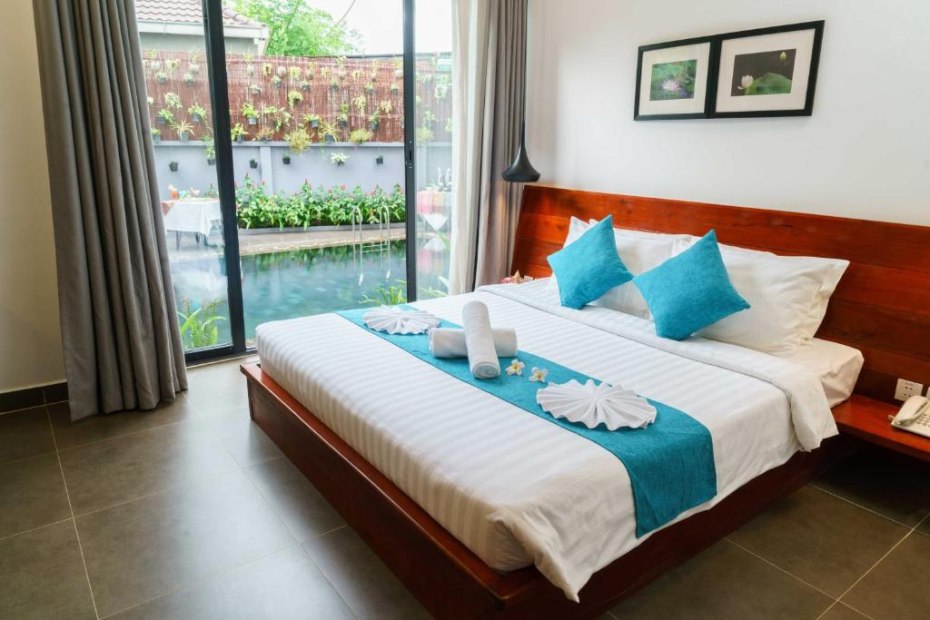 Siem Reap Hotel
Pretty hotel in a tropical setting, with airy rooms and pleasant pool. The hotel is within walking distance to the Night Market and many of Siem Reap's excellent restaurants.
Additional Details & Experiences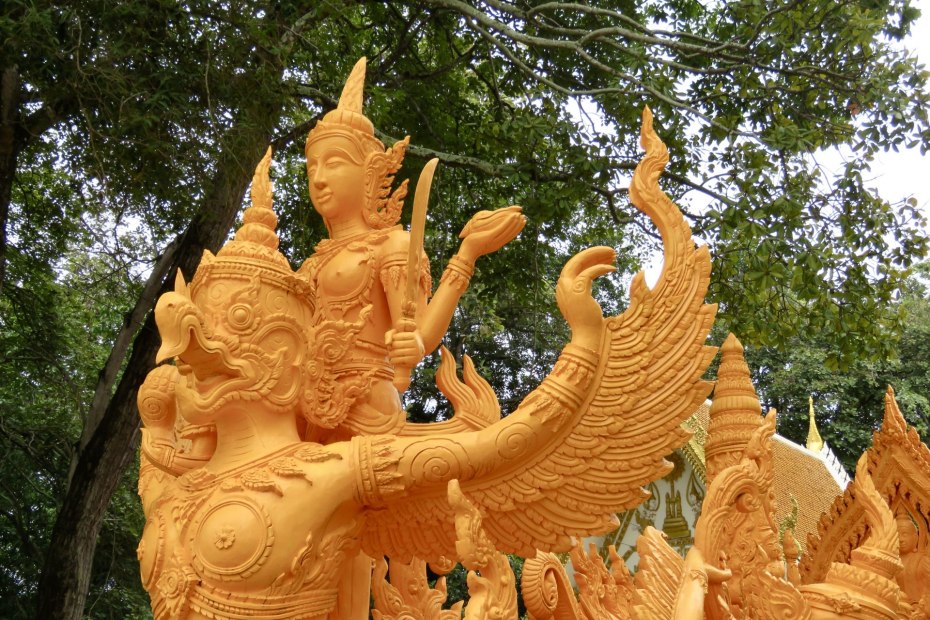 Wax Candle Festival
Every July, the riverside town of Ubon Ratchathani hosts the fabulous Wax Candle Festival. The Thais call it Khao Phansa, or the start of the Buddhist Rains Retreat. This is the time when monks stay in the monastery to study and meditate. Candles are offered to the monks to symbolize the times before electricity when they read by candle light. We'll visit friends who will show us the incredible wax floats they are finishing up for the event. Both monks and lay people spend hours working on the wax float decorations, achieving Buddhist merit by carefully trimming the wax shapes to embellish the sculptures.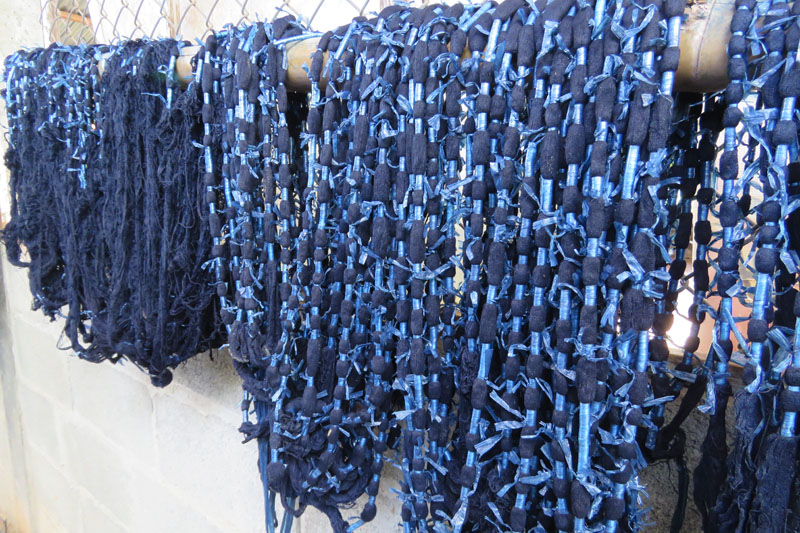 Indigo Ikat Dyeing and Weaving
Resist dyeing or ikat is known as mat-mi in Thailand and mud-mee in Laos and Cambodia. Weavers and dyers in all three of the countries that we'll visit create beautiful and labor-intensive handwoven cloth.We'll learn about how they ferment a natural indigo dye bath and add fruit such as star fruit to ferment thus keeping it 'alive' for years. We'll also see that what fixatives they employ with the natural leaf mixture. And in Thailand, artisans specialize in cotton ikat as well as silk, especially in the north-eastern area called Isaan. We'll see how some weavers use a plain warp and weave different weft patterns every few yards!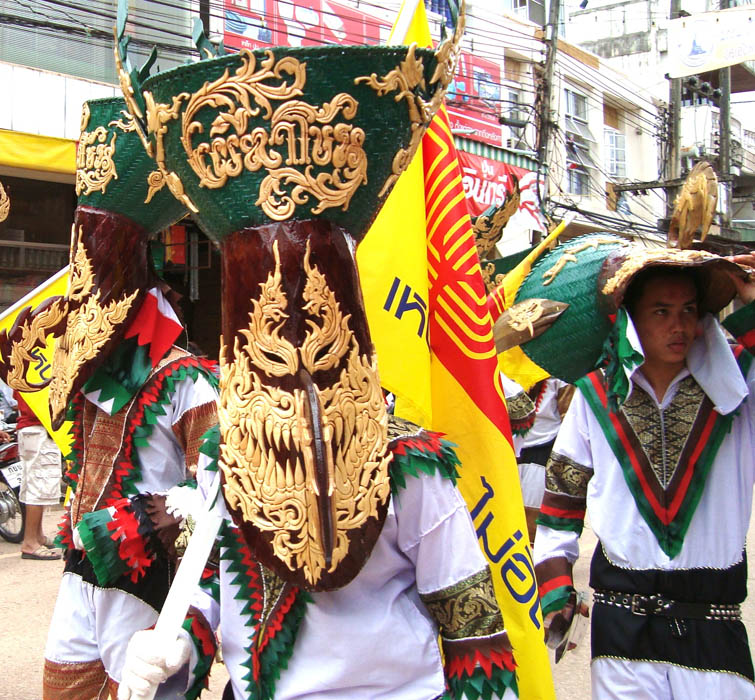 Phi Ta Khon Festival
Working within typical age-old and innovative new styles, the mask painters create stunning festival art for this animist/ Buddhist event. Phi Ta Khon relates to celebrations asking for rain and fertility for crops and people (thus plenty of phalluses as dance batons!). The name Phi Ta Khon means Ghosts Following People and we'll learn about the festival's significance. Masks are made from a coconut tree sheath with a sticky rice steaming basket stitched on top. This festival takes place earlier in July but we will see the masks and costumes, plus the museum that shows how the masks are made.
Photos From Previous Adventures in Thailand, Laos and Cambodia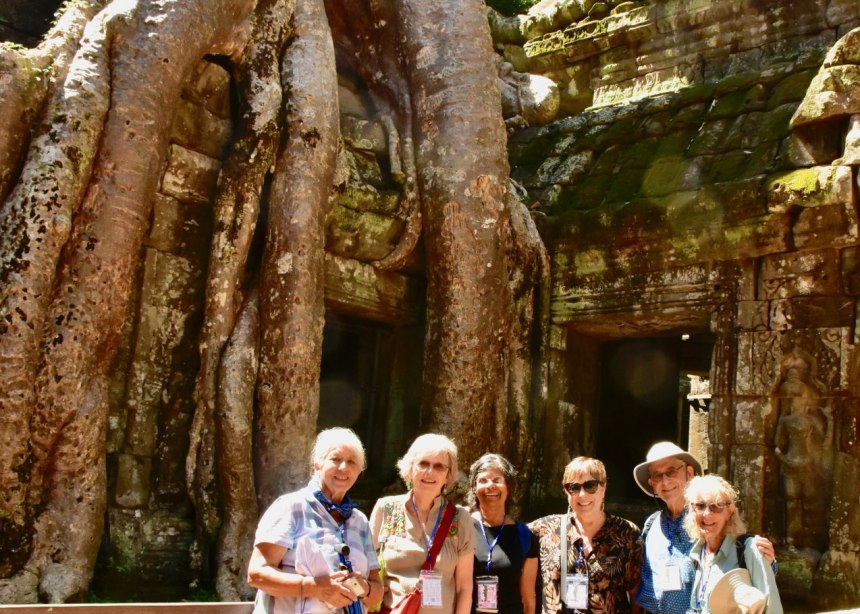 I have been to Thailand, India, Mali, Turkey, Cambodia, Laos and Bolivia with Cynthia. Every trip has been a wonderful adventure. She has personal contacts all over the world who add to each trip's story.She is very knowledgeable about all things textile. Each trip has always had great company and great food.

Kathy P

– Los Angeles, CA
Your Trip Leaders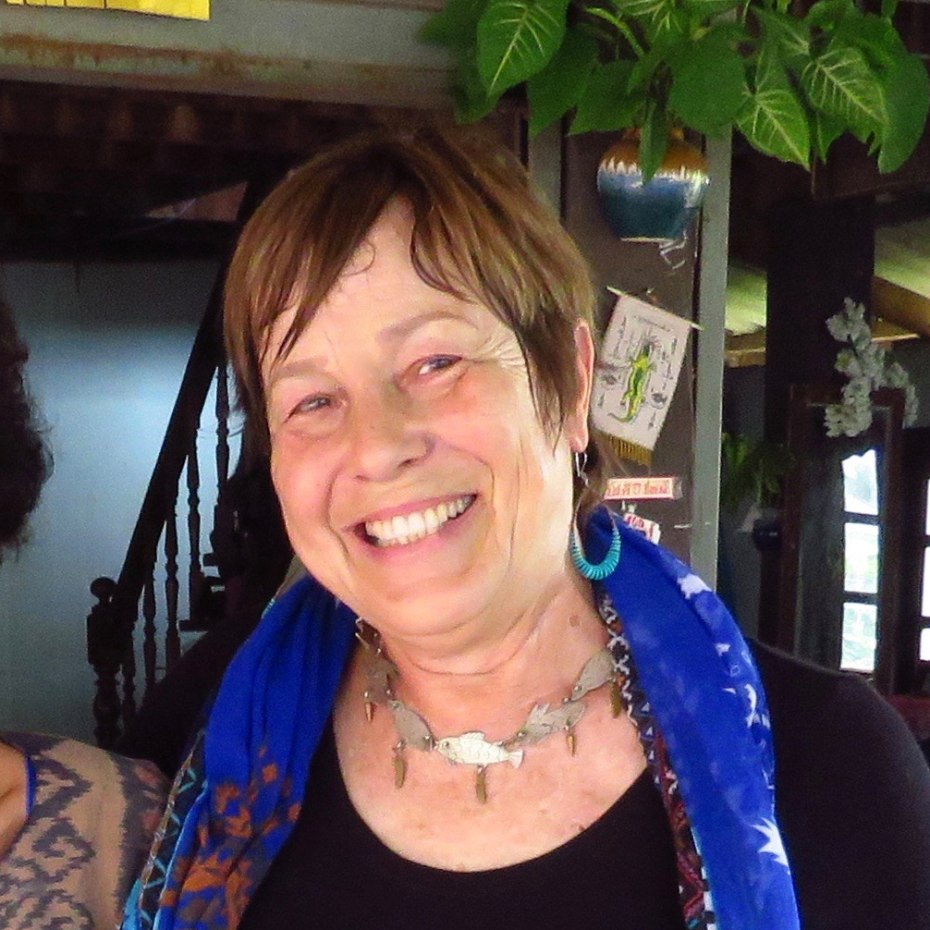 Cynthia LeCount Samaké
Cynthia began "Behind the Scenes Adventures" to share with others the traditional textiles and festivals of far-flung countries. Since 1998 she has led small groups of textile fanatics and friends all over the world. Desiring some new locations and new types of textiles, she has branched out and found wonderful connections and new destinations for her tours. Now the repertoire includes Uzbekistan and Kyrgyzstan, other places where artisans dye and weave stunning silk ikat designs.
Check Trip Availability
Trip signups are accepted on a first-come, first serve basis. Please provide your details below and we'll be in touch to confirm whether spaces are still available for this trip. If you need to get in contact, we are available during office hours 10:00 am – 5:00 pm MDT, Monday through Friday.
Registration Information
Dates: July 21 – August 8, 2023
Fly Home Date: August 9, 2023
Deposit: $500
Tour Cost: 19 Nights From $5,595
Single Supplement: $750
For more information:
Phone: 707-939-8874
E-mail: info@btsadventures.com
Read: Frequently Asked Questions
Travel Plans
More about flights later. We'll give suggested flights later. Cathay Pacific and Eva have the best deals sometimes.
Visas
Thailand doesn't require a Visa for travelers from most countries; check for yours. Both Laos and Cambodia issue easy visas upon arrival – whether at the airport or at the land border when we cross. These cost around $40 each and you will need to bring a total of 4 passport-size photos.
What's Not Included
International round-trip airfare to Bangkok
Driver tip (count on about $50 total per person)
Your visas upon arrival [Laos USD $35 and Cambodia USD $40] at the airport or at the border when we enter
Alcoholic beverages
Several meals are 'on your own' per the itinerary
What's Included
Tour begins July 21 with hotel near airport in Bangkok, then next day we fly to Luang Prabang on July 22. Tour ends in BKK on August 9 after breakfast and flight.
Included THREE group flights: R/T from BKK to Luang Prabang (LPQ) and south to Vientiane, Laos (VTE) and from Siem Reap, one-way to Bangkok at end.
Connect to home flights on August 9.
19 nights in comfortable A/C hotels – charming boutique hotels, or modern one in Bangkok
All meals except three lunches and two dinners on days when the group is scattered
All soft drinks and bottled water with meals.
We will have bottles of water in the van for day trips
All land travel by private van with professional driver
Three days of entrance tickets to Angkor Wat
Transportation in the Angkor Wat Park and licensed guide for 2 days. (Another day w/ guide is optional on your own; you'll have tickets to enter site for 3 days.)
Tips for Luang Prabang and Angkor guides
Entrances to temples, archaeological and museum sites on the itinerary
Cambodian cooking class at an excellent restaurant in Siem Reap; your choice of dishes to make
Phare Acrobatic show and dinner
Frequently Asked Questions
General Questions
What information will I receive after registering?
Once you sign up for a trip, we will e-mail a general itinerary, lists of Suggested Reading, what to take, cultural considerations, weather charts, etc.
How can I get a detailed itinerary for a tour?
A day-to-day itinerary will be sent once you sign up for a trip. If you need specific information about the flow of the trip and the pace of the specific activities, before committing to the trip, get in touch with your questions and we will be happy to fill you in.
What sort of clothing should I bring?
When you sign up for a tour, you'll receive detailed lists of what to bring to your destination, as well as weather info, to more easily coordinate your wardrobe with the heat or cold.
We will also include suggestions for appropriate clothing for dressing in conservative countries. Basically you'll need modest clothes that cover your shoulders and legs. Be comfortable, in light cool clothes you would wear to go out in the USA. Shorts and short pants are not appropriate for tourists, men nor women. Thai women wear dresses and skirts with blouses. Please keep your legs covered to below your knee.
Light cotton clothing, like long, loose pants and blouses with short sleeves, is perfect. Skirts at least knee-length are also comfortable with a nice T-shirt. Long dresses with short sleeves are also practical. Sleeveless tops are not considered in good taste for visiting temples and homes. Slip-off shoes will be easier to slide on and off when we visit a temple where we must be without shoes. We'll send out a more complete list of What to Take at a later date, including the luggage size limits.
Are laundry services available?
Most hotels have a laundry service and prefer that you don't wash clothes in the bathroom sinks. If there is no laundry service, and you don't want to wash your jeans and wait a day or two for them to dry, asking at the hotel desk is a good place to start.
Please note that it is considered demeaning to wash someone else's underpants, so we ask that you wash your own underpants. Hang them to dry discreetly in the bathroom.
What is the COVID situation?
Since the COVID situation in this part of the world is changing rapidly and daily, we'll keep you updated regularly until departure with the latest info. Thailand has done well with their vaccination campaign and the rate continues to improve. Masks are worn in all indoor venues such as museums, and Customs & Immigration still require proof of vaccination to enter the country.
Laos and Cambodia have similar parameters. In all three countries we will most often be outdoors or in hotels that have strict disinfection protocol. Everywhere places that deal with visitors/travelers are very conscious of COVID prevention procedures.
Do I need any vaccinations or immunizations?
This varies with each country. Make an appointment with your travel doctor and take your tours itinerary with you. Some areas of certain countries require malaria pills and others do not; same with Yellow Fever and others such as Cholera and Typhoid. He or she will have all the latest requirements at hand. A rural visit to a farm may require extra precautions, for example. We will send you the links to the CDC.gov information pages for your specific destination so that you can ask questions.
You should be current on all your typical childhood and international travel shots such as Polio and Tetanus. Some countries now demand proof of vaccination against COVID. Behind the Scenes Adventures requires you to have two COVID vaccinations. We recommend you have a booster as well.
How much physical activity is involved during the trip?
You should be able to stand and stroll around markets and museums for several hours at a time. Most indoor venues such as our hotels, restaurants and museums have air-conditioning. Most days will involve some walking around towns on paved streets, but the sidewalks are sometimes broken and rutted. We'll take our van or taxis for any long distances out to see the Buddhist temples and wats, or archeological sites.

The days involving the most exercise (at your own pace) will be at the Angkor Wat temple complex. These extensive and glorious ruins involve lots of walking, usually along hard dirt pathways. Closed toe shoes with good tread are important for climbing slippery stone stairs and walking in the jungle. There will always be the possibility of moving slowly in the heat and taking frequent breaks for cold water and iced teas. Bring a collapsible walking stick if you think you might need one.
What will the weather be like?
You will receive weather and temperature information with your pre-departure info. We will be traveling of necessity (for the festival) during the hot and humid June-August tropical rainy season, at least in Cambodia and Laos. Thailand is warm and humid with less rain during this season. Don't be too alarmed, the hotels and most restaurants are air-conditioned. There are distinct advantages to traveling during this "rainy" season: the monsoon rains cool the hot, humid air, and there are fewer tourists.
Across most of the country, the rain is fairly predictable, usually occurring in the afternoon or at night. And the afternoon rains usually last no more than a couple of hours making them fairly easy to plan around, especially if you are visiting the Angkor temples. In fact, the temples are at their aesthetic best during the wet season because the stones are dark and gleaming and the tropical foliage of the surrounding jungle is clean and shiny. Some people bring a little personal battery-operated fan which helps.
Meals & Accommodations
What sort of hotels will we be staying in?
Before we depart, we will send you a list of all hotels with contact information in case someone at home needs to contact you. They are all pretty, tropical, and comfortable, with air conditioning, and sometimes a small pool.
What sort of food will we be eating?
Starting with breakfast, the three countries have excellent choices of coffees and pastries. Siem Reap and Luang Prabang especially have numerous amazing coffee shops that are spotless and airy, and serve the best coffees, with crispy, fresh croisssants or other breakfast foods.
When you arrive, we'll give you a list of easy translations and common dishes to order for lunches and dinners. Food in all three countries that we will visit is superb, with lots of variety, and many unusual but delicious ingredients. On our trips, we are careful to patronize known, clean, and friendly local restaurants and cafes. Local cuisine specialties are integral to our travel experiences and are unique to the regions we're visiting, so we want you to be able to taste as many traditional and typical dishes and condiments as possible. Our driver, Chai, loves to eat and helps choose the best combinations.
Sticky rice or Khao Niaw is eaten everywhere in Thailand and Laos, usually with delicious stir-fried vegetable and coconut milk dishes. There are many cold or room-temp salads such as Laab, or minced meat/chicken seasoned with lime juice and chili, crispy rice salad, or Green Papaya Salad which you will find delicious if it's not too blazing-spicy. Steamed fish with coconut milk in banana leaves is superb, often served with noodles or sticky rice. Deep-fried tofu and grilled chicken (gai yang) are common items. Pad Thai and Pad See-Ew Gai are traditional and delicious (but common and simple) Thai dishes, consisting of rice noodles, vegetables, spices, and egg and/or chicken pieces. Sticky rice and fresh mango is one of the most common desserts too.
Will I be able to accommodate my dietary needs?
If you have any special dietary, health, or nutrition issues, restrictions, etc, there is no guarantee that Behind the Scenes Adventures will be able to accommodate your special diets in foreign countries. Please contact us before departure, and bring sufficient alternative foods. Travelers with severe peanut allergies cannot be accepted. Vegan diets are possible but with much less variety than at home. Vegetarian diets are often fairly easy to accommodate, but also with less variety than what is available at home.
The cuisine of all three countries includes many delicious vegetable, noodle and rice dishes. Simple fruits are often served for dessert. Much of the time, you will be free to order the vegetarian dish that you want; sometimes the guide will order family-style so we can share and you can taste different items.
Flights & Travel
Will I need a visa for connecting countries?
It is very rare to need a visa for a connection if you stay in the Transit area. This will be regulated by the connecting country and the airline will send information as to this requirement.
What are the requirements for my passport to be valid?
Your passport needs to have one blank page for your visa, although, with an E-Visa, you will have just a piece of paper to show, and don't need room for anything except Immigration stamps in your passport.
Your passport must remain valid (not expired) for 6 months after you enter each country.
Will I be met at the airport?
Yes! Cynthia, an assistant or a driver will meet you with a sign with your name and/or Behind the Scenes Adventures. They will have your flight schedule and know you will need time to pick up your luggage. Wait for them in the terminal, right outside the Arrivals area, and don't go with any other drivers that don't have your name on a placard.
What is the best airline to fly to the country?
Basically you will need to get to Bangkok, but because of COVID, the flight rules have changed. We will send information about suggested flights at a date closer to departure. Typically United flights partner with ANA, for some good pricing. Japan Airlines also has excellent prices to Bangkok from the US West Coast.