Join us for a fabulous weaving and arts tour to Bhutan for an authentic adventure in the Land of Happiness.
Note – Bhutan Tour Prices:
The Bhutanese government's Tourism Council has just added a mandatory tax that is applied to all tourists visiting the country. This "tax" now goes to the government for the country's infrastructure: schools, hospitals, roads, and social services. Naturally we have incorporated the tax ($100 per day) into our price and as always we assure you of a delightful experience on your Behind the Scenes Adventure! Obviously we have no control over this government tax but it is excellent for the Bhutanese people – and will eventually help tourists with better roads and services.
Bhutan is a small landlocked country in the eastern Himalayas, with a progressive young king and a charismatic queen who promotes traditional textiles and weaving. The Bhutanese have safeguarded their Buddhist culture and ancient way of life, and it's the traditional aspects that lend great charm and interest to the country. We'll spend the most time in the less-visited and more rural eastern regions where the weaving and little villages are spectacular!
We'll visit many fabulous Buddhist temples called dzongs, and attend festivals called a tshechus which the local people attend in their best handwoven, traditional clothing. Costumed monks perform didactic Buddhist legends, wearing carved wooden masks and brilliantly embroidered outfits. Everyone loves the ultra-decorated buildings, the crisp air, the festival dancers, the dark green forests, and the stunning handwoven clothing.
TRIP HIGHLIGHTS
See two fabulous Buddhist festivals with masked and costumed dancers
Meet talented weavers and dyers and observe their labor-intensive techniques
Travel through stunning Himalayan foothill scenery
Learn to make traditional Bhutanese foods in our cooking class
Admire ancient Buddhist temples built centuries ago, without nails, and with brightly painted details.
What's Included in The Trip?
An Overview of Your Journey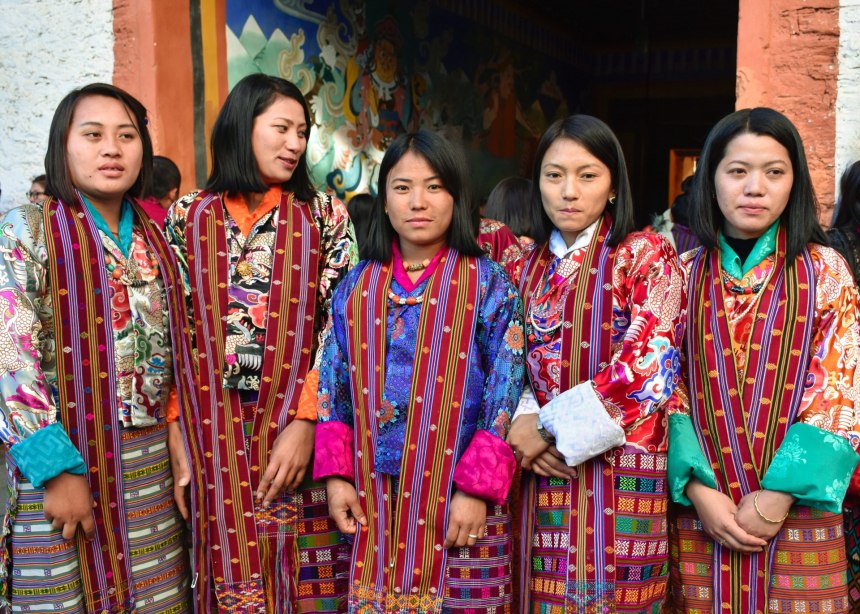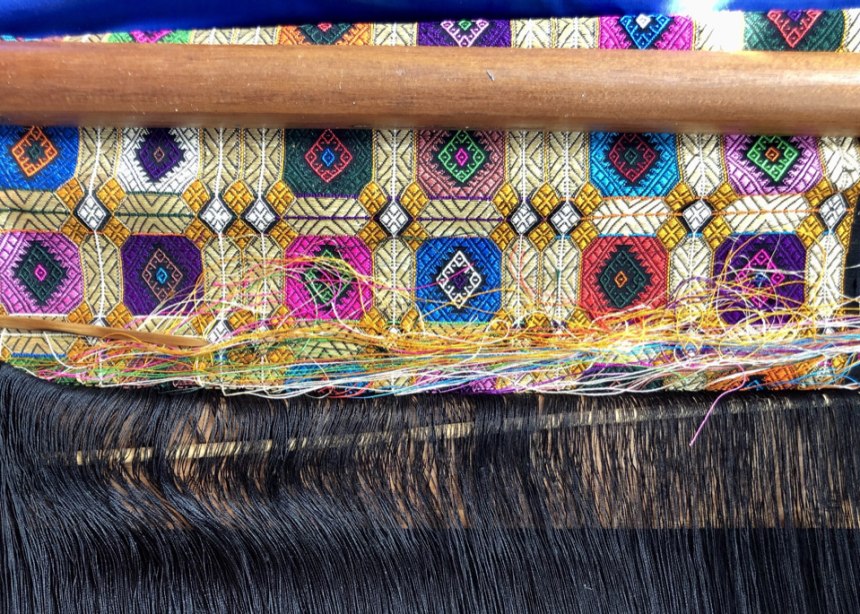 The Handwoven Textiles of Eastern Bhutan
We'll start our adventure in the eastern, less-traveled part of Bhutan, visiting towns along the way where the art of weaving is paramount. The whole eastern region is relatively undiscovered compared to the west, and it's the area famous for the high quality handwoven textiles. Traditional festivals are highlights of this area and we will attend some local celebrations.
Then we continue across back-country Bhutan to the beautiful Bumthang Valley. Villages here are famous for weaving and decorated wooden houses dotted among verdant agricultural valleys. Along the way, we'll visit many weaving households and handicraft coop organizations to learn about the incredibly labor-intensive techniques used to make the women's wrap dresses called kiras.
Today the best place to see exquisite kira and men's handwoven gho robes is at the festive Buddhist celebrations that we will attend. Paro and Thimpu have good weaving workshops where we can watch talented weavers from this area, and buy their pieces.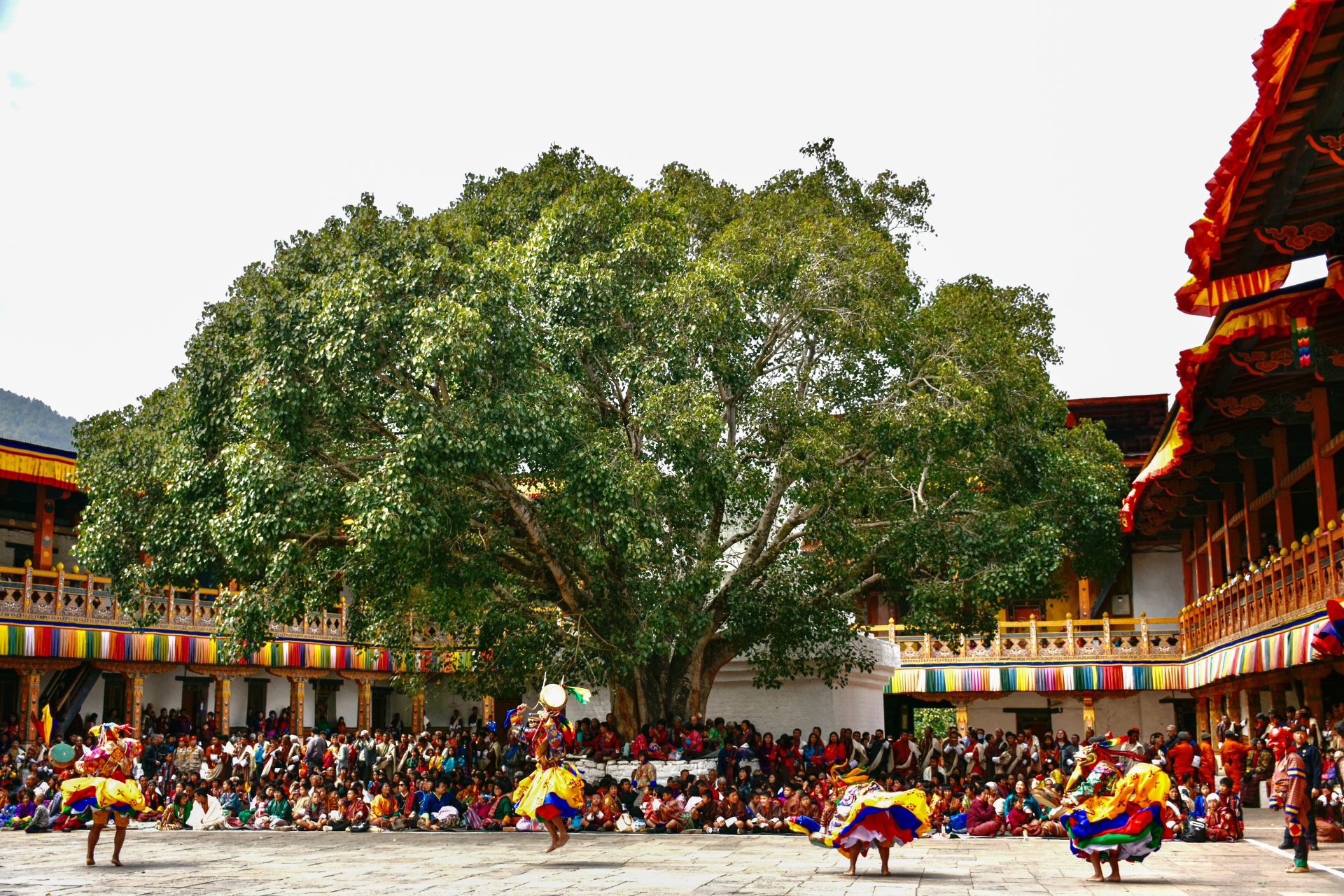 The Buddhist Tsechu Festival
One thrilling highlight of the itinerary is attending a huge festival event called a tsechu, with masked dancers in brilliant embroidered costumes. Spectators sit around the edges to watch the dances, and it is very orderly with monks whirling and cavorting in the central dance plaza. Costumed monks perform didactic Buddhist legends, wearing carved wooden masks and brilliantly appliquéd and embroidered outfits. Others play the long collapsible horns called dungchen.
These events typically provide fabulous photo-ops. We will have cushions and blankets to sit upon, but you can stand or walk around and get better photo angles. Some people like to stay all day and watch the dancing, and others want to wander in the dzong and admire the paintings and Buddha statues.
The Stunning Tiger Nest's Monastery
Then we'll drive to nearby Paro and spend most of the day climbing up to the fabulous Tiger's Nest Monastery. It was constructed on the side of a cliff in 1692, near the cave where Guru Rinpoche first meditated. It's said that he's the person who introduced Buddhism into Bhutan. A legend relates that Rinpoche flew from Tibet to this steep cliff on the back of a tigress, thus giving it the name "Tiger's Nest."
The trek to the monastery will be optional with the ascent either on foot or horseback. You can go up on horseback and back down on foot. Horses climb only to the tea house at about mid-point up the trail; you'll have a good view of the Tiger's Nest from here, if you decide not to hike all the way up. It's necessary for everyone to hike back down from the tea house on foot.
Meanwhile, the rest of us can sit below at the tea house, relaxing among the prayer flags, drinking milky chai (spiced tea), and staring upward at the monastery. Some people might want walking sticks for this part. And if a mountain trek isn't your cup of tea, you can relax at the hotel or explore the little shops of Paro instead!
We'll end the adventure at the ancient capital of Thimpu, where we'll see the Royal Textile Academy's museum of traditional clothing and cloth. Finally we'll say Goodbye to lovely Bhutan, our guide and driver. We'll head home from the Paro airport to Delhi or wherever you connected.
Where You Will Be Staying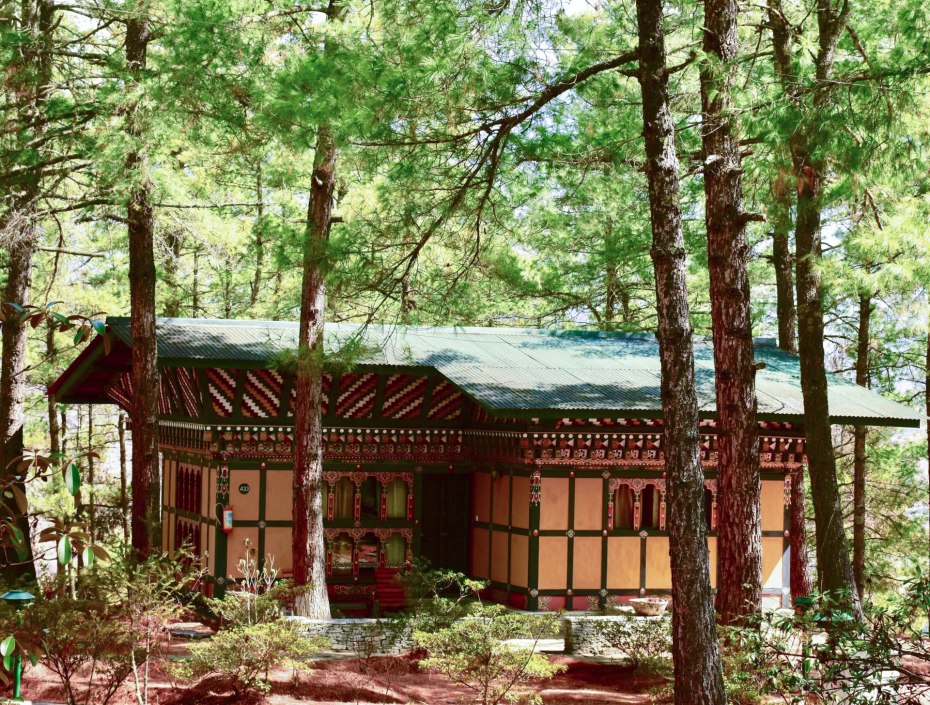 Hotel Olathang
Homey and spacious cabins with knotty pine walls sit among forests in the Paro hills. Cabin exteriors are decorated with painted trim, and the interiors are made cozy with Yathra or hand-woven woolen cushions on the couch and chairs.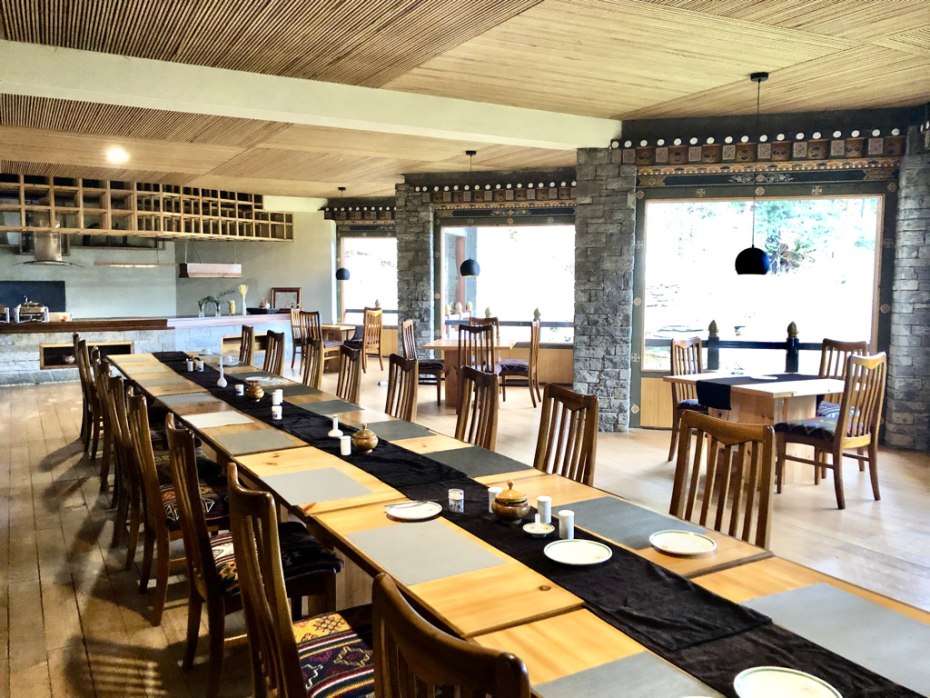 Mountain Lodge Resort
Mountain Lodge is a stunning new stone and wood building with a light-filled restaurant and a luxurious lobby with roaring fireplace. Rooms are spacious, with modern bathrooms. The restaurant here is excellent also.
Additional Details & Experiences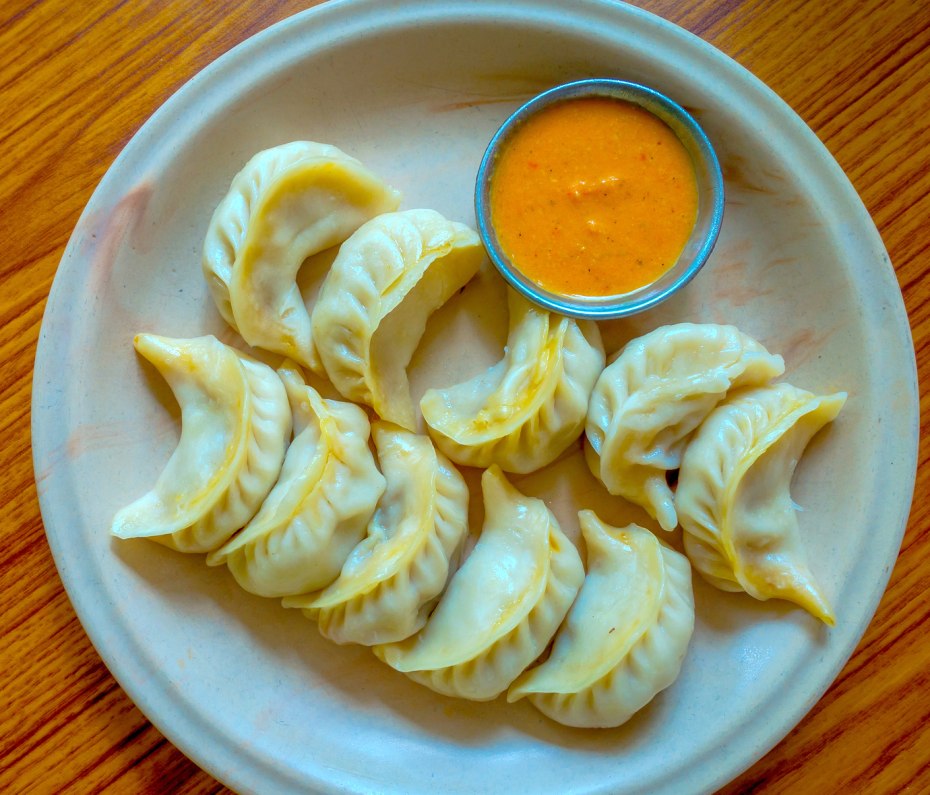 What Kind of Food Is Served in Bhutan?
Dinner will often be a buffet at our hotel, where you can serve yourself and taste some new dishes. Some foods are hot-spicy, but usually we as travelers will be served mild versions. Momos, steamed dumplings like Chinese potstickers, are very common and popular everywhere for lunch. They're stuffed with ground meat or a tasty mixture of onions and other vegetables. Momos are great with spicy chili-soy dipping sauces. A chili and cheese dish called Ema Datshi is the tasty 'national dish' and it ranges from mild to blazing hot. It's best eaten with rice to counter the heat, but in our hotels the food will be medium to mild. Kewa Datshi is potatoes with chili, also delicious! Roasted or baked eggplant is a common and delicious dish in season.
Rice and/or buckwheat noodles are present at all meals, and sauteed vegetable mixtures and soups are also served. Chicken is the most common meat, often served as cut-up pieces in a sauce. Dessert might be fruit or cake or pudding.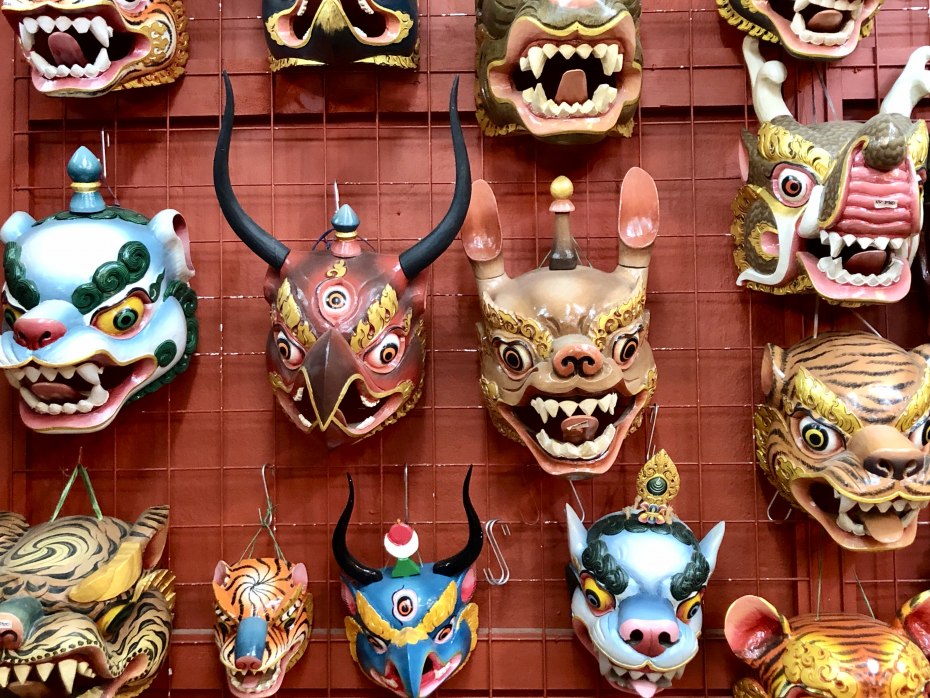 What Treasures Are There to Buy in Bhutan?
Hand-woven cloth in exquisite saturated colors and complicated geometric patterns is a popular choice Prices on handwoven textiles at first seem high, but when you see the complex weaving processes and detailed color changes, you'll understand why they charge the price! In some villages, we can purchase the hand-woven textiles directly from the weavers, so they end up with all the money for their efforts.
In addition to cotton and silk weavings, they make delightful tiger-shaped pile rugs and thick woolen weavings called Yathra which could be used for chair cushions or couch pillows. Decorated felted boots and slippers are popular purchases, as are the hand-carved wooden animal masks like the ones worn at the festivals. And brilliant commercially-woven brocade yardage and other silky fabrics on bolts crowd the shelves of several wonderful shops in downtown Thimpu. This cloth could be used for all sorts of projects from blouses and robes to quilts.
Confessions! I have been on NINE of Cynthia's trips: Turkey several times, Peru, Bolivia, Thailand, Laos, Morocco, Mali and most recently Bhutan. You might ask why I keep returning! It's because on each trip I arrive home having had the most incredible time. Always I've met interesting people, stayed in small, boutique hotels and visited the usual tourist sites, but because of Cynthia's ability to strike up hard and fast friendships with her guides and drivers, hotel keepers, shop keepers, and crafts people, we experience an in-depth appreciation for the countries' history, culture and especially of textile arts and crafts.

Anne Duffey

– Davis, CA
Your Trip Leaders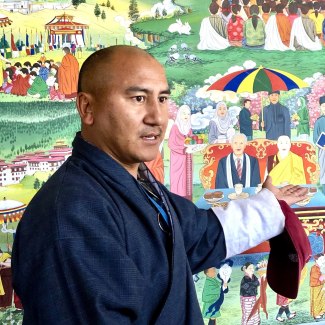 Sonam
Sonam and Tej, the Behind the Scenes Adventures guide and driver team help to make every trip to the 'Land of Happiness' a superlative experience. Sonam's positive energy, sense of humor and upbeat personality make him a joy to travel with – plus he knows helpful and friendly people everywhere. With his knowledge of the Dzongkha language, he can translate to English even the complicated explanations of natural dye sources or special techniques when we meet weavers in remote villages.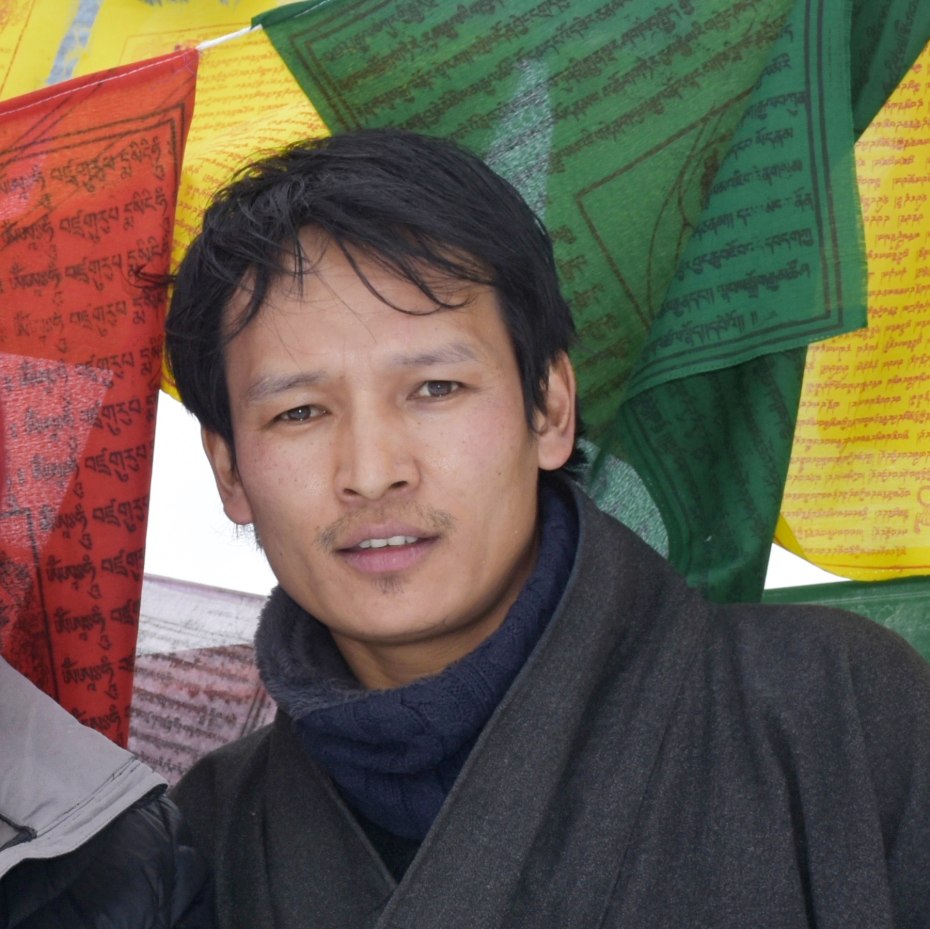 Tej
Tej is our patient, careful and cheerful driver who not only knows all the backroads, but graciously expands his job description to include climbing to Tiger's Nest to help us with the ascent, setting up a picnic site, dividing two weavings evenly, pouring tea, serving momos and more!
Both Tej and Sonam speak a Bhutanese language called Dzongkha, which is very helpful when we are in remote eastern villages. Bhutan is a small country and these two know everyone! Covid times were difficult for Sonam and Tej and their families; they are excited to be back to work.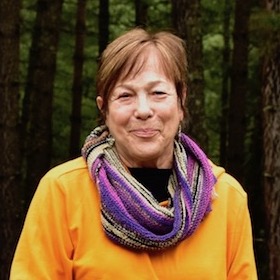 Cynthia
Cynthia began "Behind the Scenes Adventures" to share with others the traditional textiles and festivals of far-flung countries. The intricacies of design and color of the Bhutanese weaving tradition amaze her. She's been going to Bhutan with Sonam as the guide and Tej as driver since 2018, but the King of Bhutan closed the country from March 2020 until late-2022. This will be the first trip back in over two years!
Check Trip Availability
Trip signups are accepted on a first-come, first serve basis. Please provide your details below and we'll be in touch to confirm whether spaces are still available for this trip. If you need to get in contact, please email: info@btsadventures.com
Registration Information
Dates: Nov. 30 – Dec. 16, 2024
Fly Home Date: December 17, 2024
Deposit: $500
Tour Cost: 17 Nights From $6395
Single Supplement: $880
For more information:
Phone: 707-939-8874
E-mail: info@btsadventures.com
Read: Frequently Asked Questions
Visas
Our visas for Bhutan will be processed quickly and efficiently by the trusted Bhutanese government travel agent, without having to send your passport anywhere.
As you enter Bhutan at the airport/border, you'll be given your Bhutan visas, a single piece of official-looking paper that you will keep with your passport. Note that there is no other way to get a Bhutanese travel visa, and that travelers to Bhutan are well-tracked and accounted for by the Tourism Bureau.
Arrival and departure flights should connect in New Delhi. We fly as a group in and out of New Delhi.
What's Included
Includes visa for Bhutan; the travel agent will apply for our visas, which is much easier for us.
All accommodations: 17 nights in comfortable hotels in double/twin rooms with private bath.
All meals (often buffets in our hotels) and some picnic lunches in weaving villages, with families.
All bottled water & soft drinks with meals
Airport transfers for arrival and departure flights on official dates
Short domestic flight TBA depending on final festival itinerary
English-speaking Bhutanese licensed guide during the trip
All in-country ground travel by good Toyota mini-bus with professional driver
Bottled water available in the van at all times; roadside tea breaks included
Natural dye workshop at village center to dye yarn or roving
Horseback transport to Tiger's Nest Monastery tea house; everyone must walk down
What's Not Included
International airfare
India double-entry visa
Alcoholic beverages
Tips for guide and driver (suggested amounts later)
Personal items such as any between-meal snacks or drinks; we will have included tea stops on the road occasionally.
Frequently Asked Questions
General Questions
What information will I receive after registering?
Once you sign up for a trip, we will e-mail a general itinerary, lists of Suggested Reading, what to take, cultural considerations, weather charts, etc.
How can I get a detailed itinerary for a tour?
A day-to-day itinerary will be sent once you sign up for a trip. If you need specific information about the flow of the trip and the pace of the specific activities, before committing to the trip, get in touch with your questions and we will be happy to fill you in.
What sort of clothing should I bring?
When you sign up for a tour, you'll receive detailed lists of what to bring to your destination, as well as weather info, to more easily coordinate your wardrobe with the heat or cold.
Bhutan can be very cold in the mountains during some months. For quick basic guidelines: Bhutan is a conservative Buddhist country, not as conservative as some destinations, but nevertheless, it is better to cover your shoulders with short or long sleeves. Pants and skirts should be at least your ankles. Tops/blouses/shirts should be long enough to cover your bottom to mid-thigh.
Bring simple, comfortable clothing, but you don't need to wear outdoor, trekking clothes – except for the day when we hike up to the Tiger's Nest Monastery. And even then, thick-soled shoes with tread soles are the most important item. You will probably want sturdy pants if you plan to ride a horse up the trail.
What is the COVID situation?
The situation changes daily, but the country now admits foreigners with the new elevated Tourism Tax.
As of February 23, 2022, the Kingdom of Bhutan has had only SIX deaths from Covid during the pandemic period. On March 12, 2020, the King closed the country's borders which led to impressively low numbers of cases and deaths. Bhutan has had excellent success with their COVID vaccination program also; the great majority of the people have had at least one shot.
What are the COVID requirements for returning to the US?
There are no longer any COVID 19 health restrictions related to returning to the USA as a US citizen.
Do I need any vaccinations or immunizations?
This varies with each country. Make an appointment with your travel doctor and take your tours itinerary with you. Some areas of certain countries require malaria pills and others do not; same with Yellow Fever and others such as Cholera and Typhoid. He or she will have all the latest requirements at hand. A rural visit to a farm may require extra precautions, for example. We will send you the links to the CDC.gov information pages for your specific destination so that you can ask questions.
You should be current on all your typical childhood and international travel shots such as Polio and Tetanus. Some countries now demand proof of vaccination against COVID. Behind the Scenes Adventures requires you to have two COVID vaccinations. We recommend you have a booster as well.
How much physical activity is involved during the trip?
Each trip has different activity levels that will be fully explained in the specific tour material. But no activities or events are mandatory, and you are always welcome to sit at the bottom of the stairs to a temple or wait in the van while others ascend or visit a particular place. Walking sticks are fine to bring if they help you. We cannot accept wheelchairs or walkers.
For most tours, you'll need to be able to walk the distance of 4-5 city blocks on your own, with sturdy shoes. Please note that sidewalks in many countries are full of big holes and broken cement chunks, with bits of re-bar sticking out, and you must constantly be alert to these dangers. In urban areas where distances are greater, the group will take taxis and/or get help from local assistants. If you need a personal taxi or additional special aid, that will be at your expense.
In more rural areas when we visit a remote village or temple, you should be able to navigate rocky routes, such as the dirt paths of Khoma village. You can always sit on a chair or bench if available in one place, and wait for the rest of the group also. It won't be possible to use walkers, wheelchairs or crutches while traveling with a group to foreign destinations that don't have facilities for handicapped persons.
What will the weather be like?
Our trips are planned for great festivals and reasonably good weather. The weavers work all year round so we can visit them any time. But some of the best festivals take place during the winter months when snowy scenery and landscapes are also spectacular. When you sign up, we'll send you weather and temperature charts as well as suggestions for warm clothes that will keep you comfortable if you travel during winter months.
Meals & Accommodations
What sort of hotels will we be staying in?
We start this trip in the east of the country, where we find the most rustic lodgings – and the most weavers! The quaintest hotel in the eastern region has small cozy rooms with knotty pine walls. Yet the restaurant here turns out amazing savory food; the best eggplant dish I had in Bhutan was made by the cook here! In the capital of Thimpu, we stay in a modern hotel with comfortable beds, good linens and modern bathrooms. In nearby Paro, we stay in individual pine cottages in an evergreen forest; the cottages are painted and decorated in the typical Bhutanese style. This place also has a good restaurant. Later in the Bumthang Valley we spend our nights in a new, deluxe stone and wood hotel with cushy beds and sleek modern bathrooms.
What sort of food will we be eating?
Bhutanese food is delicious but not as varied as the cuisine of nearby countries such as India. Red or white rice is a staple, and handmade, chewy buckwheat noodles and pancakes are popular. Ema Datshi is the national dish, a hot mix made from chilis and cheese and it can be very spicy. It's yummy but a little goes a long way. Datshis are also made with potatoes and mushrooms, among other vegetables.

Momos, similar to Chinese potstickers, are very popular. They are handmade with different stuffings – meats or vegetables like cabbage, or cheese. Momos are either steamed or deep-fried and crispy. All of them can be enhanced with a chili sauce and they are delicious for lunch or a snack. Momos are eaten with hot chili sauces.
Will I be able to accommodate my dietary needs?
If you have any special dietary, health, or nutrition issues, restrictions, etc, there is no guarantee that Behind the Scenes Adventures will be able to accommodate your special diets in foreign countries. Please contact us before departure, and bring sufficient alternative foods. Travelers with severe peanut allergies cannot be accepted. Vegan diets are possible but with much less variety than at home. Vegetarian diets are often fairly easy to accommodate, but also with less variety than what is available at home.
Flights & Travel
Will I need a visa for connecting countries?
Yes, you will need a visa to enter Bhutan. We'll send you information on what we need for your visas: We'll send copies of our passports to the travel agent who will procure our visas and hand them to us when we enter the country at the border near Guwahati, India. The fee for the Ghutan Visa is included with the trip cost, but the visa for India is not included.
Where we will enter Bhutan is still TBA. If we need to connect in India, you will need a multiple-entry visa for India, cost not included. Wait on this one as the visa requirements change often but are easily fulfilled.
Once you sign up for the tour, you will be sent the website link to get your one-year India e-visa online. Or if you want a 10-year visa, you can fill out the forms and send your passport to the nearest visa office. You can do this anytime soon as long as you won't need your passport for about 2 weeks.
What are the requirements for my passport to be valid?
Your passport needs to have one blank page for your visa, although, with an E-Visa, you will have just a piece of paper to show, and don't need room for anything except Immigration stamps in your passport.
Will I be met at the airport?
Yes! Cynthia, an assistant or a driver will meet you with a sign with your name and/or Behind the Scenes Adventures. They will have your flight schedule and know you will need time to pick up your luggage. Wait for them in the terminal, right outside the Arrivals area, and don't go with any other drivers that don't have your name on a placard.
What is the best airline to fly to the country?
Turkish Airlines is great; they are Once you sign up, and we arrange where we will enter Bhutan, we'll send information about suggested flights, etc. For trips that begin in Eastern Bhutan, we typically fly to New Delhi first, then take a short flight to Guwahati, India, and drive in a van over the border into Bhutan.
For trips that begin in the West, we usually fly into New Delhi, then fly directly into Paro, on Bhutan Airlines or Druk Air, perfectly reliable companies, a partner of United. There are non-stop flights to IST (new fabulous airport) from SFO and LAX. We recommend you try to get a non-stop flight, much easier not to have to change planes. British Airways also goes, and a couple of others.
What will we use for transportation?
In Bhutan, we use a roomy and late model Toyota van of a sort not seen in the USA. It has 12-15 seats and there are photos of it on the website. The van is driven by our professional and courteous driver and is as comfortable as possible on bumpy mountain roads.