Tshechus are annual Buddhist festivals, large social gatherings that bond the participants, especially those living in remote areas. Every town has a specific date for its annual event, related to the Buddhist calendar.
Market vendors congregate at the fair locations, leading to brisk commerce in food and drink, produce and souvenirs. The celebrations are held in the courtyards of the towns' main temples, called dzongs. In villages, the temple building may not have a courtyard so the festival is held on a nearby grassy field. Local families bring everyone from toddlers to Grandma and Great-Grandpa. They haul in blankets to sit on and insulated thermos-type containers of food [often hand-held momos] for the day-long event. Spectators wear their very best hand-woven kiras and ghos for a festival, so they are a great place to see masterful weaving and stunning color combinations. It is acceptable to compliment a festival-goer on his or her outfit; they might even ask to take a phone-photo with you!
The focal point of the tshechus are the didactic Cham dances. These costumed, masked dances typically are moral vignettes, based on incidents from the life of the 9th century Nyingma Buddhist teacher Padmasambhava and other saints. Padmasambhava visited Tibet and Bhutan in the 8th century and 9th century. He used to convert opponents of Buddhism by performing rites, reciting mantras and finally performing a dance of subjugation to conquer local spirits and gods.
The great scholar visited Bhutan to aid the dying king. Padmasambhava performed a series of such Cham dances in the Bumthang Valley to restore the health of the king. The grateful king helped spread Buddhism in Bhutan. Padmasambhava organized the first tshechu in Bumthang where the eight manifestations of Padmasambhava were presented through eight forms of dances. These became the Cham dances depicting the glory of Padmasambhava.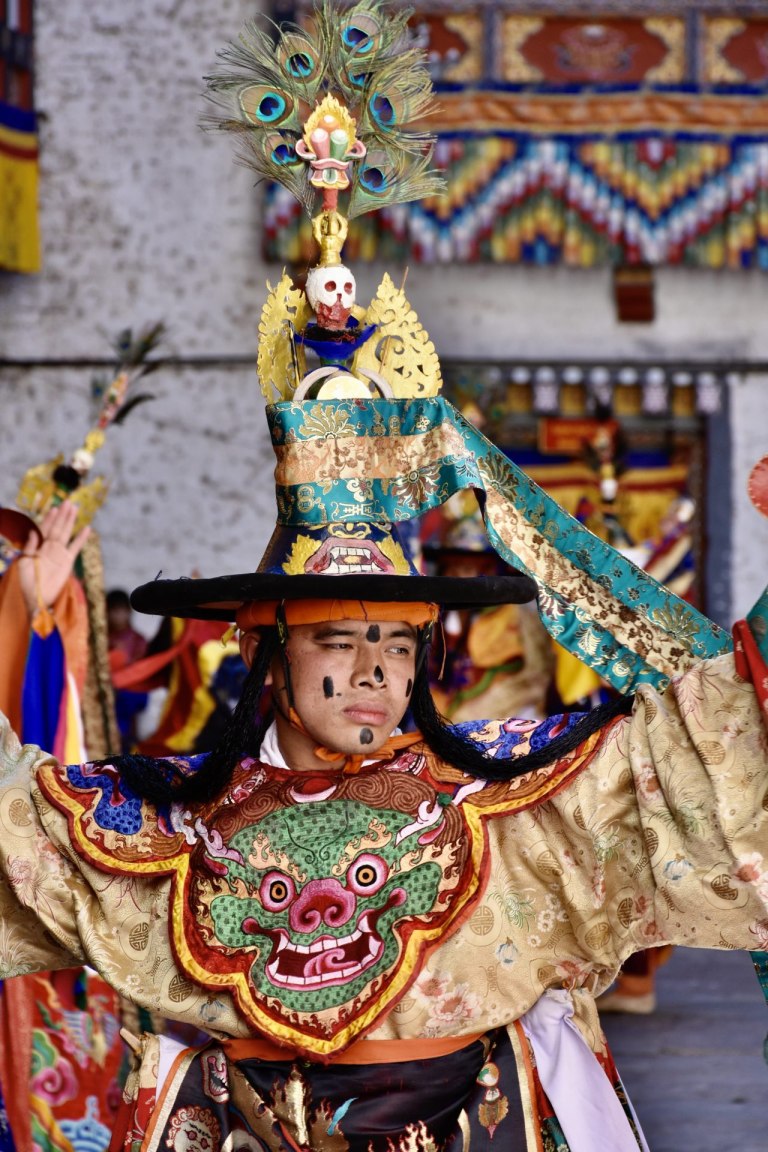 Typically, monks perform in group dances, unmasked but with elaborate costumes, such as the Black Hat dance, above left. Laymen perform masked, in different plays. Some dance roles involve considerable athleticism, with high leaps and pivoting twirls that show off voluminous layers of shiny satin robes.
The colorful outfits are works of art, elaborately appliquéd and embroidered with symbols related to the dance. Dozens of hand-carved wooden mask varieties appear in specific dance performances. Many represent animals, such as bulls, frogs, laughing deer, and snarling dog-like creatures. One group wears masks of skeleton heads with white costumes, with bones painted on the arms, legs and bodies.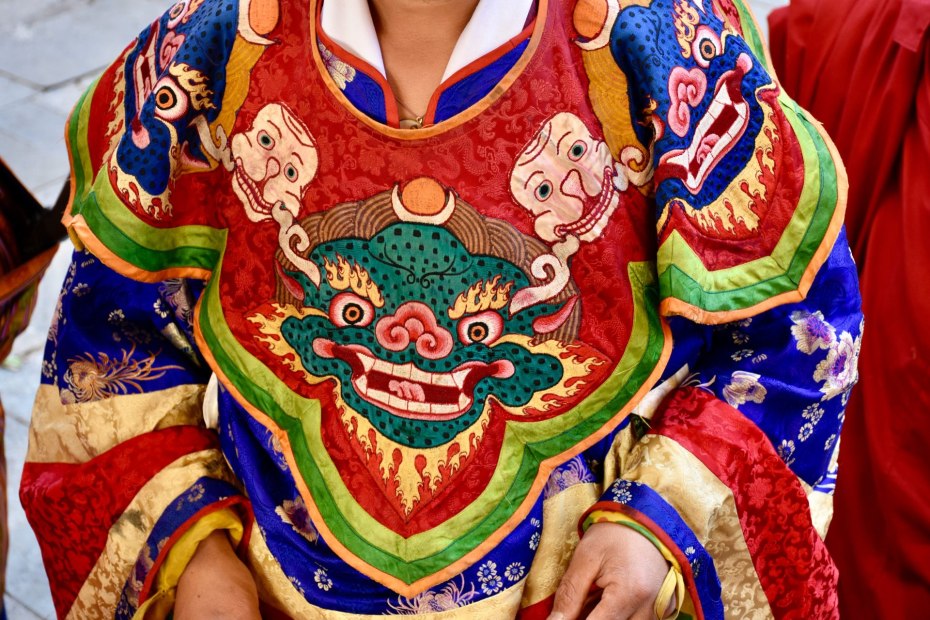 The Black Hat dance is particularly slow and lugubrious with deep drumbeats. The unmasked dancers wear long voluminous robes of imported silk and polyester brocades. A wide-brimmed black hat with decorative golden flanges, a large collar appliquéd with Buddhist symbols and numerous flowing scarves complete this costume.
Between the groups of male dancers, women in beautiful new kiras and blouses perform rather sedate dances, moving in lines and circles around the central courtyard. Ceremonies, blessings from the Abbott and music from long brass horns are all part of a typical festival.
Early one morning during a tshechu, a thongdrel (or thangka), a large appliquéd and embroidered satin hanging (or an enormous painted banner) is unfurled from the top of a building in the main courtyard where the festival takes place. Legend says that just seeing the thongdrel will cleanse the viewer of sin.
Visiting a Tshechu Festival on a Behind the Scenes Adventures Tour
Festival conditions are not always ideal! During a tshechu we might need to sit on the ground with the Bhutanese spectators. Depending on the season, weather may be chilly but the dancers and costumes are so spectacular that it's worth a bit of discomfort! We'll encourage you to be prepared with thick clothes and we'll make it as comfortable as possible by supplying foam cushions to sit on. Sometimes a friendly festival official will round up some plastic chairs for us, but we cannot count on that; besides the locals are all sitting on blankets and cushions on the ground.
The good part is that you can move around discreetly and get fabulous photos! Walk behind the spectators lined up sitting around the edges whenever possible. Otherwise, duck down low if you are scooting in front of some celebrants and smile, take your shots and quickly get out of the way. Be respectful; the event is their very significant annual celebration and you are only the tolerated but (so far) welcomed tourist! Unless you are Bhutanese, DO NOT EVER under any circumstances, join a group of dancers at a tshechu.
We will plan for a picnic lunch that you can eat during the festival, like the locals. And if you decide at some point in the day that you would like to return to the hotel, the driver will take you, if possible. (We usually choose smaller festivals, however some fabulous ones are so big that it's impossible to get a parking place nearby.)  But we'll try to make everyone comfortable so you can enjoy the time you want at an exciting and flamboyant Bhutanese tshechu.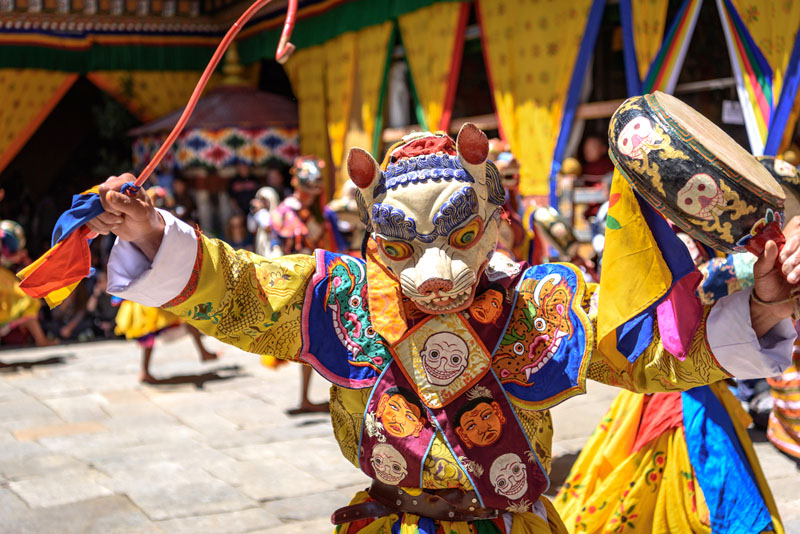 See the Amazing Tshechu Festival For Yourself
Every Bhutan trip that we do includes at least one Tshechu Festival. These events are spectacular and afford amazing photo ops (as long as you stay out of the way of the dancers and spectators!). If your interested in seeing a Tshechu Festival for yourself, join us on our next tour to Bhutan.